Whatever Happened To Amy Jo Johnson?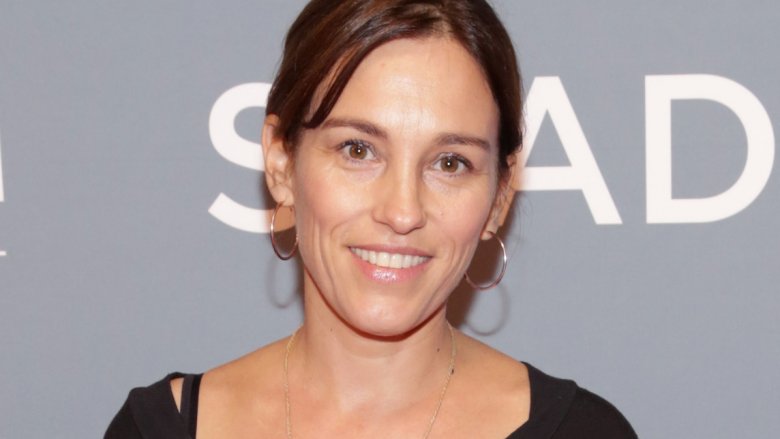 Getty Images
In 1993, Mighty Morphin Power Rangers burst onto American televisions where it immediately became a ratings sensation for Fox Kids and a pop culture phenomenon that only intensified young audiences' already growing hunger for Japanese-inspired entertainment. The show featured a team of colorful, live-action Rangers who used acrobatic martial arts, futuristic weaponry, and robotic dinosaurs to battle Godzilla-sized monsters for the fate of the world. In her very first acting debut, Amy Jo Johnson played Kimberly Hart, the Pink Ranger, which instantly catapulted her to superstar fame. But after three seasons and two movies, Amy Jo Johnson walked away at the height of Power Rangers mania. Why would she do that? What did she do next? We've got the answers.
Being one of the first Power Rangers was not awesome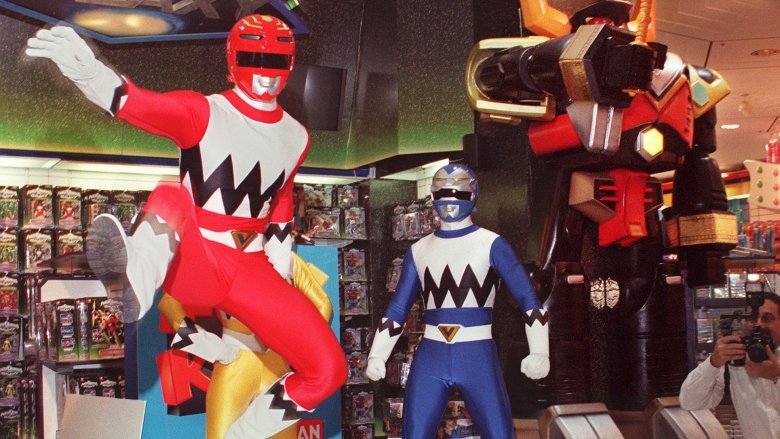 Getty Images
While starring in a merchandising and ratings juggernaut like Mighty Morphin Power Rangers might seem like the path to fame and fortune, behind the scenes, the young teen actors learned first-hand that working on a non-union television series practically left them penniless. In an interview with the No Pink Spandex podcast, Johnson revealed that not only were the actors paid very little for long, grueling hours where they performed their own stunts, they also didn't receive residuals. Which means, unlike how other TV actors make a living, the cast of Power Rangers were not paid for reruns of the show. And there were a lot of reruns. "We had no agents. I had no agent at all!" Johnson told the podcast. "And it became so popular that ... that's what gave me nightmares. It was sort of overwhelming, you know? Like, if that show stopped tomorrow I'm going to have to go down the street and become a waitress again." And Johnson was right to be worried about her future. Austin St. John, who played the first Red Ranger, ended up living in his Jeep after he left the show, according to Huffington Post.
The Power Ranger movies almost killed her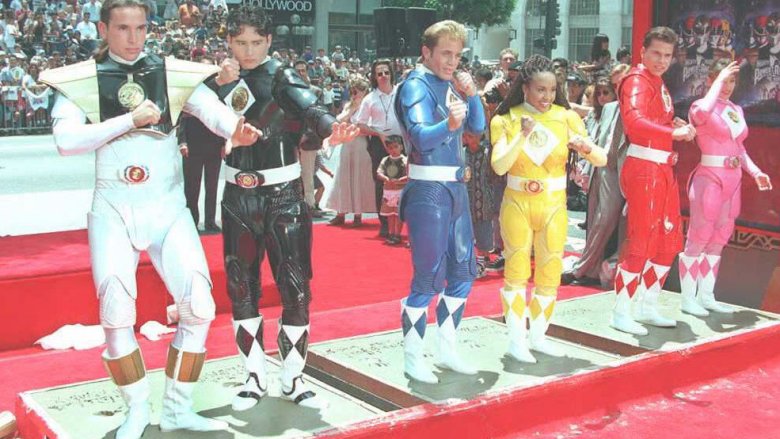 Getty Images
Much like the show, the Mighty Morphin Power Rangers movies were non-union, low-budget affairs where Johnson almost died. Twice. While filming the first movie in Australia, the actress and another Power Ranger caught on fire after being dangled over a fire pit during a make-shift stunt. "Seriously! It was this non-union movie and it just felt really dangerous at times, to tell you the truth! Me and David [Yost] caught on fire on set once!" Johnson told No Pink Spandex.
And conditions only worsened on the set of the next film, Turbo: A Power Rangers Movie where the budget was even lower, and the shady stunt conditions were even more dangerous. "You know the scene where we're under the water?" Johnson recounted. "The scuba gear? Oh my God, you guys... They had the electric lights and they weren't underwater lights." The crew only learned of this shocking discovery when one of the lights dropped in the pool that luckily was empty at the time. The incident became another glaring red flag that Johnson needed to leave the Power Rangers series that clearly had very little concern for her physical or financial safety.
She walked away from being the Pink Ranger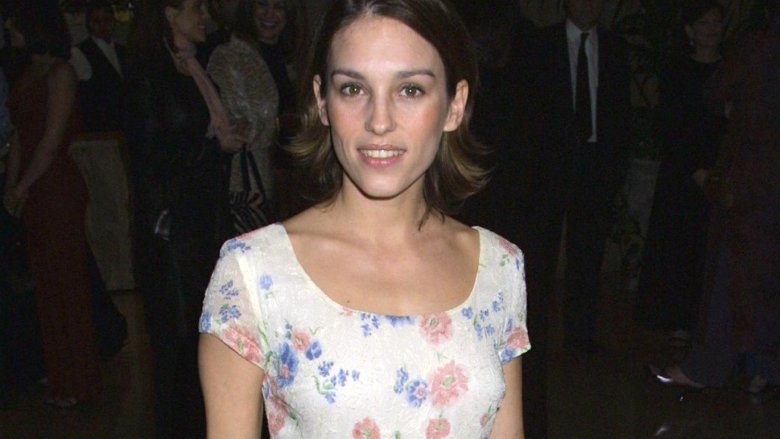 Getty Images
At the height of the Mighty Morphin Powers Ranger fame, Johnson decide to leave the franchise in 1995. The combination of grueling hours performing their own stunts, unsafe work conditions, and low pay were trouble enough, but according to an interview with the Oprah Winfrey Network, Johnson also had nightmares about her newfound fame and was becoming increasingly uncomfortable with the public attention. She revealed to No Pink Spandex that stalkers, emphasis on the plural, had become an issue thanks to the show's unintended popularity with older, more obsessive superhero fans.
On top of that, Johnson watched as her close friends in the original cast were quickly fired and replaced after they attempted to unionize. "We had a lot of fun. We worked around the damn clock. We worked long, long hard hours on a non-union show. And we'll just never be paid what we should have been paid. And Saban is never going to have a problem about paying us. It is what it is," Austin St. James, the original Red Ranger, told Huffington Post. Now that she knew just how expendable she'd become, it was time for Johnson to move on. After approaching Shuki Levy, the executive producer on Power Rangers, Johnson agreed to star in his made-for-TV movie Susie Q in exchange for leaving the show. Her days as the Pink Ranger were officially over.
J.J. Abrams hand-picked her to star in Felicity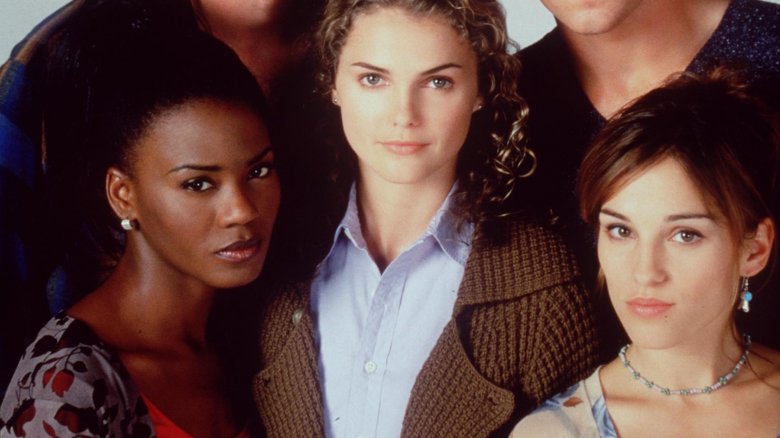 Getty Images
After making the difficult decision to leave Mighty Morphin Power Rangers, Johnson bounced around in a few TV movies before auditioning for The WB drama Felicity in 1998. According to Johnson, she landed the role of Julie Emrick, a singer/songwriter who quickly becomes the best friend to Keri Russell's Felicity, after show-creator J.J. Abrams spotted her heading for the bathroom. Which sounds creepy to us, but that's Hollywood, right? "J.J. told me that when I walked by the room to go to the bathroom, and they saw me while they were auditioning people for Julie... Before I even came into the room, he's like, 'Oh! There she is. There's Julie.' Like, he already knew. He saw me and he's like, "There she is." So I thought that was kind of cool."
Despite being one of the original cast members, Johnson would eventually leave Felicity after just two seasons. At the time, Abrams would tell TV Guide that he made a difficult decision to cut Johnson from the show. "I felt like in a weird way we were wasting Amy Jo's time. She's an incredibly gifted actress, but she wasn't getting enough stuff to do. I wish we had enough money and time to focus on all of the characters. But the way the stories were going, I thought it was more fair to let Amy Jo [go]." Clearly, there were no hard feelings between the former Power Rangers star and Abrams as Johnson was more than happy to return as Julie for the final four episodes of Felicity. However, her reasons were leaving the show would differ from the version Abrams told TV Guide.
Her mom's death pushed her to take a break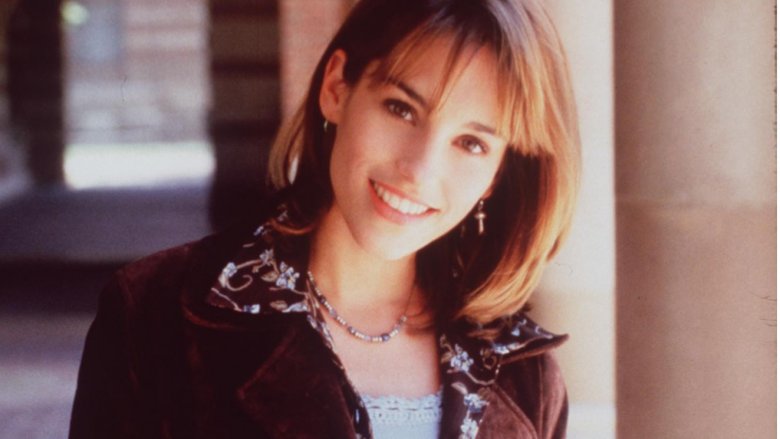 Getty Images
Twelve years after leaving Felicity, Johnson would tell No Pink Spandex a conflicting story about why she exited the show. Johnson says she made the decision to step away after realizing she had never properly grieved her mother's death. While filming the pilot and first season of Felicity, Johnson's mother had Christine died from cancer. But not before she encouraged her daughter to keep following her dream of acting as Johnson routinely flew from Los Angeles to her mother's home in Cape Cod during production, according to an excerpt from Chicken Soup for the Teenage Soul on Tough Stuff. Johnson stayed on Felicity for another season, but she told the podcast that the grief became too overwhelming, so she asked to be written out of the show.
However, despite what the real reason for her exit might be, there doesn't seem to be any animosity between Johnson and J.J. Abrams. Variety reports that the Lost creator and Star Wars director actually helped Johnson become a Canadian citizen where she escaped Hollywood and got to work on starting the next chapter of her life as a mom, singer/songwriter, and independent filmmaker.
She became a singer/songwriter with three albums
Like her character in Felicity, Johnson became an official singer/songwriter herself after she left the hit drama by releasing her first album in 2001, The Trans-American Treatment, which Amazon describes as a "sexy, driven, romantic rock album with slow melancholy ballads to full-out angst rockers. All the songs share dreamy, poetic-style lyrics that hold many stories about Amy Jo Johnson's life."
Since then, Johnson has released two more albums Imperfect and Never Broken that are available on her official website. Granted, while music never became a full-time career, Johnson told The Manifest-Station that it's more about having a creative outlet whenever she needs it. "Writing and playing music comes in waves for me. Like everything creative I do. It's all a cathartic playground. At the moment my sights are so set on developing this film that music has taken a back seat. But it's there and always will be when the moment strikes. I try not to force it," she said. As time progressed though, Johnson's music began to creep more and more into her work.
Flashpoint rekindled her love for acting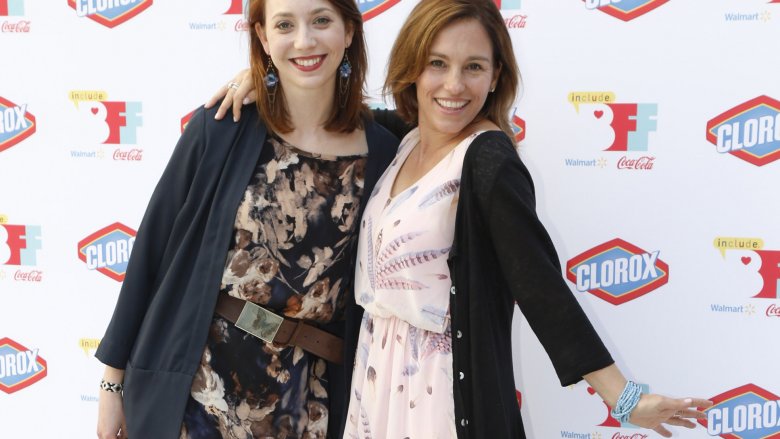 Getty Images
While living in Montreal, Johnson received a call to audition for Flashpoint, a Canadian TV show about an elite tactical police unit. It would soon find its way to American audiences on CBS and ION where it enjoyed decent ratings during its five season run. Johnson was eyed for the role of Julianna "Jules" Callaghan, a tough-as-nails officer with experience in the Royal Mounted Police. Except there was one small problem: Johnson was pregnant at the time. But she found a way to make it work. "I'm feeling great now because I'm past my first trimester," she told the New York Daily News. "The show is a lot more intense and difficult than I thought it would be, but I've actually gotten into the rhythm and am having a lot more fun now."
Johnson had so much fun that it rekindled her love for acting. In an interview with Canada's TV, Eh? Johnson said, "I came to Toronto to shoot and I got a look at the original pilot and I said, 'Oh my gosh, I just hit the jackpot. This is an amazing show.' I fell back in love with acting again. Those five years were just amazing. I sort of found my confidence and found my new home as well. I love Toronto." But the process of shooting Flashpoint and getting a chance to incorporate her music into the show pushed Johnson's creativity even further, and soon, she realized that she had stories of her own to tell. Stories that would compel her to start writing scripts in coffee shops and step behind the camera as a director.
She started making indie films about her mom's life in a cult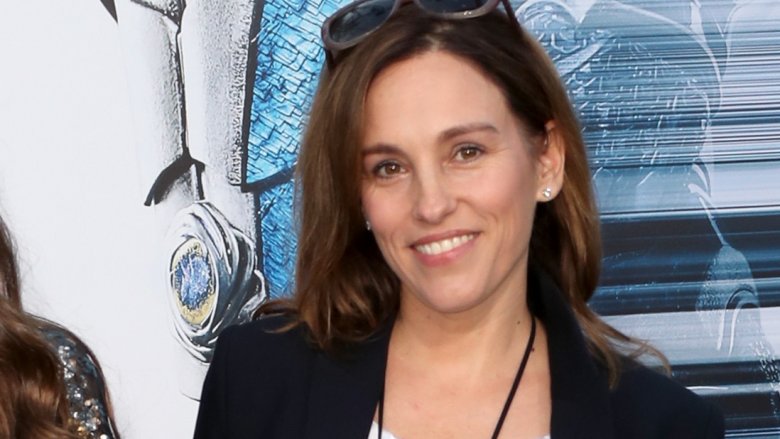 Getty Images
Shortly after wrapping up Flashpoint, Johnson realized she had a story to tell about her life. It turns out her mom had raised Johnson's family in a religious cult for 12 years, which needless to say, wasn't exactly the greatest of childhoods. But in an interview with Variety, Johnson revealed that having a daughter of her own "grounded" her and pushed her to find a way to deal with the lingering issues from her life in a cult. "We have to figure out how to laugh our way through life," she said. "My mom died of cancer. I grew up in a religious cult. There have been heavy issues in my personal life. Getting through them, I've always tried to find the levity." So after Jon Hamm—yes, that Jon Hamm—convinced her to get behind the camera because no one else could do her story justice, Johnson set about writing and directing the short comedy film Bent, which pulled from Johnson's own life and sparked her passion for independent filmmaking. It also surprisingly brought her back to her Mighty Morphin Power Rangers roots.
She put her Pink Ranger suit back on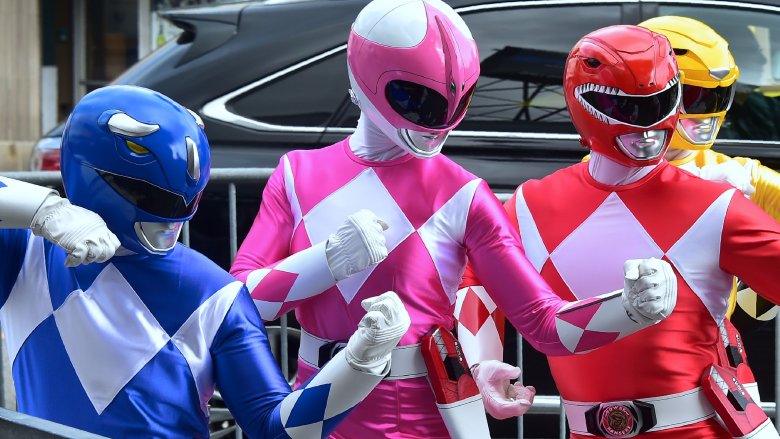 Getty Images
In 2014, Johnson needed to raise money for her upcoming indie comedy The Space Between, so she turned to Indiegogo where she remarkably surpassed her $75,000 goal thanks to some hardcore Power Rangers fan. To thank them, Johnson donned her iconic Pink Ranger costume and put on a performance in downtown Toronto. But that wouldn't be the last time she'd reconnect with her roots. In 2017, Amy Jo Johnson made a cameo in the movie Power Rangers, a Lionsgate reboot of the hit franchise that will supposedly span six films, according to Variety. And with Johnson hoping to turn her next script, Crazier Than You, into a feature film, hopefully her agent scored her a nice Power Rangers payday for once, so she won't have to sing on the streets for a budget. But we get the feeling she wouldn't mind.
She never left; she only got stronger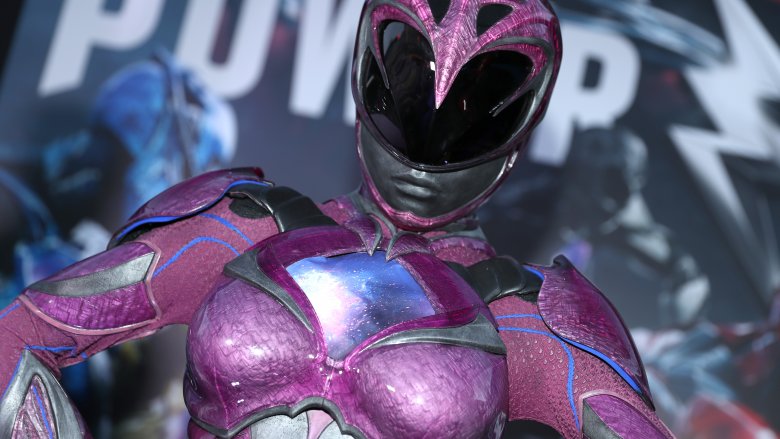 Getty Images
Johnson may have ran away from the spotlight after leaving the Mighty Morphin Power Rangers franchise during the height of its popularity, but she never truly stopped telling stories. With roles in popular TV shows like Felicity and Flashpoint, Johnson was here the whole time, only more quietly. Sure, she traded in her pink spandex for motherhood and a guitar in Canada, but there she found her passion for writing and directing independent films that only Johnson could make. At the same time, with Power Rangers gearing up to become a blockbuster franchise once again, Johnson has seemingly come to peace with her roots, and who knows? We might see the first Pink Ranger fight again in Power Rangers 7: Is Anyone Still Watching These? (We're not going to say, "Go, go, Power Rangers!" Stop waiting for it.)