Steve Harvey Reportedly Warns Talk Show Staff To Stay Away In Leaked Memo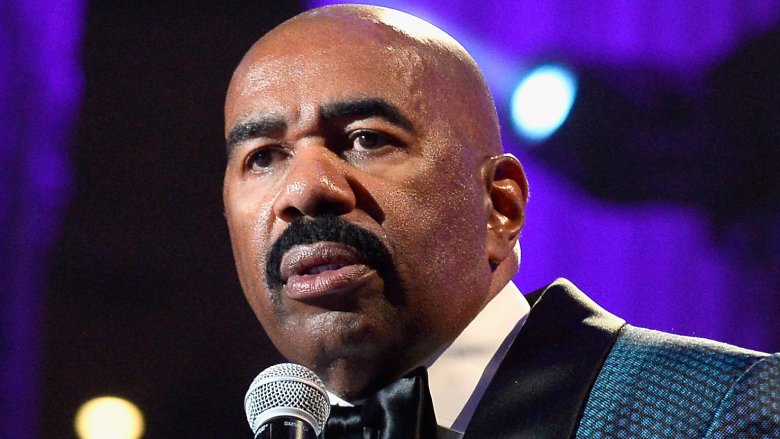 Getty Images
If new reports are to be believed, then Steve Harvey really enjoys his alone time.
An alleged memo from Harvey was reportedly leaked to a media blog run by Roger Feder on May 10, 2017. In the note, which is said to have been shared with the staffers at Harvey's daytime show, Steve Harvey (2012-17), the host warns the crew not to approach him in his dressing room or in the hallway. "There will be no meetings in my dressing room," Harvey, 60, allegedly wrote. "No stopping by or popping in. NO ONE."
"Do not come to my dressing room unless invited. Do not open my dressing room door. IF YOU OPEN MY DOOR, EXPECT TO BE REMOVED," the note went on. "My security team will stop everyone from standing at my door who have the intent to see or speak to me. I want all the ambushing to stop now."
Harvey reportedly continued, stating that all staff members must schedule an appointment if they'd like to speak with him. Why? The TV host, who also stars on Celebrity Family Feud (2008-) and Little Big Shots (2016-), is apparently "seeking more free time" for himself during work hours. In the memo, Harvey allegedly concludes, "Everyone, do not take offense to the new way of doing business. It is for the good of my personal life and enjoyment."
According to Variety, the alleged memo was released to staff members before the start of the fifth season of Steve Harvey. The show has since ended. In fact, Harvey is moving onto another talk show, called Steve, which will film in Los Angeles with a brand new crew. The publication's sources state that Harvey's supposed memo may have been released by a staff member who was not invited to work on the new talk show, which will air in September 2017.