How Tall Is Meghan Markle?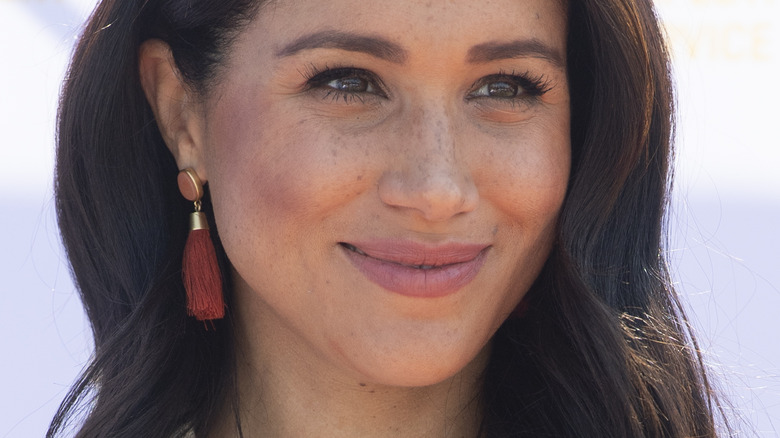 Wpa Pool/Getty Images
Much has been said and written about Princess Diana's statuesque height. The late Princess of Wales was 5-foot-10 inches, according to Express, and the same height as Prince Charles. She was reportedly "banned" from wearing heels in public whenever she was with Charles, per the outlet, just so she didn't appear taller than him in photos. Of course, not having the freedom to wear heels in public wasn't the only thing Diana felt restricted by during her marriage. "The day I walked down the aisle at St. Paul's Cathedral, I felt that my personality was taken away from me, and I was taken over by the royal machine," Diana said in a BBC interview, per INSIDER.
And while Meghan Markle herself hasn't made such a declaration (or at least not in public), she did tell Oprah Winfrey in her bombshell of an interview back in March that life behind closed doors at Buckingham Palace wasn't as royally wonderful as she was hoping for it to be. With that said, the Duchess of Sussex did get to wear her heels — along with her dark nail polish and her hair in a bun — while she was still a working royal. Of course, seeing how she's also spent so much time by her husband Prince Harry's side, a lot of people can't help but wonder just how tall Meghan is. Was she able to keep her heels on?
Meghan Markle is not as tall as Princess Diana was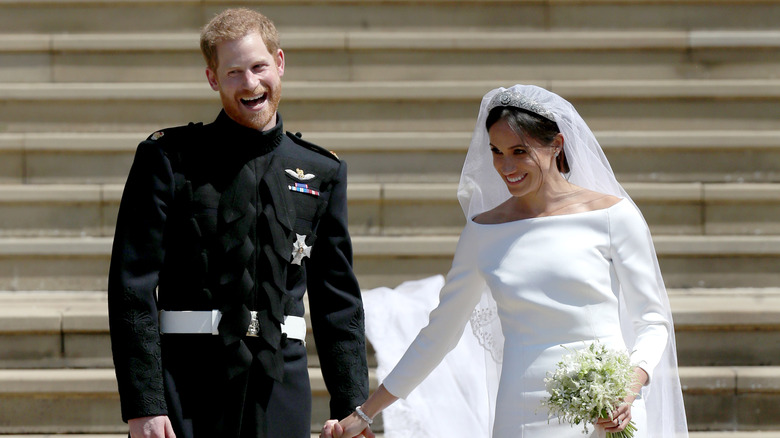 Wpa Pool/Getty Images
Meghan Markle might not be as tall as Princess Diana, or even her sister-in-law Kate Middleton — who also stands at 5-foot-8-inches, per Express, but she's certainly not the smallest person in the royal family, either. Meghan is 5-foot-5-inches, per the outlet, and while that was never a problem for her as a royal, it did create some restrictions for her in the fashion world. 
In an interview with Glamour, she admitted, "What I'm starting to learn is, even though things look amazing on the hanger, it doesn't mean they're going to look amazing on me. For example, I love Victoria Beckham dresses, but I don't have the long torso to support that silhouette."
With that said, Meghan has worn all different kinds of shoes whenever she was seen in public with Prince Harry, who stands a little over 6-foot-2, according to PureWow. From her beloved Birdies flats to her favorite Veja sneakers and her Sarah Flint Jay pumps, as detailed in Town & Country, Meghan seems to stand pretty tall on her own. And while Diana might have felt stunted in her marriage to Prince Charles, that doesn't seem to be the case at all for Meghan and Harry. In fact, the Duke of Sussex has made it pretty clear that he accepts his wife — and every inch of her — for this reason.
Prince Harry knows Princess Diana and Meghan Markle would have bonded over this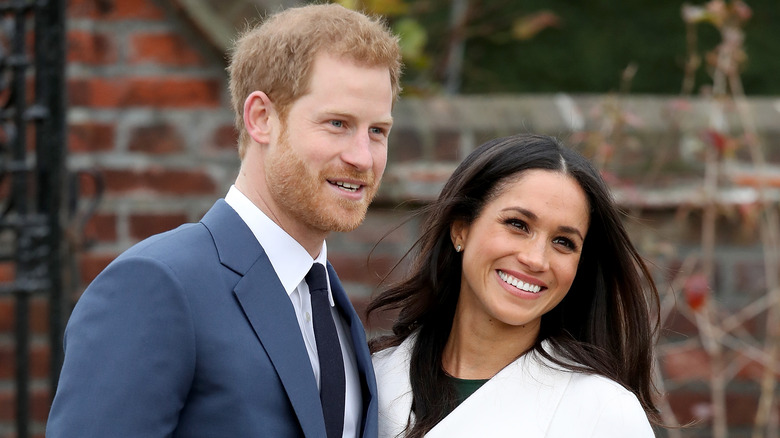 Chris Jackson/Getty Images
During their engagement interview in November 2017 (via ABC News), Prince Harry said that his late mother Princess Diana would have loved Meghan Markle just as much as he does. "Oh they'd be thick as thieves, without question. I think she would be over the moon, jumping up and down, you know so excited for me, but then, as I said, would have probably been best friends — best friends with Meghan." He added, "So no it's — you know it is days like — days like today when ... when I really miss having her around and miss being able to share the happy news. I'm sure she's with us, yeah, you know, jumping up and down somewhere else."
While it's definitely easy to picture someone like Diana becoming best friends with her daughter-in-law, we have a feeling that she wouldn't be your typical royal mother-in-law. That's because, as two mold-breakers through fashion and otherwise, she would have definitely been someone that would have taken Meghan shoe shopping — for a great pair of heels, that is.