Jonathan Scott Just Spoofed One Of Zooey Deschanel's Iconic Movie Scenes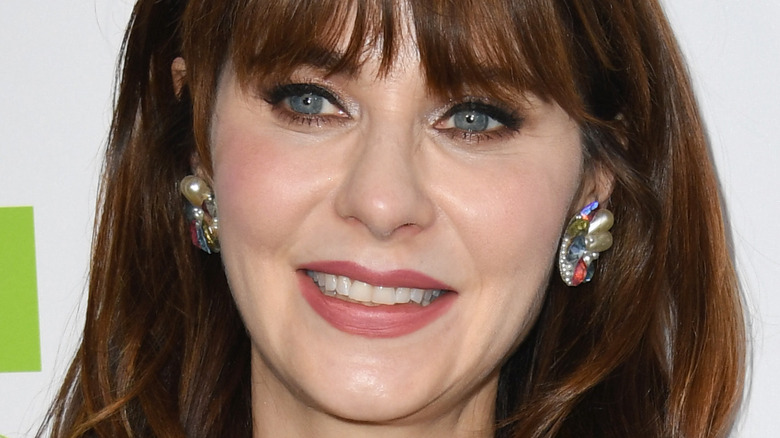 Jon Kopaloff/Getty Images
The world of celebrity relationships can be a strange place to navigate. Just ask "New Girl" actor Zooey Deschanel and HGTV star Jonathan Scott, who surprised everyone by announcing their unlikely pairing back in 2019. As of 2021, the duo are still together and as in love as ever. "2 years and still my favorite," Deschanel captioned an August selfie with Scott in celebration of their second anniversary. Scott returned the favor with a photo of him and Deschanel on the set of "Carpool Karaoke." "Who knew that two years ago, walking into the Carpool Karaoke offices, I'd meet you and my life [would] change forever," he wrote.
As Scott referenced, he first met Deschanel while filming "Carpool Karaoke: The Series," which starred Scott and his twin brother Drew, along with Deschanel and her sister Emily. The "Property Brothers" co-host would later tell Access that he and Deschanel had "instant chemistry" on set. "We just started chatting and laughing and we had a strange amount in common," he added. The couple has appeared completely in love ever since, and they aren't shy about documenting special moments together for their fans. From anniversary snaps to sweet declarations of love, Deschanel and Scott are #RelationshipGoals. In October, Scott proved that the couple isn't above teasing each other, either — and that one of Deschanel's iconic movie scenes was fair game!
Zooey Deschanel starred in Jonathan Scott's TikTok video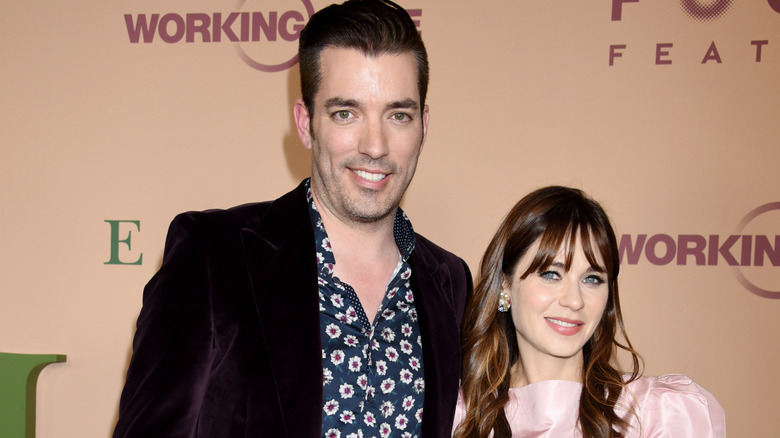 Ga Fullner/Shutterstock
Indie darling Zooey Deschanel first cemented herself in mainstream consciousness with the 2009 film "500 Days of Summer," which featured an elevator scene where Deschanel compliments Joseph Gordon-Levitt's character's taste in music. In a hilarious TikTok video, Jonathan Scott gives us his best JGL impression, complete with headphones, tie, and briefcase. (Naturally, Deschanel reprises the character of Summer.) As she asks Scott what floor he's going to, he replies, "Oak, I think. Probably like a dark oak." Whether it's a reference to Scott's knowledge of floorboards (he does help people find, buy, and remodel fixer-uppers into their dream homes!) or whether he's just pretending to mishear Deschanel, it's funny nonetheless. When Deschanel replies "cool floor," he adds, "I mean, as far as elevator floors are concerned, yeah, pretty durable."
Scott's followers were also here for the couple's real life recreation of the scene. "This. Is. The Best. It's the oak for me," one fan wrote. The whole thing is made even more adorable by the fact that this appears to be the first time Deschanel — who joined TikTok in July — starred on her boyfriend's TikTok page. It's another milestone for the couple who seem to be blissfully in love. In August, Scott told Entertainment Tonight that he is "dating up" when it comes to Deschanel ... so, does this mean we should keep our eyes on TikTok just in case Scott drops down on one knee anytime soon?