Revenge Stars Emily VanCamp And Josh Bowman Are Engaged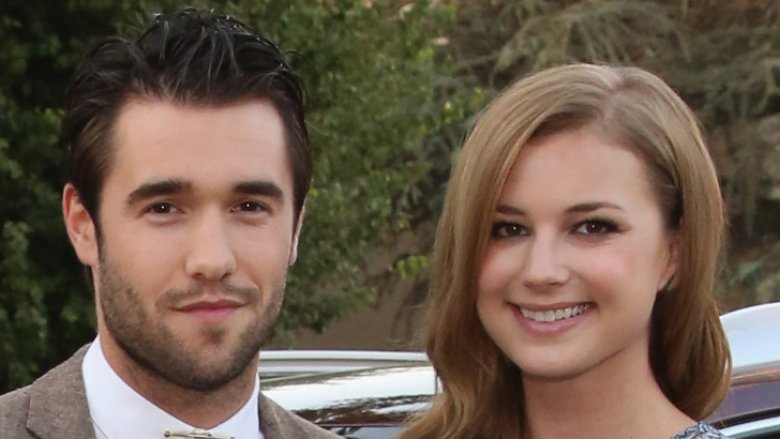 Getty Images
These two former co-stars are itching to tie the knot.
Emily VanCamp and Josh Bowman recently got engaged. VanCamp announced the news by sharing a photo of herself on social media on May 11, 2017. In the picture, she covers her face with her hands—so that all eyes could be on her shiny new ring. As for the caption, VanCamp kept it simple and just included a heart emoji.
The two actors met on the set of Revenge (2011-15), and, interestingly enough, in the third season, their characters, Emily Thorne and Daniel Grayson, even got married.
Though the couple's romance has remained relatively under the radar, VanCamp, 31, has opened up about her relationship in the past. The Captain America actress spoke with InStyle Australia about her beau. "I have a wonderful love in my life," she said, adding, "Trust is the most important thing in any relationship, because everything falls into place after that."
VanCamp even went on to admit that she'd love to have children sometime soon. "I find myself dreaming about [having children] all the time," she told the magazine. "In your late 20s, you start to realize you can't call yourself a baby anymore."
She echoed these statements during an interview on The Meredith Vieira Show (via Us Weekly), describing the pull she feels toward becoming a mother. "Yes, absolutely," she said when asked if she wants to have children, "especially when your sisters are having babies you just want to jump on the bandwagon."
Before the two Revenge stars began dating, VanCamp had previously dated her Everwood (2002-06) co-star Chris Pratt, while Bowman, 29, had reportedly been linked to Amy Winehouse.
Congratulations to Emily and Josh!