AOC Slams Facebook's Decision To Change Its Name To Meta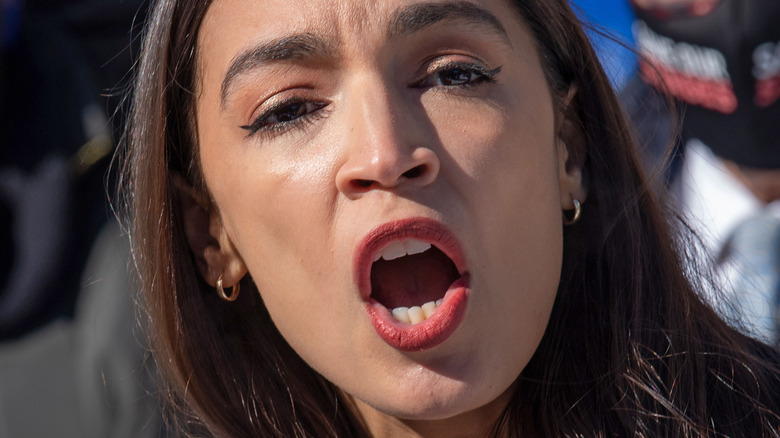 Ron Adar/Shutterstock
On October 28, Facebook officially changed its corporate name to Meta. Mark Zuckerberg announced the news via video, generating a tidal wave of reactions on Twitter. Even New York Rep. Alexandria Ocasio-Cortez aka AOC chimed in, which isn't too surprising considering she's pretty vocal on the platform, especially where it concerns clap backs.
But first, let's dissect this whole "Meta" thing. The name change means that the social media platform Facebook will become a product, like WhatsApp and Instagram, with Meta serving as the company brand. In the announcement about the rebrand, Zuckerberg said, "Today we're seen as a social media company but in our DNA, we are a company that builds technology to connect people. And the metaverse is the next frontier just like social networking was when we got started." For reference, Facebook describes the Metaverse as a "set of virtual spaces where you can create and explore with other people who aren't in the same physical space as you."
The shift came on the heels of whistleblower Frances Haugen's shocking claims about Facebook, which led to new scrutiny of the social media company. And if Facebook thought the criticism would die down with the rebrand, they were mistaken, and Ocasio-Cortez's fiery tweet is the proof.
AOC's takedown of Zuckerberg's Meta is brutal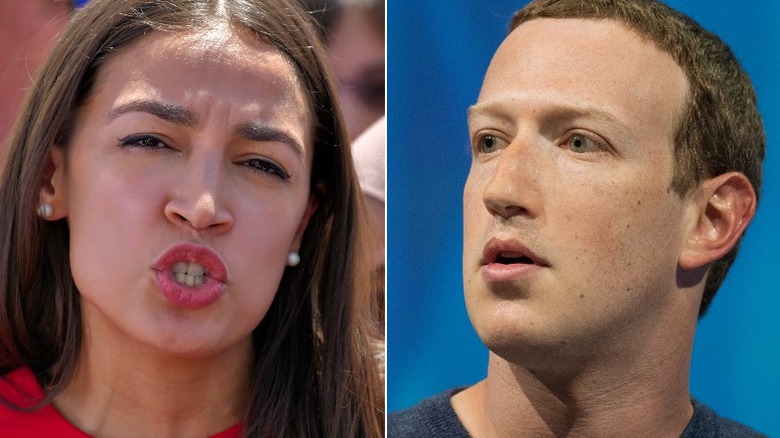 Grossinger & Frederic Legrand - COMEO/Shutterstock
After Mark Zuckerberg announced changing Facebook's name to Meta, the social media ratio was fast and furious. Alexandria Ocasio-Cortez tweeted, "Meta as in 'we are a cancer to democracy metastasizing into a global surveillance and propaganda machine for boosting authoritarian regimes and destroying civil society... for profit!'" Ouch. 
Ocasio-Cortez was likely referring to the October 25 dump of the "Facebook Papers," aka newly released internal documents from the company that goes back years. The headline-making allegation is that Facebook — under the leadership of Zuckerberg — was lax on propaganda and hate speech for the sake of financial gain, despite knowing the harm this supposed strategy might have, according to The Washington Post. In a statement to the outlet, Facebook rep Dani Lever denied Zuckerberg "makes decisions that cause harm" and argued the claims are "based on selected documents that are mischaracterized and devoid of any context."
Of course, Zuckerberg hasn't responded to AOC (at least as of this writing), and given the bite in her tweet, we have a feeling they won't play nice anytime soon.