Kerry Washington On Motherhood : 'This Is My Perfect'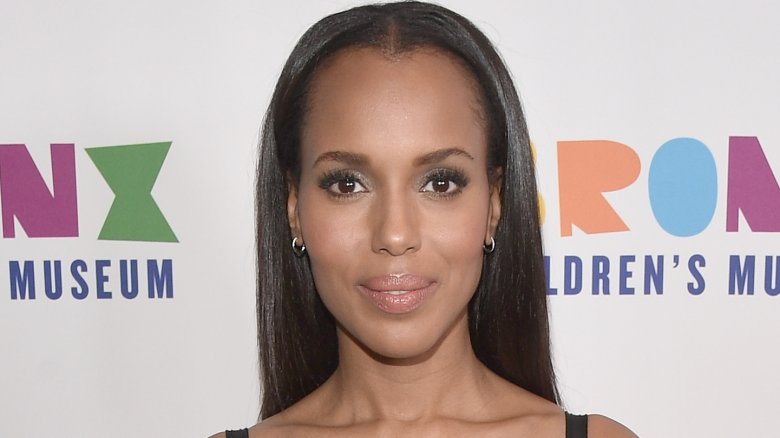 Getty Images
From work life to home life and everything in between, Kerry Washington's got it all handled.
In May 2020, the Scandal star opened up to Net-A-Porter's fashion magazine The Edit about her life as a working mom in Hollywood. The mom of two was featured on the cover of the magazine's June 2020 "Power Women" issue, and the publication notes that, during the interview, Washington's 7-month-old, Caleb, was "cradled at her breast for a midday meal"— talk about multitasking!
"I can be covered in spit-up on a conference call while I'm pumping and that's OK, because this is my perfect," Washington told The Edit (via People). "It may not be somebody else's, but this is mine." Washington and husband Nnamdi Asomugha are also parents to 3-year-old Isabelle Amarachi.
Being a working mom is already pretty difficult without also having to juggle being the star of a hit show like Scandal. Luckily, Washington doesn't have to look too far to find a working mom role model. In her interview with The Edit, Washington praised Scandal showrunner, and boss, Shonda Rhimes for being a force to be reckoned with in the television industry while also being a devoted mother.
"Shonda's got I-don't-know-how-many shows now, plus three kids, and she just figures it out," Washington said (via People). "However busy I feel, Shonda feels busier, so I'm just going to rise to the occasion. She's been a real role model. Seeing the community, she's created and the work ethic—I feel like there should be more of this in the world."
Washington wears many hats as a mom, an actress and the head of a production company, but it looks like she might be turning in her white hat very soon. According to recent reports, Scandal will end after its seventh season in 2018. ABC has yet to comment on these rumors. While Washington isn't quite ready to spill the beans on the fate of her show quite yet, it seems like she is very excited about devoting more time to her production company, Simpson Street, which currently has three projects in development. 
"We're looking to do diverse work that brings more and more people to the table – anyone whose voice is underrepresented. We're trying to carve out a space for them at the table of empowered storytelling."