Why Angelina Jolie Refused To Work With Oprah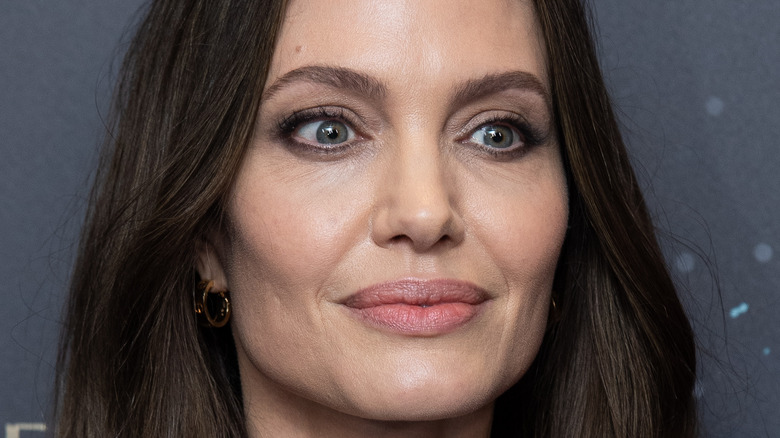 Jeff Spicer/Getty Images
Oprah Winfrey is someone who has rubbed elbows with most of the elite stars in Hollywood. After all, she is someone who has always asked all the important questions — but perhaps, in particular, in her seismic interview with Prince Harry and Meghan Markle, a no-holds-barred conversation that rocked the world with its revelations about what royal life is like behind closed doors. During her run as a talk show host, almost every A-lister in the entertainment industry sat on Oprah's couch and spoke about some of their most personal experiences and life-changing moments. And for Oprah, every single episode was as important to her as the next.
"The goal of my shows, my interviews, my business, my philanthropy, all of it, whatever ventures I might pursue, would be to make clear that what unites us is ultimately far more redeeming and compelling than anything that separates me," she said during her commencement speech at Harvard University, per Oprah.com.
And while there were a lot of people who were willing to sit down and answer some of the most personal questions ever asked to them, there was one huge movie star who allegedly refused to even be in the same room as Oprah — and that just so happens to be Angelina Jolie. Sure, she has gotten very candid in other interviews throughout her career, but Jolie's lips have remained sealed when it comes to the big O. Here's why.
Angelina Jolie's alleged feud with Oprah has to do with Jennifer Aniston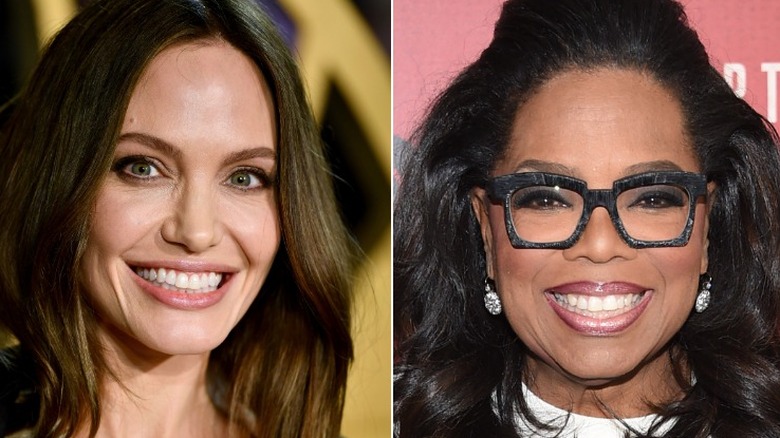 Gareth Cattermole, Dimitrios Kambouris/Getty Images
Apparently, Oprah Winfrey was hopeful that she could work with Angelina Jolie when she opened her Oprah Winfrey Leadership Academy for Girls in South Africa back in 2006. After all, the Academy Award winner did spend a lot of time in Africa after the birth of her daughter, Shiloh, in Namibia. And Oprah hoped that, together, they could do something big for other girls of the continent. In theory, it sounded like a perfect fit: the biggest star in Hollywood working with the biggest star on television. But Jolie allegedly wanted no part of it — and the rejection felt like a sting to Oprah. One source close to the situation told Star (via Fox News) that, "Oprah thought Angelina would jump at the chance" — but Jolie's refusal apparently made it "the last time she'll ask Angelina to help with any of her causes."
But for Jolie, this was personal. If the Star insider is to be believed, "Angelina has never forgiven Oprah for siding with Jennifer Aniston after Brad Pitt split from Jen" during the late aughts. As fans remember, the actor was involved in a media-hyped love triangle between Brad Pitt and the "Friends" star. Pitt and Jolie met — and "fell in love" — on the set of their film "Mr. and Mrs. Smith" in 2004, when he was still married to Aniston. Of course, Pitt and Aniston would soon divorce, and he and Jolie would later marry and have six children (before going through their contentious divorce that began in 2016 and is still ongoing). 
Jennifer Aniston opened up to Oprah about Brad Pitt and Angelina Jolie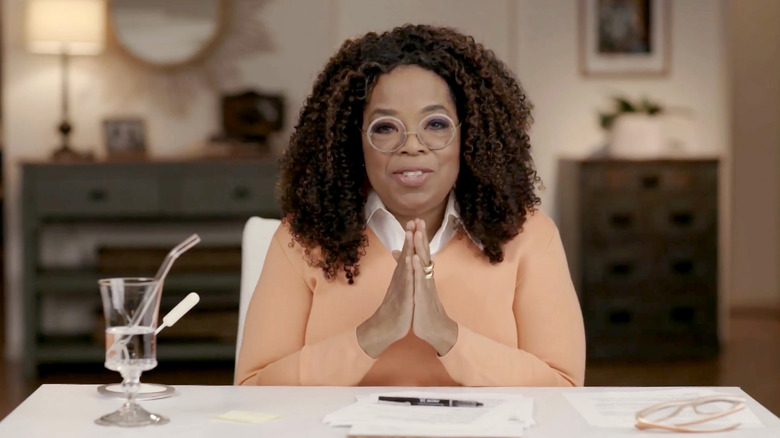 Arturo Holmes/Getty Images
For more than a decade, fans and critics alike simply could nott choose between who they preferred to see by Brad Pitt's side: his first wife, Jennifer Aniston, or his second wife, Angelina Jolie. The tabloid magazines and gossip blogs had a field day whenever they felt Jolie threw subtle shade towards Aniston or vice versa. And while Pitt did appear on "The Oprah Winfrey Show" back in 1998 and 2004, it took more than 20 years — and his separation from the "Maleficent" star — to reunite with the queen of daytime talk again. According to Variety, Oprah and Pitt teamed up in 2020 to produce a new film called "The Water Dancer." Their production companies will tackle "Ta-Nehisi's debut fiction novel," which "weaves the supernatural and spiritual, with the terrible reality of the forced separations endured by enslaved people and their families for centuries."
And while Jolie allegedly could not get over the fact that she was not as popular with Oprah as Aniston was, the "Friends" star played it cool and casual when Oprah asked her about her ex-husband and his new wife in 2008. Aniston revealed she was proud of her ex — and the family he had built. "He's done some amazing things in the last couple of years," she commended him. "I think he's doing great." While much has changed in the years since Aniston's interview, Jolie's opinion of Oprah seemingly has yet to thaw.