Did Katy Perry Write 'I Kissed A Girl' About Miley Cyrus?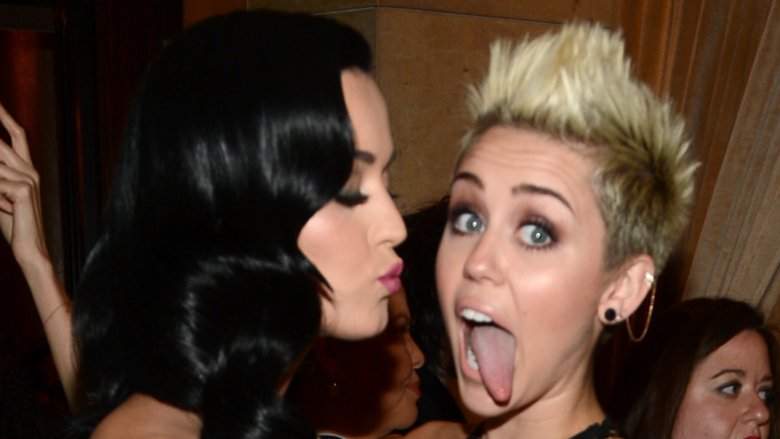 Getty Images
Katy Perry's breakout single "I Kissed a Girl" may not explicitly be about Miley Cyrus, but a joke about the "Malibu" singer being Perry's muse in 2008 kicked off a nearly ten-year friendship!
Cyrus dished on the details of the Hollywood besties' origins during a radio interview with WKTU's Cubby and Carolina Bermudez on Tuesday, May 16, 2017. After revealing that Perry had reached out to her about her new single, "Malibu," the 24-year-old disclosed, "She's been a friend of mine for a really long time. We were actually just realizing the other day that next year, we'll have been friends for 10 years. I think that's my friend that I've known the longest, which is really, really weird!"
The former Disney star explained, "When she came out with 'I Kissed a Girl,' I was doing the Hannah Montana movie, and I heard her on the radio. They said, 'Who did you write that about?' She said me!" She continued, "And I was on a four wheeler, actually—my dad had this four wheeler, this is how hillbilly we are, we had a radio attached to the four wheeler—and I heard it and I screamed, and started freaking out."
However, the two didn't officially meet until their joint appearance at the VMAs that year. "That's when I started doing my whole VMA controversy," Cyrus recalled. "I was like, 'I'll go with Katy Perry!' And she took me...that's how we met, and we just stayed friends."
And super supportive friends, at that! On May 11, 2017, Perry tweeted out her excitement over her Cyrus' new song. "Love this!" the 32-year-old "Bon Appetit" singer wrote. "Sounds like you just pulled up to liberation station."
A few days later, Cyrus shared a short video of her meeting up with Perry at Wango Tango, where the two performed on May 14 (via Billboard). The singer-songwriter added a silly, excitable caption. "My fraaaaaaand @katyperry showin soooo much Mali love!!!!!!" she wrote. "Always supportin! Luhhhhh you!"