Here's What Sarah Paulson Looks Like Without Makeup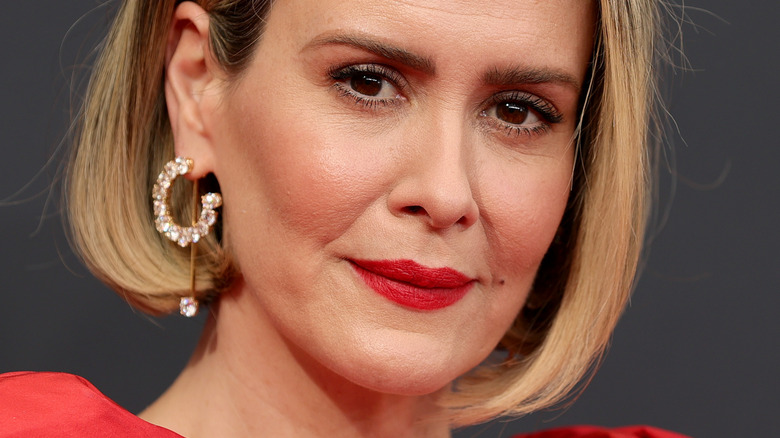 Rich Fury/Getty Images
As a recurring presence on the anthology series "American Horror Story," Sarah Paulson transforms via hair, makeup, and TV magic season after season. Who could forget Hypodermic Sally from "AHS: Hotel" (coincidentally the season co-starring another queen of transformations, Lady Gaga)? With her smeared lipstick, '90's punk-rock eyeliner, and frizzled blonde hair, Paulson cut an appropriately spooky (and Emmy-nominated) figure as a rebellious ghostly being. 
Off-screen, the actor opts for Hollywood glamor, such as on this year's Emmys night when she rocked a voluminous, carnation red dress with statement-making puffy sleeves. Though Paulson's gown was dramatic, her hair and makeup were her signature classic chic — with a long bob, fully shaped brows, light blush, and bold, red lips. The star is a fan of some makeup on a day-to-day basis as well, as she told InStyle. "If I don't comb my eyebrows and have ChapStick, I don't feel like I can face the day, and I'm not kidding," Paulson said on the importance of a fundamental beauty routine. (That probably made playing "AHS" Season 10's resident browless Tuberculosis Karen a fun departure for her...)
Well, while Paulson is clearly a force on the red carpet and on-screen, let's see what the beauty chameleon looks like without makeup.
Sarah Paulson's empowering selfie
Sarah Paulson went makeup-free — and pants-free — in an October 31 Instagram selfie, in the name of promoting an important personal care product. Wearing her bob-length hair (a brunette hue with blonde highlights sprinkled throughout) half-up in a bun, Paulson's selfie showed the acting star's eyebrows looking natural and lusciously full and her coverup-free complexion positively glowing. In fact, the only hint Paulson wasn't wearing any concealer or foundation were her visible undereye circles, which nonetheless failed to detract from her natural beauty.
Moreover, the "Ratched" star was dressed in only a white button-up and pair of black ... underwear. As her empowering caption informed, "Ok...The only way to get me to photograph myself in my underwear (please don't say panties, I cannot handle that word) is because these literally changed my life... Period underwear." As Paulson excitedly explained, her particular pair of this revolutionary product (for which she was not paid to promote, she noted) was made by stylist-to-the-stars Karla Welch, and the two would be donating more from Welch's line to others so they can "have a sustainable period," too, as Paulson wrote. "So many people who period don't have access to period products," she added.
The actor ended her amazing post with an endearingly fierce warning to body-shamers, writing, "Also. If you talk about my body in any way that is disparaging, you can absolutely go f*** yourself!"
Sarah Paulson went the opposite of makeup-free to play Linda Tripp
Starring in the third installment of FX's "American Crime Story" series, "Impeachment" (which premiered September 7 and depicts the events that led to ex-president Bill Clinton's impeachment), Sarah Paulson had a lot of makeup to layer on in order to portray White House whistleblower Linda Tripp. On a June 2020 episode of "Jimmy Kimmel Live!," Paulson teased the massive transformation. "This is going to require a lot of things. I'll be wearing a lot of prosthetics and body transformational accouterment." 
To complete the shocking look, per Entertainment Weekly, "Impeachment" makeup artist Robin Beauchesne revealed that they did exhaustive tests to determine nose shape and "a smaller neck or a larger neck." Ultimately, Beauchesne shared, Paulson wore "a wig, a nose prosthetic, a neck prosthetic, and her [false] teeth." Additionally, "there was makeup on top of the prosthetics. It's beauty makeup, but it's character makeup too. We didn't want to make her too pretty," Beauchesne explained of the physical contrast between Paulson and the character she portrayed.
Costume designer Meredith Markworth-Pollack also noted that Paulson gained 30 pounds for the role, an important feature for accuracy's sake. Praising Paulson's visual sensibilities, Markworth-Pollack told EW, "She was so involved in this. Sarah had such a great eye for it and really wanted it to be as accurate as possible." The commitment to makeup-free or makeup-heavy is what makes Paulson so amazing!