Inside Paris Jackson's Relationship With Her Brothers Prince And Blanket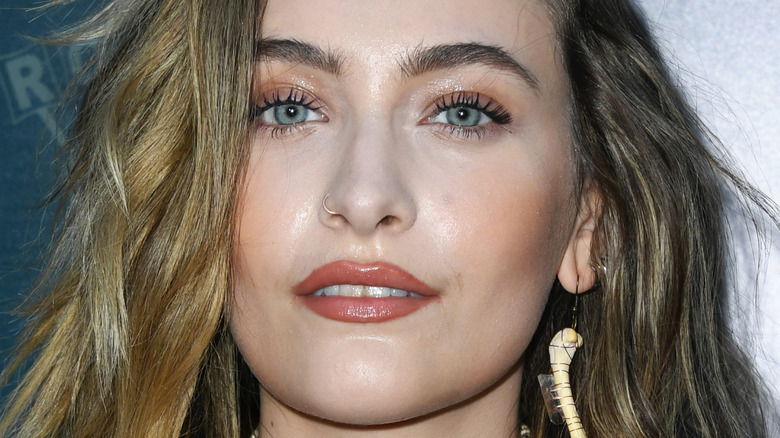 Jon Kopaloff/Getty Images
Paris Jackson was just 11 when she lost her father. Because Michael Jackson had full custody of her and her brothers, Prince and Blanket, their whole family structure was turned upside-down on June 25, 2009. Paris — along with Prince, who was 12, and Blanket, who was 7 — went to live with their grandmother, Katherine, after a judge appointed her as their permanent legal guardian, as NPR reported. And like that, Jackson's three children moved from his Neverland Ranch to Katherine's Encino estate.
There had been speculation at the time that Prince and Paris' mother, Debbie Rowe, who was married to Jackson between 1996 and 1999, was planning to seek custody, but she and Katherine reached an agreement that gave Rowe visitation rights and allowed her to develop a relationship with Paris and Michael, as NPR's report detailed. 
After being raised at the notorious amusement park that was Neverland, where they were homeschooled, Paris, Prince and Blanket were faced with a completely different lifestyle at Katherine's. Their grandmother and her family are strict Jehovah's Witnesses who live by the religion's rules, which was an issue for Paris, who is part of the LGBTQ+ community. "But I've gotten to a point where I respect them and I have love for them. I respect their beliefs, I respect their religion," Paris told Willow Smith on "Red Table Talk." Amid all the changes and grief that came with losing the only parent they knew, Paris, Prince, and Blanket had to lean on one another. 
Paris Jackson is very close with her brothers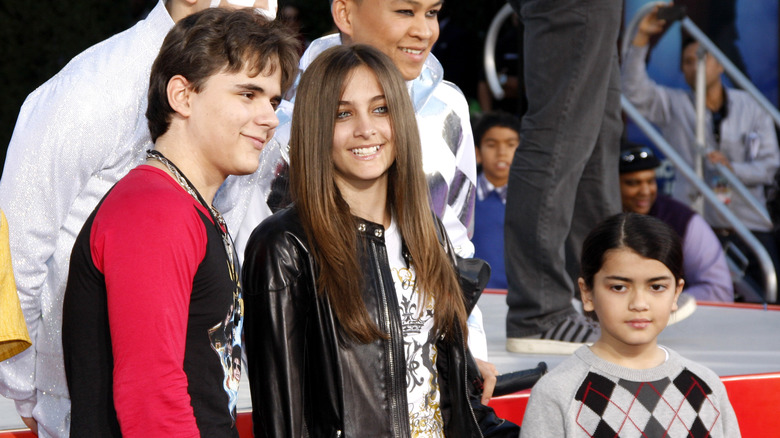 Tinseltown/Shutterstock
Michael Jackson encouraged Paris, Prince, and Blanket to always be there for one another, Prince said on "Good Morning Britain" in October. "When we were growing up, my father would say, 'You know, we could have nothing but you look around in this room — you brother, your sister and me — that's all you'll ever have.' And that always stuck with my siblings and I," Prince said. "We have such a close relationship."
Speaking on "Red Table Talk," Paris confirmed that she is "very close with my brothers." Paris often shows her affection on Instagram for Prince, whom — being only 14 months older — she refers to as her "twin." "greatest big brother and role model a girl could ever hope for ... thanks for being my twin and my bestie, i love you for always til the sun is swallowed by darkness and even after," she wrote on his birthday in 2020. For his birthday this year, she called him her "hero." Similarly, Prince also frequently gushes over his "lil sister" on his Instagram. Paris and Prince even have matching tattoos of a yin and a yang.
Because Prince is the oldest, Jackson instilled in him a sense of responsibility over his younger siblings. But after Jackson's death, it became clear that "hierarchy" didn't exist. "My sister has her strengths, and my brother has his strengths, and where I'm not as strong in certain areas, they complement me in that way," he said.
Paris Jackson's relationship with her mother is unique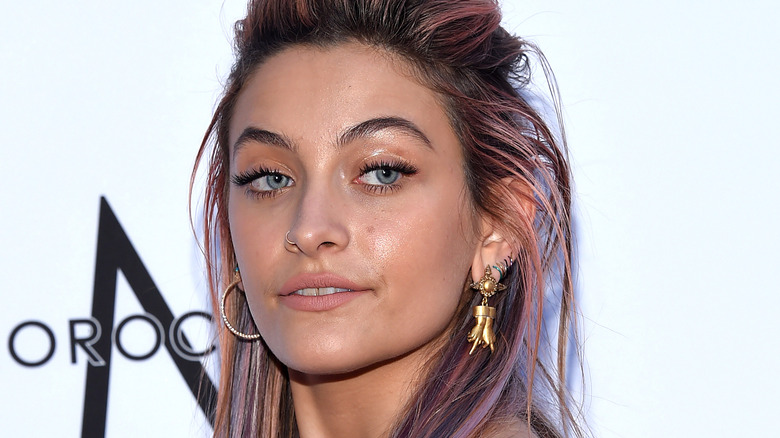 DFree/Shutterstock
Because Paris and Prince's mother, Debbie Rowe, gave up her custody rights when she divorced from Michael Jackson in 1999, they grew up without a mother. But Rowe began to develop a relationship with her kids following Jackson's death, meaning Paris didn't get to know her mother until she was a teenager, as she told Willow Smith on "Red Table Talk." Meeting her has been "cool, I mean, getting to know her, seeing how similar we are, getting into what kind of music she likes," Paris said.
Paris described how interesting it has been to see herself physically in her mother. "We look a lot alike ... she sent me [a picture of] when she was my age in the 1970s. We look exactly alike," Paris told Smith. A photo on Rowe's Facebook page shows the striking resemblance. On the social media platform, Rowe often shows affection for Paris and Michael Jr. (aka Prince), having an album dedicated to them. In many of the captions, Rowe asserts she loves her children.
Even though Rowe is her mother, Paris doesn't exactly see her a mother figure. "It's just cool having her as a friend. It's very chill, which I love. That's the perfect word to describe it," Paris said. The mother figure in Paris' life continues to be her grandmother, Katherine. To mark her 90th birthday in 2020, Paris posted a photo on Instagram of herself kissing Katherine on the cheek, addressing her as "the queen."