The Real Reason Tatum O'Neal And John McEnroe Got Divorced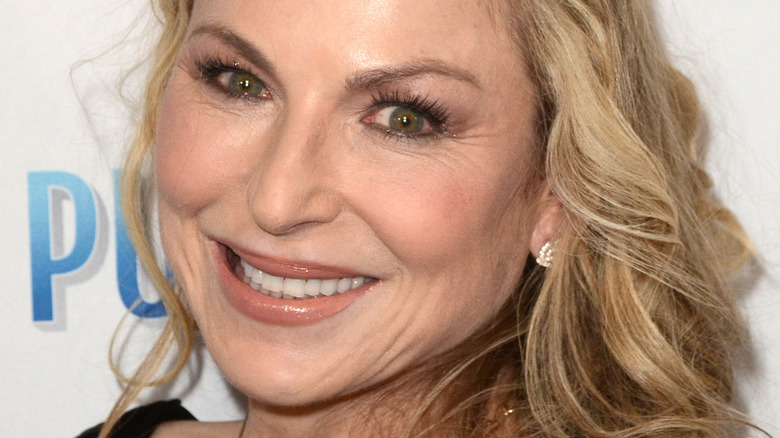 Kathy Hutchins/Shutterstock
The following article includes mentions of drug abuse and addiction.
Tatum O'Neal reached the height of her career at age 10, when she became the youngest person to ever win an Oscar for her breathtaking portrayal of a precocious orphaned girl traveling with a conman, played by her real-life father Ryan O'Neal, in "Paper Moon." But her success as an actor ran parallel to a troubled adolescence marked by the absence of a mother figure, ABC News noted. From age 7 onward, Tatum and her brother were raised by their father, as their mother, actor Joanna Moore, dealt with drug addiction, the report noted. Her father, however, was himself an actor leading a Hollywood life. When Tatum was 15, her father encouraged her to use cocaine to lose weight — a habit that quickly turned into dependency.
In 2004, Tatum released an autobiography, "A Paper Life," in which she described her father as violent and tempestuous, as the New York Daily News reported at the time. Ryan denied his daughter's allegations. "It is a sad day when malicious lies are told in order to become a 'best-seller,'" he said in a statement at the time. "It is my hope that this book was written to serve as her therapy."
Tatum's personal relationships continued to be volatile into adulthood. In 1986, Tatum married tennis star John McEnroe, who was as famous for his volleying skills as he was for his explosive temperament on the court. Their marriage came to an end in 1994 amid a highly publicized, bitter divorce. 
Tatum O'Neal and John McEnroe's marriage was marked by drug use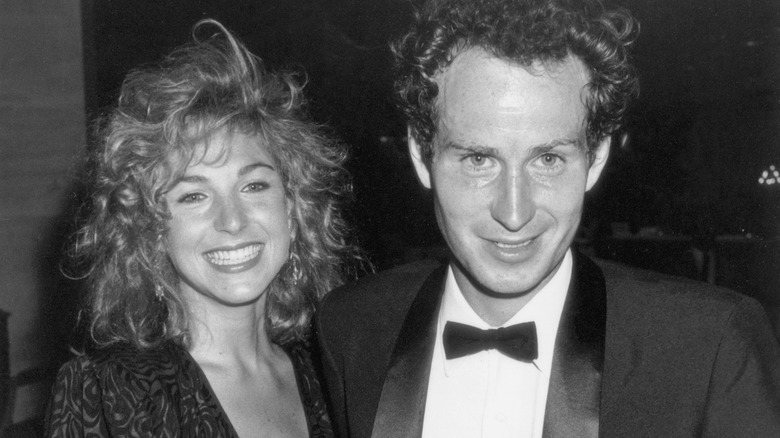 Dave Hogan/Getty Images
In her 20s, Tatum O'Neal's cocaine use had turned into addiction. She was 22 when she met the 26-year-old world champion tennis player John McEnroe, according to a 1985 Spin article. O'Neal quickly fell for McEnroe. "He was very good-looking. I thought he was charming. ...It was sort of a chemical attraction or physical attraction, a love at first sight kind of thing," O'Neal told ABC News in 2002. But Tatum had a drug problem and McEnroe, an anger one. Both of those elements marked their six-year relationship, which produced three children: Kevin, Sean, and Emily.
In a 2002 interview with the Evening Standard, following the release of McEnroe's autobiography, "You Cannot Be Serious," Tatum said McEnroe's attitude on the tennis court reflected his attitude at home. "He is a cruel, cruel man," she said. According to ABC News, Tatum also alleged McEnroe's temperament was exacerbated by steroid use. 
In his memoir, McEnroe acknowledged that O'Neal may have seen a bit of Ryan O'Neal in him, according to CNN. "Maybe my fiery spirit reminded her of her father's own famous temper," he wrote. While Tatum understands why so many people make the connection between Ryan and McEnroe, she knows the two differ in many ways. "Everybody says, 'Oh, you married your father.' I've heard that a million times. But John is a much better man than my father," she told The New York Times in 2015.
Tatum O'Neal continued to battle addiction post-divorce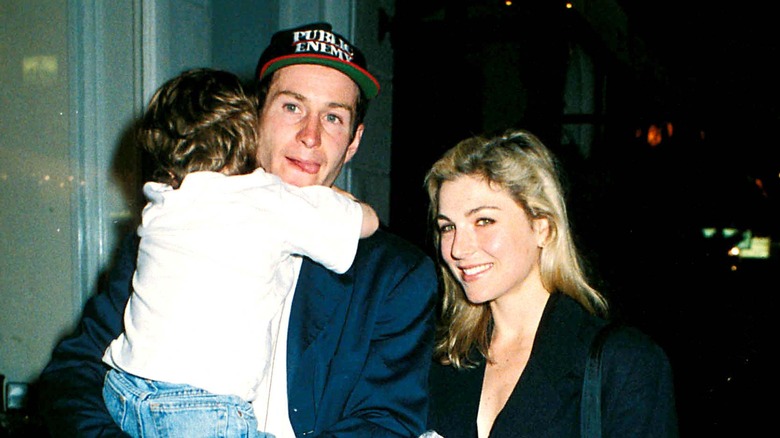 Dave Benett/Getty Images
If Tatum O'Neal's drug addiction was an issue during her marriage to John McEnroe, it continued to be during their divorce and the years that followed. Their son Kevin told People in 2015 that he barely remembers his parents speaking to each other. "We were brought up where they didn't talk much unless we spoke to them separately," Kevin said.
Both parents shared custody of their three children after their split, according to ABC News. The time she spent without the kids negatively affected her and drugs became her companion, she told NBC News. In 1994, she checked herself into rehab. Her life took a turn for the worse in 1997 when O'Neal started using heroin. That year, McEnroe married rock singer Patty Smyth and O'Neal's mother, Joanna Moore, died in her arms, the report detailed. A year later, O'Neal lost custody of the children when her daughter Emily found a syringe lying around the apartment, according to NBC.
After battling drug addiction for years, O'Neal became sober, according to the Los Angeles Times. But her relationship with McEnroe continued to sour as they released tell-all memoirs. However, the dust has settled slightly, and they are able to celebrate their kids' accomplishments together. In 2015, both attended a reading following the release of Kevin's book, "Our Way." "John was really nice to me ... I would say there isn't a relationship but there is respect now," she told People.
If you or anyone you know is struggling with addiction issues, help is available. Visit the Substance Abuse and Mental Health Services Administration website or contact SAMHSA's National Helpline at 1-800-662-HELP (4357).