Celebs' Most Embarrassing On-Stage Performances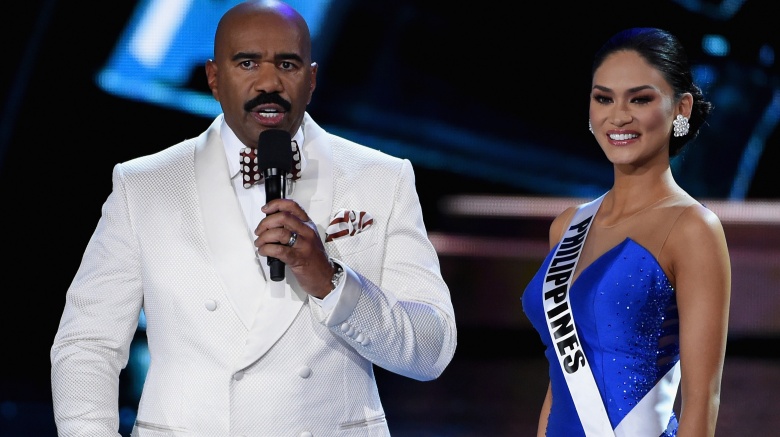 Getty Images
You know the saying, "The show must go on?" It's an old Hollywood adage that puts professionalism above all else when it comes to success in show business. But for these stars and these epic fails—from lip syncing to losing their lunch—the show may have been better off ending early.
Steve Harvey Announces The Wrong Miss Universe
In December 2015, while serving as host of that year's Miss Universe Pageant, comedian Steve Harvey opened the envelope to reveal the first runner up and winner. By this point in the evening, the contest was between Miss Philippines and Miss Colombia. After a long pause—supposedly in place for dramatic effect—Harvey made his announcement: Miss Colombia! The two contestants hugged, and Miss Colombia blew kisses to the crowd as she accepted her crown and sash. But a few minutes later, a sheepish Harvey re-entered the scene to announce that he'd made a mistake: it was Miss Philippines who had won; Miss Colombia was actually the first runner-up. The awkwardness on-stage as Miss Colombia handed over her crown to the real winner was so thick you could cut it with a knife.
Shortly after the monumental screw-up, Harvey took to Twitter to apologize to both contestants, saying he wanted "to apologize emphatically to Miss Philippians and Miss Columbia." Apparently he realized he even botched the spellings of both countries in his apology and deleted the Tweet after that. Oh, Steve.
Selena Gomez Melts Down
During a December 2013 performance, Selena Gomez's microphone and audio malfunctioned—and her vocals kept going when her mic was nowhere near her mouth. During a "performance" of the song "Come & Get It," the furious Gomez yelled, "What the f***?!" and stormed offstage...and her mic was working for that part. Later, fellow performer Ariana Grande took a dig at Gomez when she had audio issues of her own, telling the audience, "I'm sorry the mix was off the entire time. At least you know I'm not tracked!" Burn.
Katy Perry's "Roar" Is More Of A Whimper
When Katy Perry performed at the NRJ Music Awards in 2013, her song "Roar" started playing, vocals included, way before she even took the stage. It was so brutal that the show's host stopped the show and had her start over. When she did, Perry handled it like a pro...but her vocals betrayed her nerves.
Ashley Tisdale Doesn't Make Us Thankful
Ashley Tisdale's 2007 Macy's Thanksgiving Day parade performance was a mess. Most performers lip sync during the parade, but no one has ever made it more obvious than she did.
Justin Bieber Loses His Lunch
Poor Justin Bieber. During his opening night performance of his 2012 Believe tour in Glendale, Arizona, he had a visibly nervous stomach. A combination of stage fright and over-exertion from his choreography ended in the singer tossing his cookies in front of terrified Beliebers—but still finishing the show.
The Pussycat Dolls Get Catty
The Pussycat Dolls are one of the reasons girl groups get a bad rap for, well, catfighting. In 2006, the six stunners were missing Melody Thornton during a performance of "Buttons" at the American Music Awards...not that the audience really would have noticed, because can you actually name any of them besides Nicole Scherzinger? Scherzinger and the Supremes carried on well until the end, when Thornton burst onstage out of nowhere and started belting awkwardly over Scherzinger's efforts to keep everything moving.
Britney Spears Gives Us More Than We Asked For, But Less Than We Deserve
Though it was supposed to be her huge comeback after a highly publicized meltdown, MTV seemed to set Britney Spears up for failure when they had her perform at the 2007 Video Music Awards. The then-troubled starlet appeared to sleepwalk around the stage, barely dancing and often missing her vocal cues to "Gimme More." The secondhand embarrassment was almost too much to bear.
Nicki Minaj Is A Space Cadet With "Starships"
Nicki Minaj usually slays anytime you hand her a mic, but maybe she's not a morning person, because her April 2012 performance of "Starships" on the Today show was less than stellar. The Harajuku Barbie's mic was on, which was evident from her confusing adlibs, but she performed the entire song to a backing track...which was made tragically clear when her mouth was closed and her mic was down at her side, but her vocals kept going. What's more is that her lethargy with her own lyrics can't even be blamed on her choreography, because she barely kept up with that, either. Someone, please, get this woman a Red Bull.
Cassie Kills Her Career Before It Even Starts
Model turned Diddy dalliance Cassie had a minor hit in 2006 with her debut single, "Me & U." Sadly, all hopes of her having a successful music career were dashed when she performed it live on BET's 106 And Park.
Rihanna's "S&M" Stands For "Snoozing & Meandering"
At the 2011 Jingle Bell Ball, Rihanna looked and sounded like she'd just woken up from a bender. In the first minute of her "S&M" performance, she's basically stretching and yawning through her verses.
Iggy Azalea Gets MO Embarrassed Than Ever
When Iggy Azalea performed on Saturday Night Live in October 2014, Danish singer MØ joined her onstage for their single "Beg For It." Unfortunately, it was a performance that viewers and Azalea were just begging to end. Iggy did fine, but MØ was awkward, barely audible, and just so off.
Christina Aguilera Flubs The National Anthem
"The Star Spangled Banner" isn't an easy song to sing for anyone, which is why if you're tapped to perform it at the Super Bowl, you should probably rehearse. A lot. Apparently Christina Aguilera couldn't be bothered to do that in 2011, because she flubbed the lyrics and gave a performance only America's enemies could love.
Lindsay Lohan Stars "Rumors" Of Lip Syncing
Lindsay Lohan performed "Rumors" on Good Morning America in 2004, but may not have rehearsed enough beforehand: she flat out forgets to sing at at least two separate points during the performance, but vocals still keep blaring.
Hilary Duff's "Come Clean" Gets Tarnished
Hilary Duff is a true professional: When her backing track started skipping during MTV's New Year's Live in 2004, she continued her performance without missing a beat..but it was still pretty mortifying to witness.
Ashlee Simpson's Hoedown For The Count
Ashlee Simpson's SNL debacle was the fail heard 'round the world: The wrong backing track began to play for her second performance, including vocals, making it clear she'd lip synced. A visibly unnerved Simpson began dancing around and walked offstage; her band continued playing for about 30 seconds before SNL cut to an unplanned commercial break. At the end of the show, Simpson offered a mea culpa to the crowd, but her career never recovered.