90 Day Fiance's Annie And David Dish On Their Relationship - Exclusive Interview
TLC's binge-worthy reality series "90 Day Fiancé" has probably racked up more failed marriages and engagements than the entire "Bachelor" franchise. It's a place where blind optimism runs wild, squeezing every last possible shred of believability out of so-called catfish and alleged Green Card scammers. It's the live-action realization that sometimes the American Dream isn't worth the strife, one irate and disagreeable mother-in-law at a time. That's what makes it arguably one of the best reality series of the last decade.
In contrast, David Toborowsky and Annie Suwan Toborowsky are a breath of fresh air. The pair first appeared in Season 5 before becoming a cornerstone of the franchise. They've since appeared in no fewer than eight different spin-offs, falling just short of fronting a televised spin-off of their own (though they did get a digital series). The probable reason? They're just too darn happy.
David and Annie's story is one of positivity and an unyielding belief in your partner. They don't sweat the small stuff (even if the small stuff is a tiny storage unit apartment) and use laughter as a knife to ward off negativity. In this exclusive interview, the couple sound off on all things "90 Day Fiancé" and how their infectious optimism helped them make a living outside of reality TV.
David Toborowsky waited only two weeks to propose
It took you two weeks to propose to Annie. That is so fast. How did you know that she was the woman for you?
David Toborowsky: There was something about ... Not only did she have an amazing voice, but she was just, how can I explain it? We went shopping. One of our first dates is we went to the Thai Cambodian marketplace with some friends ... in Sa Kaeo. And when we went there, it's not like I had a lot of money because I was working in China at the time, but I had a decent salary. I was teaching there. So I said, buy whatever you want. It's not expensive.
And when she was shopping, she didn't really buy anything for herself. She bought for her mom, for her two brothers, for her dad, for her grandparents, and just stuff like winter jackets. If you look at one of her early Facebook posts from back in November, December of 2016, it was her parents while wearing a jacket. They don't have heat ... So, to me, she was so giving of herself to others and to me and just, she's full of kindness, love. And even though her English wasn't perfect, I understood, and we could communicate, and she was able to communicate her thoughts and feelings ... As we spent time in China together, each day was like, I could see me being married to you.
The moment Annie Suwan knew David was the one
That's so sweet. Annie, how did you know that he was right for you?
Annie Toborowsky: Honestly, before he proposed to me, we together is very transparent all the time and he offered me to go live with him in China — and, of course, I love to travel. I never see China before, and I say yes. And after I went to visit him in China, we decide to live together. And in the first month, I feel like he's so nice. He's so kind. He makes me feel like home no matter where I am. It's like even though we're in China together, but I feel like home because of him.
Before I met him, I never think I can marry anyone because I feel like I love my freedom. But after 10 days with David, I think it is kind of fun because we always make each other laugh, we're joking a lot, and we have such a wonderful time together. That's why I know in that time, if I'm going to marry somebody, it has to be somebody like David who treat me like important person in the world, no matter the wake up, still look ugly, still look pretty. No matter what I look like, he still loves me.
David: There's no person else in this earth that I would want to spend the rest of my life with than Annie.
Annie: Yeah. And to me it's like I can be myself no matter where I am because he always loves and support what you want to do or be. This is very easy to anybody who finds somebody like that.
Age is just a number for these 90 Day Fiancé stars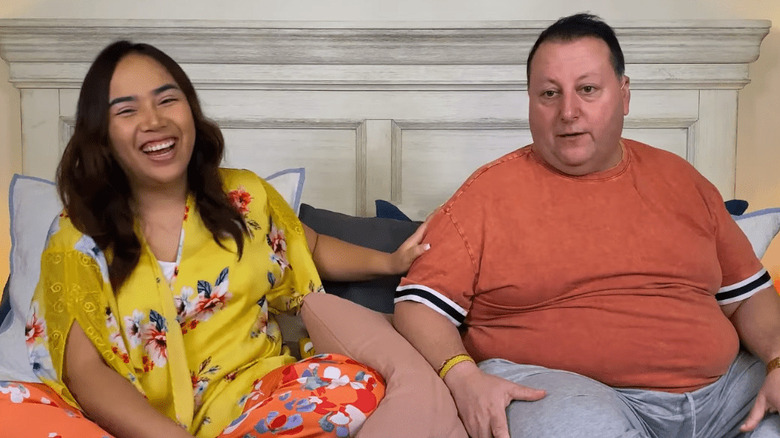 TLC
I know you have a little bit of an age difference. You're one of the few couples on "90 Day Fiancé" where it really doesn't feel apparent. It doesn't seem to cause an issue — and your cultural differences must exist, but they also don't seem to cause an issue. Was there any kind of difficulty navigating those two things?
David: Yes and no. I lived in Thailand. I love Thai culture. My mom has always said that I have an Asian soul because I've been going to Singapore and I used to work with SingHealth. I worked in Hong Kong, with the Hong Kong health authority there. So I've just fallen in love with the Asian cultures, but especially where Annie's from. It's not just Thai culture, but an influence of the Khmer Empire of the Laotians, because she has a lot of Lao influence.
Her first language is Isan, their dialect, then Thai, then Laotian, and then English ... I fell in love with the culture. And Annie has an old soul. She's more mature than I am. So, I think our age difference's gap is closed when it comes to maturity because I'm not very mature, in a fun way.
Annie: Yes. Exactly. When people ask when you're going to have kids. I already have one at home. So David, I have to make sure he nice, he looks good, he's clean, he's fed.
They sound off on the infamously bad storage unit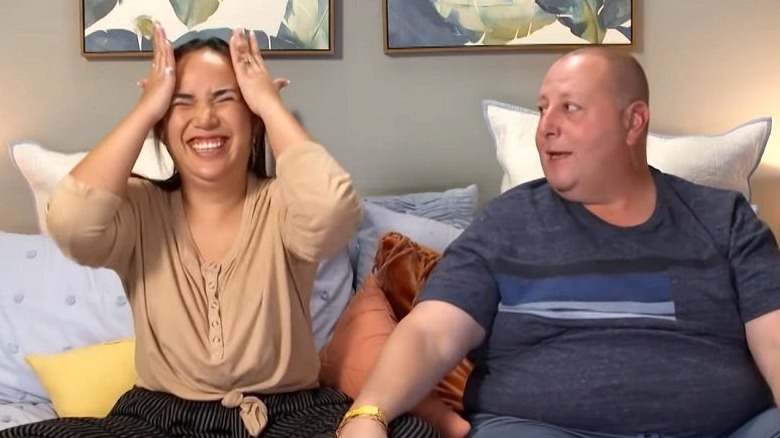 TLC
You guys have endured a lot together. It wasn't always easy. Now, on "Pillow Talk," it seems like smooth sailing. You're in your groove — but before, there was that moment that I have to ask about. You had to leave the firehouse, and David made you move into the apartment in the storage unit company. Was it a storage unit or was it actually an apartment built into the storage unit?
David: It was the manager's apartment above the office, so it was basically a studio. It had a gigantic bathroom. The kitchen had a refrigerator, sink, countertop, and a microwave, but not a stove, and there was no room for it. There was no ventilation. The windows did not open — especially with Thai cooking with all the garlic and chili. It was a manager's studio. It was probably more where the location was difficult because it was right on Dixie highway in the south side of Louisville. The siren was the national Anthem. So every 10 minutes ...
Annie: People die all the time.
David: Yeah. From your window watching car accidents and drug overdoses.
Annie: It's so horrible because that was my first couple months in America, and I have to move from place to place and get worse and worse. But I think, when I look back, that's a good lesson. It was a good lesson in life. If I can make it through the firehouse, the storage units, or whatever come through in that time, I will make it through anything, even though difficulty will be in the future.
David: What probably brought us together was the hardships. Look, and we say this to many people, if two people really stick together ...
Annie: Nothing bad can happen.
Annie never lost faith in her happily ever after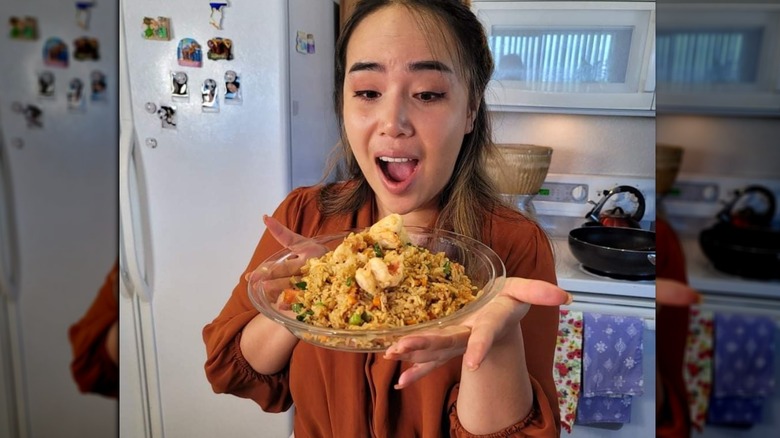 Annie [Continued]: A lot of people send me a message, "If that was me, I'm not going to put up with that s***. You are still young. You're beautiful. You can find anybody give you a better life." Yeah, that makes sense if you're looking for somebody who will give you a better life. Yeah. I probably have a lot of guys who want, but honestly for me, it's not like somebody can give me a better life.
To me, it's who exactly can be my best partner and soulmate because for me it means a lot. Every day, if I'm happy. It doesn't mean to me like [a man] have $1 million [he puts] in front of me. Yeah. But what about him? He not even care? ... You're just here. He probably has $3 million, but he just gives you $1 million. For David, he might give you $100. Probably that's all he has. That's kind of different. How I look at it.
David: Because then you're bought with money ... We grew together. It was my fault. When we came back to America, I was unprepared for what America would be like after five and a half years [in Asia]. I had a good job in Thailand. I had a better job in China. So it was very different.
So, for me coming back here at that time being 48 years old, 49, it was difficult. Yes, I have a master's in hospital administration. I have an undergraduate in aviation. Who hires a 50 year old that has been out of the market here?
Annie: I know that how people look at, but to me, even though I [didn't know him for long] in that time, I really feel like I know him forever. I totally believed in that time, he's going to get through it and we're going to have a better life.
Why David decided to move back to the United States
Why did you decide to move back to the United States instead of staying in Thailand?
David: I was living in China at the time, and I thought it would be better and a good experience for Annie to come to America. One, from a long term perspective — because now I have to think about not just my retirement, but Annie's future when I'm gone. Because chances are it's, by just law of numbers.
If she's giving me the best years of her life, I want to make sure she has a life, whether she chooses here or back in Thailand. I can't imagine us living here for that many years. We love Thailand. It's my home. Even with Delta Air Lines, I still have my address there, and we have two condos in Thailand. That, I know ultimately will be our future, but I wanted to come back here to explore the opportunities.
So going back to your question, I was unprepared ... We moved to Scottsdale in Old Town and we just flourished out here. The positive energy. We have the cooking company, we have the oils, the catering, plus I'm still doing healthcare consulting work. I've met a lot of great people out here. Great friends.
David dishes on that uncomfortable double date with Chris Thieneman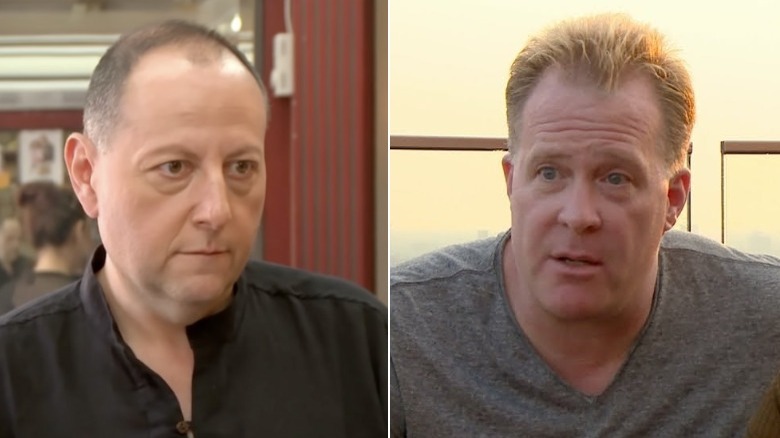 TLC
So your friend, Chris Thieneman, I've seen a lot of interviews he's given about your guys' relationship. I know he was helping you out. There was that whole drama about him asking Annie for massages (which seemed like a joke). How did you feel about that whole incident?
David: I don't really dwell on the negatives of the past. I feel like maybe he was saying it half jokingly. I don't think he was serious in asking for massage, so I just brush that off. Chris has a good heart. He's a good person. Him and Nikki [Cooper] are both wonderful people and great parents and you wish them the best. Everybody has different things, and it was tough times at the beginning. Again, that was my fault, not Chris', for when I came back. So, I don't fault in anything. That was my decisions that led to tough times.
Are you guys still close?
We're friends. We live far apart, so it's not like we hang out. And because of COVID and because the only time I've been back to Louisville was for my dad's funeral last December, and then we went in September right before his 80th birthday, before he passed. And we went to see my mom in Charleston, West Virginia, and to see the kids that are in Kentucky, the two of them that are. I've texted him through that, but everybody's busy in such different directions. But I still wish them the best of everything.
Annie gets real about her relationship with David's daughter
So Annie, you had a rocky relationship at the start with David's daughter, Ashley Toborowsky. Have you managed to patch things up?
Annie: Yeah. Two years ago she came out to visit. It's not like we are close close, but we talk over text message. I send her money when she travels down to Florida. Every time she come down, send money. Here, your PayPal, go get your drink and you dessert. And she has her own life. And she works really hard [as a] single mom, and we do support on that.
David: Yeah. Ashley's a very hardworking single mom, and she's gone through a lot this past year. She was in Florida with my granddaughter, Aubrey, and their flight got canceled coming home. She had to get back for work, and it was right on her birthday. So Annie didn't even tell me. She sent her a hundred dollars through PayPal, and just said, "Here, go get your drink. Relax. It's going to be okay." So, obviously we want to see them soon, but they had a great time, and they came out. Sometimes I think she might end up coming out here to live or who knows. Maybe she'll come to Thailand, live with us one day.
Annie: She grew up a lot since the first time we met and yeah, but she still have, like cranky a** sometime. But when you get to know her, you will look at her like it is funny.
The inspiration behind their new line of cooking oils
David and Annie Toborowsky
So, you launched a line of cooking oils. What inspired you to do that?
David: One of the main things is certain times of the year, you can't get holy basil, the Thai hot basil. You can get the sweet basil, but not the hot basil. So we partnered with a company out of Arkansas, and they sourced cold press, first press, I guess is the best word of it. And instead of extract, it's actually infused with the holy basil. Some places, like obviously if you're in New York, it's easy to find a lot of the ingredients that go into Thai cooking. We thought we'd kick it up a notch. You have Spice It Up With David and Annie. So we have-
Annie: Spicy Thai chili ... but the oil is not spicy. It gives you a good flavor. I cook yesterday. It's so good, and I feel like when you have a good cooking oil, it makes your food even better, tasty, and healthier. Yeah. Yesterday we make it with salad. When you put your avocado oil over your salad, it gives you really more flavor and color. It makes your food look nice.
David: Yeah. Because Annie wants the best of everything. We thought, well, this will be a great idea because with cooking oils, like this is avocado. You can't really cook with olive oil for most Thai dishes because of the high burn temperature. And Annie's like, this would be a great idea. I like this. We partner with them. They help source it because they know good quality. And we're very excited about it right now.
Annie: It's like the women who make it, just a business, small business or local ...
David: Yeah, and right now you get a free pourer if you order. And people that order a cooking lesson with us — whether it's in person or through Zoom — we will send them a free bottle of the oil for them to try to cook with.
The pandemic inspired Annie and David to give virtual cooking lessons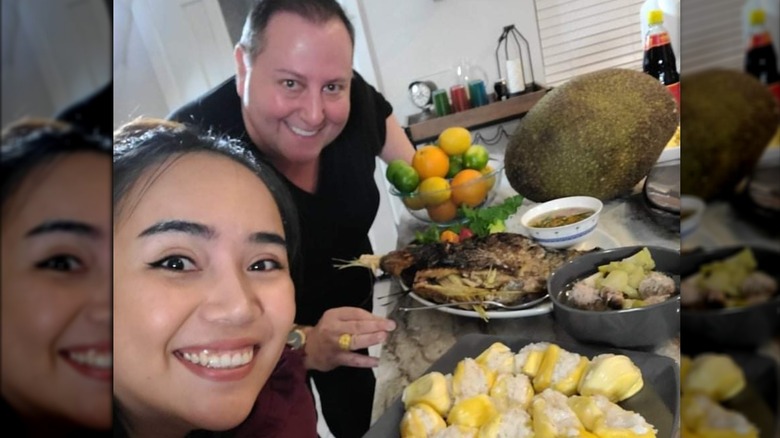 David and Annie Toborowsky
So you're also doing teaching? Cooking lessons?
Annie: Yes. And also catering.
How did you start those things?
David: Well, when the pandemic started, Annie was not doing any cooking because we had just started catering, and we were doing some parties, and then the pandemic hit. So Annie started making masks for the first couple months, where she gave out between 800 and 1,000 masks. I would deliver or mail them off, and we wouldn't take any money for it. It was just like, "No."
Then the idea of Zoom started. So, we put out there that we're doing cooking lessons through Zoom. So we would do cooking lessons, and for people, especially in Canada, who couldn't leave their home to go out to eat, it was a treat. We'd all cook together and eat dinner together through Zoom.
That sounds so fun.
Annie: To me, why we started cooking catering, because I invite our friend to try the food, and they just said this is the best Thai food they have eat. Just give us some idea, "Why you guys don't do it?" ... And they eat almost everything. They travel many country, and they say, "This is the best Thai food." This make me happy because to me, if I can cook to somebody — either the special day or just regular day — if they happy, that's make me happy ...
The reason David Toborowsky signed up for 90 Day Fiancé
David: ... So, we've tried to take all the negative things that are happening over the last couple years and turn it into a positive. So, okay, we can't visit with people. Let's cook together ... We are so humbled by the love that we've received. Not everybody loves us, obviously, because you're always going to have people that don't, but that's okay. But the ones that do, I feel like they've touched and enriched our lives and I hope we're able to do the same.
Part of sharing my story was, I restarted my life when I moved to Thailand in 2013. I had gone through a divorce. I'd lost everything. I was not in great physical shape when I went there ... Thailand gave me my life back and gave me the most precious gift it has, and that's Annie. So we tried to share that story because I was in a place that a lot of people went to in 2008 — after the crash in '10, '12, when you lost jobs, cars, homes ... You were hearing about guys in New York, working on Wall Street, who were serving in Red Lobster. They couldn't survive. That was the time. That's why I wanted to share my story.
I think your whole story is — if I could picture one thing about you guys — is that you're always seeing the positivity in bad things and trying to turn it around.
Annie: Yes. Even though in the bad day, even though in the negative, you will have something positive, upside down. That's how we take it to turn it to a better way, to give us a better life. We believe in us.
David: And laughter. And laughter gets us through a lot.
Annie: And life is just hard enough. What about take everything, just make it lighter, easier? Don't always serious. Why? We are not going to live 200 or 300 years like a tortoise or cactus. We live very short time. Make the best of this, make the fun of this life.
That's part of what makes you guys so good to watch on "Pillow Talk."
The couple binge this 90 Day Fiancé spin-off just like the rest of us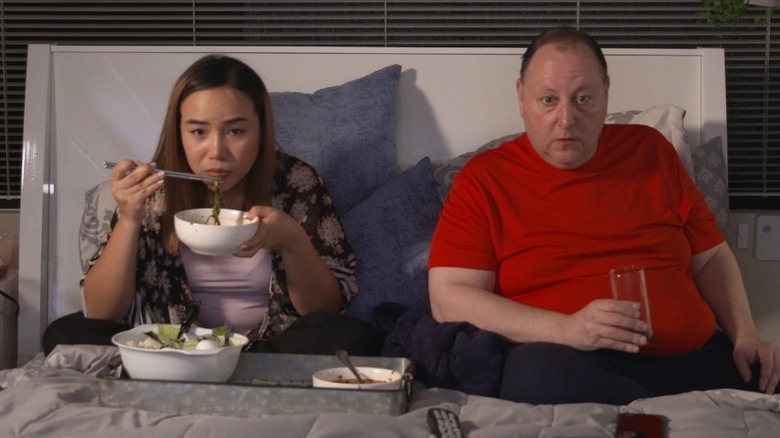 TLC
You have done so many different 90 Day spinoffs. Which one is your favorite?
Annie: "The Other Way."
David: Yes. "Pillow Talk: The Other Way." We love "The Single Life" because you already know some of the people. "The Other Way" is always exciting because we love to travel, so it's to see other people's culture.
Annie: Yes, or even "Before The 90 Days." The American travel to the foreign country to find first love, whatever you want to call — or first scam. Whatever you want call. But it is so good. When come down to travel, we just jump in like, "Yes! Do it. Go get it, and see different culture, different food, different language." It makes us even want to watch more.
David: I mean it actually guides our travel. [Anthony] Bourdain and [Andrew] Zimmern were my inspiration for traveling to begin with. I've been to 67 countries now. Annie, last year, I surprised her, and I said, "We're going away for a week. Make sure you have a bathing suit. Where are we going? I'll tell you when we get there." And we went to Zanzibar in Tanzania. That's why we love ["Pillow Talk: The Other Way"] and ["Before the 90 Days"] is because it's travel and food, and we can both relate to it.
Annie: And I like to see when people feel awkward in another country. It's my favorite scene when Big Ed showered in the bucket because, when David first travel to my home, see my friend, that's how he showered. I had to shower him like watering a plant. It was so fun. Unfortunately we didn't film it ... But, yeah. We don't have rat. We have a [rooster] fighting, running around, but not rat like in this scene.
David: Yeah. It was like cleaning the water buffalo, is what I felt like.
I love that scene too. I especially love when the people who are on the other way get so tripped up with the other culture being nothing like what they expected.
David: That's why we love it so much. Like when Jenny [Slatten] and Sumit [Singh], when they came into the house, and they had to bless it, and they had the cow come in. That was awesome. That stuff, that's incredible.
David and Annie reveal their favorite 90 Day Fiancé couple
Besides yourselves, who is your favorite "90 Day" couple?
David: Wow. There's so many. We're close with Ben [Taylor] and Akinyi [Obala] — very close because they live here in town. David [Vázquez Zermeño] and Evelyn [Cormier] have stayed with us during Thanksgiving last year. Obviously Russ and [Paola] Mayfield. Molly [Hopkins] is amazing, Stacey [Silva] and, there's so many.
Annie: Yeah. I love to watch Sumit and Jenny.
David: Yeah. I have talked to them when they first went there. We ran into Jen in Palm Springs when she was traveling a couple years ago. When things open up, we'll go visit them in India. Especially if they get married. I would love to go.
Annie: I would love to cook with mom.
I think everyone would love if they finally got married.
Annie: I need to put David on the yoga class with mom.
David: Yeah. She wants me to go do yoga with Sumit's mom. I'll tell you what I'm excited about seeing. I'm excited about seeing — and I can't wait — is for mother Debbie [Johnson] on "Single Life." It really is inspiring to see her get out there and try again. And I reached out to her and wish her the best of luck, whatever may be.
Annie: Yes, and I need to talk to her. If she wants to marry, make sure she got some dowry. I can negotiate for her, if she need to. Make sure you've got the dowry, Debbie. Don't marry without dowry!
David: At least a couple of free bingo dollars.
Maybe she'll meet a high roller or something.
David: It would be awesome. I wish her the best.
David and Annie get real about celebrity fashion
Okay. So last question. You're into fashion. You've launched your online boutique. What is your favorite celebrity look that you've seen this year?
David: For me, my favorite look is Annie, especially at night. She was drunk, and she posted that picture on Instagram. We were both drunk, and that was a fun.
Annie: The celebrity look. Sometimes, a lot, the big stars like to wear something look weird, not every day people will wear. Oh, I don't know.
David: I don't think, as far as looking at other celebrities for motivation. I mean, the only one I would look towards is The Rock because I'd like to look like him, and that's Annie's celebrity crush. So, that would be the one look that I would like for me, but I don't think that Annie looks at fashion on somebody and says, "Oh, look at their fashion."
Annie: Yeah. I just do myself. I just put the thing together. Just make yourself.
David: But I think Lady Gaga's clothes, you always comment on, "Wow, look how cool that is. That outfit."
Annie: Oh, Lady Gaga. Oh yeah. Her outfit is not like the thing you're going to wear to walk to Walmart.
David: No. Well you could if you were back in Kentucky. Nobody would say a word. You don't have to wear pants in a Walmart.
Annie: ... I like Angelina Jolie.
David: Angelina Jolie. Yes.
Yeah. She's cool. She's been reusing her old dresses for her children, which is so sweet.
David: Awesome. She has given back so much to Thailand and Cambodia.
Annie: I grew up with her movie. That's the first name I want to be named. Before I named Annie, I want to name Jolie.
David: Yeah. Because, obviously, Annie is not her real birth name. Her birth name was Nipaporn, and then when she was 15, she changed it to Chanoknat, and Annie is what she called herself in English. She wants to change her name again. I'm like, "Too late now. You can't change your name. Everybody knows you as Annie."
It is never too late.
David: You're done. This is it. This is the name, and when you become a US citizen, you can actually take the name Annie, if you want, or you can go back to your birth name of Nipaporn. Whatever you want.
Annie: I should register Nipaporn. That will sell more dresses.
David: Yeah. Dresses by Nipaporn, whether for boom boom night or just to go shopping.
Annie: Bring Nipaporn with you.
You guys are so cute. You guys are so funny. You're one of the couples that just always makes me laugh and has such good energy.
David: If you get a chance to look at Annie's Facebook and Instagram. You'll see we did little video last night. We had a few drinks and –
Annie: Oh my God, if you want to see David move, dancing, go look at my Instagram. You are going to laugh your a** off. You're going to laugh, I tell you.
David: She definitely takes away my inhibitions.
You can take a cooking lesson with David and Annie or try the couple's cooking oils via their website Cooking with D-N-A.