Celebrities Hollywood Won't Take Seriously Anymore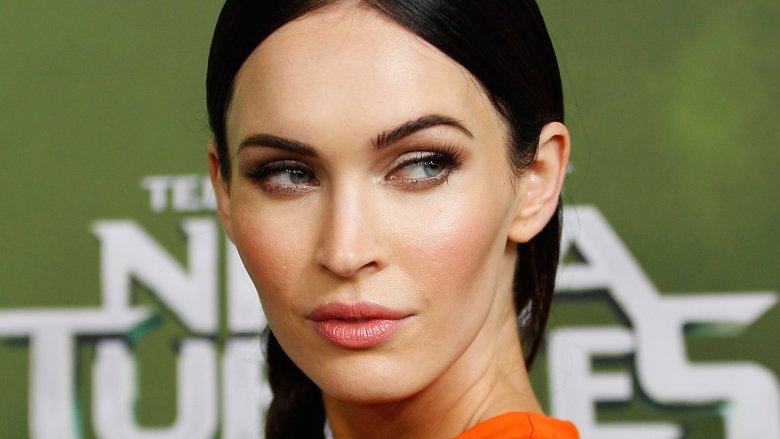 Getty Images
Making it in Hollywood is never easy. And once a star does catch that big break, there's no guarantee that they'll be taken seriously or be seen as anything more than just a punchline. It's a fate that's trapped even the most famous of celebrities. Just because they're making headlines, or recognized across the globe, Hollywood can be a fickle town where stars find themselves on the outs almost as quickly as they made their way in.
Lindsay Lohan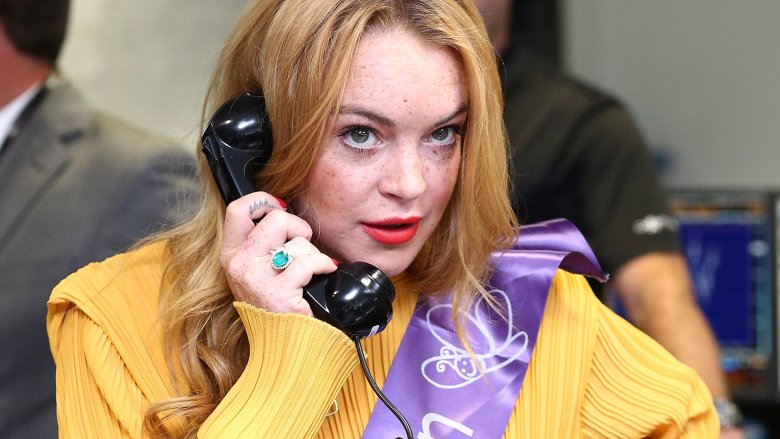 Getty Images
After starring in the 2004 comedy hit Mean Girls, Lindsay Lohan was the actress of the moment. The 18-year-old redhead was poised for success after working her way up from being a child actor for Disney to a genuine movie star. Hollywood was Lohan's for the taking... if she could only stop partying.
Even before hitting it big with Mean Girls, Lohan was already earning a reputation as a "party girl" and was actively chasing paparazzi attention, according to a Vanity Fair profile that detailed where things went from bad to worse for Lohan. "What she didn't know was that by courting tabloid fame she was playing a dangerous game at a precarious time. Her coming-of-age coincided with the dawning of an invasive new kind of nonstop celebrity journalism."
Essentially Lohan picked the exact wrong time to become a prominent figure at Hollywood clubs as aggressive celebrity sites like TMZ were picking up steam. It also made it hard for studios to spin Lohan's erratic behavior on sets as "exhaustion" when she was constantly photographed partying. By 2007, Lohan managed to rack up two DUI arrests within weeks of each other, which resulted in her being called out by her Georgia Rule co-star Jane Fonda. Lohan's career quickly wilted along with her hopes of being taken seriously as an actress. Granted, she could turn things around. But for now, Lohan will just be another cautionary tale.
John Travolta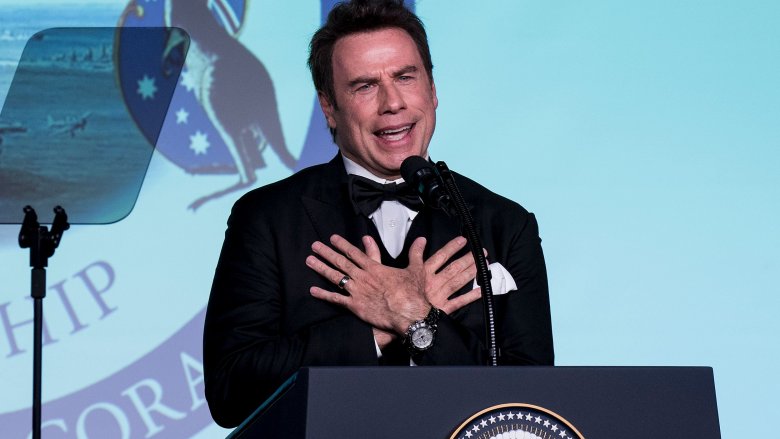 Getty Images
After Quentin Tarantino single-handedly revived John Travolta's career by casting him in Pulp Fiction, the actor was unstoppable throughout the 90s. He appeared in such hit films as Face/Off, Get Shorty, Michael, Phenomenon, and more. It was the decade of Travolta. But then he just kept making movies. And making movies, and making movies... And none of them seemed to match the caliber of films Travolta used to be known for.
While it'd be easy to blame Travolta's career implosion on his belief in Scientology, that hasn't hampered Tom Cruise's Hollywood status. However, Travolta has the unfortunate distinction of starring in a movie based on founder L. Ron Hubbard book's Battlefield Earth. The film bombed at the box office in 2000 and took Travolta's career along with it. "Battlefield Earth is like taking a bus trip with someone who has needed a bath for a long time," Roger Ebert wrote in his review. "It's not merely bad; it's unpleasant in a hostile way."
After Battlefield Earth kneecapped Travolta's box office dominance and highlighted his devotion to Scientology. (He still calls it a "beautiful film."), Grantland asserts that the actor slowly became more famous for his "weird persona" off-screen than his films. His creepy face-touching of Idina Menzel one year after famously mispronouncing her name at the Oscars didn't help. Nor did his odd kissing of Scarlett Johansson. Grantland sums it up that Travolta is now seen as "The Man In The Cult-Constructed Bubble."
Jessica Simpson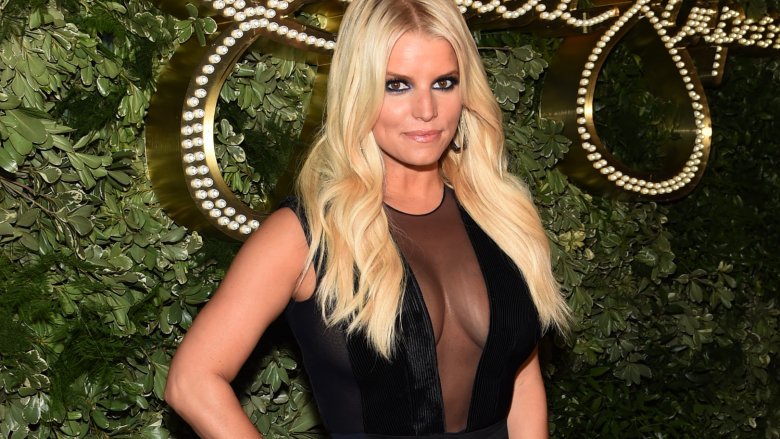 Getty Images
Jessica Simpson rode to pop star fame in the late '90s on the heels of Christina Aguilera who rode in on the heels of Britney Spears. There was a whole blonde thing going on. But while Spears and Aguilera kept dominating the charts, Simpson pivoted to starring in movies after her hilarious, off-the-cuff remarks on her reality show Newlyweds: Nick and Jessica revealed that she's not the sharpest tool in the shed. In 2005, Simpson's now-famous ditzy persona landed her the role of Daisy Duke in The Dukes of Hazzard in which she made her acting debut. While the movie did okay financially, it only has a 13% fresh rating on Rotten Tomatoes, and Simpson is mostly remembered for her tiny denim shorts.
Simpson's next role would be in the Dane Cook comedy Employee of the Month, which earned her a Razzie nomination for Worst Actress. But the fatal blow to her acting career came in 2008, when her movie Blonde Ambition was released to eight movie theaters in Simpson's home state of Texas. According to \Film, it made a grand total of $384, which means only 48 people bought tickets. Or more harshly, just six people per theater. Ouch. After that, Simpson stuck to cameos.
But don't feel too bad for Simpson. She sits atop a billion dollar fashion empire even if she's mostly famous these days for passing gas in business meetings and sharing too much information about her marriage to Eric Johnson.
Charlie Sheen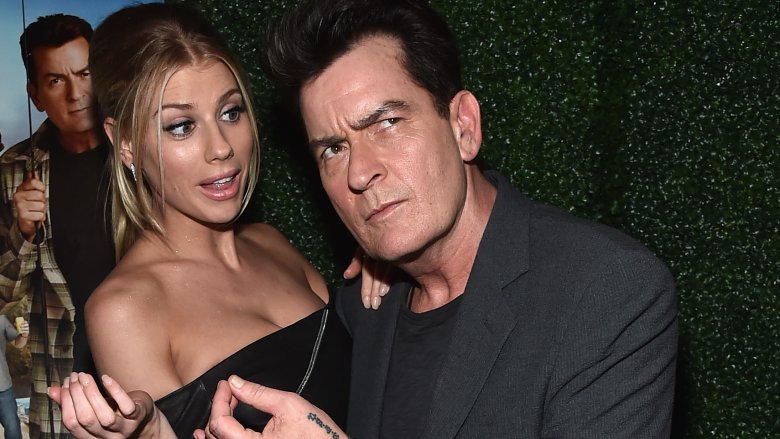 Getty Images
While Charlie Sheen has always had a bad boy reputation, surprisingly, there was a time when Hollywood actually considered him a family man and a reliable television actor despite his (very) troubled past. It started in 1998 when Sheen suffered a stroke while overdosing. The event scared the actor straight, and with his newfound sobriety he went on to win a Golden Globe for Spin City. Sheen later married Denise Richards in 2002, and the couple would welcome two daughters.
Soon, Sheen landed the hit CBS sitcom Two And A Half Men, making him one of the highest paid actors on TV. While Sheen's career was on fire, in private, he was unravelling. In 2006, Richards filed for divorce and alleged a slew of disturbing acts against her husband. But even after emails bolstering Richards' claims were published, the scandal didn't affect Sheen's hit show. But it was a sign of things to come.
By 2011, Sheen was having a massive meltdown. After going on now-infamous rants about tiger blood, and #winning, the actor was fired from Two And A Half Men. Granted, while Sheen would quickly move to Anger Management, he'd squander that chance causing FX to cancel the show. His latest project is a Crackle original movie, which we didn't even know was a thing. And Hollywood isn't exactly scrambling to work with the guy who blew up a money-making machine like Two And A Half Men.
Mischa Barton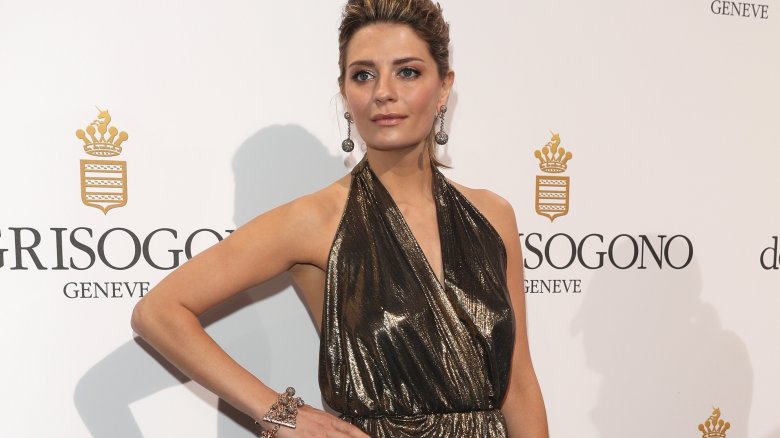 Getty Images
Shortly after the premiere of The O.C. and a controversial appearance in an Enrique Iglesias video, Mischa Barton was named the "It Girl of 2003." But then almost quickly, everything fell apart with Barton. She began dating oil heir Brandon Davis, and the two become one of the most dysfunctional celeb couples in Hollywood before he'd eventually leave her for Paris Hilton. The O.C. lost its spark with viewers after only two years on the air and was cancelled for low ratings in 2007 with just four seasons under its belt. But Barton never even made it to the final season. Her character had already been killed off, and the rumors were swirling that she was forced off of the show.
From there, Barton went full Lindsay Lohan as her off-screen behavior overshadowed her already declining acting career. She soon develops a reputation for smoking pot while driving, and after criticizing the media for exaggerating her party girl image, she got picked up for her first DUI in 2007. Barton would make a few mea culpas to the press, only to go right back to clubbing, and from there, she'd continue down the Lohan path by becoming more famous for her financial troubles and "what might have been" career. Barton was last seen getting kicked off of Dancing With The Stars in 2016 after just three episodes. She was also hospitalized in January 2017 for a mental evaluation.
Shia LaBeouf
In 2007, Shia LaBeouf was blowing up Hollywood. Thanks to a lucrative working relationship with Steven Spielberg, LaBeouf landed a starring role in the massive Transformers franchise and scored a coveted role in Indiana Jones and the Kingdom of the Crystal Skull. Subsequent films like Disturbia and Wall Street 2 would make LaBeouf a household name. But soon he bought into his own hype as an "artist," and it went downhill from there.
In 2011, LaBeouf began a not-so-illustrious career of starting bar fights that ended pretty badly for him. That same year, he bragged in an interview about sleeping with Megan Fox during the filming for the first Transformers. And LaBeouf was only getting started. Barely a year after Transformers: Dark of the Moon, his third and final movie in the franchise, LaBeouf began openly criticizing the blockbuster films as he "bolted" towards independent cinema. Except his foray into less commercial fare hit a significant speed bump when LaBeouf was caught plagiarizing a Daniel Clowes graphic novel for a short film.
Despite apologizing and admitting his mistake, LaBeouf would later make the questionable claim that the plagiarism incident was actually "performance art." In order to bolster his credentials, LaBeouf pursued a series of more and more elaborate art pieces that only further ostracized him from Hollywood. These days, you're more likely to spot LaBeouf dancing like a maniac at an art museum or getting arrested at a Broadway show than in movies.
Katherine Heigl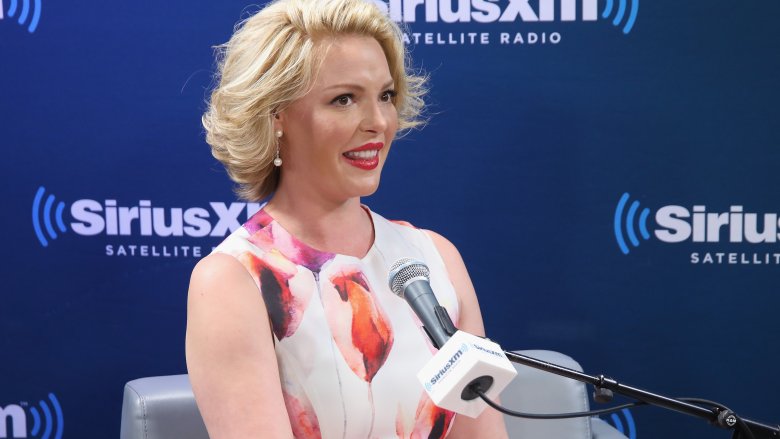 Getty Images
Thanks to an Emmy-winning role on Grey's Anatomy, Katherine Heigl was poised for movie star status after years in TV and small film roles. The comedy hit Knocked Up put Heigl on the map, and she'd soon score a $6 million salary for 27 Dresses. But Heigl's transition from the small to silver screen was anything but smooth, and soon the actress would talk her way out of a career.
In an interview with Vanity Fair, Heigl famously trashed the film that had catapulted her career to the next level. She called Knocked Up "a little sexist," and concluded "it was hard for me to love the movie." Director Judd Apatow and co-star Seth Rogen were less than pleased during an interview with Howard Stern.
But this wouldn't be the first time Heigl would criticize her co-workers. During the 2008 Emmy season, Heigl withdrew her name for Best Supporting Actress for Grey's Anatomy and released a statement saying, "I did not feel that I was given the material this season to warrant an Emmy nomination." Grey's Anatomy creator Shonda Rhimes was "pissed." After numerous leaves of absence, Heigl would leave the show the following season. In 2016, Rhimes, now one of the most powerful women in TV, would later declare the secret to her success with Scandal, "There are no Heigls in this situation." (Ya burnt.) As for Heigl, her latest show Doubt was cancelled after two episodes. Not good.
Alex Pettyfer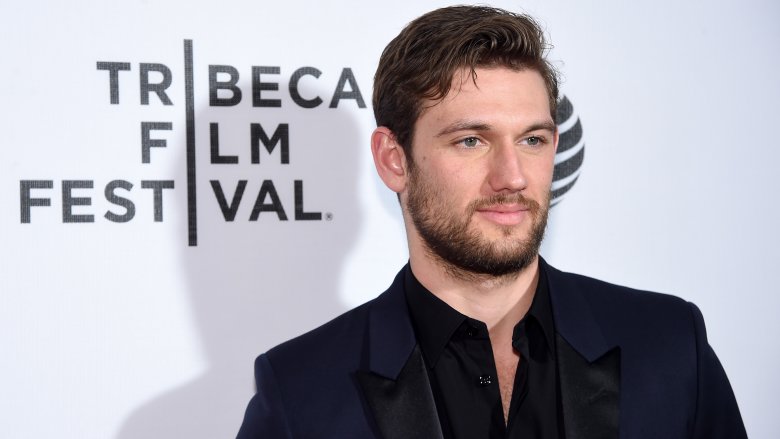 Getty Images
Despite the fact that his debut film Stormbreaker wasn't a success, it still made British actor/model Alex Pettyfer a teen idol, which would land him roles in the young adult films Beastly and I Am Number Four. But while it seemed like Pettyfer was on a hot career track after being cast in Magic Mike alongside Channing Tatum, he also earned a reputation for being difficult to work with. And he did it almost right out of the gate.
A handler was assigned to Pettyfer on the set of Beastly after filmmakers learned of his antics. "He was a nightmare and irrational. He had no body of work to remotely justify his behavior," an insider told The Hollywood Reporter. Pettyfer also clashed with I Am Number Four director D.J. Caruso. But he'd really shoot himself in the foot by butting heads with Tatum.
While filming Magic Mike, Pettyfer revealed in a podcast that Tatum didn't want Pettyfer in the movie. He was cast anyway and developed a reputation for coming across as "thinking he's better than everyone else." Things reached a boiling point when Pettyfer rented an apartment from Tatum's friend and left without paying rent. Tatum and Pettyfer clashed over email, and guess who wasn't invited back for Magic Mike XXL? Or much of anything else in Hollywood. Granted, Pettyfer's still young. But it's going to be hard to shake an image as the on-set diva who ticked off Channing Tatum.
Megan Fox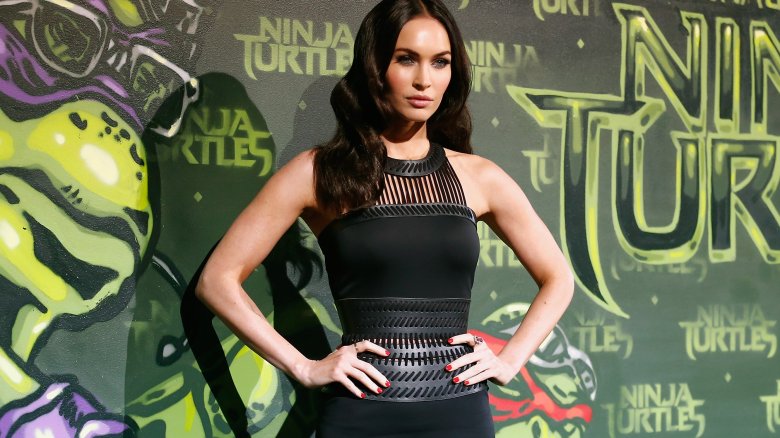 Getty Images
After a breakout role in Transformers, Megan Fox was the next Hollywood "It" girl in 2007. But almost as quickly as Fox became one of the hottest actresses in the business, she set fire to her career by comparing director Michael Bay to Hitler, which prompted crewmembers to detail her diva-like behavior in an open letter. According to Bay, executive producer Steven Spielberg said, "fire her right now," and just like that, Fox was axed from appearing in the third Transformers film. (And, yes, we're concerned that both Fox and Shia LaBeouf seemingly lost their minds after making these things.)
Fox would attempt to keep her career going with roles in Jennifer's Body and Jonah Hex, but neither movie was a hit, and soon Fox was left appearing in odd roles in small films. However, to the complete surprise of the entertainment industry, Fox and Bay ended their feud in 2014, and she was cast as April O'Neil in the Bay-produced Teenage Mutant Ninja Turtles reboot. Unfortunately for Fox's acting career, the second installment flopped and the franchise was put on ice. These days, Fox is now the face and body of Frederick's of Hollywood, and a prominent pyramid truther? (Don't even ask.)
Nicolas Cage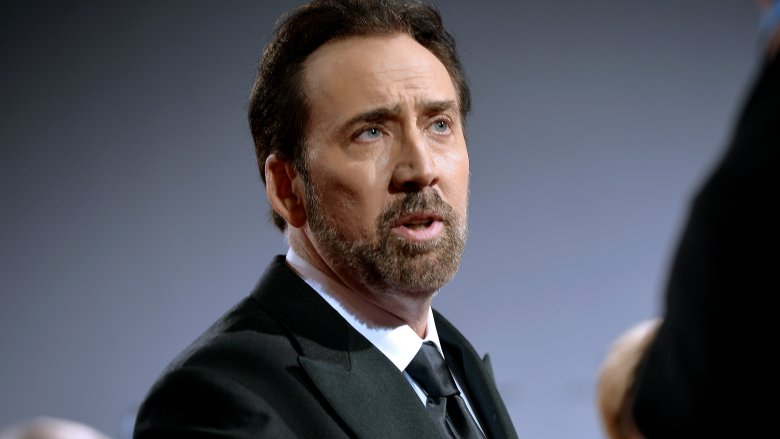 Getty Images
Much like his Face/Off co-star, John Travolta, Nicolas Cage found blockbuster success in the '90s with The Rock, Con-Air, Gone in 60 Seconds, and the aforementioned Face/Off. However, unlike Travolta, Cage had a bit more staying power and still did well for himself going into the next decade with Ghost Rider, Matchstick Men, and the National Treasure movies. Cage even came in 5th on Forbes' list of Hollywood's Top-Earning Actors in 2009. And then the IRS came knocking.
According to CNBC, Cage managed to blow through $150 million on mansions, cars, shrunken heads, dinosaur skulls, and rare comic books. As his properties were foreclosed, and he racked up a $6.3 million debt to the IRS for unpaid taxes, CNBC best summed up his situation, "Cage is taking roles left and right to help pay off his debts." And that's not an exaggeration.
Since 2011, Cage has starred in 24 movies, and counting, and you've probably only heard of a handful of them. At this point, Cage's classics are a distant memory, and he's mostly known for his willingness to star in anything to recover from his astronomical spending. He's been called the "Direct-to-Video King" by The Daily Beast, and that's going to be a hard reputation to shake.
Gerard Butler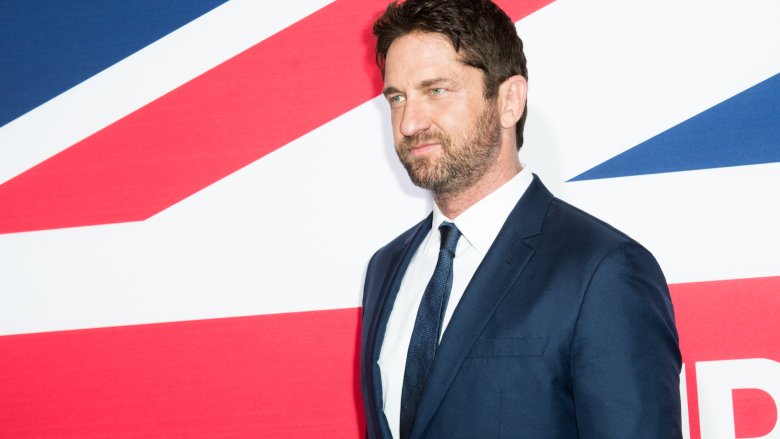 Getty Images
Hollywood doesn't forget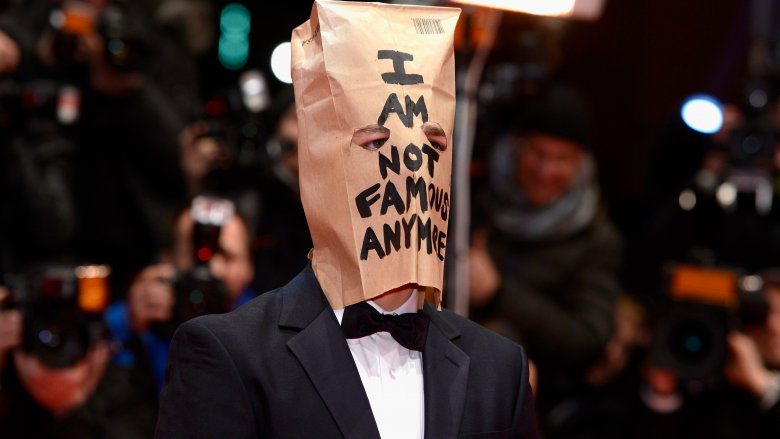 Getty Images
While all of these stars had a chance to make it big in Hollywood, maintaining a hot streak and being taken seriously as a star can be even harder that it was to catch that first break. Granted, some of these celebrities partied and talked their way right out of a career. Others simply couldn't find the right role once they rose to the top, or they chose way, way too many. So if you want to make it big in Hollywood, you have to keep your nose clean, know a good project when you see one, and don't let your ego get the best of you. Oh, and maybe don't go nuts and become a performance artist. That helps, too.