Here's What Went Wrong Between Meg Ryan And John Mellencamp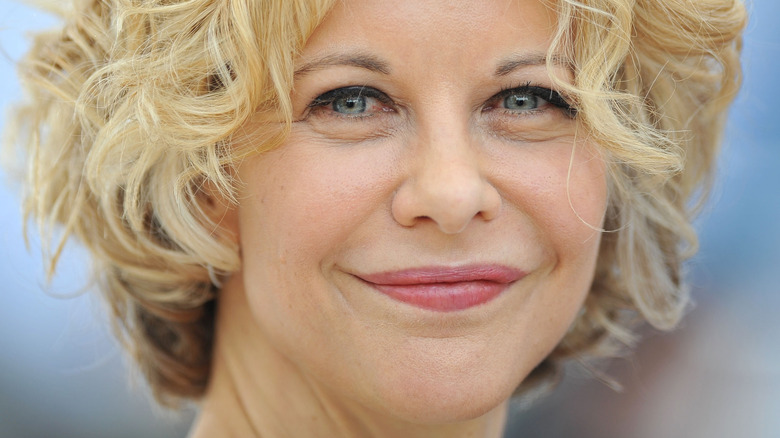 Pascal Le Segretain/Getty Images
Meg Ryan's love life doesn't include a long list of partners, but the ones in it drew plenty of public attention. The "You've Got Mail" actor saw herself in the center of a media firestorm in 2000, when she became linked to New Zealand-born Australian actor (and famed playboy) Russell Crowe. As The Sun noted, Ryan and Crowe met on the set of the film "Proof of Life," when she was still legally married to actor Dennis Quaid. 
As the it-couple of the 1990s, the collapse of their marriage amid speculation of Ryan's involvement with the "Gladiator" star broke our collective hearts and tarnished the image of America's sweetheart in the eyes of many.  "So this is what it feels like to be the Scarlet Woman," she said in the November 2000 issue of W magazine (via E! News). In the interview, Ryan denied that her short-lived fling with Crowe qualified as infidelity because her marriage was over way before the news became public in mid-2000, assuring the divorce had "nothing to do with another person." 
Ryan put the whole thing behind her and remained private about her personal life for about a decade until the public caught wind about her budding relationship with musician John Mellencamp, whom she had been "quietly" dating for weeks, People reported in January 2011. They embarked on a rocky on-again, off-again relationship and, once again, the media couldn't get enough. The tempestuousness of the romance eventually proved too much for the couple.
Meg Ryan and John Mellencamp dated long-distance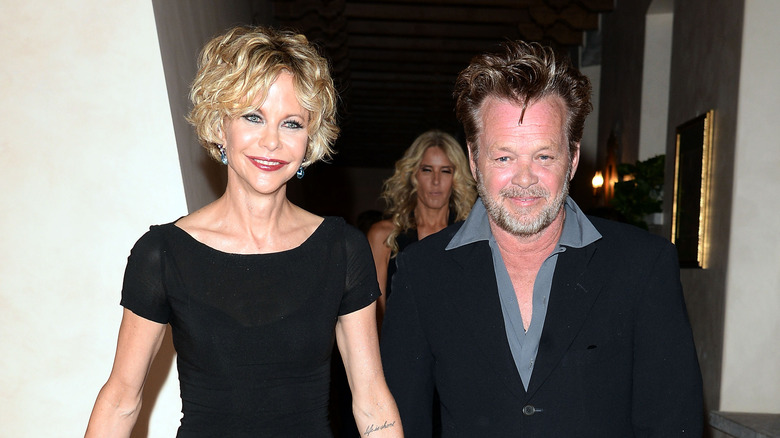 Venturelli/Getty Images
The news that Meg Ryan was dating John Mellencamp surfaced after the two were seen at Ryan's favorite coffee shop on Martha's Vineyard and shopping together at a grocery store in New York City, according to People. They seemed to hit it off right off the bat. "She usually comes in by herself or with her daughter. I thought that was her husband because they seemed so comfortable and familiar with each other, just like an old married couple," one source told People at the time. 
Ryan and Mellencamp kept their relationship going strong, albeit discreetly, for nearly four years. In mid-2014, they broke up for the first time, People reported. According to an insider, the couple had been struggling to manage the physical distance. "She lives in New York and he resides in Indiana. It was the long distance that ultimately was the cause," the source told People. Mellencamp told Rolling Stone that living in the Big Apple was not an option. "I'm too sensitive to live there. I can't see poor people. I can't see the suffering. I can't see the trash on the streets," he said in 2013, shortly before the split. It looked like the end.
But Ryan and Mellencamp rekindled their romance in 2017, as Page Six noted, even though Mellencamp had told Howard Stern (via a separate Page Six report) months earlier that he was in Ryan's bad book. "She hates me to death," he said. Clearly, that wasn't the case.
John Mellencamp disliked the fame brought by Meg Ryan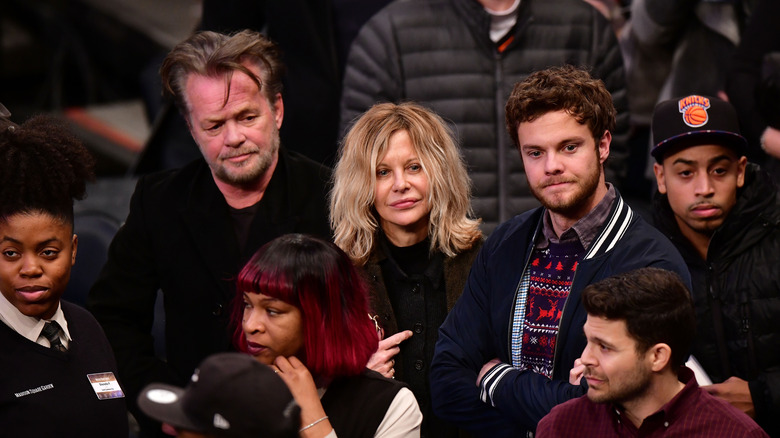 James Devaney/Getty Images
The relationship blossomed after Meg Ryan and John Mellencamp reunited in 2017. In fact, the movie and rock stars even got engaged in November 2018, as CNN reported at the time. Less than a year later, Ryan and Mellencamp announced they had called off the engagement, according to Us Weekly. After they split the first time in 2014, a source told Closer Weekly that Mellencamp struggled to handle Ryan's fame and the spotlight that was put on him as a consequence. "I don't think he loved all the attention he got just from dating an actress. I bet he'll stay away from dating another famous person for a while," the source told the outlet.
Mellencamp had an issue with fame since the beginning of his career. In a 2013 interview with Rolling Stone, the musician opened up about suffering from severe anxiety after shooting to stardom in the mid-1980s. "This was the peak of my success, but I didn't enjoy any of it," he told the magazine. 
On the other hand, Mellencamp also admitted to Howard Stern (via Page Six) that he has a difficult personality, which tended to cause issues in his relationships. "I'm a child. I throw fits. I gripe. I complain. I'm moody. Every bad thing that a fella can be, that's me," he said. In fact, the source who spoke with Us Weekly in 2019 said that Ryan was the one who ended the relationship. "She'd had enough."