Justin Bieber's Rare Throwback Photos Of Younger Brother Jaxon Are Melting Hearts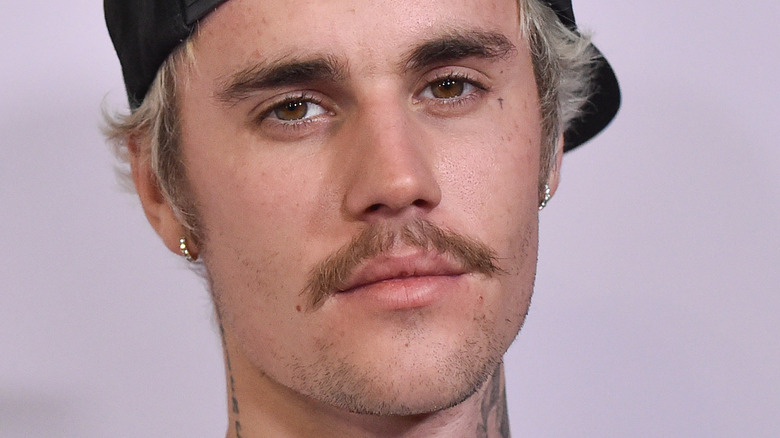 DFree/Shutterstock
Justin Bieber has had a complicated relationship with his family over the years. After skyrocketing to fame as a child star at the age of 13, Justin struggled to transition into adulthood, leading to questionable and at times dangerous behavior, as People pointed out. "What do you expect from someone who was on top of the world, with no proper home?" an insider mused in 2020. The erratic behavior also led to tension in Justin's relationship with his mother, Pattie Mallette, who raised him as a single mother after giving birth to him as a teenager, Billboard noted in 2015. "I was distant because I was ashamed. I never wanted my mom to be disappointed in me and I knew she was," he reflected. 
Since then, Justin and Mallette have attempted to restore their bond. In 2018, Mallette posted a sweet throwback photo of Justin to Instagram and declared her love and admiration for her son. "Please forgive me of all of my shortcomings as I forgive you of yours, past present and future," she wrote in the caption. Justin has a similar relationship with his father, Jeremy Bieber, who was also a teenager when Justin was born, per Billboard. And they have worked on it, too; in 2020, Justin honored Jeremy on Father's Day with a heartwarming Instagram post. Being on good terms with his father means Justin gets to play the part of big brother to Jaxon and sister Jazmyn — a role he is great at. 
Justin Bieber is publicly celebrating Jaxon's birthday
Despite the ups and downs Justin Bieber has had in his personal life, he has always valued family. The pop star proved it once again on November 21, when he took to Twitter to celebrate his little brother Jaxon on his birthday. "I can't believe you are 12 years old! You are such an amazing, sweet, handsome, special boy and I'm honored to be your big brother," Justin captioned one of the posts, which he paired with four photos of them together. On November 20, Justin also took to Instagram to share his love for Jaxon. Once again, Justin shared a series of pictures featuring him and Jaxon over the years. "I sit here and look at all of these photos and I'm reminded of how much I love you my precious little bro. I am so proud of you," Justin wrote in the caption.
This is far from being the first time Justin shows his love for Jaxon. In fact, Jaxon was Justin's date at the 2016 Grammy Awards, as Capital FM reported. The Bieber siblings twinned in the most adorable way possible, with Justin rocking a white tux with a black shirt underneath and Jaxon a black tux paired with a white shirt. Justin also uploaded a photo to Instagram to mark the occasion. Jaxon may even have worked as a lucky charm for his big brother, who took home his very first Grammy that year, as Billboard pointed out.