The Bloody Reason LeBron James Was Ejected From Pistons Game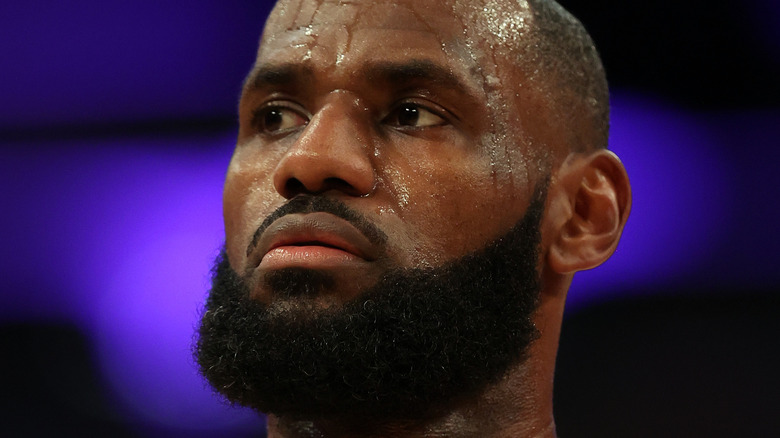 Ronald Martinez/Getty Images
An early season game that would usually go under the radar for most NBA fans ended up setting the sports world on fire after LeBron James was ejected. During the third quarter between the Los Angeles Lakers and Detroit Pistons on November 21, James became entangled with young big man Isaiah Stewart, and launched his arm backwards connecting with, and bloodying, Stewart's face, per ESPN. The hit earned James the second ejection of his career "for unnecessary and excessive contact above the shoulder," as told by referee Scott Foster, per the NBA.
At first, Stewart was fairly subdued, but once words were exchanged and his face began bleeding, the Pistons forward became absolutely enraged as he repeatedly attempted to storm at James while teammates, staffers, and security guards worked to hold him back, per the NBA. The second-year player even resorted to running down the team tunnels to try and gain access to the Lakers' bench.
The frightening scene brought memories of the infamous "Malice at the Palace" melee from 2004. "Everybody did a great job trying to deescalate the situation," Anthony Davis told reporters after the game, per the New York Post. "You never want it to get to that point like 17 years ago." Afterwards, James declined to speak to the media about the incident, but he did extend an olive branch.
Will the two players have ongoing beef?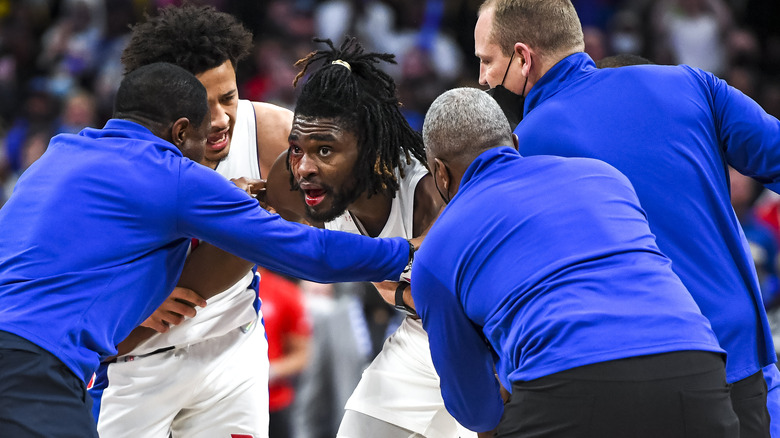 Nic Antaya/Getty Images
The backhand swipe from LeBron James and the infuriated response from Isaiah Stewart led to prognosticators discussing whether either player acted appropriately. Anthony Davis was quick to defend his teammate. "Everyone in the league knows LeBron isn't a dirty guy," he told the press, per the New York Post. "As soon as he did it, he looked back and told him, 'My bad,'" Davis added. ESPN's Stephen A. Smith agreed that James was not a dirty player. "But that doesn't mean that the play wasn't dirty," Smith said on "First Take" the morning after the incident. Smith believed that James should face a suspension for the hit, and so should Stewart for his violent reaction.
For many casual fans, seeing Stewart charge at James was their introduction to the Detroit Pistons big man, but that heated moment was out of character. "Stewart isn't the maniac you saw running around on television," The Athletic's James Edwards III wrote. "He's actually everything you want in a basketball player and, from all accounts, in a man," the writer added.
Once the dust had settled on the court, James was eager to make amends with Stewart. "I'm told LeBron James did try to track down Isaiah Stewart's number post game to apologize again and let em know it was an inadvertent hit," Shams Charania reported on "The Pat McAfee Show." Although the Bovada sportsbook had James favored should the two decide to settle their beef with a boxing match.