How Donald Trump Now Outranks Chuck Norris In Taekwondo Despite Never Practicing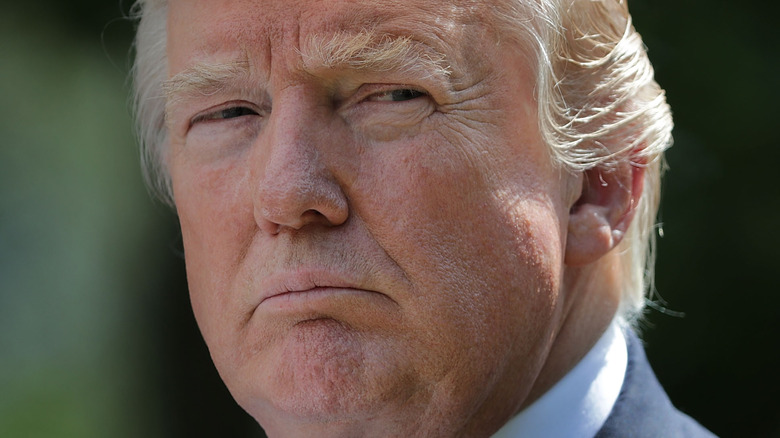 Chip Somodevilla/Getty Images
Donald Trump has long boasted about his athletic prowess. After all, there are internet clips of the former President of the United States showing off his mean serve in tennis, along with plenty of photo evidence of him spending time in the place he perhaps enjoys the most: the golf course. Even TMZ has footage of Trump's nearly perfect drive. If that weren't enough, Trump once claimed that he could have been a baseball pro if only he would have focused more. "At the New York Military Academy, I was captain of the baseball team. I worked hard like everyone else, but I had good talent," he said, according to the book, "The Games Do Count: America's Best and Brightest on the Power of Sports."
And while there's no denying that Trump likes to stay active, there's another sport that he's been recognized for, despite having never participated in said activity. However, he's already outranking one of biggest names in the game: Chuck Norris.
Can Donald Trump take on someone like Chuck Norris?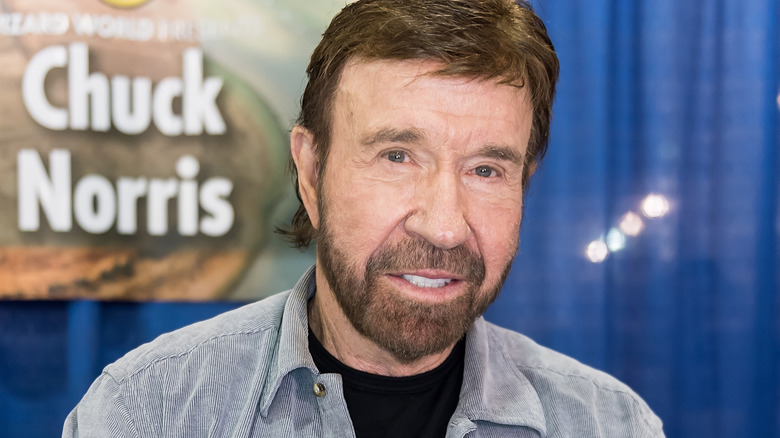 Gilbert Carrasquillo/Getty Images
According to reports, Kukkiwon President Lee Dong-seop has presented former President of the United States, Donald Trump, with a ninth-degree black belt, which is, of course, the highest honor any professional martial artist can have. Images of Lee presenting Trump with the belt are on Kukkiwon's Facebook page. The photos were taken at Trump's Mar-a-Lago estate in West Palm Beach, Florida. And while Trump himself has yet to show off any of his moves, Lee told Korean news outlet Dong-A-Ilbo,  per the New York Post, "I heard that Donald Trump is highly interested in Taekwondo." Trump also reportedly said, "It is my pleasure and honor to receive this honorary certificate. Taekwondo is a great martial art for protecting oneself in these times (when COVID-19 prevails)."
There's no word on how Chuck Norris feels about this, as he has an eighth-degree Taekwondo black belt. But then again, the legendary martial arts advocate and big-screen star did urge his fans to vote for Trump back in 2016 in an op-ed, per NJ.com. Not to mention Norris beat Trump in the martial art of Tang Soo Do — which he has studied since the 60s — and he has a black belt in the ninth degree to prove it. So we think it's safe to say Norris isn't losing any sleep over the ex-president's new honor.