What Did The Rock Just Declare About His Ex-Wife?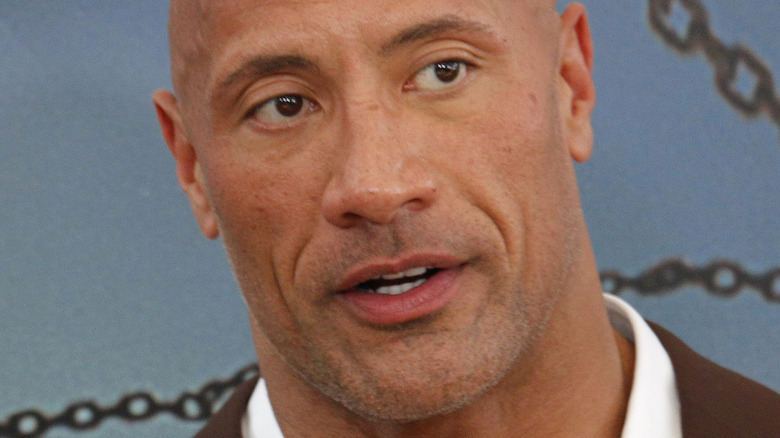 Tinseltown/Shutterstock
Dwayne "The Rock" Johnson is in a celebratory mood after the release of his latest movie, "Red Notice." According to Forbes, the action flick is officially Netflix's most-watched movie of all time. The former WWE star took to Instagram to share the news with his fans. "RED NOTICE has officially become THE BIGGEST MOVIE IN THE HISTORY OF NETFLIX!" he wrote. "In under two weeks, we've shattered all records and we have many weeks to go." Johnson gave his fans some love and said, "THANK YOU GUYS and enjoy RED NOTICE this weekend around the world."
The "Jungle Cruise" actor has also been spreading a little joy this season. CBS 10 News reported that Johnson gifted his custom Ford F-150 Raptor to a Navy veteran, Oscar Rodriguez. Johnson was impressed by how much Rodriguez does for his community and shared that he cooked meals for domestic violence victims, was a church leader, and looked after his "elderly mama." Johnson wrote that "it's nice to be important, but it's more important to be nice." He also had high praise for the vet, saying, "I have the global platform to illuminate good, solid, grateful human beings, like Oscar."
It seems as if Johnson is on a roll. He also took to social media on November 29, to talk about his ex-wife and the mother of his eldest daughter, Simone Johnson. The Rock talked about Dany Garcia — and backed it up with solid facts.
Dwayne "The Rock" Johnson celebrates Dany Garcia on her birthday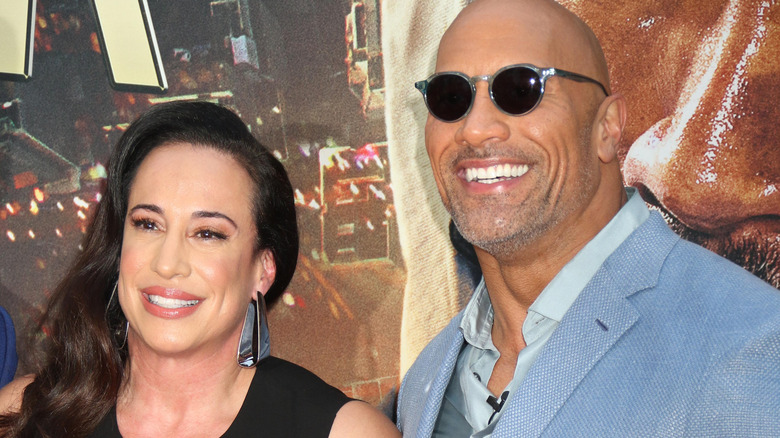 Debby Wong/Shutterstock
Dwayne "The Rock" Johnson wears his heart on his sleeve. He was so excited about "Red Notice" and its record-breaking achievements, that he shared it with his fans. Similarly, he was touched by a Navy vet's contributions to his community and gave back in a real and tangible way. Therefore, it should come as no surprise that when his ex-wife's birthday rolled up, Johnson paid tribute to her. 
The Rock took to Instagram and wished Dany Garcia the "HAPPIEST OF BIRTHDAYS." He continued, "I've had the privilege of knowing Dany since I was 18yrs old." In fact, they had known each other for a while before tying the knot in 1997 when he was just 25 years old, and Garcia was going on 29, per Republic World. He cited her achievements, gushing, "She's always been driven (Chairwoman & founder of multiple companies). Always had a strong financial acumen ... And ALWAYS had an extraordinary prescience and macro view of how to architect global success with my enterprises." Johnson added, "Dany identified very early – even when I was a punk kid in my teens – the unique relationship and connection I've been lucky to have with people over the years. Her new position of Global Strategic Advisor to Seven Bucks Companies ... is one of the smartest decisions I've ever made," before joking, "That's saying a lot considering I became famous for wearing a fanny pack." Johnson closed out the post with, "Happy Birthday, my friend ..." How sweet!