Who Is James Earl Jones' Son, Flynn Earl Jones?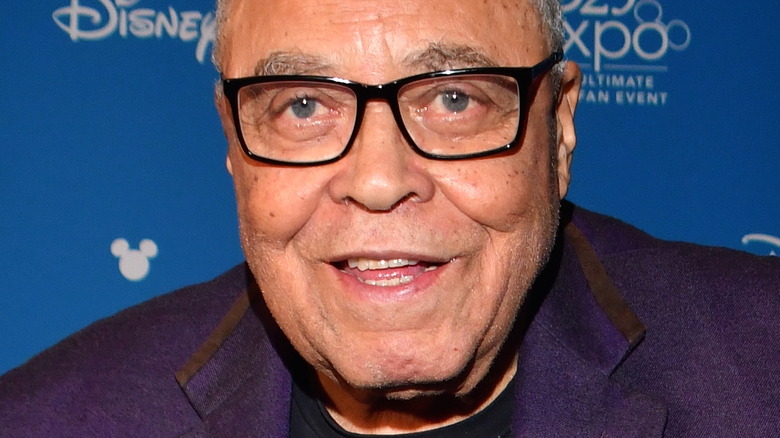 John Atashian/Getty Images
As far as voices go, James Earl Jones' is about as legendary as they come. Having voiced Darth Vader in the "Star Wars" franchise and Mufasa in "The Lion King" (via IMDb), Jones' vocal chops are unmatched. The same goes for his on-screen roles like King Jaffe Joffer in "Coming to America" and Lt. Lothar Zogg in "Dr. Strangelove or: How I Learned to Stop Worrying and Love the Bomb." Jones earned his Kennedy Center Honors in 2002, has a Tony Award, a Golden Globe, three Emmys, and an honorary Academy Award (via American Theatre Wing).
Jones' booming voice came out of a childhood filled with silence because of a severe stutter, according to Variety. It was in high school that a teacher helped him find his voice, quite literally, by reading poetry — and his powerful bass became a mighty talent, per the outlet. That poetry reading became a vast acting career that even led to Jones meeting his longtime second wife Cecilia Hart on the set of the "Paris" series (via The Hollywood Reporter). Before Cecilia died in 2016, she and Jones shared over 30 years together and had a son named Flynn Earl Jones, via THR.
Though Flynn isn't very active online, he is certainly following in his father's footsteps.
Like father like son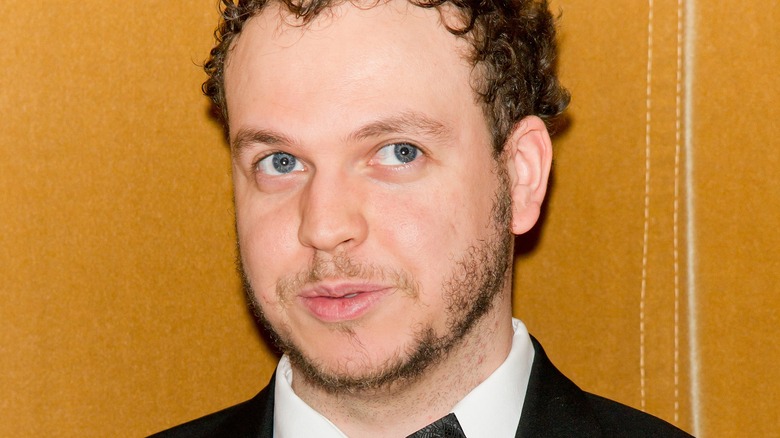 Gilbert Carrasquillo/Getty Images
Flynn Earl Jones — though not seemingly interested in the spotlight as his Twitter account is apparently protected — appears to be following in his father James Earl Jones' footsteps in voice work. In 2019, Flynn recorded the audiobook version of a romance novel entitled "Heartthrob" by Ahren Sanders (via Page Six). According to Audible, Flynn has narrated ten other audiobooks including "Lions of the Sky," "Frozen Earth," and "New Worlds." He also has a single "special thanks" credit for the 2018 film "Warning Shot" via IMDb.
Also like his father, Flynn found love with an actor as well. According to Celebsgraphy, Flynn married Lorena Monagas on November 29, 2019, in Tarrytown, New York. Monagas is a stage, voice, and screen actor with credits including "Japanese Borscht," Paulina in "The Winter's Tale" at The Academy for Classical Acting at the Shakespeare Theatre and George Washington University, and "Gentevision" — according to her website.
Being 'young at heart'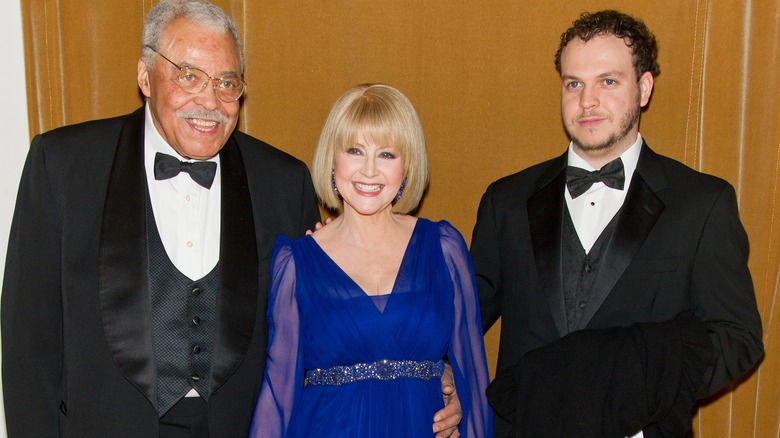 Gilbert Carrasquillo/Getty Images
In reflecting on his 90-plus years of life, James Earl Jones has not held back. "I can say those of us who have lived 90 years have no right to be surprised," he penned to USA Today. Jones went on to say that his birthday wish was for the world and for happier times: "In order for us to heal and move forward, we need to learn to love and respect each other," he added. Clearly he's set a good example for Flynn Earl Jones!
Jones hasn't been working as much lately, though he hasn't retired as a performer even in his ninth decade. He has said he has no intention of retiring unless he has to. "I feel young at heart, and I love to work and will continue to act for as long as I can" he told the outlet in an email.
As of now, Jones is in the forthcoming documentary "Broadway: The Next Generation" (per IMDb) and is part of the newest narration for the candlelight procession this holiday season at Disneyland (via OC Register). So his work might be a little fewer and further between, but no less welcome by his generations of fans. We'll keep an eye on Flynn too!