Gwen Stefani And Blake Shelton Proudly Show Off Their Wedding Rings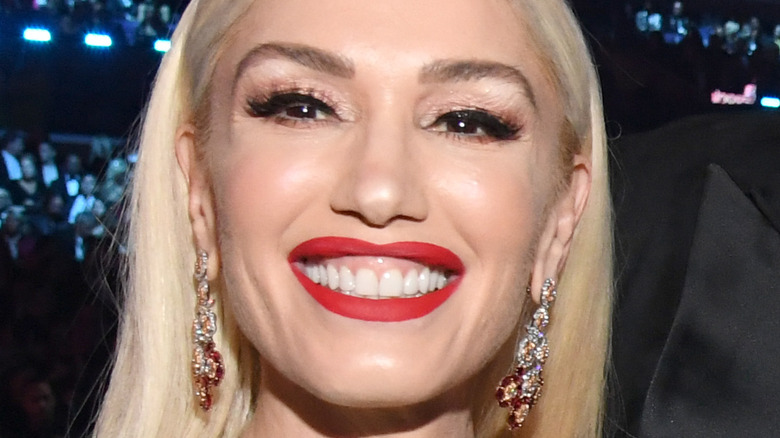 Kevin Mazur/Getty Images
Gwen Stefani and Blake Shelton first met on NBC's talent show "The Voice" in April 2014 and formed a relationship over a year later, according to Billboard. The "Nobody But You" hitmakers soon became one of pop-culture's favorite couples and finally walked down the aisle earlier this year in July after getting engaged in October 2020. While backstage at the Ascend Amphitheater in downtown Nashville for the three-hour CMA Summer Jam concert special, Shelton opened up to People about how it felt being the husband to the fashion icon and music powerhouse. "Married life so far is... it's incredible," he explained, adding, "I mean, it's everything that it already was, which was awesome. She just can't get away from me now."
Two weeks after tying the knot, Stefani told Jade Iovine on her "Tell Me About It with Jade Iovine" podcast that she was feeling "total honeymoon vibes right now" and noted, "It was literally the greatest moment ... one of the greatest moments of my life, obviously," per AceShowbiz. "I just feel so lucky. One of those things you think about a lot in your life is you don't know the future and you don't know what's gonna happen, but I feel like my spiritual journey has really guided me towards this place and this place of peace," the "You Make It Feel Like Christmas" singer continued.
During a recent appearance on "The Voice," it seems like Shelton and Stefani are nothing but proud about their marriage.
Gwen Stefani and Blake Shelton made their first post-wedding Voice appearance
On November 30, Gwen Stefani made a special guest appearance for one of the live shows of Season 21 of "The Voice" and joined the current coaches — Blake Shelton, Ariana Grande, John Legend, and Kelly Clarkson — to introduce Season 19 winner Carter Rubin to perform their new single. In true Stefani style, the "Rich Girl" hitmaker looked very glam wearing a white lace dress that featured a black bow at the front. She styled her platinum bleach-blonde locks down and applied a coat of her signature bold red lipstick. "It's so exciting to be here!" the on-and-off coach said on the night.
"Gwen, do you take Blake to be your husband..." host Carson Daly, who officiated their wedding, asked the singer. "'I was gonna say, this is actually the first time we've been at 'The Voice' together since we've been man and wife. You married us," Stefani replied while pointing to Daly. Shelton and Stefani then both flashed their wedding rings directly at the camera with a smile, proving to be proud of their marriage. "Look at that. That's it," Shelton expressed while boasting about his ring. We just can't get enough of Shefani!