Kathy Griffin Apologizes For Decapitated President Trump Photo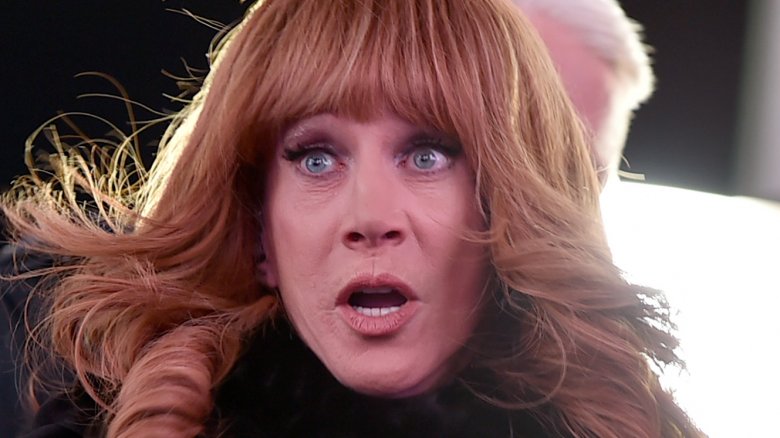 Getty Images
Comedian Kathy Griffin has apologized for a highly controversial photo shoot she did with famed photographer Tyler Shields. In the photos and accompanying behind-the-scenes video, Griffin is seen holding a blood-soaked, decapitated replica of President Donald Trump's head. 
After severe backlash from critics on both sides of the political spectrum, Griffin posted a video to Twitter, apologizing for the photo. 
"Hey everybody, it's me, Kathy Griffin. I sincerely apologize. I'm just now seeing the reaction to these images. I'm a comic. I cross the line. I move the line then I cross it. I went way too far. The image is too disturbing. I understand how it offends people. It wasn't funny. I get it. I've made a lot of mistakes in my career, I will continue. I ask your forgiveness. Taking down the image. I'm going to ask the photographer to take down the image and I beg for your forgiveness. I went too far. I made a big mistake and I was wrong," she said in the video, according to Us Weekly. 
In a now-deleted tweet re-printed by EW, Griffin initially attempted to joke about the shocking photo, writing, "I caption this 'there was blood coming out of his eyes, blood coming out of his...wherever,'" an obvious reference to the Megyn Kelly scandal from the the first presidential debate during the 2016 election. 
But the outcry was swift. 
Donald Trump Jr. was "disgusted."
Disgusting but not surprising. This is the left today. They consider this acceptable. Imagine a conservative did this to Obama as POTUS? https://t.co/QdghcbIjS7

— Donald Trump Jr. (@DonaldJTrumpJr) May 30, 2017
Mitt Romney called it "vulgar." 
Our politics have become too base, too low, & too vulgar, but Kathy Griffin's post descends into an even more repugnant & vile territory.

— Mitt Romney (@MittRomney) May 30, 2017
Even fellow comedian Hal Sparks didn't think it was funny. 
I'm not looking forward to be asked as a comedian if I defend the Kathy Griffin picture... it was clearly not meant to be funny. #No

— Hal Sparks (@HalSparks) May 30, 2017
The president himself eventually weighed in as well. 
Kathy Griffin should be ashamed of herself. My children, especially my 11 year old son, Barron, are having a hard time with this. Sick!

— Donald J. Trump (@realDonaldTrump) May 31, 2017
Tyler Shields, on the other hand, has not backed down. Though he deleted the photo and video, his tweet in defense of his friend still remains. 
Can you go to jail for making an artistic statement??? Asking for a friend... @kathygriffin

— Tyler Shields (@tylershields) May 27, 2017
Shields also spoke with EW, saying, "That's the beautiful thing about stuff like this: there's always going to be backlash. I think a lot of people fear backlash. It's this thing of, 'Well, I want everyone to like me. I want everyone to like the work that I make,' especially young artists. You want people to love you, but part of that is that if you make things that are polarizing, people are gonna hate it. I think there will be a lot of people who will absolutely hate this, but again, that's the beauty of it. That's the fun of making things. Am I saying that anyone should actually be killed? No, it's like a movie. How many movies are there where the president gets killed or this happens? Tons upon tons. But again, when it's an image, especially an image like this, people don't see it like that. They see it as reality and that's why it's so shocking to some people." 
Even with Griffin's apology, the fallout from the ill-advised photo shoot has already begun. CNN reports that they are "evaluating" their New Years Eve coverage, which Griffin has hosted alongside Anderson Cooper for years. 
Fox News reports that Griffin has also already lost a celebrity endorsement deal with Squatty Potty, which was just announced on May 10, 2017. 
There's no telling how bad it will get for Griffin, but so far, it's not looking good.