Robin Wright Says She Isn't Getting Paid As Much As Kevin Spacey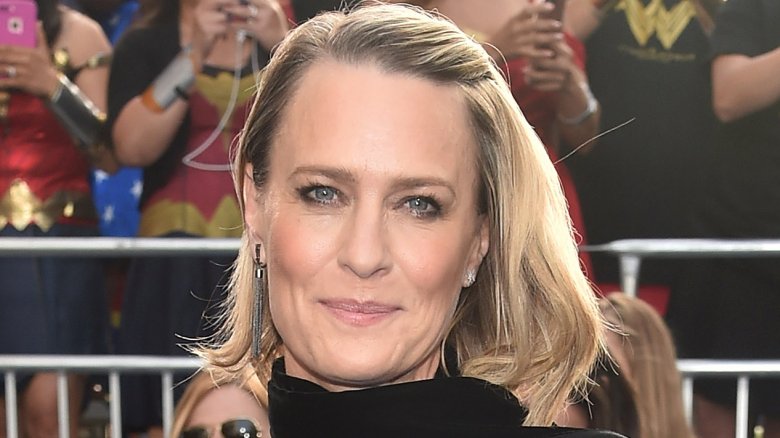 Getty Images
It looks like Robin Wright isn't going to be making the same big bucks as her male House of Cards co-star after all.
The actress got incredibly candid about the wage gap during her recent interview with United Airlines' in-flight magazine Rhapsody. "Yeah...I don't think I'm getting paid the same amount," she said. "They told me I was getting a raise. But...I don't think so."
Wright added, "I really don't like being duped. Nobody does." She then advocated, "It's such a male-dominant workforce still. There's a conditioning. And changing the condition of men is what needs to happen. A reeducation. A new way of thinking. A new philosophy. I think it needs to happen in all of these industries, when we're doing the same thing that a man is doing, and we're still getting paid less."
The Wonder Woman actress made headlines in May 2016 when she first announced during a speech at the Rockefeller Foundation that she had demanded the same pay as co-star Kevin Spacey. As the Huffington Post reported at the time, the 51-year-old actress had brought up her own experience while discussing the problem of equal pay. 
"I was like, 'I want to be paid the same as Kevin.'" she recalled. "It was a perfect paradigm. There are very few films or TV shows where the male, the patriarch, and the matriarch are equal. And they are in House of Cards." 
It was certainly sound reasoning, so she gave an ultimatum. "I was looking at statistics and Claire Underwood's character was more popular than [Frank's] for a period of time. So I capitalized on that moment," she said. "I was like, 'You better pay me or I'm going to go public.' And they did."
Except, as is too often the case, it looks like they didn't. According to Forbes, Spacey earned $10.5 million from the series in 2016, while Wright made $5.5 million in 2015 (she failed to make the top 15 list of highest paid actresses in 2016, suggesting this did not improve). 
However, as Rhapsody further reported, she and Media Rights Capital have reached an incentives agreement as a sort of compromise. This includes an executive producer credit, additional directing opportunities, and the promise of "a future production deal that could eclipse Spacey's."
House of Cards season 5 is now available to stream on Netflix.