Whatever Happened To Lenny Kravitz?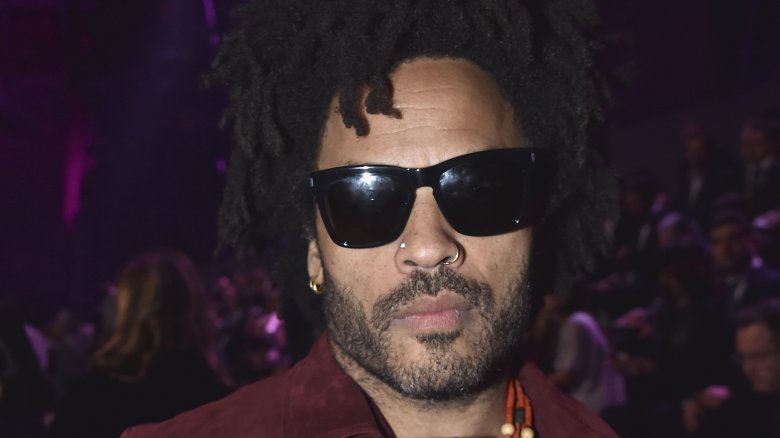 Getty Images
These days, if you blink, you'll more than likely miss the genius that is Lenny Kravitz. This 53-year-old rocker has been burning up the charts for nearly 30 years and he's showing no signs of slowing down. When Kravitz isn't rocking out on stage to thousands around the globe, he can be found in one of two places: his design firm in New York City or on a screen near you. No matter where he is focusing his attention, he's still the same creative, loving guy that everyone fell in love with. Find out what Kravitz has been up to, why he spends so much time in an Airstream trailer in the Bahamas and learn all about his blended family with ex-wife Lisa Bonet.
He runs a design firm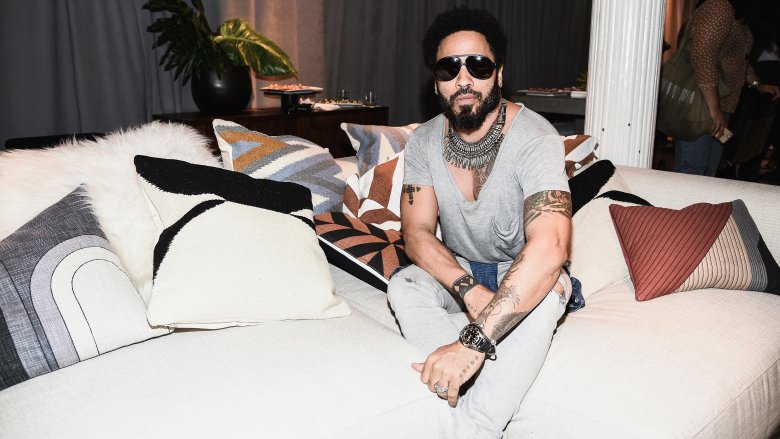 Getty Images
In 2003, Kravitz launched Kravitz Design Inc. in New York City. Today, the company has accomplished tons in the design space including designing and furnishing private homes, condos, hotels, television shows and even a collaboration with CB2. "I grew up around people like Miles Davis, actors, and New York theater people who had great wardrobes and great homes," the rocker told Forbes of his design inspiration. "They were artists who knew how to create a vibe that's really interesting, welcoming, with lots of personality and expression. The early 1970s was a very expressive time in design, fashion, music, art — in everything. I think via osmosis this all happened. It wasn't something I was thinking about or looking for. I dug it and kind of took it all in."
He also said many of his designs come from his travels. "[Whether it's] architecture on the street or furniture from different countries, I'm always inspired by shapes and textures I see on the road," Kravitz said. "Walking around Paris, no matter how many years I've lived there—a door, a roof, a window, a column, there are always beautiful things to look at. I also love that whole Nordic area. I love Copenhagen. They have a great aesthetic in that area—very clean, great design. I'm a big fan of [Danish architect] Arne Jacobsen."
He flashed his, um, privates after splitting his pants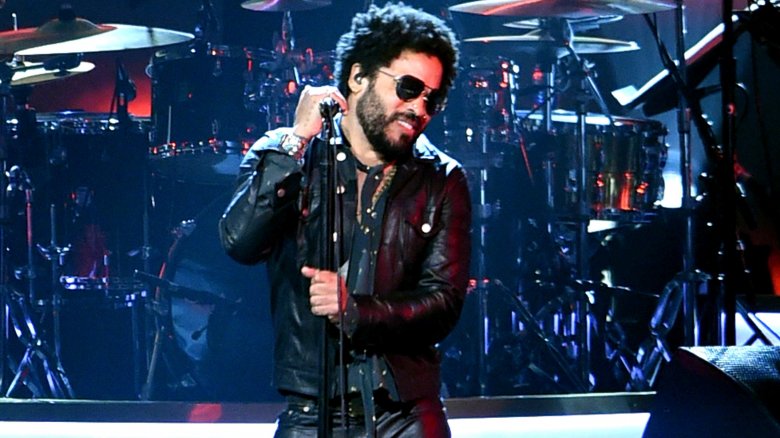 Getty Images
The legendary rocker suffered the biggest wardrobe malfunction possible on stage in Stockholm in 2015. While performing with his guitar, Kravitz attempted to kneel to the ground when his skin-tight leather trousers split – not in the back, but in the front! The snafu left his ... area exposed to hundreds of concertgoers, reports E! News. In immediate response, Kravitz closed his legs and covered his private parts with his guitar as the show went on. He was able to walk to the rear of the stage and quickly switch into another pair of hip-hugging pants. The fan footage has since gone viral, of course.
While fans were certainly fascinated by seeing Kravitz naked, people were also very curious as to why that area was pierced. Mashable found the woman who pierced it to explain its purpose and to answer all questions. "The piercing still looks happy, healthy and very sturdy," Elayne Angel shared. "I was proud to see it still alive and kicking," she quipped, adding later: "He liked the idea of having one that was in proximity to his penis but not on it. He's definitely into aesthetics and how it looks. But this one also had a function. It was meant to please women."
Okay!
His old romances were pretty serious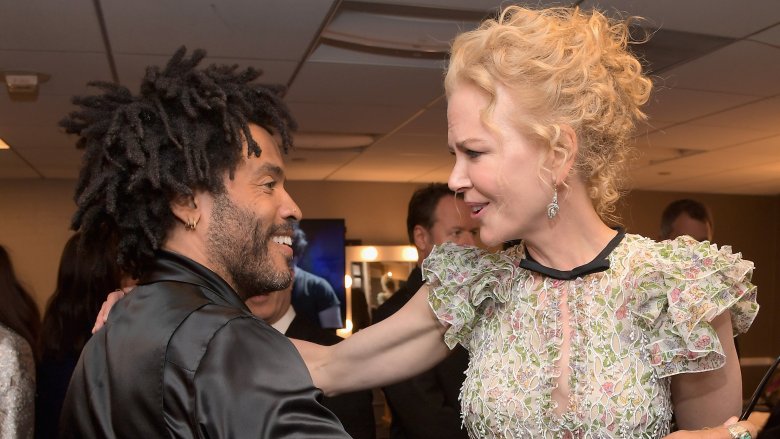 Getty Images
While rumors are constantly swirling which women Kravitz is bedding, few knew that he almost walked down the aisle with Nicole Kidman in the early 2000s. Kidman may have inadvertently let it out of the bag while chatting with Net-A-Porter's The Edit in 2017. Kidman was explaining how she already knew her Big Little Lies co-star Zoe Kravtiz. "Well, I knew Zoe because I was engaged to her father," the actress shared acknowledging she dated the rocker in 2003 while living in New York City.. "It's all in the family! I love Lenny, he's a great guy."
The proposal came shortly after Kidman divorced Tom Cruise. In 2007, she alluded that she was engaged for a period, but didn't share with whom. "It just wasn't right," she said. "I wasn't ready. We weren't ready ... I didn't want a relationship. I just wanted my kids to have me, and I didn't feel comfortable having some person in that small hubbub." She ultimately went on to marry Keith Urban in 2006. Kravitz never spoke publicly about his romance with Kidman although all the rag mags claimed the romance was serious.
He's still super close with ex-wife Lisa Bonet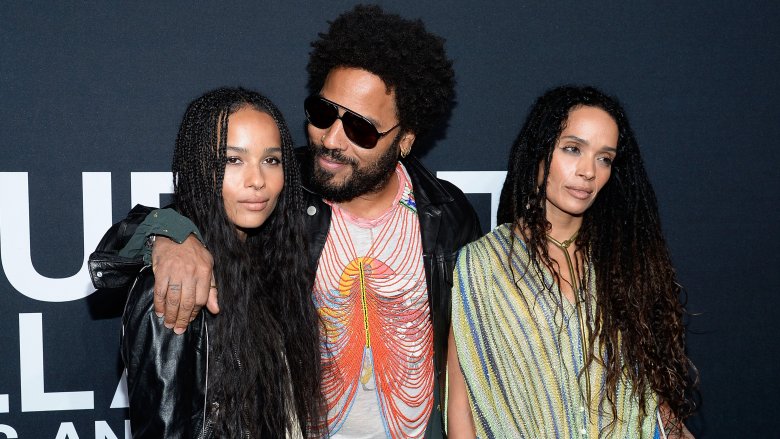 Getty Images
Kravitz has managed to do the impossible in Hollywood: he's remained fantastic friends with his ex-wife Lisa Bonet. In fact, Kravtiz regularly joins both Bonet and her new husband, Jason Momoa, for family outings. As the story goes, Kravitz and Bonet married in 1987, welcomed daughter Zoe in 1988 and eventually divorced in 1993. Sharing life experiences in a 2013 episode of Oprah's Master Class, Kravitz delved into their relationship. "We were very young and, uh, it was wonderful," he said according to an Us Weekly recap. "And we had Zoe, which... I see now what it was all about. It was really all about bringing this beautiful child to the planet. And also sharing the love that we had. Zoe's mom and I now are best friends. It's interesting because that's how the relationship started."
Nowadays, they're all a happy blended family. "When we're all together now – her man, her kids, Zoe, me – we're all together and we're one big happy family," Kravitz added. "It's beautiful." Daughter Zoe echoed that same feeling in Ocean Drive magazine (via Us Weekly) in 2015. "[They] have so much love for each other ...," she said. "My dad and my step-dad get along really well. My dad loves and is close with my brother and sister. It's really beautiful. As long as everyone can be in the same room together, and have love for each other, it's totally healthy."
His charities are super important to him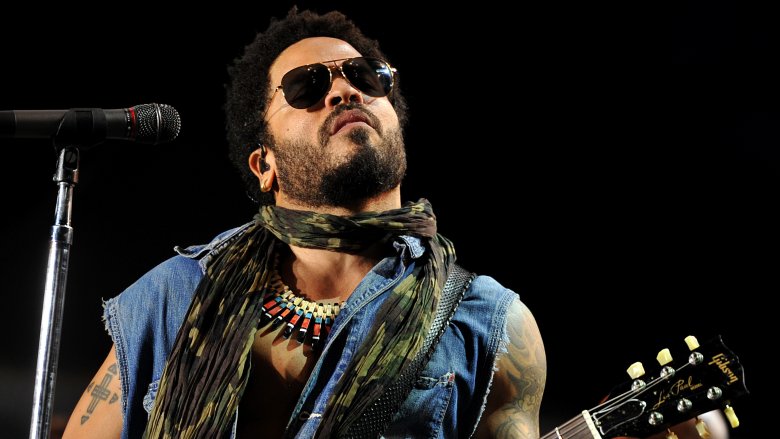 Getty Images
Over the years, Kravtiz has not only lent his tunes to good causes but his voice as well. He famously was one of the major stars recruiting dollars and raising awareness for the island of Haiti, which suffered a devastating earthquake in 2010.
But while Kravitz does what he can to help those less fortunate, sometimes he takes risks too. According to Page Six, Kravitz, along with his Let Love Rule Foundation, organized a free dental clinic in Bahamas back in 2015. However, he seemingly bypassed proper regulation and permits and put everyone at risk in the process. The site reports that Kravtiz flew down American dentists to treat patients for four days when police and immigration personnel raided the offices giving "the team working 15 minutes to pack up all the equipment and leave." An insider told Page Six, "The dentist literally had to run out the back door to escape being arrested."
On a brighter note, Kravitz was applauded for his continuous fight against HIV and AIDS in early 2016. According to a second Page Six article, Kravtiz was given the Housing Works' Giving by Design Award. At the event Kravtiz, who remains upbeat about doctors finding a way to heal the world, told the crowd "a cure is around the corner."
He never stopped acting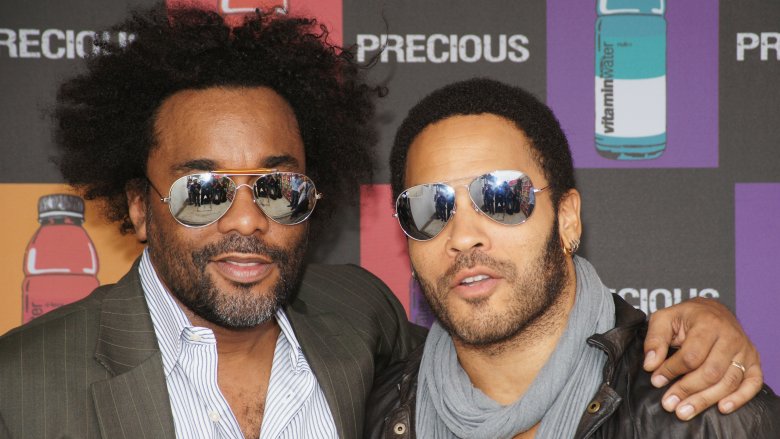 Getty Images
While fans may have noticed Kravitz's absence from the music charts in recent years, they may want to turn on their television. The '90s rocker has made his way from the stage to both the small and big screen. According to his IMDb resume, he's landed back-to-back roles in The Hunger Games and The Hunger Games: Catching Fire. He also starred in Lee Daniel's The Butler and most recently he teamed up with Daniels again for the new Fox show Star.
When Ebony asked about his Star character Roland Crane, Kravitz didn't have nice things to say about him. "He's controlling, he's manipulative, he calls her names and that's not in my vocabulary, it's not in my heart," he said, noting his character harsh relationship with his daughter. "There's no way I could ever be — my daughter is my best friend in life. And I am the exact opposite with Zoe. I never pulled her in any certain direction. She does her thing and I stay out of it... She did everything on her own. So it's interesting to be playing a father who's on the other side because that's not my world and not where I came from."
Kravitz also raved about working with Daniels for a second time, saying, "It's great because I'm used to working with him and I know him so well, so it's always great. It's fun, it's familiar. And I'm here to serve."
He's working on new music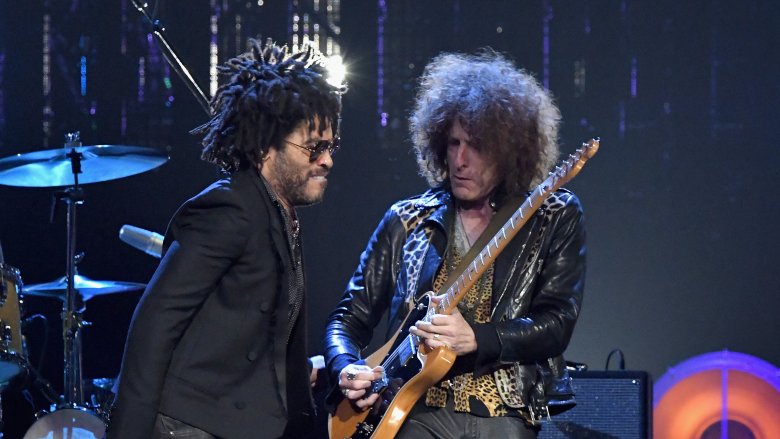 Getty Images
Kravitz's last album, Strut, was released in 2014 and immediately after he went on tour with Guns N' Roses. As he shared, it was like reuniting with old friends. "I went to high school with Slash," Kravitz told Rolling Stone. "I've known Axl, Slash and Duff from the beginning. We all came up together, and we worked together. I wrote 'Always on the Run' with Slash and he played on 'Fields of Joy,' both on my Mama Said album."
Since then, he hasn't been sitting around waiting for his next musical inspiration. He's hard at work at creating new tunes he told Rolling Stone's podcast, according to AXS.com. In fact, with 10 studio albums under his belt, he's been held up in the Caribbean writing on several projects.
"I'm pretty deep into a couple [records] actually," he started. "One that I'm finishing now will come out this year and I'm feeling really good about it. It's nice having two things that are completely different and that will be ready to go. There won't be a break between the next two [records] and after that, I'll probably be on the road for the next five years straight. This is going to be a run."
He's busy working on his abs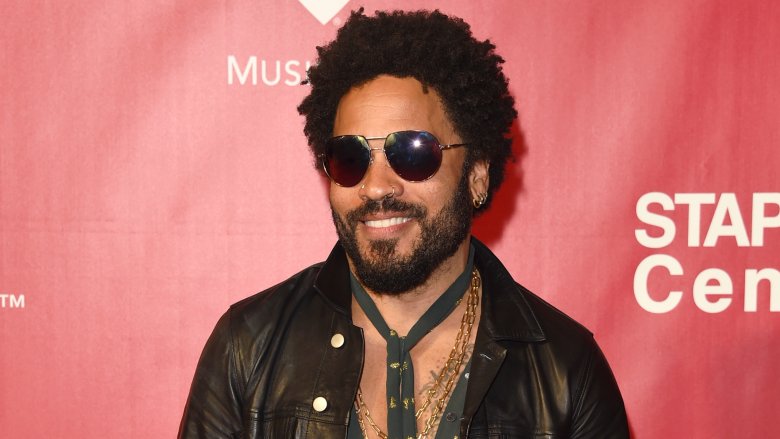 Getty Images
Over the years, Kravitz has become a rock God with a killer body that makes women swoon and men hit the gym even harder. But what's his secret to keeping a stellar physique after nearly 30 years of tours, lavish parties and hotel food?
"To stay fit, I always carry a jump rope with me," he told Health and Fitness. "And I run. I like to be outdoors doing things that you can do with your body—pull-ups, sit-ups, push-ups, squats. Gyms are cool, but I find them boring. I prefer to run outside in nature—it's far more inspiring."
In addition to staying clear of excessive alcohol, Kravitz sticks with juicing. He told the site he takes his Champion juicer with him wherever he goes. To ensure the finest and freshest juice, Kravitz hits up local organic markets finding the perfect kale, carrots, beets and spinach. But while he tries to keep his health in check with good solid foods, he does indulge. Part of the year, he usually spends in his Paris abode – which means delectable pastries. While the food in the City of Lights is to die for, he says everything in moderation is just fine. 
He's ready for love again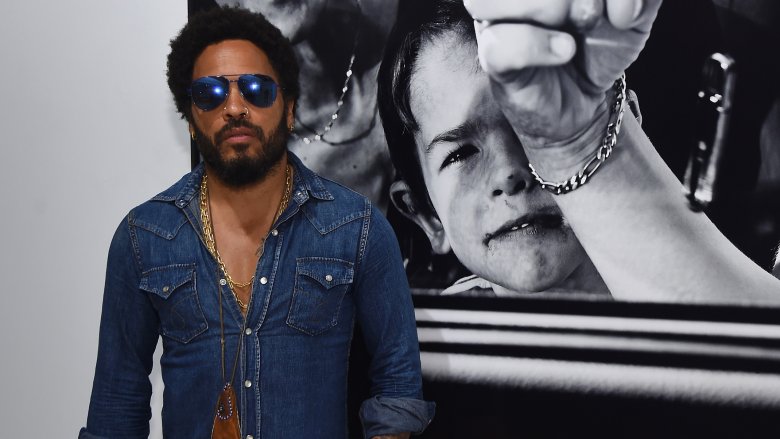 Getty Images
After a few public romances, Kravitz has been relatively quiet on the dating front in recent years. He famously took a vow of celibacy – swearing off sex until marriage. "[It's] a promise I made until I get married," he told Maxim in 2008. "Where I'm at in life, the women have got to come with something else, not just the body, but the mind and spirit." He's since dodged the topic but remains invested in marriage but hasn't said if he's got a special lady in his life. "Have I experienced enough as a single man? Yes. Yes, I have," he opened up to Details (via Today).
 But in a revealing 2014 interview with Wendy Williams, the singer shared he's ready to get back into the dating game. "Right now, it's been all about getting back into the music," he said. "Being on tour. I have family members that I take care of, that I spend time with. You know, elderly folks in the family. We don't send our family members to old folks homes. They live with us until they pass. So I've been doing a lot of family stuff. But I'm in a place where I'm ready. I admit, I wasn't ready before. God brings things at the right time."
He's living much simpler now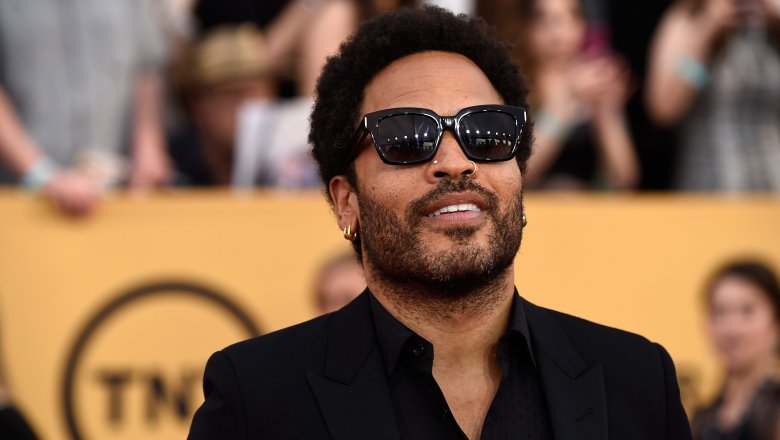 Getty Images
Some years ago, Kravitz ditched his lavish digs and settled down with an airstream trailer in the Bahamas. It's a shocking contrast for the rocker who is used to palatial apartments and mega mansions with all the glamorous folks of Hollywood.
"I moved there for two years on and off. I had one bag, a few shirts, a couple of jeans, and a pair of shoes that I never wore. I lived in my Airstream trailer — and I've never been happier," he quipped to Redbook in 2012. "When people visit, they go nuts. They're used to that constant urban stimulation. And here I am with no Internet, no TV. I had one friend who freaked out after just one night!" Kravitz says he's used to island life because he grew up visiting the islands often as his late mother, Roxie Roker, was from the Caribbean.
"It's a cozy safe womb," Kravitz described his tiny trailer on the beach on Oprah's Master Class. "It's not a lot of room. But you feel really free in there, because you know what your boundaries are. It feels really good to be constricted to a small space like that. My life has always been about contrasts. It always has been. It's just what I'm attracted to. At the end of the day, the simple way wins."