What We Know About George And Amal's Twins
Getty Images
George and Amal Clooney welcomed their twins into the world on June 6, 2017, and while celeb watchers might have expected such an international (and internationally) renowned duo to end up with oddball monikers in the vein of Apple Martin or Blue Ivy Carter, the Clooney kids are called simply Ella and Alexander.
Born to an eternal Hollywood A-lister and a prominent international human rights lawyer, the Clooney twins are already leading some interesting (and well-documented lives). Like their parents, they'll spend their lives traveling the globe, while based out of London primarily and Italy in the summer. During their travels, the twins are also sure to rub elbows with the upper crust, which they started doing before they were even born.
Not impressive enough for you? There's a whole lot more to learn about these two. Here's everything we know about the Clooney twins so far. 
Their birth announcement was cleverly cheeky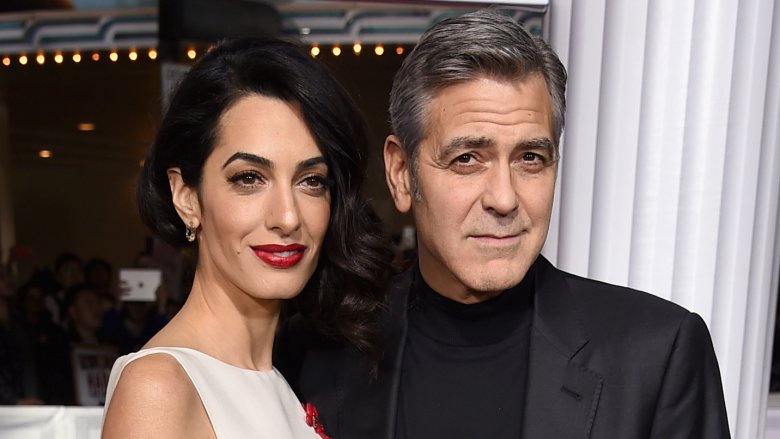 Getty Images
When the news of Ella and Alexander's successful stork arrival was brought to light, it seemed to be accompanied with the usual celebrity cadence associated with these sorts of announcements...but there was a humorous twist. In a statement shared with People, the 56-year-old new dad said, "This morning Amal and George welcomed Ella and Alexander Clooney into their lives. Ella, Alexander and Amal are all healthy, happy and doing fine. George is sedated and should recover in a few days."
Considering that for most of his A-list career, Clooney carried the air of an eternal bachelor who might never tie the knot again, let alone father children, the statement seemed like a timely wink to his rapidly changing reputation. The good news: these kids are clearly making their dad laugh already.
They're actual Gemini twins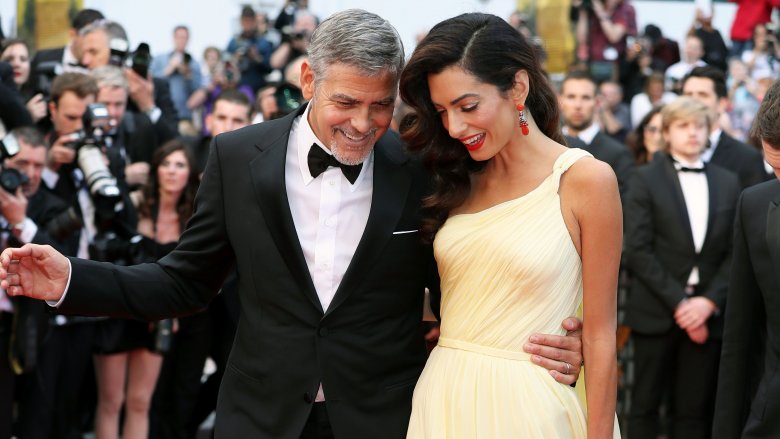 Getty Images
It's a bit fitting that such a buzzy pair of babes would be born under the astrological sign of the twins. Their birth was announced on June 6th, 2017, putting these two squarely in the Gemini horoscope fold, which means there are about to be zodiac synopses galore associated galore connected to these kids' lives.
Geminis are known for being made of dueling personality traits that seem to split them into two very different people, so with actual twins in the mix, there will no doubt be gobs of speculation and plenty of horoscopes directed at these tykes.
They'll (probably) be raised in the U.K.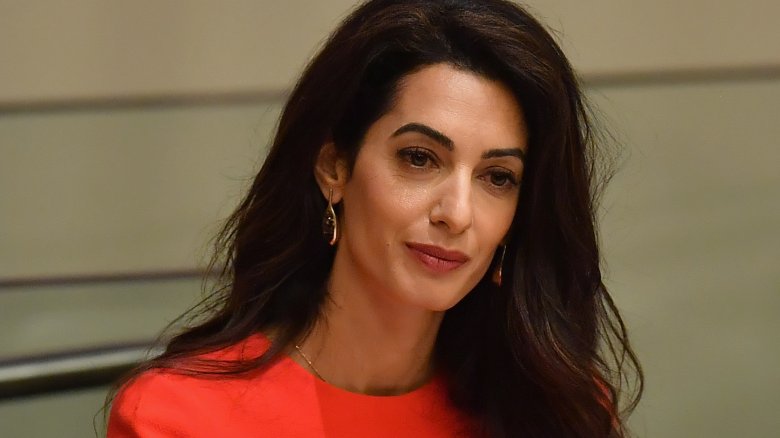 Getty Images
While George Clooney is a native son of the United States and has spent most of his life making a name for himself as an American actor, Amal Clooney (nee: Amal Alamuddin) has been living in the United Kingdom almost exclusively since she was a toddler and practices law with the United Nations in London.
According to Vogue, the couple has reportedly decided to raise their children in England, where they were born, at least for the first few years of their lives. The Clooneys invested in a nesting spot, a historic mansion outside of London, after marrying. While their father still boasts an American dialect, they little ones seem destined to inherit their mother's British lifestyle. E! News reported that the twins summered in Rome in 2018 to be close to George while he was there to work on a TV show. But they'll likely call George's famous Lake Como villa their usual summer digs. According to People, the Ocean's Eleven star has owned the gorgeous, waterfront stunner since 2001, and has used it to "[enjoy] la dolce vita throughout the summer months."  
Their mom's pregnancy redefined media coverage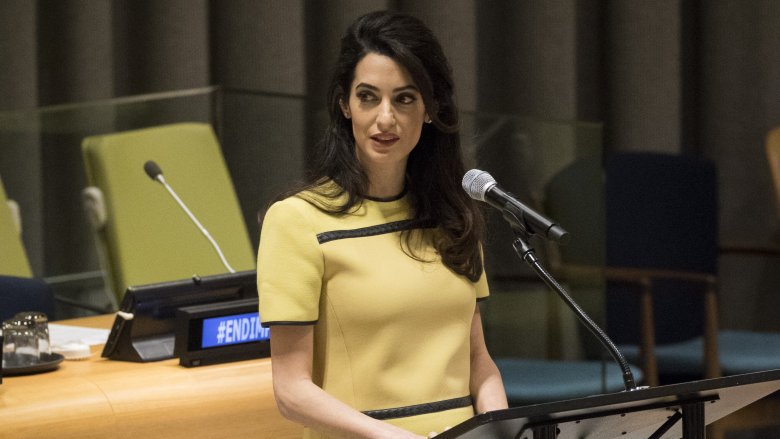 Getty Images
Ever since she and Clooney went public with their relationship, Amal has become something of a fashion icon, thanks to her flawless hairstyling and posh sartorial selections. However, as her pregnancy became more and more obvious in the second and third trimesters, the media seemed more focused on her bump and her maternity wear than the content of her important speeches. The seemingly shallow press coverage attracted some backlash.
For example, in March 2017, when Amal delivered a powerful speech about the state of international terrorism to the United Nations, subsequent headlines about her pregnancy fashion were heavily criticized. While celebrity significant others are often deemed "so-and-so's wife" or so-and-so's husband," many have taken issue with Amal being reduced to a George Clooney accessory. 
As for how this will affect Ella and Alexander? Given the level of respect their mother commands on a daily basis, these kids may be able to at least somewhat escape the shadows of their famous parents. 
George Clooney was laughed at when he revealed the news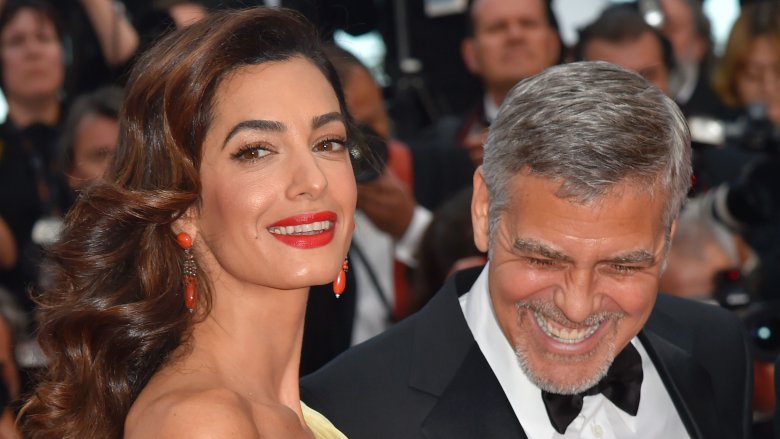 Getty Images
Before the world would come to know that the Clooneys were expecting two babies, George and Amal shared the news with their closest friends. George recalled their confidants' initial reactions during an appearance on the French television show Rencontres de Cinema. 
"It got really quiet, and they all just started making baby crying noises. And the whole table just busted up laughing," he said. Despite the initial shock, Clooney said the couple was "really happy and really excited" to become parents. "It's going to be an adventure. We've sort of embraced it all with arms wide open."
They've already had some very high-profile encounters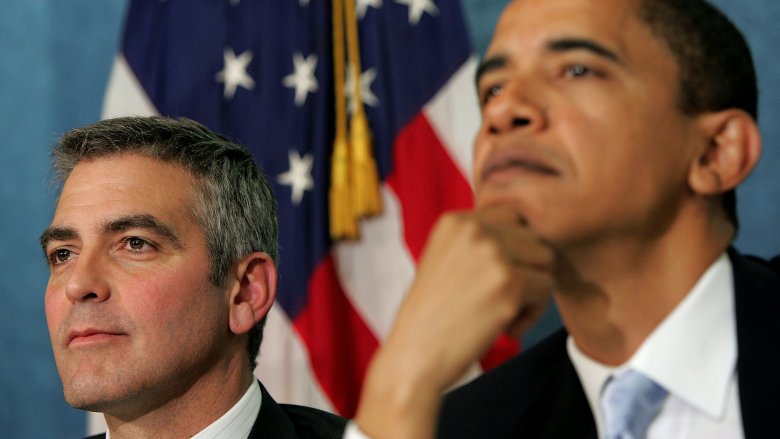 Getty Images
Just days before Ella and Alexander made their official world debut, the twins entertained an audience with a very special guest: former President of the United States Barack Obama. Chances are, based on their father's history of interactions with Obama, they'll probably get to meet him face to face eventually. Clooney famously hosted personal campaign fundraisers for Obama, and the two remained chummy throughout Obama's presidency, even playing a round of basketball together in 2016. In other words: Ella and Alexander were literally born with friends in high places.
Mom will be the boss of this brood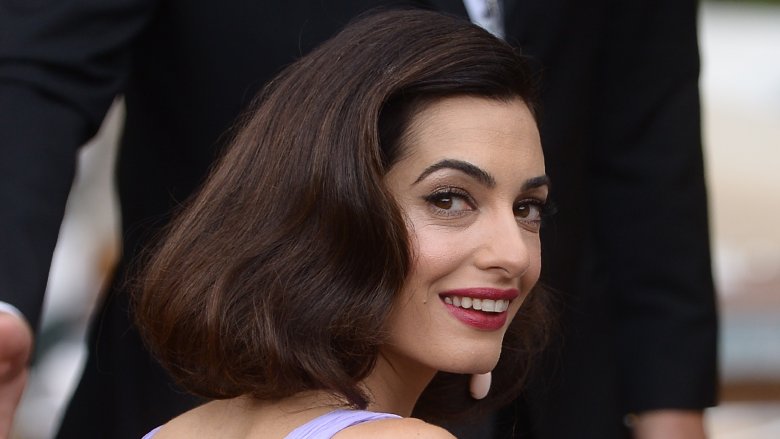 Getty Images
While Amal was still expecting, George made no secret about the fact that his wife deserved a superhero cape (although, hopefully not one that resembled his Batman & Robin costume). He told Extra, "She is doing really great. She is amazing. I don't have anything to do. There is nothing I can do to help, but make tea and stuff." Even so, George vowed to be a hands-on dad when it came to some of the nitty-gritty aspects of parenting. "I know swaddling," he said. "I know what I'm in for."
Though George prefers to humbly joke away his fatherhood skills, sources close to the dapper dad aren't afraid to boast for him. Speaking with People, a source said, "George is a great dad — so fun and silly. ... He always plays with the babies, and seems to love it. He entertains them for hours. Amal is amazing [with them] as well. They make an incredible team."
Grandma Clooney might be the go-to source for details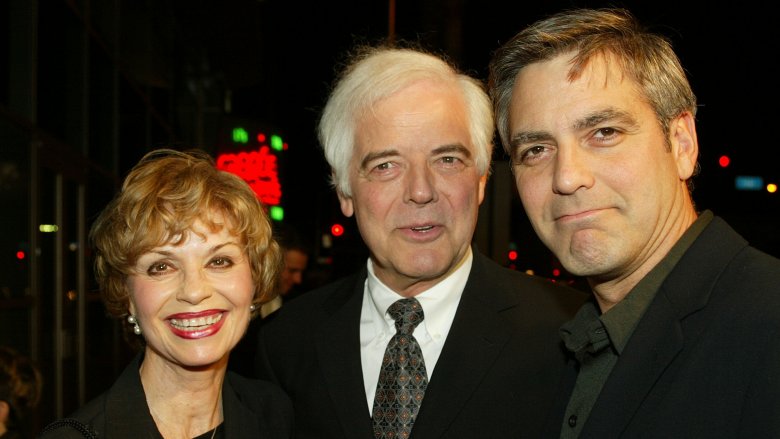 Getty Images
Until February 2017, the Clooneys had been successful at keeping the sex of their kids under wraps, but it was George's mother, Nina, who accidentally spilled the beans. She told Radar Online, "It will be one of each! Yes, a boy and a girl. That's what I've been told. How marvelous! My husband and I are extremely excited." She didn't reveal their names to the publication—because, as she said, she didn't know them yet—but it seems she's willing to share precious details with the press when the twins' parents are tight-lipped.
They've already sparked their first legal battle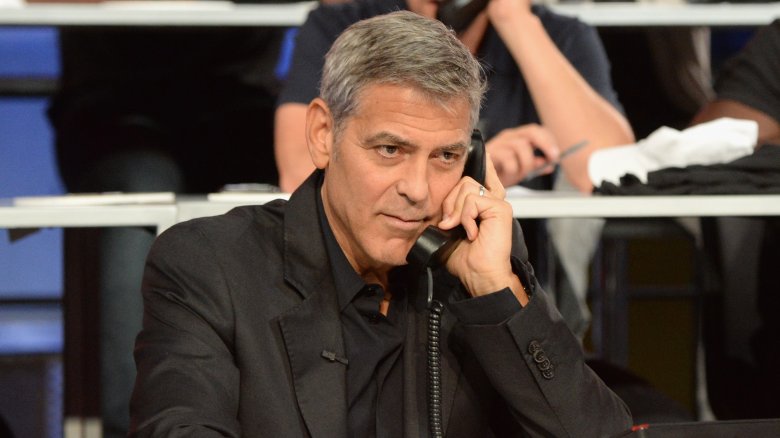 Getty Images
Shortly after their birth, photos of the children were allegedly taken and published by a French magazine called Voici in July 2017. Clooney might be new to the dad thing, but he's already proving to be a protective papa bear is taking legal action on their behalf. 
According to TMZ, the actor-producer plans to sue the French publication. In a statement, Clooney said the photographers "scaled our fence, climbed our tree and illegally took pictures of our infants inside our home. Make no mistake the photographers, the agency and the magazine will be prosecuted to the full extent of the law."
Ella and Alexander might be new to this world, but with two powerhouse parents looking after them, these tykes are obviously starting out on good footing.
The twins have distinct personalities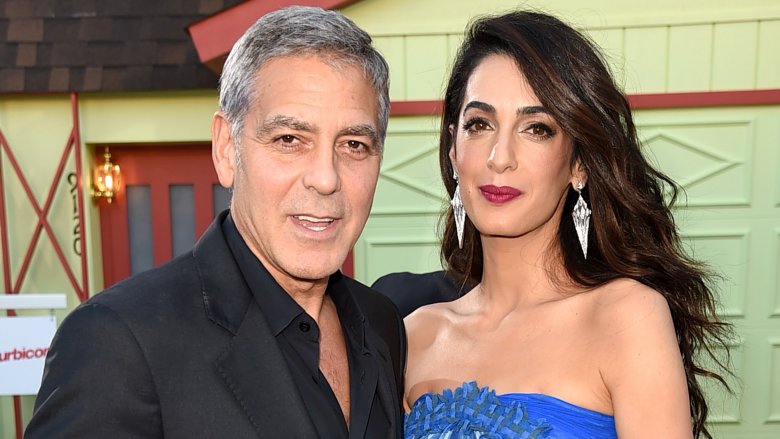 Getty Images
While promoting Suburbicon in September 2017, Clooney told Entertainment Tonight that the twins are already developing distinct personalities. Clooney said his son "is a thug already... He's a moose! Literally, he just sits and he eats." He described his daughter as "very elegant, and all eyes... She looks like Amal, thank God." By June 2018, Alexander had apparently learned a thing or two from his sister. According Us Weekly, a source overheard Clooney telling party guests that "the babies are like models and he never has to show them how to pose because they do it so naturally." 
It's a good thing the twins seem to have natural character, and won't have to rely on funky names to get noticed. Explaining how there's no deep, highfalutin backstory behind the babies' names, Clooney told ET that he and Amal "just didn't want to have really dumb names" and "figured these kids are going to be looked at a lot and watched and [have their] every move sort of judged, and we wanted them to at least have a break with the names. So we looked for some sort of normal names. We didn't have any great inspiration. It wasn't Alexander the Great and Ella Fitzgerald." 
The Clooneys may have opted for run-of-the-mill monikers for their children, but clearly, this pair of little ones is destined to be remarkable. 
Fashionistas from the jump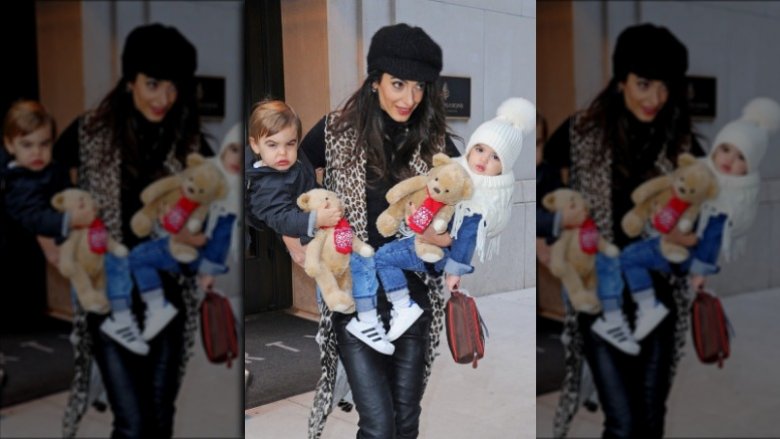 BACKGRID
Ella and Alexander Clooney stopped the tabloids in their tracks in December 2018 when photographers got a rare snap of the pair being carried by mom Amal Clooney, exiting the Four Seasons Hotel in New York City. As always, Amal set a new style standard for moms on the go, sporting "platform boots, leather pants, and a leopard-print vest coat," according to Page Six. The fashion blog Who What Wear even described Amal's look as the "ideal winter outfit" that "struck the perfect balance between practical ... and on-trend." 
The twins, clearly cut from the same cloth, rocked their own dashing duds. For Alexander, it was Adidas kicks, cuffed jeans and a black, hooded jacket. Ella also rocked denim and sneakers, but paired them with "a cozy white-knit hat and shawl." And, of course, they each brought their identical twin teddy bears along for the trip because why not add "preciously perfect accessorizers" to this dynamic duo's already growing list of accolades?  
A milestone just for mama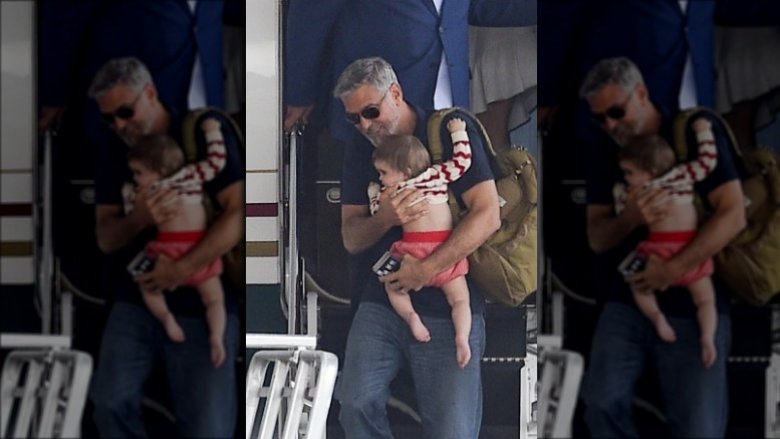 BACKGRID
June 6, 2018 marked Ella and Alexander Clooney's first birthday, and to say they celebrated it like the A-Listers they're destined to become would be ... well, a giant overstatement, honestly. According to their dad, they pretty much snoozed through the festivities. "They were kind of on Europe time, so they were sleeping during most of the day," George told Entertainment Tonight. "We had a cake, [we were] waiting, and we wake them up and show it to them, and then they go back to sleep." The wise-cracking Gravity star also quipped (via People) that the kiddos were jet-lagged and "had a bottle of booze" to mark the occasion.
Jokes aside, the twins' parents, of course, had much to celebrate about their babies' first year on Earth — including their first words! What did they say? Sadly, no, they didn't ponder, "Why did your batsuit have nipples on it, dad?" Instead, they uttered the pretty standard "mama" and "dada." However, Amal informed Vogue that George made sure "mama" came first.
George missed his 'knuckleheads'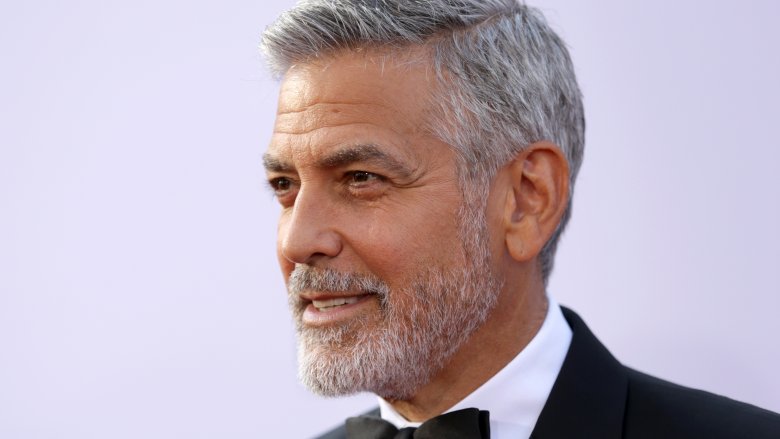 Getty Images
Speaking with Vogue in May 2018, Amal Clooney offered an extremely rare glimpse into Ella and Alexander's lives, including letting the outlet's writer, Nathan Heller, into their London home. Heller, whom Amal told the kids to refer to as "Uncle Nathan," noted Alexander's striking resemblance to daddy George, whereas Ella, he suggested, favors Amal. Another revelation from the interview was that in spite of her considerable line-up of domestic help, including "a nanny, a chef, an assistant, and other household staffers," Amal makes sure to carve out "quality time" with Ella and Alexander, which occurs in Amal and George's bed "between six and eight in the morning."
"Uncle Nathan" also observed a (rather serendipitous) FaceTime call from George, who was in Los Angeles on the set of a commercial — a project that marked "the first time since their birth that he's been away." This was just ahead of the twins' first birthday, and Amal noted that the "separation" from them "nagged at [George] more than he'd expected." Still, the doting dad was happy to see his kids, affectionately calling them "knuckleheads."
Shocker! They eat pretty well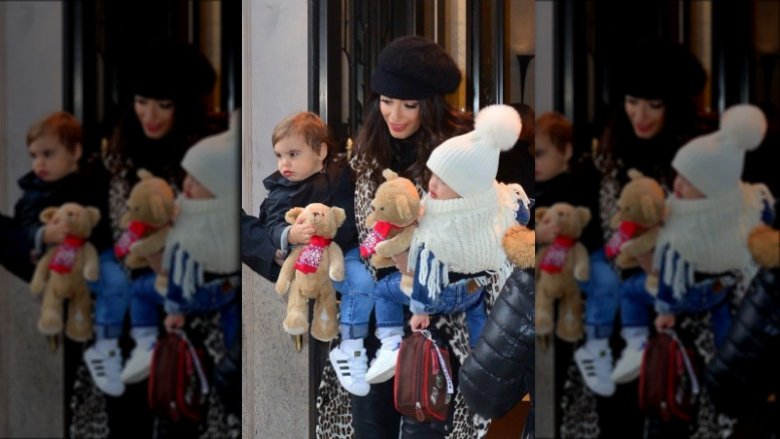 BACKGRID
It's probably not surprising to learn that the twins aren't dining on frozen chicken nuggets and hot dogs like the rest of us did growing up. No, the son and daughter of one of Hollywood's leading men and his accomplished legal scholar and philanthropist wife get to throw back selections from the curated menu of Viviana Frizzi — an Italian-born, "award-winning" chef, according to People. Naturally.
Speaking with the outlet, Frizzy said, "The twins are not fussy eaters." She also revealed that they have an adorable way to pay compliments to the chef: "They put their little fingers on their cheeks, smile and say, 'Mmm!'" (By the way, that burning that you smell right now is our cute-meter bursting into flames.) So, what are these lucky little ones grubbing on that puts such a grin on their faces? People reported that Frizzy's "child-friendly menus include salmon, tomato risotto, margherita pizza and ricotta with raspberries." Yep, sign us up. Seriously, we'll wear diapers if we have to.