Things You Didn't Know About Chris Pine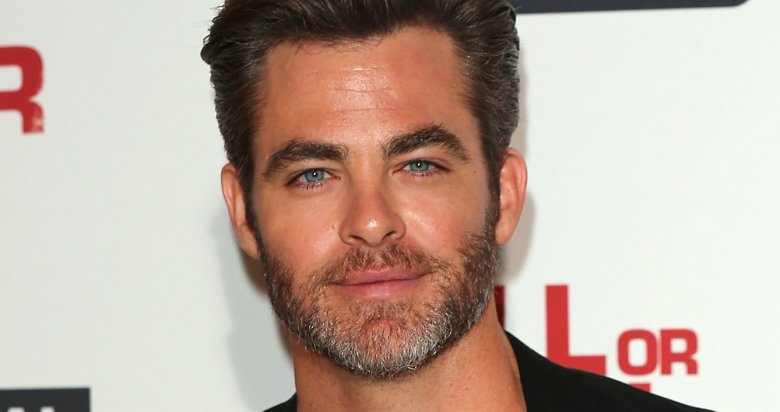 Getty Images
Chris Pine earned acclaim for his role as the legendary sci-fi hero Captain Kirk in J.J. Abrams' reboot of the Star Trek franchise, and his Hollywood star is only shining even brighter after receiving rave reviews for playing Steve Trevor in Wonder Woman. The film is a breakout hit for the DC Extended Universe and will only further increase Pine's profile as a solid actor who can deliver as a leading man or in a supporting role. So here are some interesting facts about the charming actor who worked his way up from a production assistant and playing second fiddle to Lindsay Lohan to headlining major blockbusters.
He got his start as a production assistant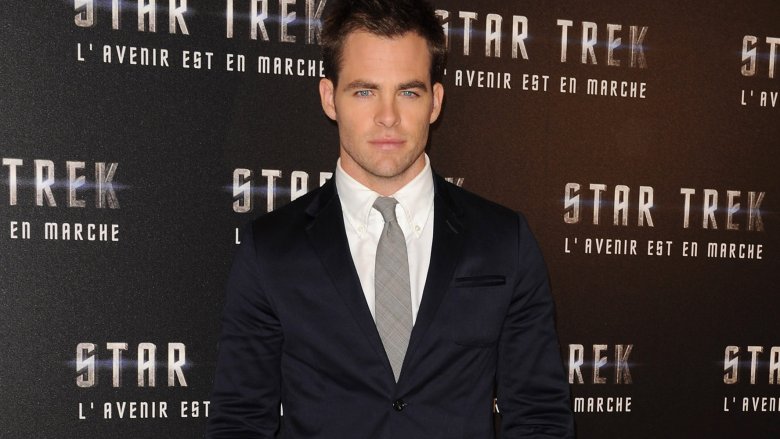 Getty Images
As the son of CHiPs star Robert Pine, Chris Pine is not ashamed to admit that having both of his parents and grandmother working as actors helped get his foot in door. "Just regular old nepotism," he once joked to the Associated Press. However, Pine's being modest about his early days. He worked as a production assistant doing "pretty much every job that can be done," according to the L.A. Times, and worked his way up from plays to small television roles before catching his big break in The Princess Diaries 2: The Royal Engagement alongside Anne Hathaway. However, he'd soon find himself working with a troubled actress who gave Pitt an up close and personal look at the pitfalls of fame.
He had front row seats for Lindsay Lohan's fall from grace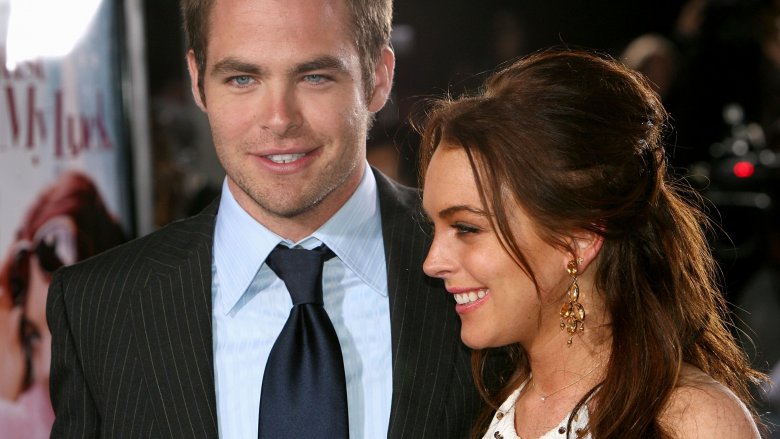 Getty Images
In 2005, Pine landed a role in Just My Luck, a romantic comedy starring Lindsay Lohan just as she was reaching the height of her hard-partying years that would virtually end her career. Things got so bad on set that the actress overdosed on cocaine, according to her father. "One of her assistants had given her the drug. I was so angry I got a gun from the house and planned to go to New Orleans to kill him. I couldn't believe what had happened to my daughter. I was just so angry," the Daily Mail reported. In case that wasn't bad enough, Lohan's father never made it to the set, but instead crashed his car in a DUI accident and ended up in jail. Yup.
Lohan also made life extremely difficult for the crew by constantly forgetting lines and bursting into tears, according to reports from the Times-Picayune (via Gawker). "I've never seen anything like this. She is making our lives a living hell. It's just not professional."
In an interview with The Hollywood Reporter, Pine revealed that his time with Lohan was a valuable learning experience.  "It was a real cyclone of insanity, like being around The Beatles," he said. "It was fascinating to watch, and in hindsight it's really a distinct moment in someone's life when you see what's really wonderful about what we get to do and what's really dangerous about it."
He bombed an audition for Avatar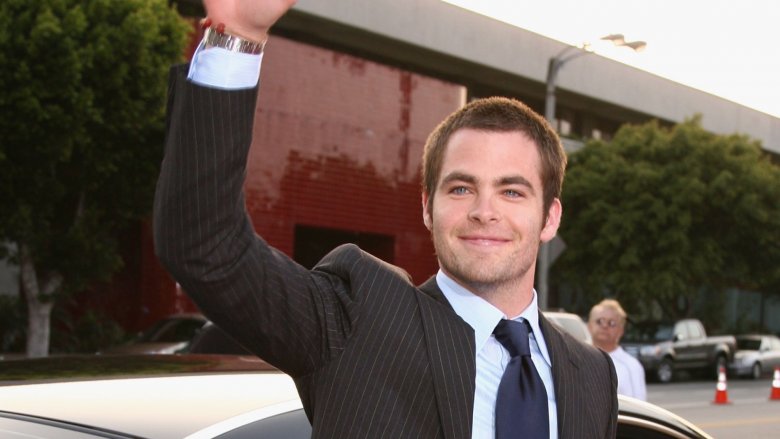 Getty Images
Before he'd hit it big as Captain Kirk, Pine auditioned for the lead role in a different science fiction epic, James Cameron's Avatar. Unfortunately for Pine, it wasn't exactly his best effort.
"I have a feeling that story will haunt me for the rest of my life." he told the Chicago Tribune. "It's one of these things—sometimes you can leave your car in Burbank, Los Angeles and walk into a conference room and your back is sweating and you're thinking about the laundry you have to do and somehow seamlessly you can then pretend to be a man in a loincloth standing in front of blue people saying lines like, 'Come follow me, I'll save you!' And sometimes you just can't buy it. [Laughs] I walked into that room absolutely not believing myself. How dare I put that poor casting director through the experience of watching me."
In the end, Avatar's loss ended up being Star Trek's gain, and once again, Pine showed an ability to look back at his early days in Hollywood with a sense of humility.
He used to work out in a friend's kitchen with Zachary Quinto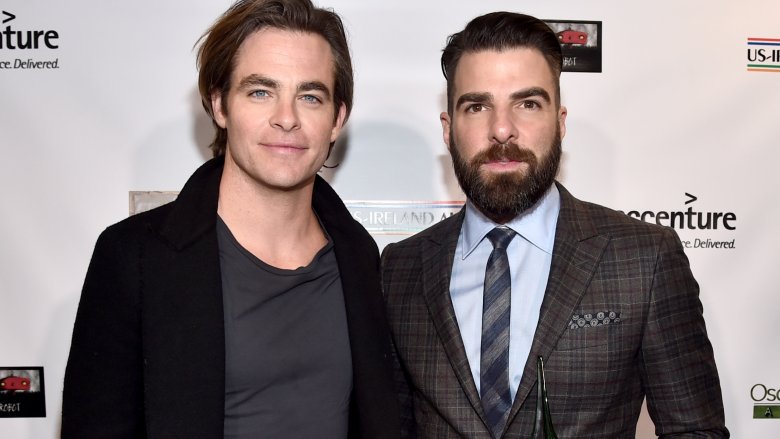 Getty Images
In an interview with IGN, Pine's Star Trek co-star revealed that the two of them used to exercise in an unusual location together before they were even in the running for their respective roles as Kirk and Spock.
"It wasn't even a gym, it was a friend's kitchen," Quinto said. "That was the funny thing, we had the same trainer who was a friend of ours before he was either of our trainers, and now we work out at the same gym. At the time he worked us out of his kitchen."
Pine wasn't always happy to have company in the cramped quarters though. "Every time I'd see him I'd be 'f***ing schmuck'," Pine joked. But the two formed a close friendship that extended beyond just playing the classic science fiction duo. Apparently friends who work out next to the juicer together stay together.
He won over a cranky William Shatner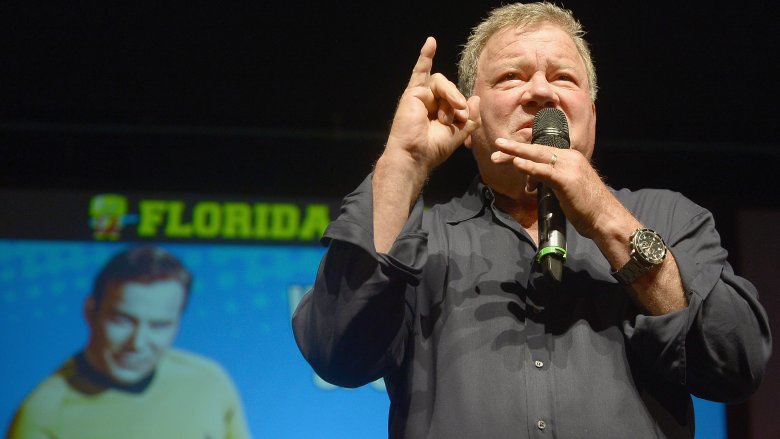 Getty Images
When J.J. Abrams fired up production on the Star Trek reboot, William Shatner began to publicly air his grievances that he wouldn't be involved, according to the Daily Mail. "I couldn't believe it. I'm not in the movie at all. Leonard [Nimoy], God bless his heart, is in, but not me." Shatner said. The situation got so bad, that Shatner refused to attend the film's premiere.
However, despite his public anger with Abrams, Shatner privately supported Pine's role after the young actor wrote him a letter. The L.A. Times quotes Pine as saying, "I wrote Mr. Shatner a letter very early on because I had heard there had been some acrimony between him and the studio over his not being in the movie. I was like, 'Look, I'm an actor and I got this role that you originated, but I'm not trying to usurp your status as the original Kirk. I'm just trying to do my part to further it.' He was very polite and wrote back, 'I wish you all the luck in the world. Best, Bill.'"
Years later, Shatner would prove there were no hard feelings by including Pine in his Star Trek documentary The Captains and speaking glowingly about him at conventions, according to Trek News. "He's a lovely young man, who is really talented and looks really good," Shatner said. "He's got the demeanor, the body and the voice. So along with being a good actor, he's got all the right equipment."
He can be extremely loyal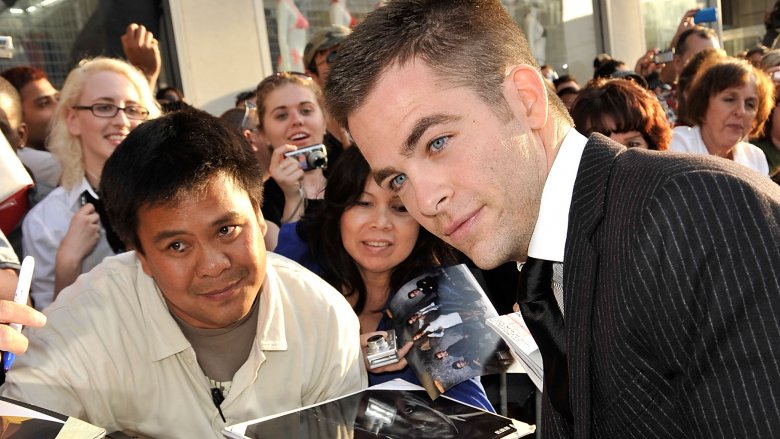 Getty Images
Fresh off of the success of Star Trek, Pine set his sights on an unusual pick for his next project: The A-Team Movie, another reboot of a classic TV series. In fact, Pine knew exactly which character he wanted to play, and no, it wasn't B.A. Baracus. "Murdock is my man," he told Ace Showbiz. "I love Murdock." However, what Pine really wanted to do was work with director Joe Carnahan again. The two hit it off so well while filming Smokin' Aces that Carnahan cast Pine in his next movie White Jazz after some heavy praise from co-star Ben Affleck. "I remember afterward Ben saying to me, 'If I could take 10 percent of what I'm going to make the rest of my career and bet on somebody, it would be that kid,'" Carnahan told The Hollywood Reporter.
But before filming was supposed to begin, Pine landed Star Trek and he had to make the difficult decision to leave White Jazz. "He said to me without a hint of guile, 'You know, I was really looking forward to a long career as a character actor, and I know that's just not going to happen now,'" Carnahan recalled to THR. "If anyone else had said that, it would have been the douchiest thing to say. But Pine actually meant it."
While Pine didn't land a role in The A-Team, he did show a surprising amount of loyalty in an industry that's famous for only looking out for Number One.
He was almost Green Lantern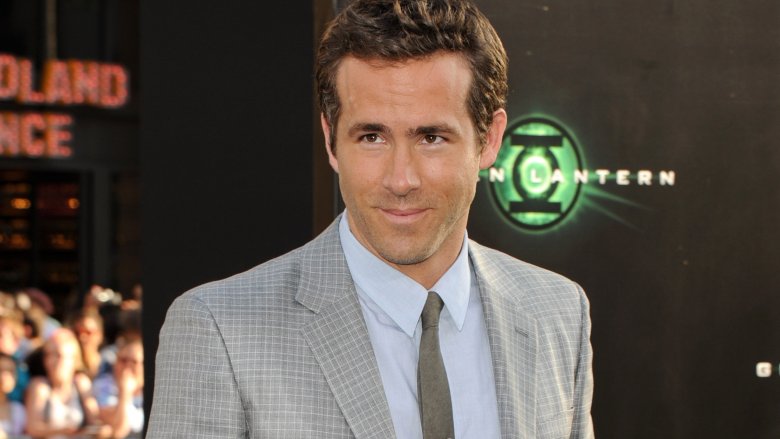 Getty Images
Thanks again to his breakout performance as Captain Kirk, Pine became one of the top three contenders to star in Green Lantern, according to MTV News. In fact, he was once again up against Sam Worthington who won the lead in Avatar after Pine's disastrous audition. While Ryan Reynolds would end up snatching the starring role in Green Lantern, it would be a blessing in disguise for Pine as the movie crashed and burned in theaters and became such a disaster that Reynolds relentlessly mocked it during his significantly more successful turn in Deadpool, according to The Hollywood Reporter.
However, fan reaction to Pine potentially starring as the emerald space cop was so strong that even after Reynolds' version imploded, Pine once again became the top contender amongst superhero fans when Warner Bros. announced plans to relaunch the character in Green Lantern Corps. As Forbes reported, things really heated up when Pine was engaged in talks with the studio, but in a surprise move, Pine actually had been negotiating for the role of Steve Trevor in Wonder Woman.
And while it seemed like an odd choice to go from leading man to playing the sidekick/love interest, Wonder Woman became a blockbuster hit that earned Pine rave reviews from audiences and critics. It was exactly what his career needed after a serious lack of judgement almost derailed everything for Pine.
He got arrested for DUI in New Zealand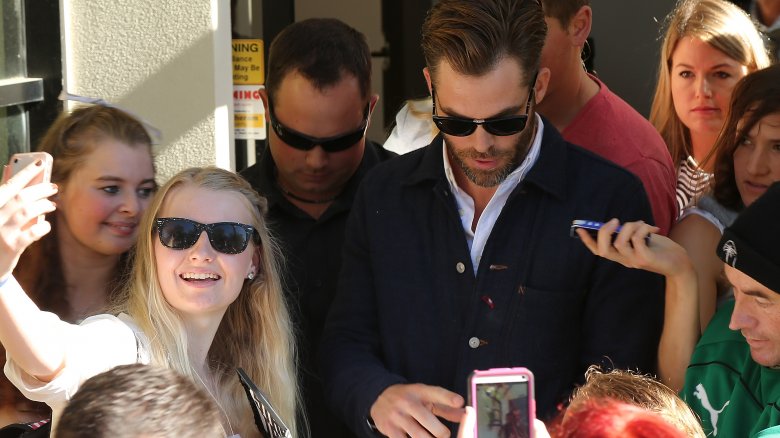 Getty Images
In 2014, after leaving a wrap party for Z For Zachariah in New Zealand, Pine made the unfortunate decision to get behind the wheel. He was stopped by police during the short two kilometer drive to his apartment and admitted to having four vodkas, according to New Zealand Press. It was an out of character move for the actor who had a clean record and no prior history of reckless behavior.
During his court appearance, the New Zealand Press reports that the judge believed Pine was "entirely remorseful" as he accepted the charges and pleaded guilty. He made a sizable donation to charity, paid the fine, and couldn't drive in New Zealand for six months.
His lawyer had stated during the hearing that Pine had "suffered emotionally" after worldwide coverage picked up the incident, and he worried that he'd "placed his acting contracts in jeopardy." However, things seem to have turned out fine for Pine, but more importantly, we hope he learned a valuable lesson about never drinking and driving.
He really believed in Wonder Woman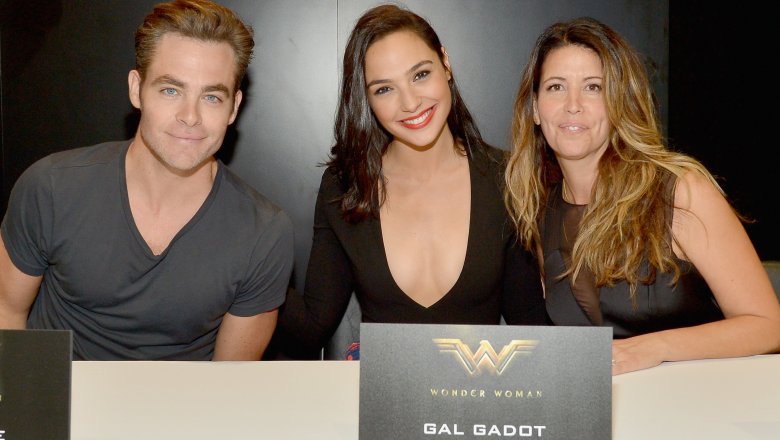 Getty Images
With his DUI in his rearview mirror and another shot at blockbuster success outside of Star Trek ahead of him, Pine became a vocal supporter for Wonder Woman and relished the opportunity to be a supporting player in a superhero film that's finally focused on women. "It'll be a f***ing blast. Patty [Jenkins'] got a tremendous sense of story, I couldn't be happier to be supporting Gal in what's going to be the first female-driven superhero film. I think in the world today we've had plenty enough of male-driven everything and it's finally time to see how wonderful the world can be with beautiful, strong, intelligent women kicking some major ass," he told Total Film (via Heroic Hollywood.)
As Cinemablend noted, "It's good to hear that he's not so high and mighty as to think that it would be uncool to back up a female lead, especially in an action movie." And as the world now knows, Pine delivered the goods and Wonder Woman became "the superhero you've been waiting for," according to Jezebel.
He's already taking shots at Marvel
 With a smash hit for the previously struggling DC Extended Universe under his belt, Pine might have gotten a tad overzealous when he started taking shots at Marvel's upcoming Avengers epic while being asked about the level of "humanity" infused into Wonder Woman by director Patty Jenkins.
"Within this genre, it's difficult to do something new," Pine said during a press junket, "and usually you just see a bunch of people killing one another in the outfits and blowing up cities, and, you know. Like, I know there's a thing called Infinity War coming out, which I like, I don't... Really? Like, Infinity War? We need more war for all time?"
While it's great that Pine is excited about Wonder Woman, it is a movie that takes place during World War I and features Wonder Woman battling an actual God of War. Long story short, there's a lot of war in it, so maybe Pine should choose his battles with the competition a little more carefully. Not to mention, Marvel stars came out in full force to celebrate Wonder Woman on Twitter, according to ScreenRant. Then again, Pine isn't a big fan of social media, so he might've had no idea.
He won't use social media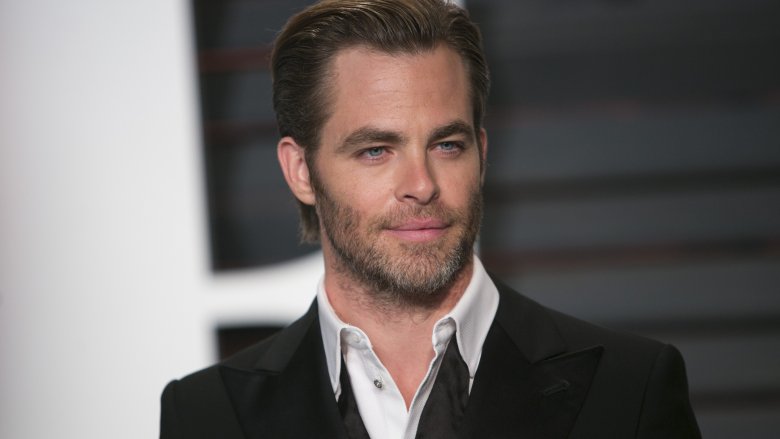 Getty Images
While almost everybody from Hollywood stars to your grandma has a social media account, Pine has shied away from sharing his private life online. "I have no interest in that," he told USA Today. "With Facebook and Twitter everyone wants to publicize their innermost truths. In 2014 we are seeing the true dissolution of public and private."
He was even more candid with The Hollywood Reporter. "What am I going to tweet about? My sneakers? Or, 'I have 140,000 friends on Facebook.' What does that even mean? I find it to be a waste of time. The Internet is so caustic; just a place where people get to spew nonsense and bulls***."
While social media can be a powerful tool, it is refreshing to see a Hollywood actor who's not obsessed with seeking online attention from fans on a daily basis. Pine also likes to trash talk, so maybe it's for the best that he stays away from the internet. Plus there are those nutty fans of his.
His fans are called the Pine Nuts
Not unlike Benedict Cumberbatch's rabid online following, Pine has his own set of fans called the "Pine Nuts." (Don't worry. He didn't pick the name.) According to the Telegraph, Pine's fanbase sprang up in 2009 after his success with Star Trek, and they've been obsessed with him ever since. During a 2014 appearance on Ellen, Pine would even serenade a lucky Pine Nut because it turns out, he's actually a talented singer and would later be chosen to sing a duet with Barbra Streisand in 2016.
"Truth be told, I didn't record it with her, exactly," he told Harper's Bazaar. "I was thousands of miles and many recording booths away from her. But I think it probably behooved me and the project for that to be the case, given how I nervous I was beforehand. It was great fun—I just did my worst Frank Sinatra impression and hoped that s*** floated and I think I got away with most of it. Now I'd do it again. It was super fun."
Handsome, a talented actor, and he can sing? No wonder the Nuts go crazy for Pine.
He's open to starring in The Princess Diaries 3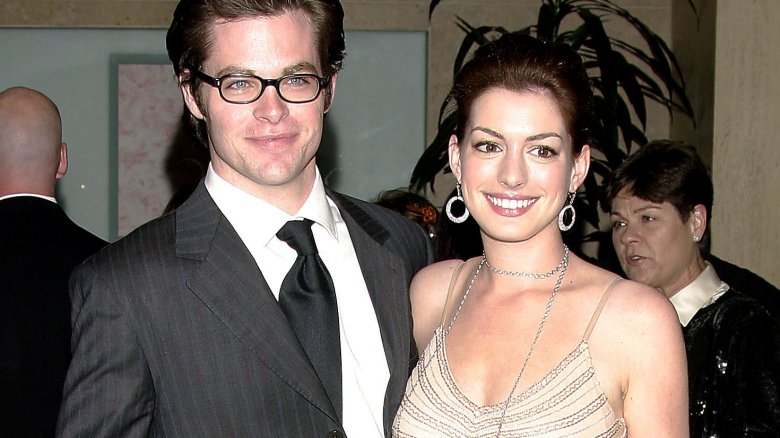 Getty Images
As we've seen with his loyalty to Carnahan and humility about his rise to fame, Pine is extremely respectful of his roots. And while most actors would be skittish about returning to some of their early roles, especially if it was a not-so-great sequel to a Disney movie, Pine told fans he's open to starring in The Princess Diaries 3, according to Bustle's report that director Gary Marshall obviously would like Pine to return.
Sadly, Marshall died in July 2016, but in a recent interview Julie Andrews said the film could still happen, and that Anne Hathaway is on board. "I think we might do it in honor of him," Andrews told AOL. "Annie had an idea that she wanted to pursue about it, and I'm all for it, so if she'd like to..."
Sounds like Pine might have another chance to show off his chops supporting a female lead even if this one doesn't have a magic lasso.
Pine does the work and mostly stays out of trouble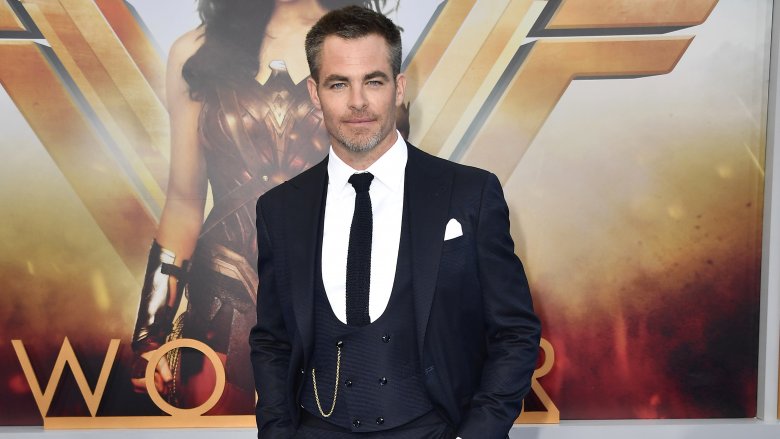 Getty Images
Despite an unfortunate arrest for DUI in New Zealand, Pine seems like a genuinely humble and respectful actor who just wants to put in the work. He won over a visibly angry William Shatner with his charm and dedication to the craft, and Pine didn't hesitate to focus the spotlight on Gal Gadot to make Wonder Woman one of the top superhero movies to come out of Hollywood. With his loyalty to the films and directors that helped him in his early days, Pine seems like a genuine class-act. Plus he stays off of Twitter, so even better.