Angelina Jolie's Most Painful Relationship Confessions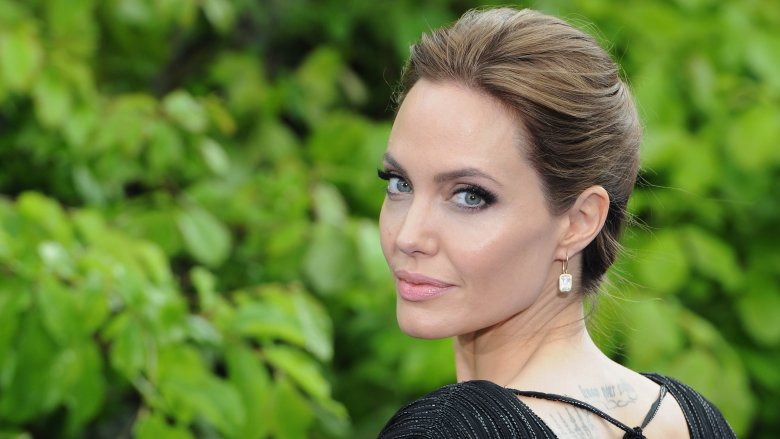 Getty Images
Over the years, Angelina Jolie's personal life has become part and parcel of her public image. Although the actress is notoriously selective about what portions of her off-camera activities are willingly shared with the public, she has made a point of lifting the veil on her private side just enough to satisfy the masses. Which means that she's oftentimes gotten the last word in on almost every piece of gossip that's surrounded her name, particularly when it comes to her tumultuous familial and romantic relationship history. From painful revelations about her mother's death to her divorce from Brad Pitt, here are some of the most harrowing things Angelina Jolie has had to say about her life and relationships outside of the spotlight.
Her first experience with sex included extreme pain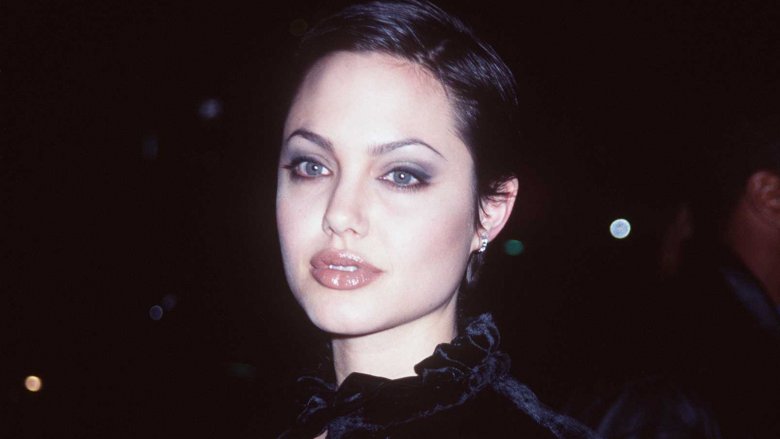 Getty Images
In an extremely candid 2003 interview with ABC's 20/20 (via People) Jolie revealed that, as a teenager, she first discovered her bisexuality and affinity for knife-play in the bedroom. Describing one of her earliest sexual encounters with Barbara Walters, she said she was "surprised when I suddenly found myself having these feelings I always had for men, but for a woman, and wanting to kiss her and wanting to touch her ... Early on in my first sexual relationship, I got out knives and had a night where we attacked each other. It felt so primitive and it felt so honest... and then I had to deal with, you know, not telling my mother, hiding things, wearing gauze bandages to high school."
She and Brad Pitt went through a tough time during By the Sea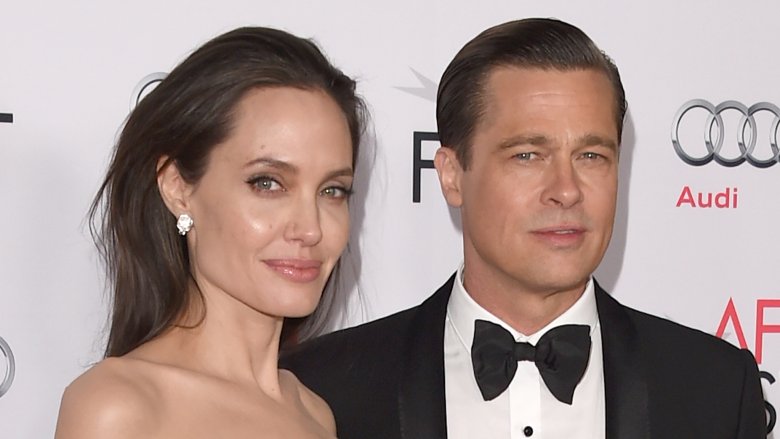 Getty Images
By the Sea wasn't the first time Jolie and her husband Brad Pitt would film together; the two famously met on the set of Mr. and Mrs. Smith and struck up a relationship soon after (or during, depending whose timeline account you believe). But it would prove to be a very difficult production for them on a personal level, as they played spouses who were enduring an emotional separation.
And the experience of playing two people at such a breaking point in their relationship at the same time that she and Pitt were celebrating their marriage was a trying one indeed. She told The Wall Street Journal, "It was not easy. We just had to be brave and say, 'OK, honey, we're strong enough to do this; let's somehow use this to make us stronger ... we had to stay in our corners, like boxers, and not be husband and wife. It was very hard to do those scenes without Brad and I taking care of each other. Normally in between takes, you'd make sure that the other's OK, but we had to be able to really get ugly." Considering the process only predated their eventual separation by a matter of months, it might've had a more lasting impact than either anticipated or hoped.
She almost married a woman (but was already married to a man)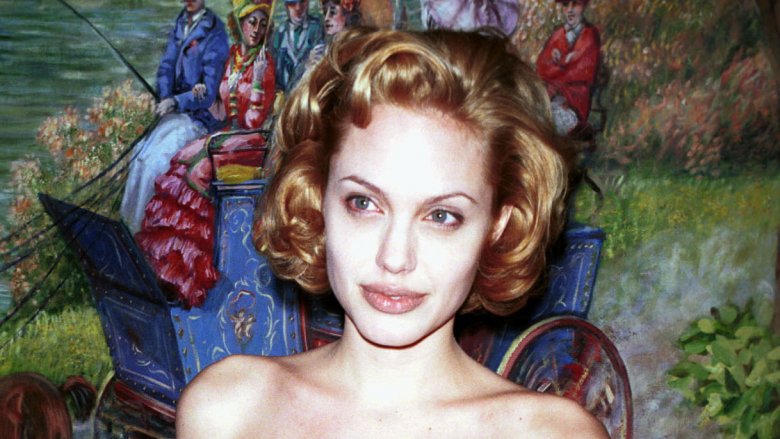 Getty Images
Before Jolie would go public with her bisexuality, she engaged in a relationship with model Jenny Shimizu and ultimately lamented not being able to marry her because of her then-current marriage to Thornton. She she told Girlfriends Magazine in 1997 (via US Weekly), "I would probably have married Jenny Shimizu if I hadn't married my husband. I fell in love with her the first second I saw her."
She has a lot of empathy for her mother's plight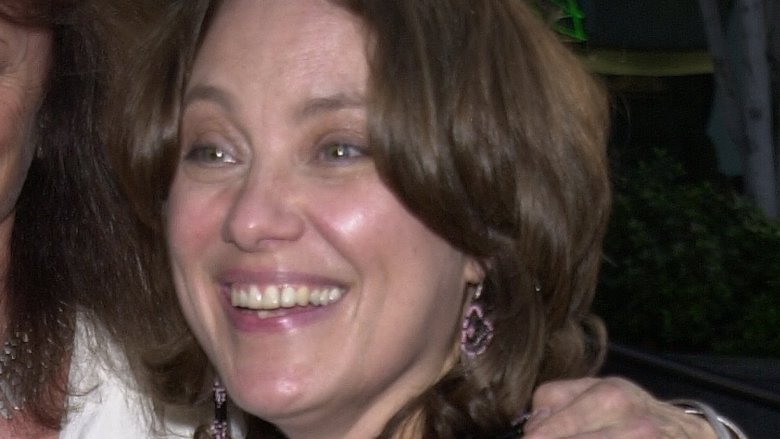 Getty Images
Jolie's mother, Marcheline Bertrand, passed away of ovarian cancer in 2007 at the age of just 56, and because of her fate, Jolie would famously endured a series of preventative surgeries to avoid suffering the same diagnosis that ultimately took her mother. But it wasn't just her illness that would have a life-long impact on the actress; she was also deeply affected by what her mother went through during her marriage to and divorce from her father, actor Jon Voight.
She told the UK's Express of her mother, "She studied to be an actress but married my father and by 28 was divorced with two kids. She gave up her dreams ... I am my mother's daughter. My love of children, my values, caring about what goes on in the world, all of that comes from her...I miss her terribly every day. I try to raise my children the way that my mother raised me. I didn't ­really have a father around."
She mourned the grandmother her children would never have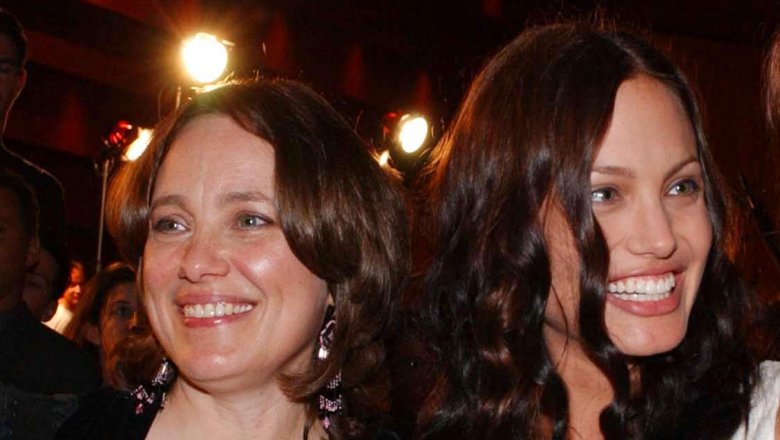 Getty Images
In addition to losing her mother at a young age, Jolie was also quite saddened by the fact that her children, most of whom were born or adopted after her passing, would never know her mother and get to enjoy her as a grandmother. In her first New York Times op-ed detailing her decision to undergo a double mastectomy after testing positively for the BRCA1 gene, she wrote, "My mother fought cancer for almost a decade and died at 56. She held out long enough to meet the first of her grandchildren and to hold them in her arms. But my other children will never have the chance to know her and experience how loving and gracious she was. We often speak of 'Mommy's mommy,' and I find myself trying to explain the illness that took her away from us."
As emotionally evocative as some of her scripted line deliveries have been, nothing compares to how raw and devastating those words about her real-life were. As she'd later reveal to Spiegel Online, "I don't really cry in front of anybody. As Brad [Pitt] will tell you, I hate crying. I have this practical self. I feel like it's not accomplishing anything. But when I lost my mother, I cried, and I cried big."
She's desperately trying to emulate her mom as a mother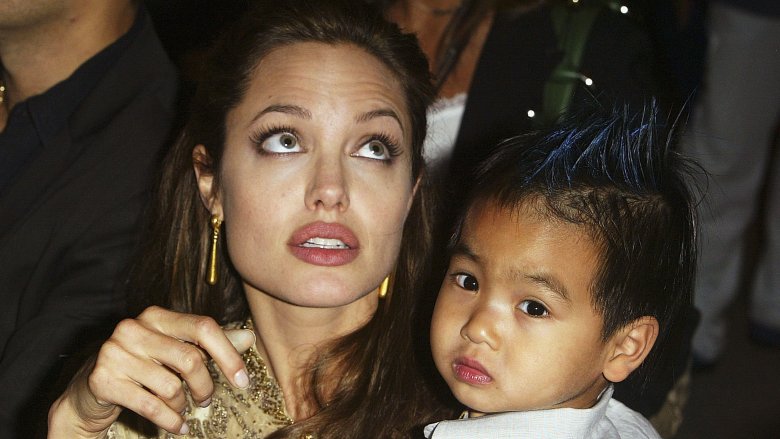 Getty Images
In a heartfelt 2007 interview with Dateline NBC about her harrowing turn as Mariane Pearl in A Mighty Heart, Jolie talked about how her mother's then-recent passing and how it informed even the smallest decisions she made as a parent after the fact. 
"If I am even a sliver of the woman my mother was ... she was one of those women who would spend weeks to plan the right birthday party," she said. "And to write or you know, four drafts to get the right birthday card ready that said all those things that were emotional and you could say them and that meant. She lived her life to be a mom. Was just kind. And really taught me in her passing, the strength of that.mThat is the most important thing to be," she said. "This Easter I spent so much time. Like make the biggest baskets. I obsessed on it... out of just somehow an understanding of there is nothing more important right now going on in my life than this Easter basket ... Everything else stopped to do that. And that's my mom."
She has had a very strained relationship with her dad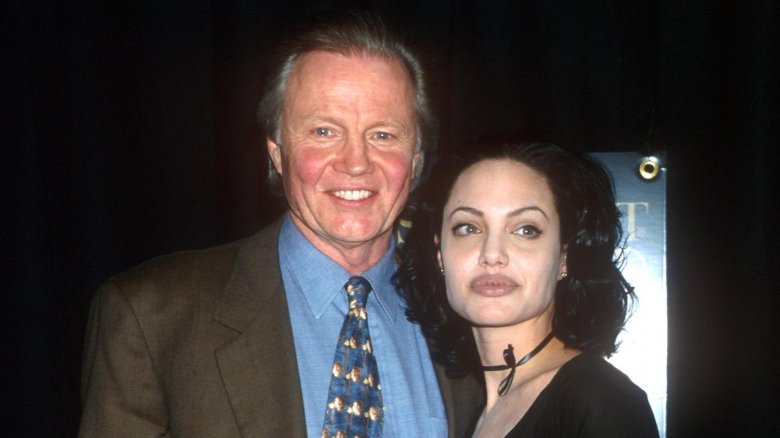 Getty Images
Jolie has been very open and honest about the toxicity of her childhood, particularly when it comes to her father's infidelity. "I don't even think I was a year [old] when the separation started and she discovered the affair," she said on 60 Minutes. "They didn't have a great relationship ... and they had a lot of fighting — so I grew up fighting with him a lot over things, usually regarding her. There was a certain point where it just got to a breaking point, and things were said and things went too far, and I decided that I felt it was an unhealthy relationship because it was making me feel sick, and it was making me feel bad, and it was making me too emotional, so I stepped away and called my mother and said, 'We weren't speaking anymore.'"
Although Voight's affair might be enough for many children to avoid contact with their fathers, Jolie has had a litany of additionally reasons to walk away from a relationship with him. Most famously, Voight publicly claimed in 2002 that his daughter suffered from untreated mental problems, and she rewarded his words by officially dropping his last name from her own. It was then, too, Jolie said, that her mother and brother James Haven stopped speaking to Voight. Once she became a parent herself, though, she began allowing Voight back into her life to have contact with his six grandchildren.
She remained close to Jonny Lee Miller after their divorce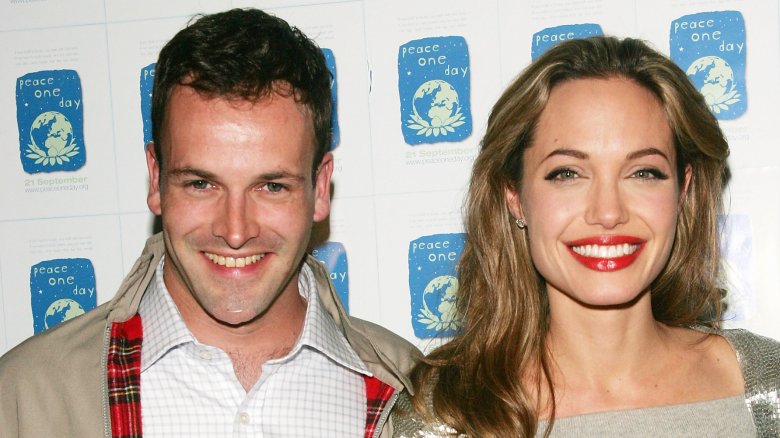 Getty Images
Shortly after co-starring with him in Hackers, Jolie would famously wed Jonny Lee Miller while wearing a shirt with his name written in blood upon it. The two had a very short-lived marriage from 1996-1999, and their split, according to her was about self-actualization.
She told Rolling Stone, "We knew that we married young and that we needed to keep growing and that there would be times when we'd grow in different places and spend time apart. But it was very difficult to separate from him ... I wasn't sure what compromise was or what freedom was when you were always sharing everything — what was the positive and the negative side of that. We were working separately a lot, and maybe now I understand that it is good to have your individual journeys and it doesn't have to separate you. And I think that probably because I just wasn't feeling very good about myself ...  I just wasn't whole as a person, I guess, and now I know that you never are completely, and it doesn't matter." She later said that they would remain friends, and according to Miller, the two are still close friends and are in continued communication with each other to this day.
She and Billy Bob Thornton grew apart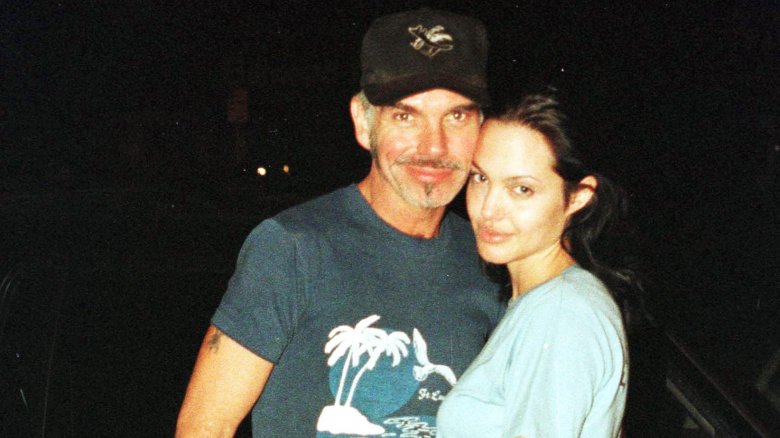 Getty Images
Although Jolie's early history in Hollywood cast her as a wild child — an image which she thoroughly embraced, even going so far as to make out with her own brother on the Oscars red carpet in the year 2000 — her personality seemed to shift into serious mode overnight after she visited the nation of Cambodia, from which she'd adopt her first son Maddox.
She told ABC News that she came home to find that her viewpoints on life were suddenly starkly contrasting to her then-husband Billy Bob Thornton. "He started focusing on certain things, his music, and different films. I started focusing on traveling a lot, and really wanted to, and knew Cambodia, and really wanted to adopt a child," she explained. "Billy and I just became very different people, and that was before Maddox even came home. And, by the time Maddox came home, we were kind of living apart."
She attributes her odd behaviors with Thornton to a growing period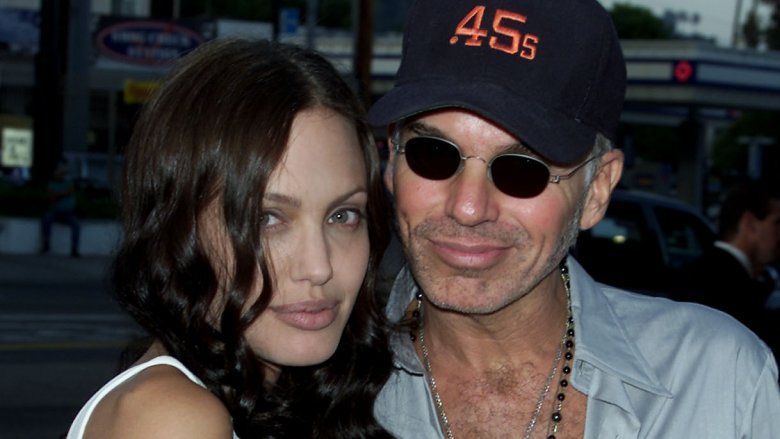 Getty Images
In the early 2000s, Jolie developed a reputation for boasting bonkers behavior while with Thornton (like wearing a necklace containing his blood) weren't her. She told ABC News of their public intensity, "I wanted him to feel good. I believe that's something that you do. That's something a wife would do, for ... to or for her husband. And, and at the time I meant it. I thought he was amazing. And, now I just feel like I don't know him. ... We're not friends. I think you make mistakes, and you learn from then, and if you become a better person from those lessons learned, then that's good."
Ultimately, she was able to compartmentalize that time period in her life, telling Parade Magazine, "I went through a period when I felt my film characters were having more fun than I was. It might partly explain why I ended up tattooed or doing certain extreme things in my life."
Filming Changeling made her extremely protective over her children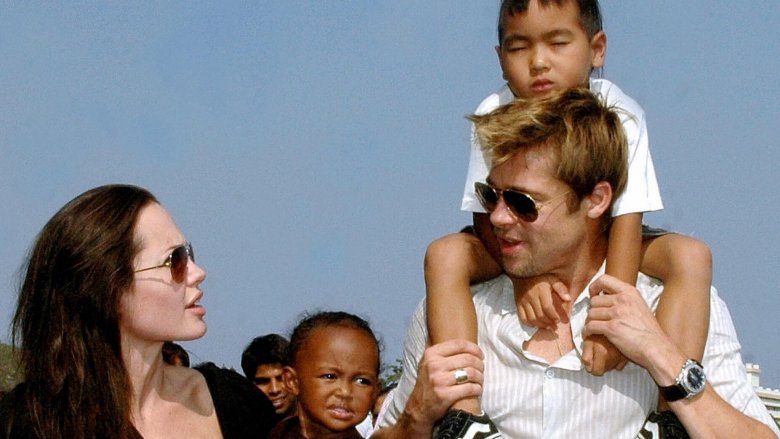 Getty Images
Jolie has starred in a number of pictures about women who are put into incredibly difficult positions, but none affected her quite as viscerally as the script for Changeling, which featured her as the mother of a boy who went missing and was returned a child she did not believe was her son. She told View London of the project, "It was very hard. I've said it before, but when I first read the script, I couldn't put it down, but then said 'no' immediately. I didn't want to go into this project because it was too upsetting." However, she was eventually so compelled by the character, and her real-life counterpart, that she agreed to film it and found that her mama bear instincts grew ever stronger outside of the set.
"As a mom, it was horrible. I had my kids with me as much as possible at lunch and after a day at work, I'd just run home," she explained. "I just wanted to be silly. I was so emotional that I just found myself being very, very goofy with them. I was so happy that I knew where my kids were and that they were okay."
She hopes her divorce from Brad Pitt will make her family stronger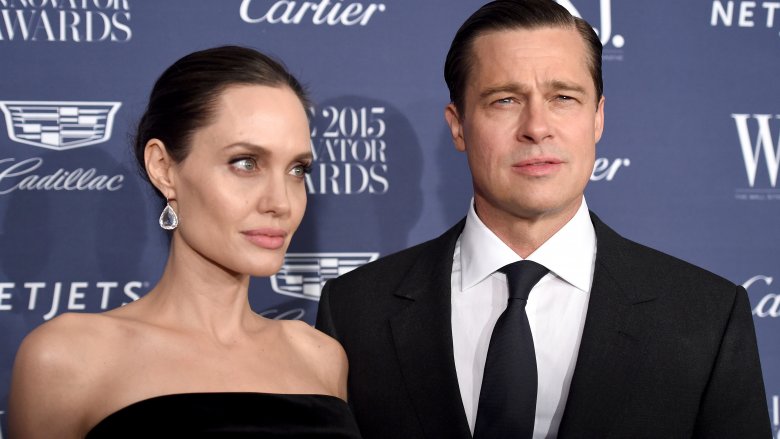 Getty Images
While promoting the release of her directorial effort First They Killed My Father in February 2017, Jolie opened up to BBC News about her split from Brad Pitt, with whom she shares all six of her children. While together, the pair was possibly the most famous couple in the world, so their falling out fed gossip headlines to a spectacular degree, but Jolie said that they were still united as a family.
"It was a very difficult time. Many people find themselves in this situation. My whole family have all been through a difficult time. My focus is my children, our children," she explained. "We are and forever will be a family and so that is how I am coping. I am coping with finding a way through to make sure that this somehow makes us stronger and closer."
Her most complicated relationship is with the public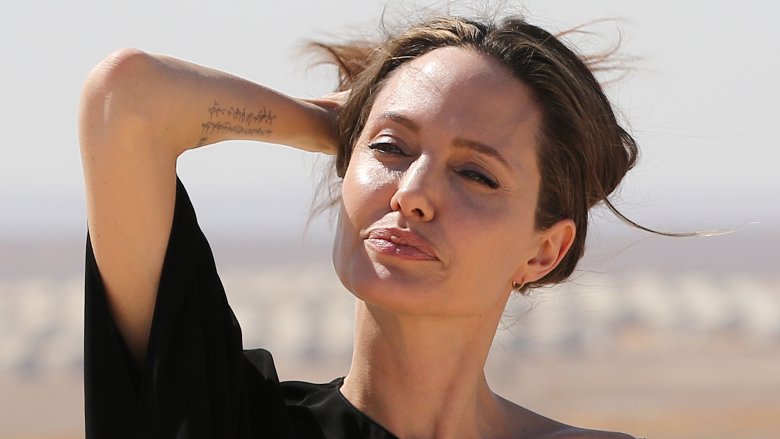 Getty Images
There's no doubt about it that Angelina Jolie has become a savvy master of media relations over the course of her career, but she's made it clear that she would rather not have to be so calculated and cunning all the time when it comes to preserving her public image. She told Urbanette, "I like to hide behind the characters I play. Despite the public's perception, I am a very private person who has a hard time with the fame thing. I would like to be open with the public. I don't want to keep secrets or be careful when I talk. I don't want to have to plan things. I want to be outspoken! I want to say my opinions and I hope they're taken in the right way. I don't want to stop being free. And I won't."
Things 'got bad' between her and Pitt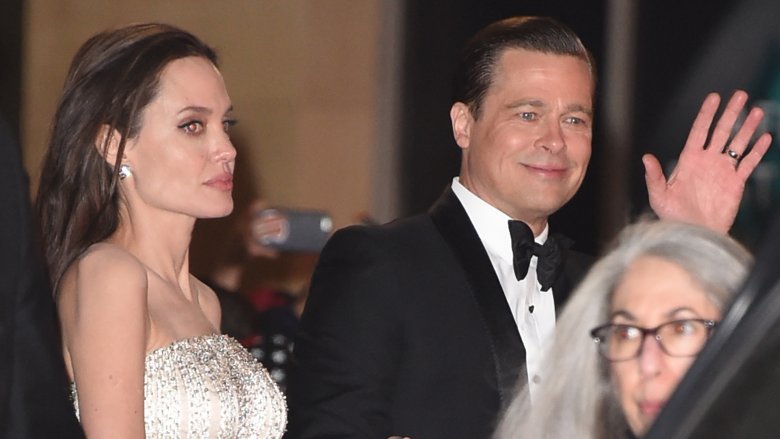 Getty Images
In her first public interview since filing for divorce from Pitt, Jolie revealed to Vanity Fair in July 2017 that things "got bad" in the months leading up their split. "I didn't want to use that word... Things became 'difficult,'" she corrected.
She went on to make some cryptic comments about their six children. "They've been very brave. They were very brave...in times they needed to be," she said. "We're all just healing from the events that led to the filing," she continued, perhaps alluding to the infamous flight from France to New York that reportedly catalyzed Jolie to make a move. "They're not healing from divorce. They're healing from some...from life, from things in life."
She's hiding her emotions from the kids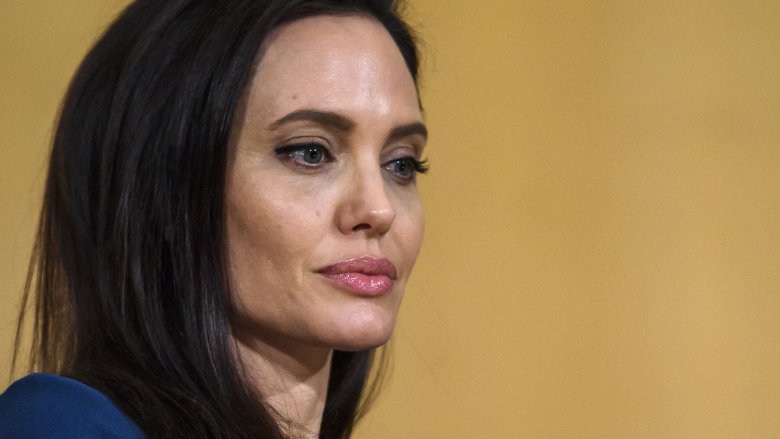 Getty Images
Between her high-profile divorce and ongoing health issues, it's safe to say Jolie has had a rough couple of years. Case in point: according to Vanity Fair, she immediately went into menopause after having her ovaries removed in 2015. Then, in 2016, she claims she developed hypertension, Bell's palsy, drier skin, and gray hair. "Sometimes women in families put themselves last," she said, "until it manifests itself in their own health."
Still, Jolie remains fiercely protective of her children, a decision that was influenced by her own childhood. "I was very worried about my mother, growing up—a lot," she said. "I do not want my children to be worried about me. I think it's very important to cry in the shower and not in front of them. They need to know that everything's going to be all right even when you're not sure it is."