The Funniest 90 Day Fiance Moments That Make Us Love It Even More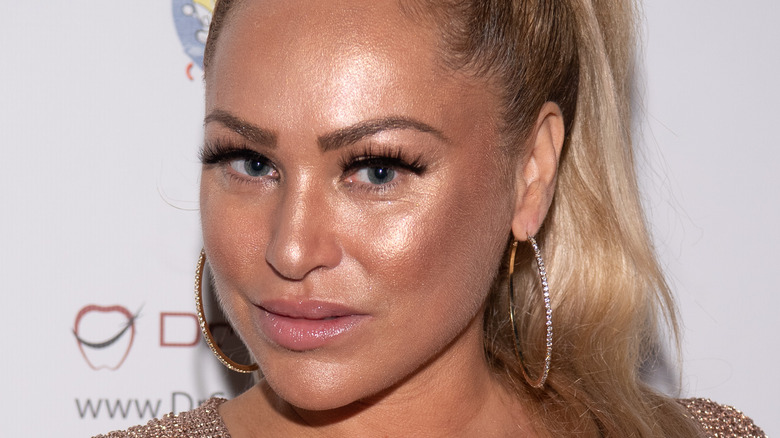 Dave Kotinsky/Getty Images
Long-distance relationships are hard, and they're even harder when they're across international borders. TLC's hit show "90 Day Fiancé" follows men and women from across the world as they move to the United States, where they have a mere 90 days to marry their American partner in order to obtain a K-1 visa. The popular show has inspired quite a few spin-offs, including "90 Day Fiancé: Before the 90 Days," which follows couples before they decide to apply for a visa, and "90 Day Fiancé: Happily Ever After?" which features original "90 Day Fiancé" couples that are still together.
While there is no shortage of relationship drama on the reality dating show, sometimes, you can't help but laugh at the ridiculous things these couples will say and do. From catfishing to excessive PDA to questions of personal hygiene, the show never fails to entertain. The series is even responsible for inspiring TikTok trends! Here are thirteen of the funniest moments from "90 Day Fiancé" that make us love it even more.
Rosemarie does not like her 'view' of Big Ed
In one of the cringiest moments of "90 Day Fiancé: Before the 90 Days," Rosemarie Vega and "Big Ed" Brown are sitting by a pool in Thailand. She remarks that she likes the view of the pool and palm trees, to which Big Ed responds, "You do?" When she says yes, he tells her, "You're my best view." 
Rosemarie's iconic response to this cheesy comment? "Nyeh." TikTok fans might remember when this conversation, superimposed on Doja Cat's "Cyber Sex," was a trending sound, inspiring 1.9 million videos by popular TikTokers like Charli D'Amelio and Addison Rae. Even Big Ed himself joined in on the trend, though not with Rosemarie, as the two have since split up.
Later in the scene, the couple's conversation takes a more serious turn after their awkward exchange about the view, as Big Ed has to tell Rosemarie that he does not want to have any more kids. Something tells us that Rosemarie is not a big fan of being Big Ed's view...
Yolanda's British boyfriend
"90 Day Fiancé: Before the 90 Days" cast member Yolanda Leak met her boyfriend Williams, who lives in England, on a foreign dating app after her late husband passed away. In this hilarious clip, she talks to her boyfriend on the phone and comments, "I love hearing his voice. The British accent is the sexiest accent in the world." What's not so sexy is that Williams' accent when he inquires about how she and her kids are doing is very obviously not British. Somehow, Yolanda is convinced that he really is from England — she admits that she's "on cloud nine" because she has a man with a British accent.
At the time of this phone call, Yolanda and Williams have been together for seven months, yet she has only ever seen him in his online profile. "I know y'all heard about sliding in a DM; well he slid in my DM," she proclaimed to her kids. When her children ask why the couple has never spoken over FaceTime, Yolanda claims that her boyfriend's phone is broken. She might have belonged on the reality show "Catfish" instead.
Anfisa and Jorge fight on the way to their Green Card interview
The popular "90 Day Fiancé" couple Jorge Nava and Anfisa Arkhipchenko, who met on Facebook, might not have been a match made in heaven. In this popular scene, the pair are on their way to their Green Card interview, in hopes that Anfisa can stay in the United States with Jorge. They "have been fighting a lot lately," Anfisa tells the camera. "Hopefully, we get along today so I can pass my interview." 
The couple gets into Jorge's car, when Jorge realizes he's forgotten his wallet. When he gets out of the car to go and fetch it, Anfisa yells at him, "Bring me my red BAG WITH MY MAKEUP," with an aggressive emphasis on the last few words. He asks her for the keys, and she responds by throwing them into his empty seat. Talking to the camera, Jorge remarks: "We're going into this interview to show that we're in love and happy, but starting it off with a fight is a bad example." He's definitely not wrong!
The dramatic couple ended up getting married, but their relationship did not survive Jorge's prison sentence for felony marijuana possession; in August 2020, Jorge filed for divorce, per ET.
Wrap it before you...go swimming?
Paul Staehle and Karine Martins, who starred on the spin-off "90 Day Fiancé: Before the 90 Days," wanted to have a fun day taking a dip in the waters of Brazil, but in this clip, things take an awkward turn. Brazilian native Karine jumps straight into the river, but Paul, who had been advised by a travel doctor not to drink or go swimming in untreated water, is more hesitant. In order to protect against potential diseases in the water, he chooses to put on a "penis sheath protection bag," as well as a condom over it to hold it tight.
Paul's swimming outfit doesn't stop there — he also dons a bright orange life jacket and waterproof pants that enclose his feet, ensuring that no water gets near his ... sheath. Karine, who is standing easily in the shallow water, is horrified by the outfit alone, but the situation gets even more ridiculous when Paul gets a splash of water in his mouth. He frantically spits out what he calls "poop water" as he flails helplessly. Karine comments, "I don't like this neurotic side of Paul. It embarrasses me a little." Maybe he just doesn't know how to swim?
Even with Paul's unusual swimming attire, the couple ended up getting married and now have two children together. Sadly, they have since split, with Karine telling Us Weekly that she was "looking for a lawyer" in November 2019.
'Do you like?'
Not every airport reunion is straight out of a romantic comedy. When "Big Ed" Brown and Rosemarie Vega first met each other at the airport in the Philippines after months of talking online, there was a lot of comedy, but very little romance. In the hilarious scene, Rosemarie starts sizing up her beau, so Big Ed asks her, "Am I what you expected? Do you like?" As it turns out, he lied to Rosemarie about his height and is even shorter than she is. Laughing incredulously, she tells the camera in a confessional, "I see in first, in person, he is really big ... but short."
Knowing that he falsely advertised himself, Big Ed should know not to fish for compliments. However, that doesn't stop him from asking her, "Do you find me attractive?" Rosemarie diplomatically responds, "Attractive always you." But she takes it a little too far, saying, "Who you are, it's okay for me." Affronted, Big Ed cries, "What do you mean? I don't want to be just 'okay' for you, I want to be your man!" 
While Rosemarie assures him that he is her man, it was not a happily ever after for the couple. They split shortly thereafter when Ed revealed that he did not want to have any more kids, despite knowing that Rosemarie wanted two more (via ET).
Let's talk about sex, baby
Is it getting hot in here, or is it just Angela Deem and Michael Ilesanmi's kinky sex life? 
They ward off scammers during Angela's trip to Michael's home country of Nigeria, and then, things start to get a little spicy in their hotel room. First, Angela whips out a pair of handcuffs and cuffs him to a bedside lamp. She then gives him a special gift — a pair of boxers with the image of Donald Trump on the crotch. Michael is game, telling the camera, "I feel Angela just wants to play, you know, be lovey dovey ... it's a good sign for the relationship." Next up in Angela's bag of sex tricks is body paint, which she spreads right above Donald Trump's likeness. Things get even more heated, prompting Angela to tell the camera crew, "Y'all gotta go." All the while, the couple is giggling like teenagers with their first significant other.
This is not the first time that Angela and Michael have gotten creative in the bedroom. In an interview, Michael tells the camera, "Last time Angela visited, I was shocked with the sex. It was intense. But now, I mean, I'm used to her." This seems to have been a match made in heaven — per Us Weekly, Angela and Michael got married in January 2020 (and no doubt had a good time on their wedding night).
First impressions matter
First impressions are important, so "90 Day Fiancé: Before the 90 Days" star Darcey Silva makes sure to tidy herself up in the airport bathroom before going to meet her British boyfriend, Tom Brooks, in New York City. Though Darcey is saddened that Tom sent a driver to pick her up instead of coming himself, she still freshens up, brushes her teeth, applies perfume, lotions her entire body, and uses the automatic hand dryer for her armpits. 
She chooses her "sexy thigh-highs" over her "sexy heels," before applying about 30 sprays of perfume all over her body so she can "smell like an angel." At the end of the scene, a note pops up on the screen to alert viewers that Darcey has made Tom's driver wait for a good 45 minutes while she preened. Props to her for looking good, even in an airport bathroom! 
The trip did not go as anticipated, however. According to ET, Darcey and Tom split up during their time in New York due to Tom's infidelity. This also being the guy who told Darcey, "I love you like you're my sister," as he insulted her. Before her spin-off, "Darcey & Stacey," premiered in 2020, the star shared with Entertainment Weekly, "I am at a stage in my life where I am happy with my life and I'm staying strong for me and my daughters and my family."
Get a room
Meeting the parents is hard, but meeting the children is a whole new ballgame. In this 2017 moment, after Luis Mendez proposes to Molly Hopkins, the newly-engaged couple goes out to eat with Molly's daughter, Olivia. "I think Olivia is still kind of on the fence about whether or not she wants me to marry Luis," Molly remarks. Molly tries to win her eldest daughter over by asking questions about what food to serve at the wedding and inviting her to go wedding dress shopping together, but teenage Olivia is not interested.
Things get even more awkward when Luis tries to feed Molly some of his mac 'n cheese, much to Olivia's disgust. Molly recognizes that this much PDA is uncomfortable for her daughter and tells Luis that "Livie doesn't like it," but her request is not granted. Outside the restaurant, Olivia tells the camera, "Mom and Luis are so gross. Like, why?" she asks. "They're gonna go home and get in bed 'cause they're old people and they're gonna be able to kiss all night, that's why they have the saying 'Get a room.'"
Olivia did not have to endure Luis and her mom's PDA for too much longer. Though the couple wed in July 2017, Molly and Luis got divorced less than a year later in 2018, according to In Touch.
A 'weird' fiance
19-year-old Nikki Gervise and 58-year-old Mark Shoemaker made a splash on "90 Day Fiancé" Season 3 because of their nearly 40-year age gap. Nikki is even younger than Mark's four children! Naturally, this is a bit awkward for Mark's daughter, Elise, but she attempts to bond with her stepmom-to-be. "I was kind of surprised that Nikki wanted to hang out," Elise says. "But I'm actually hoping that since my dad's not around, I'll be able to see who she is and she'll be able to talk to me more."
For their day together, Nikki and Elise decide to go visit some shops. At the boutique, the two women joke about how one of the dresses would be perfect for a beach wedding, prompting the curious sales associate to ask Nikki if she's marrying her best friend. An uncomfortable Nikki replies, "I'm marrying a weird guy." (You can't say she isn't honest.) Elise explains that the "weird guy" is her father, leaving the sales associate bemused. "I mean, he is weird," Elise admits, with Nikki chiming in, "But I love him."
Surprisingly, wedding bells did end up ringing for Nikki and Mark, who wed on the show. However, fans are unsure if they are still together, since they have not been heard from since 2017, when they filed a lawsuit against TLC and a judge dismissed it (per Starcasm). 
Personal hygiene
Gift-giving must be "Big Ed" Brown's love language. On a romantic vacation to the Filipino island of Palawan, Big Ed announces that he has some "surprises" to give his girlfriend, Rosemarie Vega. He starts off okay, giving Rosemarie a bikini, a magenta lace teddy, and some underwear.
Big Ed's gifts take a turn for the worse when he gives her a "less romantic" offering: mouthwash, toothpaste, and a toothbrush. He tells her, "Your breath is not, um, pretty," and receives a grimace and death stare in return. Pointedly, Rosemarie says, "I have an ulcer, you know. ... I always toothbrush." Little does Big Ed know, the smell is not due to a lack of personal hygiene. So much for their romantic getaway!
Rosemarie tells the camera that she thinks "Ed is a rude person" for doubting her hygiene. She heads toward the bathroom — perhaps to brush her teeth? — as Big Ed calls, "I love you," after her. Her hilarious response? "You're ugly, you're ugly" in Tagalog. Maybe Big Ed should reconsider next time he wants to play Santa Claus. He later told Screen Rant, "I think that we were a perfect storm, and I give Rose a lot of credit for just being who she was. Her facial expression, the way that she reacted and acted, that was all real."
The cookie jar
On his last day in Kenya, Benjamin Taylor wakes up in bed with Akinyi Obala the morning after their wedding. In a less than romantic scene, the newlyweds from "90 Day Fiancé: Before the 90 Days" discuss what it was like to share a bed for the first time, and things get pretty cringey. 
When Benjamin asks his new wife if she "enjoy[ed] everything last night," Akinyi demurely responds, "Mm-hmm." Benjamin responds by asking her if they "need to go get a satisfaction survey." Um, awkward. To make matters even more uncomfortable, he says, "Chemistry is important. Do you think we have it?" Luckily, Akinyi answers in the affirmative, although she is not very convincing.
To top it all off, in a confessional interview for the episode, Benjamin asks Akinyi, "So the cookie jar was taken care of well?" This question is met by blank stares at the camera from Akinyi. Thankfully, it appears that the two really do have chemistry. They officially tied the knot in July 2021, per the "90 Day Fiancé" Facebook page. Later that year, Akinyi wrote on Instagram, "The first year of marriage is the hardest. I believe that now. ... The first year determines whether your marriage will last or not. And I'm just seven months in." Well, there you have it.
Cheater, cheater
"90 Day Fiancé" Season 4 stars, Moroccan Azan Tefou and Floridian Nicole Nafziger, "clashed over their differing cultures," per Us Weekly. Nicole struggled to understand the modesty rules in Morocco, while Azan repeatedly called Nicole "lazy" and admitted to being "just like 55%" attracted to her (in front of Nicole, too!).
In this scene, Nicole and Azan are in a fight. He runs upstairs, away from her, and she storms out of the building past the camera crew, declaring, "I hate everything!"
On a bus, a producer asks Nicole what's happening. Teary-eyed, she explains, "Oh my God, he worries about everything I say. I swear to God, he can't even look at me as a single person, I am just ... American to him!"
At first, this appears to be an average couple fight, until a distraught Nicole reveals that it is a mess mostly of her own making: "Before I cheated on him, things were amazing. After I cheated, it changed." You don't say? She continues to lack self-awareness, saying, "Yeah, I've gotten loud, pushed him, but the way he talked to me is not fair."
The pair ended up making amends, but in July 2021, after five years together, Nicole announced in a statement to Us Weekly that she and Azan "decided to go our separate ways. We had much love and respect for each other, but we weren't without our faults." She added, "Unfortunately, we can no longer continue our journey together."
To shave, or not to shave?
"Big Ed" Brown and Rosemarie Vega have given "90 Day Fiancé" viewers some of the funniest moments of the show. After they sleep together, Big Ed announces, "It was awesome. Let's put it this way: I'm not only on cloud nine, but I can't wait to do it again." However, his beard is a major turnoff for Rosemarie, and she refuses to kiss him. He then asks her if she will shave her legs in order to be more "feminine," and she doesn't want to.
Then, Big Ed gives Rosemarie an ultimatum: either kiss him or shave her legs. As a sign of their doomed relationship, Rosemarie leaps out of bed to go find a razor to avoid kissing her boyfriend. Ouch. At least she is enterprising, because she offers Big Ed a deal: in return for shaving her legs, he has to shave his beard. Ironically, he later told Screen Rant, "I want someone that's not going to try to change me. I want someone who is going to let me be Big Ed. ... Most important would be they're going to accept me for who I am and I'm going to accept them for who they are equally."
In the most cringeworthy part of the scene, Rosemarie shows Big Ed her freshly shaven legs. He says, "I see what I like," before stroking her smooth leg with a finger and whispering in a creepy voice, "Very nice." Try to watch this part without wincing.