Whatever Happened To The Singers Of The Macarena?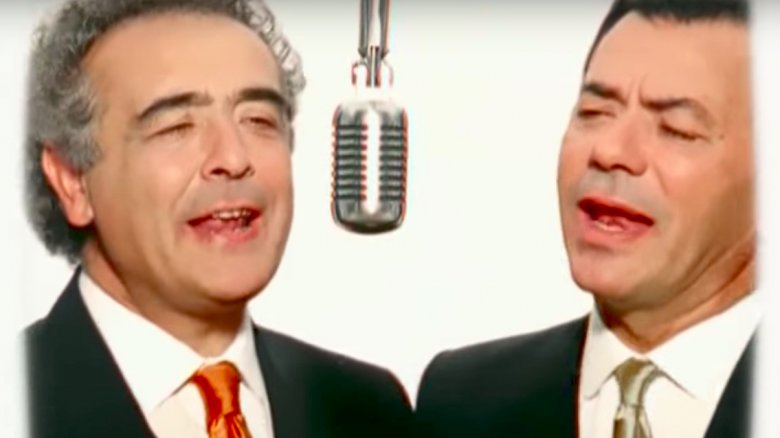 Getty Images
Back in the summer of 1996, you couldn't go to a wedding or a birthday party or turn on the radio without hearing the hit song "Macarena," which spent 14 weeks atop the Billboard Hot 100. The lyrics and corresponding dance moves may be ingrained in your memory forever, but in America at least, nobody really talks about Antonio Romero Monge and Rafael Ruiz Perdigones, better known as Los del Rio, all that much anymore.
Here's what they've been up to in the 20-plus years since "Macarena" took the world by storm.
They're still close
Considering they first began performing together when they were just 14 years old, it should come with little surprise that Romero and Ruiz remain insanely close to this day. Case in point: in 2017, while speaking to Mi Casa es la Tuya from his home near Seville, Spain, Antonio spoke openly about how a recent trip to Madrid was difficult for him because he did not have Raphael by his side.  
Raphael quickly joined Antonio for the interview, which touched upon some of their career highlights (among them performing for Pope John Paul II) and how their respective wives and families are their rock. Overall, the interview (which, warning, is in Spanish) emits enough awww-worthy moments, you'll almost want to get up and dance to the "Macarena."
Almost.
They're still performing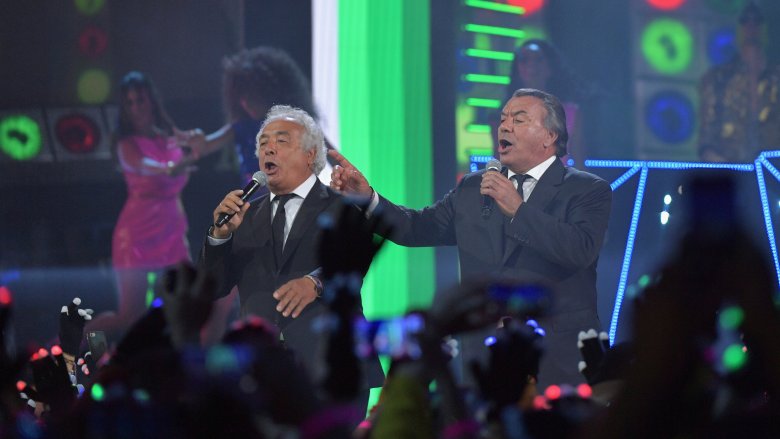 Getty Images
If you ever thought to yourself, "Is there anyone in the world today who still wants to listen to the 'Macarena'?", you will be pleased to know the answer is a resounding "yes."
Indeed, according to the group's official website, Los del Rio is still actively performing, with a number of dates in 2016 and 2017 already under their belt. Of course, if you want to see them live, you'll have to travel to Spain; most of their concerts tend to be in and around Seville. 
The song is still getting remixed
According to Billboard, "Macarena" only became a hit in America after it was remixed by Bayside Boys, who added the famous English verses. The rest, of course, was chart-topping history.
Well, to this day, the song continues to get the makeover treatment. In August 2016, for example, Los del Rio teamed up with the Cuban group Gente de Zona for a remix of the "Macarena" that coincided with the 20th anniversary of the song reaching Number 1 in America. Filmed in Cuba, the video for the remix paid homage to not only the staying power of "Macarena", but to the culture of Cuba. 
And, yes, it's still very catchy.
They celebrated their 50th anniversary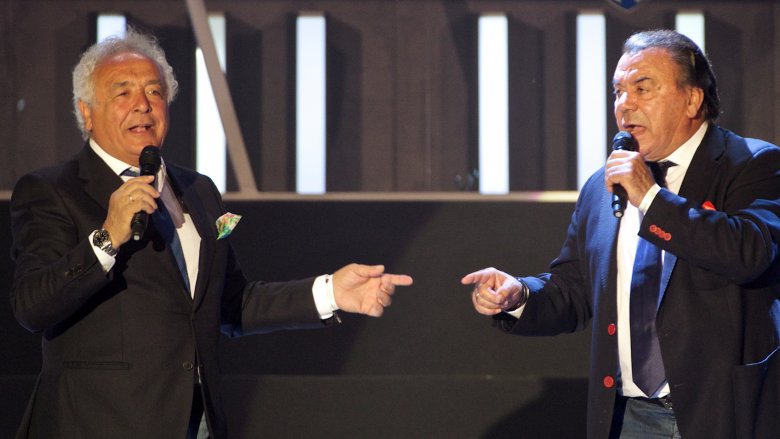 On October 3, 2014, Los del Rio held a concert at the Palacio de Exposiciones y Congresos de Sevilla to celebrate the duo's incredible 50th anniversary. "We're very grateful to be able to celebrate this event surrounded by friends and family, and in Seville, the place that has watched us grow both personally and professionally," Rafael said at the time, according to the group's official website.
To prove their longstanding popularity in Spain, the Spanish lottery game ONCE issued a special game featuring tickets that featured the likenesses of Los del Rio to mark the occasion. Not only was the winning ticket worth €200,000, the tickets were unveiled at a major ceremony that include figures from the government, the football world, and comedians.
They've released way more albums than you might think
Chances are, if you're American, the "Macarena" is the only Los del Rio song you've heard in your entire lifetime. But if you live in countries like Spain, you'll likely know that the duo has been releasing albums since the '60s.
Indeed, according to their website, Los del Rio has released 30 albums between 1966 and 2012, 13 of which were released since they hit it big with "Macarena." (The most-recent release mentioned on their site is called Vámonos que nos vamos.)
Sadly for them, "Macarena" remains their most popular and prolific song worldwide; according to Billboard, besides the original and Bayside Boys remix, the only Los del Rio song to chart in America was "Macarena Christmas" (yep), which peaked at number 57 in 1997.
They're still active on social media
Los del Rio are definitely keeping up with the times, and anyone who wants a little 1990s reminiscing can absolutely follow them on Facebook and on Twitter.
They post pretty regularly, and their Facebook page is filled with fan photos, concert photos, and some incredible pictures from their adventures out and about in Spain and across Europe. Not only are they always together, but they're always smiling — which goes a long way in explaining that catchy, upbeat feeling that made "Macarena" such a hit.
They're on Instagram, too, with more smiling photos that make it clear that they absolutely haven't slowed down, and love what they do.
They remain very humble
Although the "Macarena" got stuck in our heads for weeks (it's probably stuck in your head right now), the success of the song never went to Los del Rio's head. In fact, the popular duo remain as humble today as they did back then.
"We have no words to thank everyone," Antonio told Billboard in 2016. "We're just two guys from a small town, doing things very humbly because we come from very humble families, we lost our parents very young, we've worked so hard, and to see ourselves here?