The One Rule Samuel L. Jackson Adds To All Of His Movie Contracts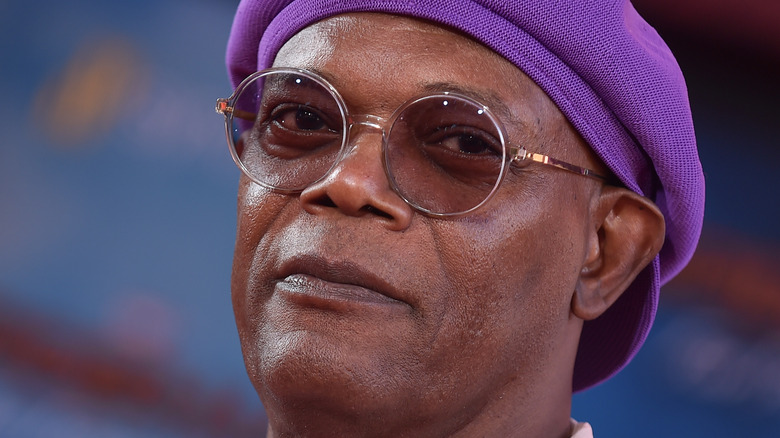 DFree/Shutterstock
Samuel L. Jackson has been a known name around Hollywood for quite some time now. The actor got his start in acting on the stage in the late '70s, but it wasn't until he started working with the iconic directors Spike Lee and Quentin Tarantino that he would become a household name. He'd go on to star in the hits "A Time to Kill," "Jurassic Park," and "Snakes on a Plane," and earned roles in the "Star Wars" and Marvel franchises.
The actor's filmography is just shy of 200 acting credits, so he's definitely put in the work to reach his current star status. Nowadays, Jackson isn't just an actor, but he's more of a boss on set. "I'm at that point where I can say: 'Uh, you know, that's not going to be in the movie, right? We already got it, we got it when we did this, that and that. I'm not going to do that," he told The New York Times in 2017. That power certainly comes with some benefits, especially when it comes to negotiating his film contracts. 
Samuel L. Jackson has to have time to play golf during filming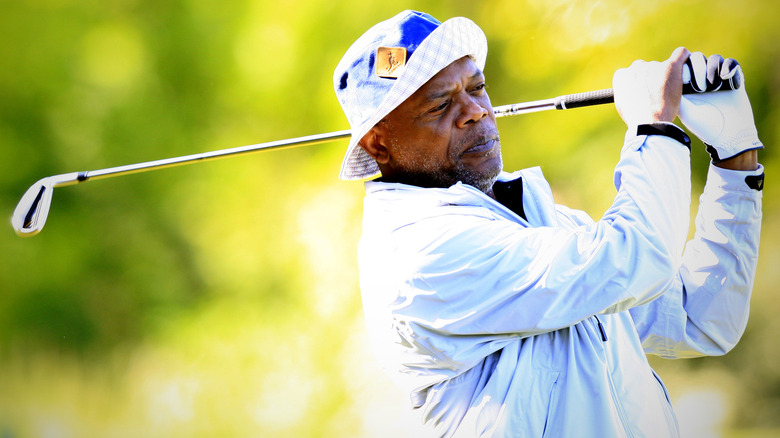 John Phillips/Getty Images
Samuel L. Jackson has undoubtedly reached top-level star status in Hollywood — his collective filmography has garnered over $5.7 billion dollars just in the domestic box office, earning him the title of one of the highest-grossing actors of all time. With his name generating that much money, it's no wonder he gets a little say in the contracts of his films.
In fact, it's reported that Jackson has written into each of his film contracts the option to play golf twice a week, according to The New York Times. Jackson clearly has a lot of pull on movie sets and a strong love of the game if he is able to disrupt an extensive filming schedule. The "Pulp Fiction" star's passion for golf has been pretty apparent over the years. The paparazzi have managed to snap him in his swanky golf clothes countless times. He's played alongside famous friends like Bill Murray and Bernie Mack and even Tiger Woods. "I have to admit I was scared," he told Golf Digest about playing with the golf legend. "But I settled down. I shot 78, and I'm pretty proud of that." 
Generally, Jackson prefers more lax hobbies like golf rather than going out. "I sit at home and read books. I watch movies. I watch television. I go and play golf," he told MTV in 2005. "I don't go to nightclubs. I don't go out to dinner that often. I'm not a big party guy."
Samuel L. Jackson takes charge of his contracts and film sets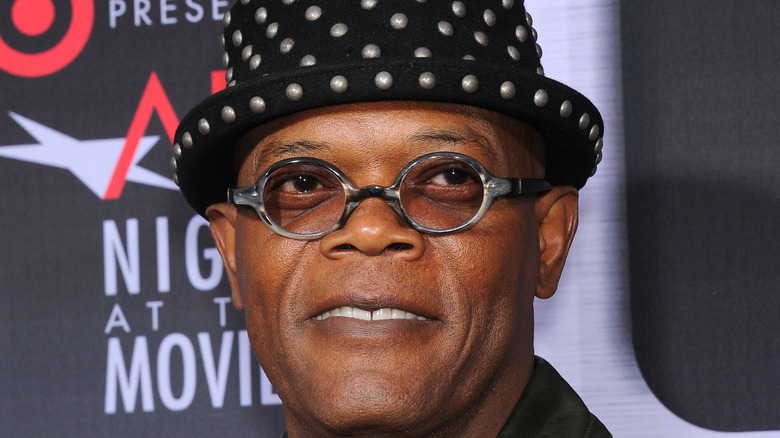 DFree/Shutterstock
It's not hard to imagine that once you reach a certain level of star power as a celebrity, the job comes with plenty of more perks, like being able to write in their contracts. But you don't get to where you can negotiate golfing time in your contracts without having a great work ethic, something Jackson is well known for having. In fact, the actor spends about nine months of the year on sets and averages five films a year, according to The Hollywood Reporter.  
At this time in his career, Jackson doesn't even have to take direction from a film crew anymore — the man is very sure of himself and his talent and operates on a tight schedule, which may not make him the most flexible in the industry. In an interview with CBS, he was asked if he would change up his approach to a scene based on a director's thoughts, to which he simply replied, "No, pretty much." Jackson's co-stars also recognize the kind of skill and concision he has while on set. Eugene Levy, who starred opposite Jackson in the comedy "The Man," told Hollywood.com, "I'll ask for another take. Sam never asks for another take because he knows what he's doing. He gives you what he thinks is the best take, and he does it on the first take." 
When you've had a career like Jackson's, having time for golf and only having to do one take are just perks of the job.