Inside Amy Robach And Andrew Shue's Marriage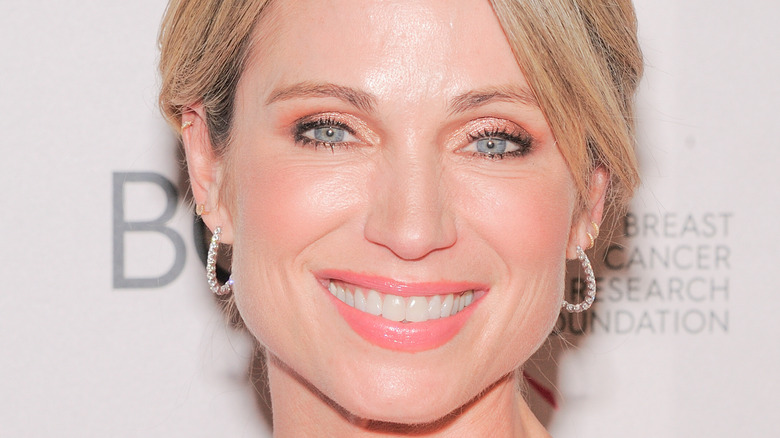 lev radin/Shutterstock
Amy Robach and Andrew Shue got married in 2010 after 10 months of dating, as per People. The couple told the publication that "it was the most beautiful night in every way" and that they were fortunate that every guest showed up to celebrate their special day. Both the "Good Morning America" host and the "Melrose Place" actor were married once before and came together after their respective divorces. 
Robach's first husband was the former professional baseball player, Tim McIntosh. They tied the knot in 1996 and divorced after 12 years of marriage in 2008, according to The Cinemaholic. While married to McIntosh, Robach welcomed two daughters, Ava and Annie. Shue also brought children to his second marriage, three sons named Nate, Aidan, and Wyatt. Like Robach, Shue and his first spouse, Jennifer Hageney, also divorced in 2008.
Seven years after saying their "I do's," Robach and Shue opened up to US Weekly about the experience of coming together as a blended family, comparing their family to the Brady Bunch. The hardest part was figuring out how to be step-parents. Shue stated that his philosophy was to never "take the place of their parents" while Robach commented, "We're mentors who guide them and love them." Fortunately, the couple was able to create a new and extra-special family, and everyone enjoys close relationships with one another. However, just like any other marriage, Robach and Shue have experienced many ups and downs that have only brought them closer together.
Amy Robach's breast cancer diagnosis put a strain on her marriage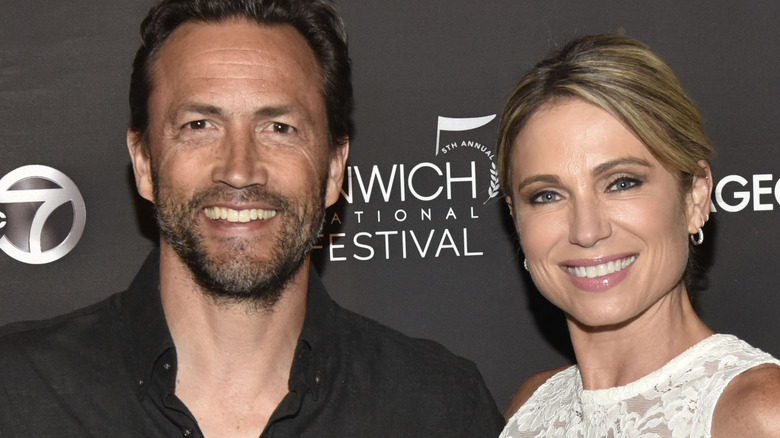 Eugene Gologursky/Getty Images
In 2015, Amy Robach opened up to People about the effect of her breast cancer diagnosis on her marriage to Andrew Shue. The treatment for the cancer required a bilateral mastectomy and eight rounds of chemotherapy, which understandably put a huge strain on her body, mind, and relationships. The "Good Morning America" host had been married for a mere three years when she was diagnosed, and the couple was still in the throes of creating harmony in their blended family. Robach told the publication, "This was not something I would wish on anyone's marriage ..." She added that the experience "threw everything up in the air" and that they passed through a rough patch for "several months."
Fortunately, the diagnosis didn't tear Robach and Shue apart as it had the potential to do, but rather brought them closer. Robach told People, "... we knew that if we could just get back to what our connection was about ... then we could get through it." Once she was declared cancer-free, Robach reported that the couple were better than ever.
In a YouTube video from 2015, Robach and Shue opened up together about the experience and what they've learned as a couple. The "Gracie" actor voiced that if he had the chance to go back in time, he would have been there for his wife on the day she found out and would have been more selfless through the hard times.
Amy Robach and Andrew Shue wrote a book together
Amy Robach and Andrew Shue used their experience of creating a blended family to write a children's book, entitled "Better Together," which was released at the end of October 2021. In an Instagram post ahead of the release, Robach announced the plot of the story, writing, "it's a story about how the McSquirrelies come together to find common ground and learn to accept and appreciate each other's differences." 
The couple talked about the process of writing a book with Publisher's Weekly in October. When asked about the inspiration for the tale, Robach and Shue explained that when they first married, they would create "bedtime stories about the animals in the backyard of our new home becoming a family and finding adventures together." These stories helped their children adapt to the new family situation. The couple's collaboration on the project was "surprisingly easy and effortless," and they hammered out a first draft in one go. Ultimately, they hope that other blended families will be able to relate to the characters in the story, advising that "the number one key is to choose love over fear."
In a separate interview with People in October, Shue shared that although the book is geared toward blended families, he and Robach feel it can also "resonate with people in general ... who are struggling a little bit to find the love and the common ground that we all share" as it contains a variety of relatable life lessons.