The Real Reason You Don't Hear From Andrea Bocelli Anymore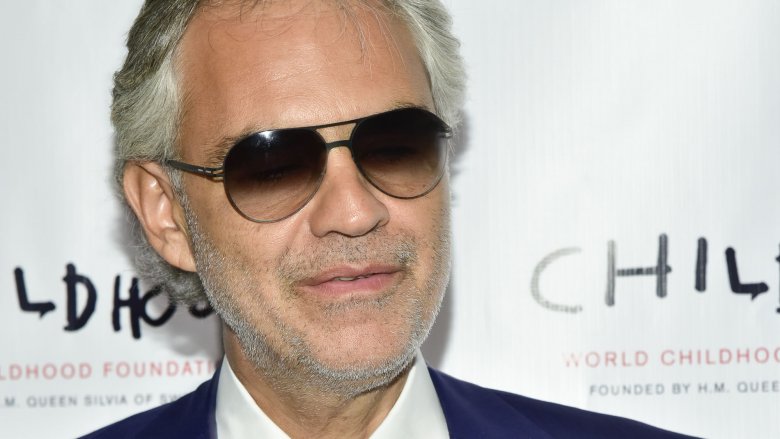 Getty Images
Despite dominating the music industry at the turn of the Millennium, Italian singer Andrea Bocelli isn't exactly a name you hear many Americans talking about these days. Why not? Well, as it turns out, there are quite a few reasons, some of which were on his own accord.
His music isn't setting the charts on fire
At the peak of his fame, Boceli sold millions of albums; his 2009 Christmas CD, My Christmas, for example, was certified three-times platinum.
But like so many others in the music industry today, Bocelli's studio albums aren't pulling in returns quite like they used to. His 2013 release, Passione, barely sold over 350,000 copies, while his 2015 release, Cinema, was a flat-out flop, selling less than 30,000 copies. 
In other words: Bocelli's soothing operatic albums don't appear to have a place in today's single-happy, pop-friendly music industry.
He backed out of performing at Trump's inauguration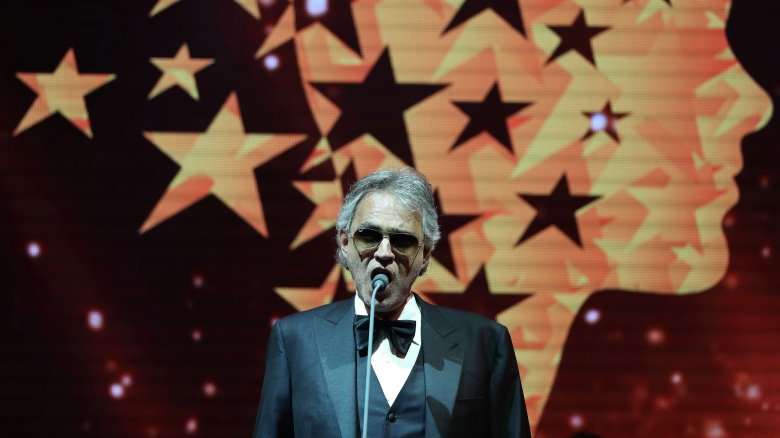 Getty Images
In December 2016, Variety reported that Bocelli had planned to meet President-elect Donald J. Trump, fueling speculation that he might perform at Trump's inauguration ceremony the following month. Within days, however, The Telegraph reported that Bocelli had backed out of any potential plans due to an intense backlash from his fans.
That seemed all well and fine, until Tom Barrack, the chairman of the Presidential Inaugural Committee, claimed in an interview with CNBC that Trump hadn't asked Bocelli to perform at all; rather, Barrack alleged, Bocelli had offered because of their long-standing friendship. "Donald said, 'You don't need to. We're not in that kind of framework. Thanks very much for the offer."
Whether Bocelli turned down the offer or not, skipping one of the most highly anticipated and controversial inauguration ceremonies is definitely one way to keep your profile very, very low.
He's spending a lot of time in the saddle
When he was young, Bocelli developed a love for horseback riding, something he has very much carried into his adult years. "I love horses, because I was born and brought up in the countryside," Bocelli told The Daily Mail in 2016. "I began to ride when I was seven years old. I now have three marvellous Italian horses."
In 2015, he spent a springtime vacation in the saddle at the Casa de Campo Hotel, riding the award-winning polo ponies of their equestrian center. The same year, he was the guest of honor at the 10-year anniversary of Giacomo Capacci Arabians, one of the world's premier breeders of Arabian horses.
He's been focused on his charity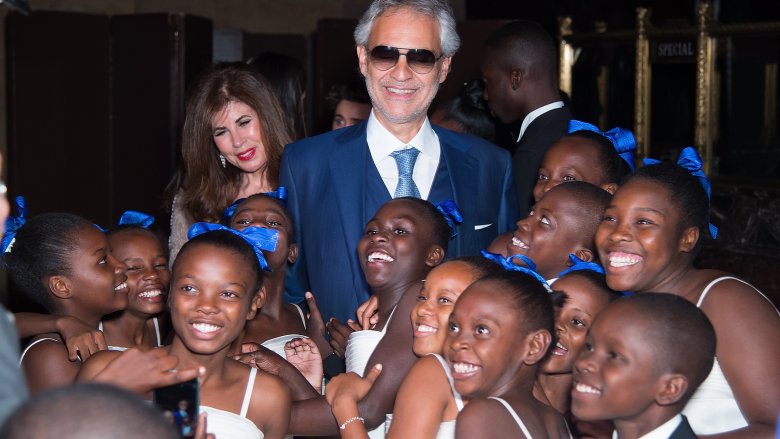 Getty Images
The official mission of the Andrea Bocelli Foundation is to "empower people and communities in situations of poverty, illiteracy, distress due to illness and social exclusion." Among some of its inspirational efforts have included things like providing relief efforts and clean water to Haiti, supplying essentials for Middle Eastern refugees and giving Rome's homeless population access to daily showers.
Meanwhile, over the years, Bocelli has also been working with MIT to develop new technologies to help the blind. (Bocelli, who was diagnosed with congenital glaucoma as a baby, became blind during a football accident age age 12.) That includes everything from devices that would allow a person to "see" the landscape and potential hazards around them, to other devices that would relay information about social cues and facial expressions throughout a conversation. 
According to wbur, Boston's NPR News Station, the collaboration began after Bocelli—who has also dabbled in global issues over the years—met with MIT professors after a concert, resulting in The Fifth Sense Project.
Many of his appearances have been for fundraising events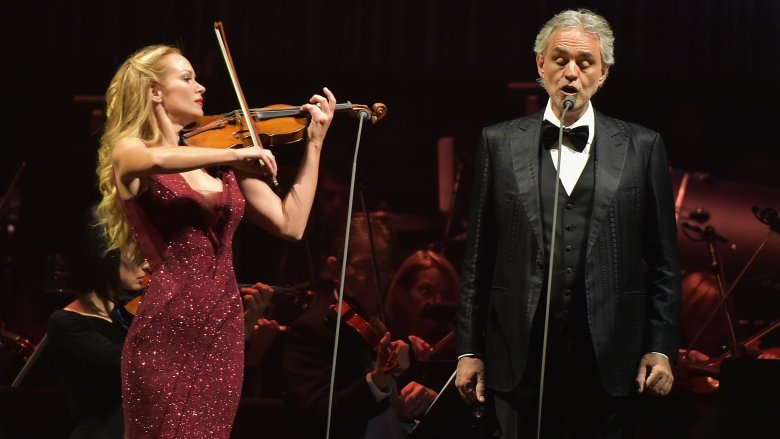 Getty Images
According to the LA Times, Bocelli's tradition of performing for charity events dates back to the mid-'90s. In recent years especially, he's been doing more and more charity appearances for a wide range of causes. In 2015, the Las Vegas Sun reported that he and his wife, Veronica, would be hosting a brunch and meet-and-greet to benefit the Rolando Brunelli Caregiving Program at the Cleveland Clinic's Lou Ruvo Center for Brain Health.
That same year, he headlined an event to help raise money for the National Museum of American Jewish History; and he joined the star-studded Celebrity Fight Night to raise money for his charity as well as the Muhammad Ali Parkinson Center.
If that wasn't enough, in 2017, he headlined the Bucket List Bash for the benefit of the American Cancer Society, helping to raise more than $1.2 million.
He's taking time for his family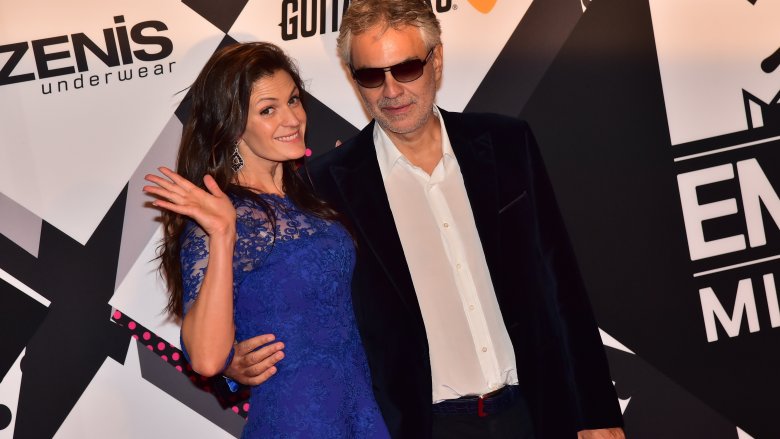 Getty Images
In 2014, Bocelli tied the knot for the second time when he married long-time girlfriend Veronica Berti. The two had been together since 2002, and the wedding came on their daughter Virginia's second birthday. According to Hello Magazine, Bocelli's two sons from his previous marriage — Amos and Matteo — were also present at the wedding.
When the pair talked to the LA Times in 2015, it was clear they were rarely far from each other. Berti acts not only as his manager, but they jointly run the Andrea Bocelli Foundation and she translates for him when needed. When they took the time to chat, they revealed that Bocelli had promised to go out on tour for no more than two weeks at a time, choosing to spend more time with his new wife and young daughter instead. "You can't imagine how much money I've lost to stay at home," he told them. "But I have no regrets."
He's involved in a movie based on his life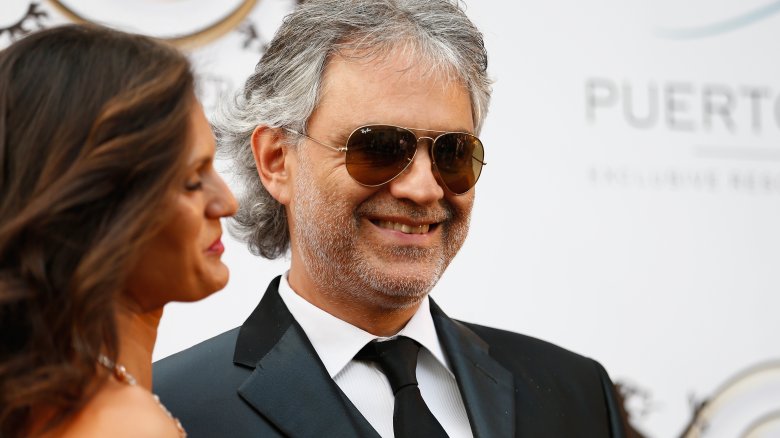 Getty Images
In 2002, Bocelli published his memoir, Music of Silence. According to The Hollywood Reporter, the memoir is now being adapted into a movie starring Toby Sebastian and Antonio Banderas. As a fun fact: Bocelli plans to make a cameo in the film as himself.
He's still touring in Europe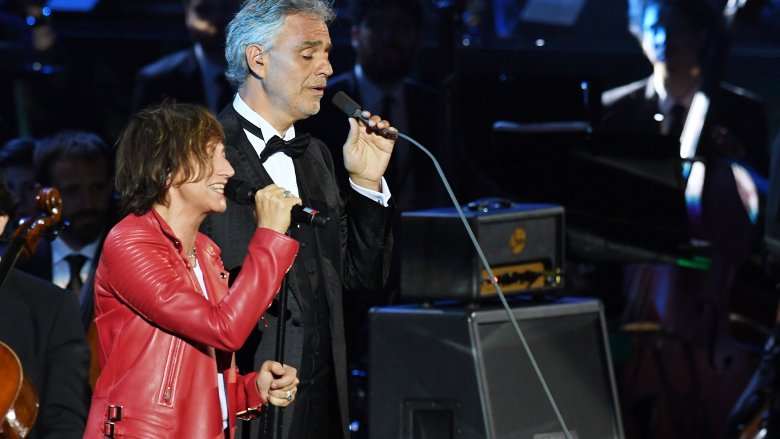 Getty Images
Bocelli hasn't disappeared from the stage altogether. In fact, throughout 2017 and 2018, he has several concerts scheduled per month, with stops planned in Latvia, Jordan, the Ukraine and the United States, among other places. Tickets are available through his web site.
He doesn't seem all that interested in fame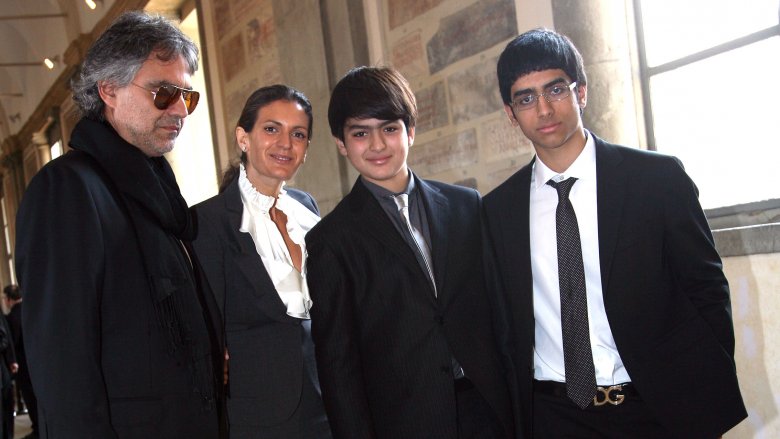 Getty Images
Despite having a stunning voice, Bocelli has admitted during interviews that he prefers a much quieter and slower-paced lifestyle than places like Hollywood require. "Singing is the only way I have to express myself fully," he told the Telegraph, adding that he "absolutely" hates to speak." "I feel art is a cryptic language but once it is deciphered, it is a much more profound language than the spoken word."
Bocelli also spoke at length to the Polish weekly paper Niedziela, admitting that traveling for work ultimately makes him want to retreat away from the spotlight. "In the heart of Tuscany and among the purely peasant culture I have learned a hierarchy of values which have shaped my life, and which in a way I'm passing on when I sing. [...] The more I travel due to my work, the more I want to go back to the countryside to find peace and recharge," he said.
Chilling in Tuscany? Who wouldn't prefer that to the intense demands of the music industry?