Inside Michelle Young's Engagement On The Bachelorette
Another year, another Bachelorette. The lucky lady of 2021 was Michelle Young, who first found ABC fame as a finalist in Matt James' season, but ultimately lost. Even though she didn't go home with Matt some might argue that she won something even bigger as she eventually landed the leading role in the spinoff and a second chance at true love.
After picking through dozens of men, the elementary school teacher turned reality star eventually settled on Nayte Olukoya, who proposed in the finale. The only problem — besides the fact that they met three weeks ago — was that Michelle's family wasn't 100% behind the match. "I'm still not sure that at the end of this you really feel like you'd be ready for an engagement," Michelle's mom scolded Nayte when she met him, per People. She also told Michelle that she didn't find Nayte to be particularly "warm." 
Nevertheless, true love won out and Michelle and Nayte got engaged. Now, if you're ever seen "The Bachelor" or "The Bachelorette" then you know that the easy part is the proposal. The hard part is keeping the relationship together after the camera stops rolling. So, what's up with Michelle and Nayte now that their ABC stint is finally over?
Michelle and Nayte are looking forward to the future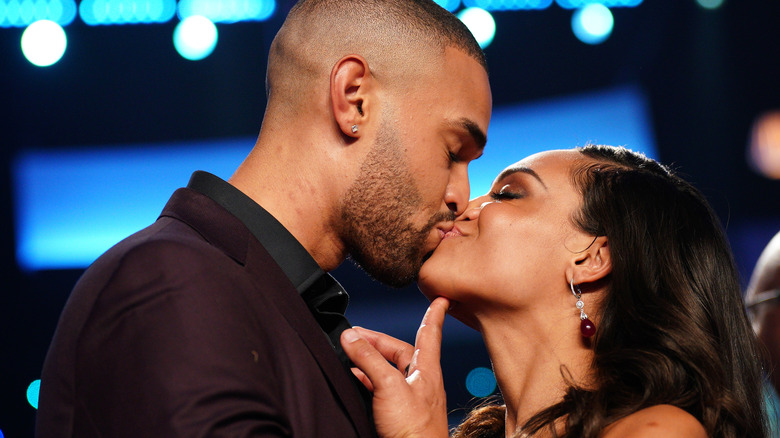 ABC/Christopher Willard
The bad news: you probably won't be seeing Michelle Young on your TV anytime soon. The good news: Michelle and Nayte Olukoya are still very much in love. "I fall more in love every day," Michelle told People. "He's my person. And I didn't know I could love at this level." Nayte added that while he and Michelle definitely had a connection from the start, he was way out of his comfort zone on reality TV. "I suck at expressing myself," he told the outlet. "And it's an unnatural environment. But the best thing I could do was just focus on Michelle."
For some couples, the jump from TV to the real world would be difficult, but for Michelle and Nayte it was seamless. By all accounts, they're doing better than ever. "Now [the show is] done and we're just two people madly in love going down this road. And we're each other's rocks for life," Nayte said.
So, what exactly is the next step for Nayte and Michelle? Well, thanks to ABC, they're about to move into a brand new house. On their "After the Rose" special, the network gifted them $200,000 to put towards a starter home, per Page Six.