Roles That Made Celebrities Depressed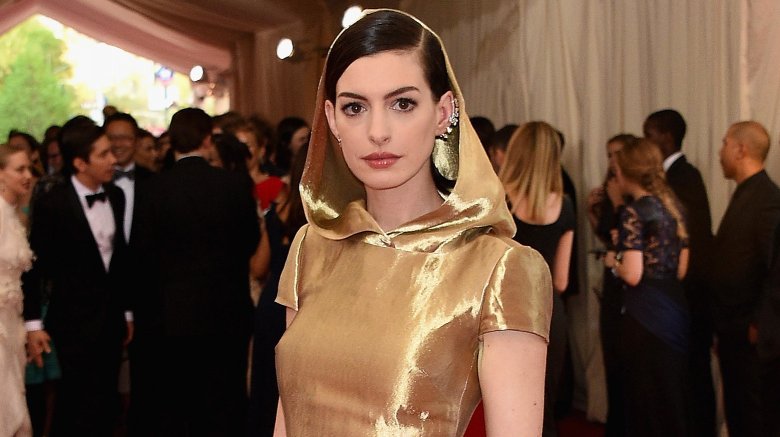 Getty Images
As most actors would willingly attest, starring in a film, television series, or stage production is an immersive experience that can require a unique emotional commitment to a character and his or her environment in the production. For some, the experience of becoming someone else can be exquisitely taxing, whether due to the grim circumstances of the person they're portraying, the intense preparation it requires, or the aftermath of a project's debut. These actors have openly admitted to being left depressed as a result of their work.
Anne Hathaway in Les Miserables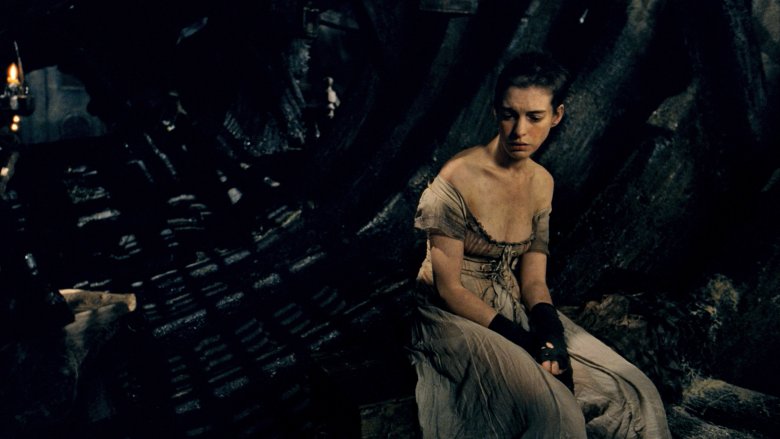 Universal Pictures
To prepare for her Oscar-winning role as Fantine in Les Miserables, Anne Hathaway had to submit to an extreme diet for two weeks, mid-way through production, to capture the gaunt and starved look her character had in her final days. Not only did that require a serious physical commitment on her part (eating just two squares of oatmeal paste a day) but it also took quite an emotional toll on the actress, too.
She told Vogue, "I had to be obsessive about it—the idea was to look near death ... It was definitely a break with reality, but I think that's who Fantine is anyway." It took her several weeks to shake off the sensation of "deprivation" she felt after the experience. "When I got home, I couldn't react to the chaos of the world without being overwhelmed. It took me weeks till I felt like myself again." In the end, the experience paid off, as she earned an Academy Award for her effort, but even then, she still hadn't fully recovered from her movie-induced melancholy.
Adrien Brody in The Pianist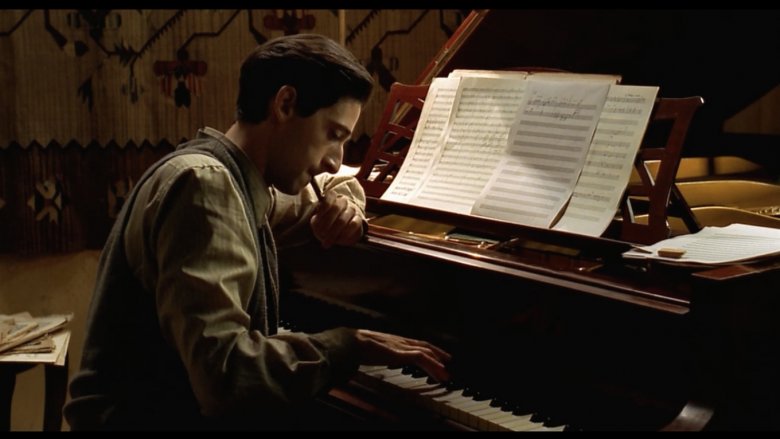 Focus Features
Another actor whose physical transformation for a role extended to his psychological well-being was Adrien Brody, whose Academy Award-winning turn as the title musician in The Pianist left him emotionally scarred for quite some time after the cameras stopped rolling. In the film, he played a Polish pianist living in the Warsaw ghetto during World War II, and becoming the character was "all consuming" for the actor.
He told The Guardian, "For a good year after, I was probably seriously depressed. Easily.There were severe transitions that I put myself through physically and emotionally ... I shot it when I was 27, and that was my real awakening and entrance into adulthood, that responsibility, and awareness of my own good fortune that I had taken for granted." Part of the reason for Brody's suffering, he told Entertainment Weekly, was that he'd isolated himself from personal relationships and sold off his possessions to understand the sense of loss his character endured.
Brad Pitt in Interview with Vampire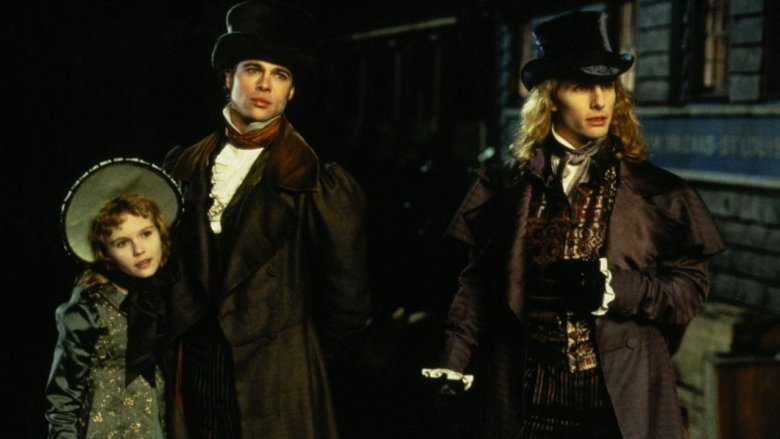 Geffen Pictures
There's a reason Brad Pitt looked unusually forlorn in his turn as Louis in the dreary vampire epic Interview with the Vampire: he was in real life, too. As he told Entertainment Weekly, "I [was] miserable. Six months in the f***ing dark. Contact lenses, makeup, I'm playing the bitch role. One day, it broke me. I called David Geffen, who was a producer. I said, 'David, I can't do this anymore. I can't do it. How much will it take to get me out?' And he goes, very calmly, 'Forty million dollars.'" Despite all the difficulties associated with the role during the shoot, the film's box office success had many wondering whether filmmakers would ever adapt the Anne Rice book sequel, The Vampire Lestat, and Pitt said he was game for doing it — but only because his part in the story would be very, very brief.
Daniel Day-Lewis in Hamlet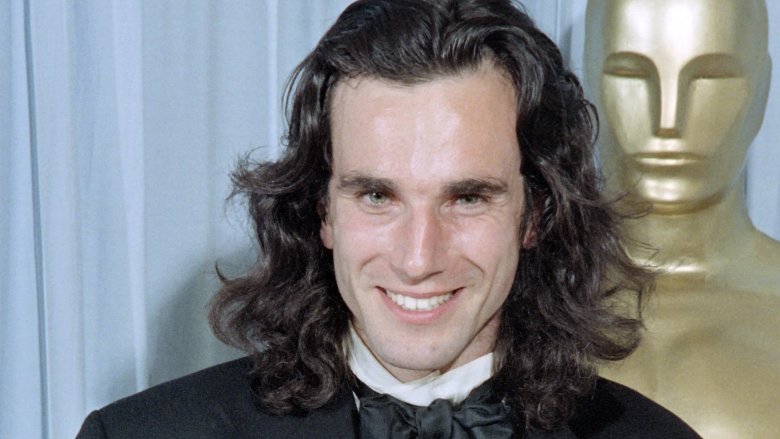 Getty Images
Although Daniel Day-Lewis has since established himself as a legendary film star, he did try his hand at stagework earlier on in his career. In 1989, he was chosen to lead up the National Theatre's production of Hamlet, but the notorious method actor became so invested in the play that, early on in the show, he believed he was speaking to the ghost of his own later father in one scene, which affected him so badly that he quit the show mid-performance and never returned to theater work.
He's since rephrased what exactly drew him away from the stage that fateful night, denying that it was so much an actual ghost that he saw as an emotional experience of the same. And the experience of feeling such a visceral connection to the material, he told The Express, left him too hollow to carry on. "I had to leave the stage because I was an empty vessel. I had nothing in me, nothing to say, nothing to give." Ultimately, the act wouldn't hinder his screen career, but he did experience a maelstrom of press attention for the stunt, which ultimately led him to retreat to a private homestead in Ireland to escape the attendant scrutiny.
Heath Ledger in The Dark Knight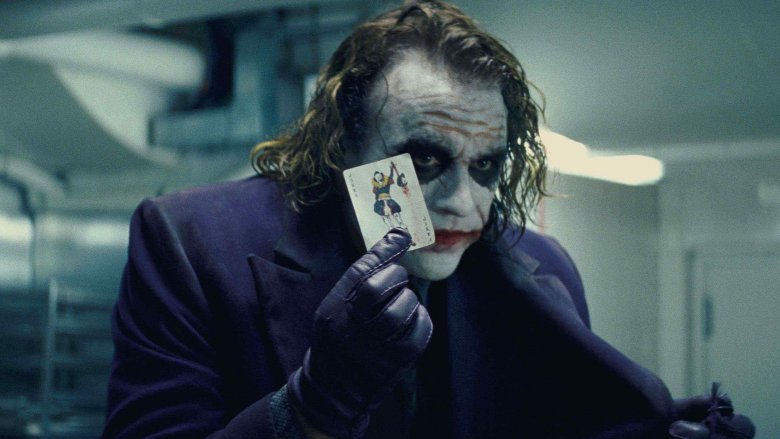 Warner Bros.
Although Heath Ledger's family has since spoken up to deny that he was depressed after filming The Dark Knight—a role which would cement his status as a Hollywood legend and earn him a posthumous Oscar—there are plenty of indications that the part was very devastating to his mental health and had a proximate causality to the overdose that killed him. 
As he told The New York Times, he experienced a tough time trying to sleep while making the movie because his "body was exhausted [but] mind was still going." And he also admitted to Empire Online that he locked himself into isolation in a London hotel room for a month to create a Joker diary and nail down the right voice for the sociopathic character. That journal, which was later made public, offered a chilling glimpse of his mindset during the making of the movie, when readers found the words "bye bye" scrawled across one of the back pages which even his father admitted was "hard to see."
Jake Gyllenhaal in Everest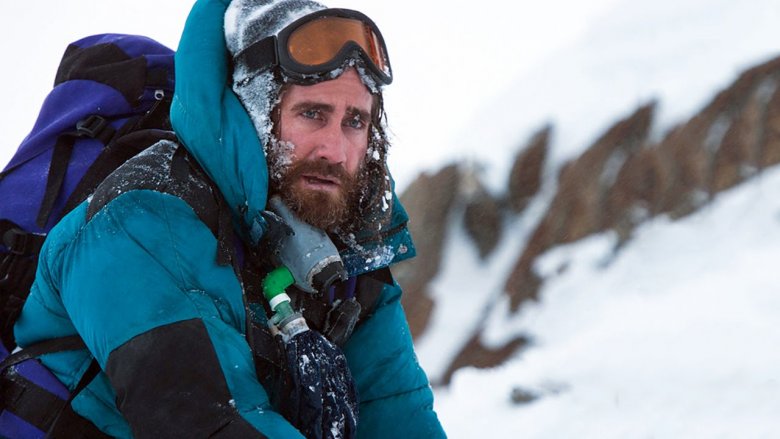 Universal Pictures
To prepare for his turn as an ill-fated climber in the 2015 biopic Everest, Jake Gyllenhaal went into a hypobaric chamber to simulate altitude sickness with co-star Josh Brolin, and he said the experience of feeling so sick for so long left him in a "severe depression." He added that the decision to simulate that peculiar experience ultimately informed his character decisions—"when you try to justify what is a moral decision [at extreme altitude], there is the half of it that is chemical ... none of us really know what it's like until you're up that high"—and that, at first, it was fun for them to experience what it's like to be between 26,000 and 36,000 feet high. But the time spent in the chamber was a few days too long.
Jonathan Lipnicki in Jerry Maguire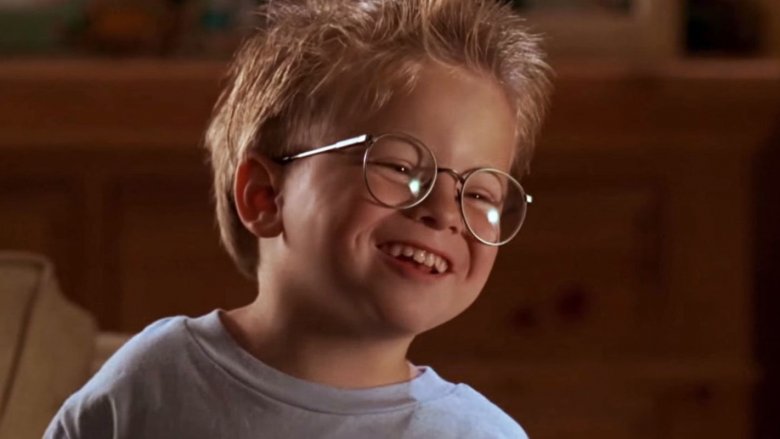 TriStar Pictures
After starring as the ultra-quotable cute kid in Jerry Maguire, Jonathan Lipnicki had to face the reality of becoming famous at such a young age, and the results were devastating to his childhood experience. In an Instagram post, he revealed that he subsequently endured endless bullying from schoolmates as a result of his work in the movie which led to a lifelong struggle with anxiety and depression.
"As a kid/teen I was made fun of relentlessly by some people who are now even my friends on FB. I was told I was a has-been and would never book a job again," he wrote. "I was made to feel like garbage every day of middle school to the point where I had a panic attack every night before school, because I wondered how I would get through the day. It was humiliating." He has since overcome the fallout from the persistent bullying, thanks to therapy treatment and moral support from his on-screen step-dad Tom Cruise.
Kate Winslet in The Reader and Revolutionary Road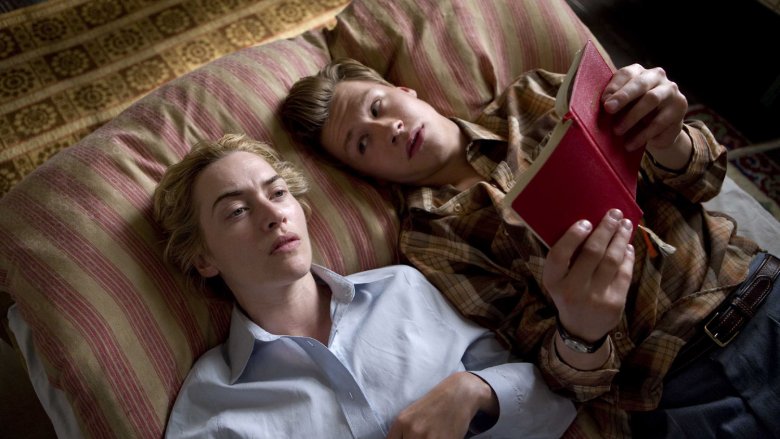 The Weinstein Company
For Kate Winslet, it wasn't a single role that left her down in the dumps, but rather the fact that she did two back-to-back pics which featured her in devastating situations. For The Reader, which ultimately earned her an Academy Award for Best Actress, she played a woman accused of war crimes after working as a Nazi concentration camp guard. In Revolutionary Road, she played April Wheeler, a woman whose plans to uproot her family to France in order to escape the mundanity of her existence as a '50s housewife come to a screeching halt once she discovers she's pregnant again.
She told Cleveland.com that the experience of making both movies in the span of 18 months had a heavy impact on her psyche. "Playing all of those things simultaneously drove me insane. At the end of both of these experiences, I felt like I couldn't speak," she explained. And although she credits the stretch with being among the most creative of her career, she spent quite a while recovering from the personal impact her roles had on her. She said, "You lie down and hope there's somebody to run you a bath and pour you a glass of wine. Sometimes, too, you do a bit of quiet crying. When you have loved a character as much as I loved both Hanna and April, it's funny, it's almost like a mourning or grieving period."
Sally Field in The Flying Nun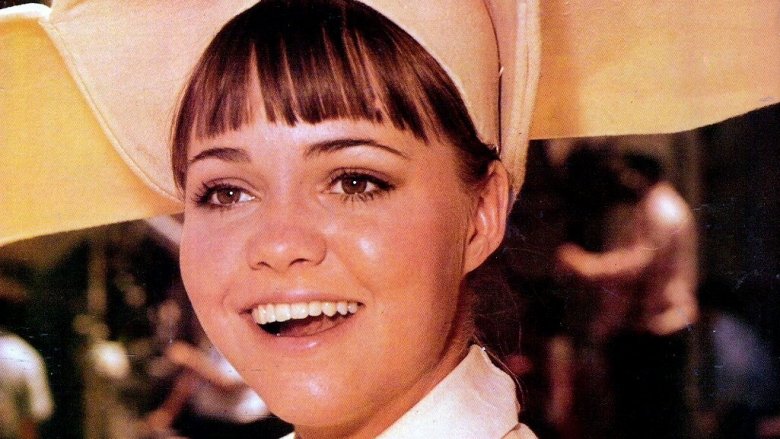 ABC
Before she'd become a two-time Oscar-winning film star, Sally Field was mostly known for her TV work in shows like Gidget and The Flying Nun. And, as a teen in those small screen series, she grappled with a serious case of the blues. She revealed in a 2016 "Actors on Actors" segment for Variety, "I was suffering so badly, I was so depressed and I was 19 and I didn't want to be playing something called the Flying Nun. I did not want to be dressed as a nun all day long." Fields credited the Actors Studio with helping her to come out of the emotional funk the show left her in, saying that the series helped her to formulate her craft and find her true voice as an artist.
Shelley Duvall in The Shining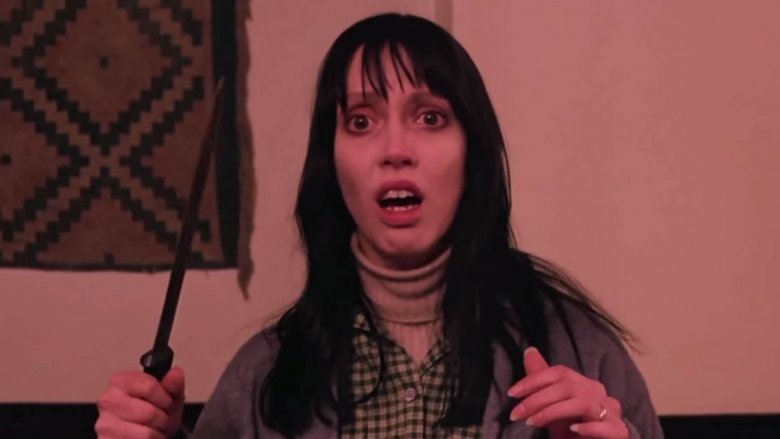 Warner Bros.
It's no secret that director Stanley Kubrick was intensely harsh on actress Shelley Duvall during the making of his adaptation of Stephen King's The Shining. Her character, Wendy Torrance, had to endure the escalating psychosis of her husband while locked away in a winter-bound hotel, and since the movie was shot in sequence, Kubrick's tough treatment of the actress escalated as production ran on, to the point that she began experiencing physical ramifications of her stress, like clumps of her hair falling out in between takes.
She famously called the filming experience "almost unbearable" and added, "From May until October I was really in and out of ill health because the stress of the role was so great. Stanley pushed me and prodded me further than I've ever been pushed before. It's the most difficult role I've ever had to play." Years later, a controversial interview with Dr. Phil would reveal that the actress continued to struggle with her mental health for decades.
Marion Cotillard in La Vie En Rose
French actress Marion Cotillard won a Best Actress Oscar for her incredibly emotional performance as the iconic singer Edith Piaf. But as the actress revealed on The Graham Norton Show in 2016, playing such an intense character proved difficult to shake after cameras stopped rolling.
"That was the first time I had trouble getting rid [of a character]," she said, "which I was very ashamed of ... because I thought, 'It's a job; I'm an actress; I shouldn't be affected by any of my roles.' But I had spent more than six months with her and I really entered another dimension. I didn't see my friends and family for [that] amount of time, because when I would see them, they would find me weird, and I didn't like it."
She continued, "The thing [is], when you do [a] movie, you spend a lot of time with this person [who] you fell in love with, in a way. And then, the last cut [comes ... and you realize] you'll never share your life with this person anymore. So, sometimes it can be kind of brutal."
"But I'm fine now," she added with a quip.