The Truth About Randy Jackson's Weight Loss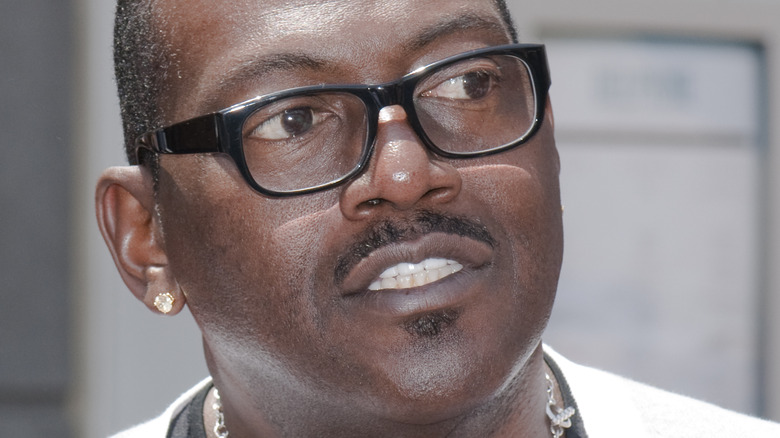 Hayk_Shalunts/Shutterstock
Randy Jackson has had a long, successful career in music. In the 1980s, he was a session musician playing the bass in different jazz, R&B, and rock bands. The musician then became a household name in 2002 when Jackson was hired as a judge on "American Idol," along with Paula Abdul and Simon Cowell. Fans of the show were taken aback, however, when he returned for Season 3 and appeared to weigh about half as much as he did in the first two seasons, as CBS News noted in 2004. Throughout 2003, Jackson shed a whopping 100 pounds, going from weighing 329 to 229 pounds.
Jackson told People he had always been a "pleasantly large" man with a big appetite — and he was okay with it. His chosen profession and background also contributed to his weight problem, he told WebMD in 2008. Amid touring and being away from home for months on end, artists often pick up a vice. While many go for booze or drugs, Jackson turned to food. "Food was always my thing, because I grew up in the South where food and good times were king," the Louisiana native said.
While Jackson was "comfortable in his own skin," as his former co-judge Abdul told People, his weight became a problem when he received a scary diagnosis that forced him to see his lifestyle from a different perspective. 
Randy Jackson lost weight to manage type 2 diabetes
Kevin Winter/Getty Images
Randy Jackson was diagnosed with type 2 diabetes in the late 1990s, a condition he thought he would escape despite his family history, he told WebMD in 2008. "When you grow up with 'the sugar' in your family, there are a lot of decisions you could make, such as cut back on this or cut back on that and do more of this or more of that," he said, "but you never think it will happen to you." 
After the diagnosis, Jackson's doctor said he needed to lose weight. "So thinking about how to do it, I tried all kinds of diets, everything under the sun," he told CBS News in 2004. When diets failed, Jackson opted to undergo gastric bypass surgery in 2003, blocking up to 95% of his stomach, according to People. The surgery was successful, and Jackson immediately began to shed those extra pounds. 
Still, Jackson knows the decision to have surgery involves lifestyle changes that are permanent. "It worked for me, but I hesitate to recommend it for people because it's like a personal life decision," he told CBS News. "It's a life choice because you change and alter your complete life when you do this." Plus, surgery alone doesn't solve everything. After the procedure, Jackson lost weight fast, but he then began to gain some of it back, he told TODAY's Hoda Kotb and Jenna Bush Hager in January. Jackson also needed a lifestyle change.
Randy Jackson incorporated dietary changes and exercise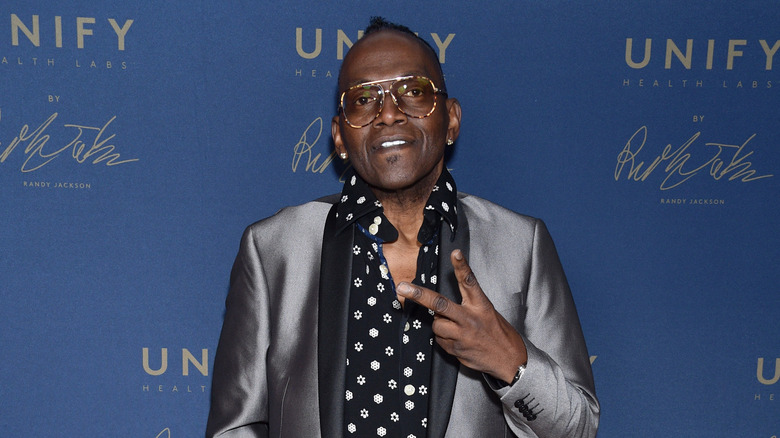 Gregg Deguire/Getty Images
Randy Jackson has been able to maintain the weight loss following his gastric bypass surgery, but he had to change every aspect of his lifestyle to achieve it. "I had a food divorce is what I usually say," he told "The Ellen DeGeneres Show" guest host Tiffany Haddish in February. "I had to let it all go and start over." Jackson also had to address his complex relationship with food. "I stopped emotional eating," he told Entertainment Tonight. 
While being diagnosed with type 2 diabetes was scary, Jackson sees it as a key factor in his lifestyle improvement, he wrote in the 2008 book "Body with Soul." "It's a curse to be saddled with a disease that's life threatening and that you can't completely get rid of (though you can certainly manage it)," he wrote. "But it's a blessing to get that huge wake-up call."
To keep the weight off, Jackson told Haddish he essentially eats one meal a day. He also found ways to incorporate exercise in his routine, he told WebMD. In addition to using a treadmill, which he strategically keeps next to his bed so he wakes up thinking about it, Jackson took a liking to yoga. "I love the stretching and how it makes my body feel better and looser," he said. The journey has been long, but worth it. "I am fortunate and happy to be on the path that I am on," Jackson said.