Here's What Steve Harvey Really Thinks About Tom Brady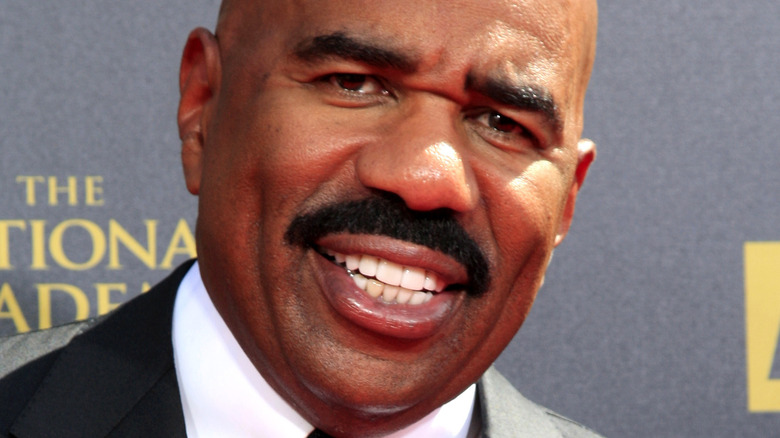 Joe Seer/Shutterstock
You don't often hear the names Steve Harvey and Super Bowl legend Tom Brady in the same sentence. And while the television personality is best known for hosting game shows, Harvey also likes to share his sports commentary with fans. He once had some heavy advice for New England Patriots quarterback Cam Newton, who some say is the most criticized athlete in the world of sports.
During Newton's BET show "Sip and Smoke," Harvey told him (per Heavy), "When them small dogs is barking, you ain't even gotta turn around. Cause you turn around, you could snap they a## up. If a lion turn around on a small dog, dat b***h is fitna, he fitna fold and crumble. Keep walking through the jungle, cause you're a lion. Lions don't turn around when small dogs bark." Clearly, Harvey was talking about Newton's actions on the field, as much as his actions off the field.
With that said, it seems like Harvey follows the world of NFL football very closely, and that's not just because it's part of his job, but also because he has a strong emotional investment in the game. That's why his comments about former New England Patriots star Tom Brady managed to turn a lot of heads. And while Brady has clearly done a lot for the Patriots – like turn down a bigger salary for the sake of the team — Harvey thinks that the team hasn't really done enough for him.
Steve Harvey doesn't hold back in his criticism of the Patriots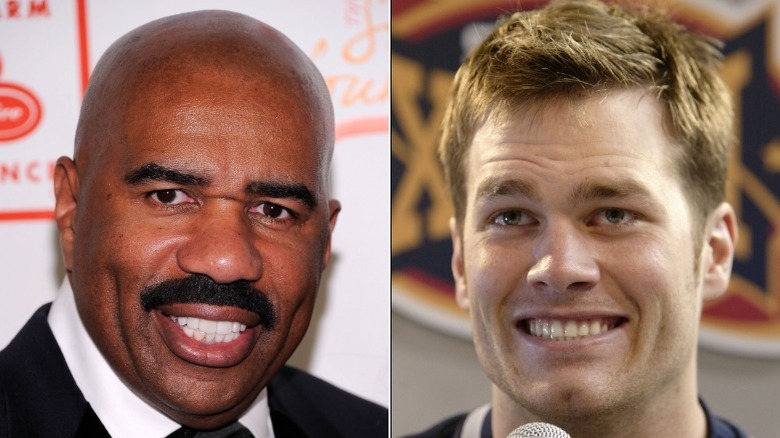 Dimitrios Kambouris, Brian Bahr/Getty Images
You can take the player out of the game but you can't take the game out of the player. During the NFL Honors in February 2021, Steve Harvey made it pretty clear that there's only one GOAT in the NFL, and his name is Tom Brady. He roasted Brady's former team, the New England Patriots, for failing to make it to the Super Bowl without their star quarterback Brady, who left for greener pastures with the Tampa Bay Buccaneers.
Harvey didn't hold back when he said (via Distractify), "I actually loved some of the things they changed. First of all, I love that the Patriots missed the playoffs for the first time in 13 years. Patriot fans, they don't even know what to do with themselves, 'cause they ain't never had free time in January. They've been calling up all the Browns fans for advice."
If that weren't enough, Harvey also might have become persona non grata in Boston when he said (via Twitter), "The only one enjoying the Patriots not making the playoffs more than me is Tom Brady. The Patriots system is at home eating nachos right now. Tom's a** is in the Super Bowl." However, Harvey didn't always have this much love for Brady.
Steve Harvey wasn't always a Tom Brady stan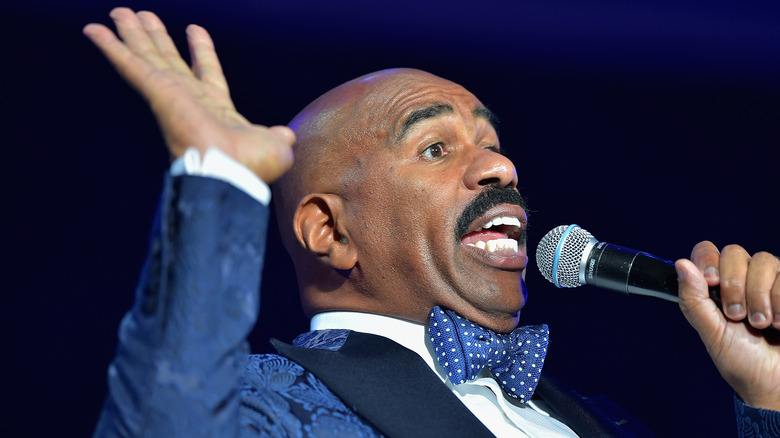 Moses Robinson/Getty Images
While Steve Harvey has no problem making New England Patriots fans feel worthless without Tom Brady, there was a time in which he was absolutely sick of Brady taking the Patriots to the Super Bowl year after year.
During the NFL Honors back in 2019, Harvey began his monologue by saying (via the Atlanta Journal-Constitution), "I'm tired of Tom Brady in the Super Bowl — every damn year! If Tom Brady wasn't living, y'all could be in the Super Bowl." He then joked, "Y'all ain't thought of pooling your money together and having him killed? Y'all ain't thought about it? Hell, I have!"
With that said, we can only wonder what kind of pep talk Harvey will give Cam Newton, especially when he realizes that it's not worth turning around when a small dog barks. Harvey sure does love to lift his favorite NFL players as much as he loves to bring his least favorite teams down, right?