Celebs Who Must Regret Their Tattoos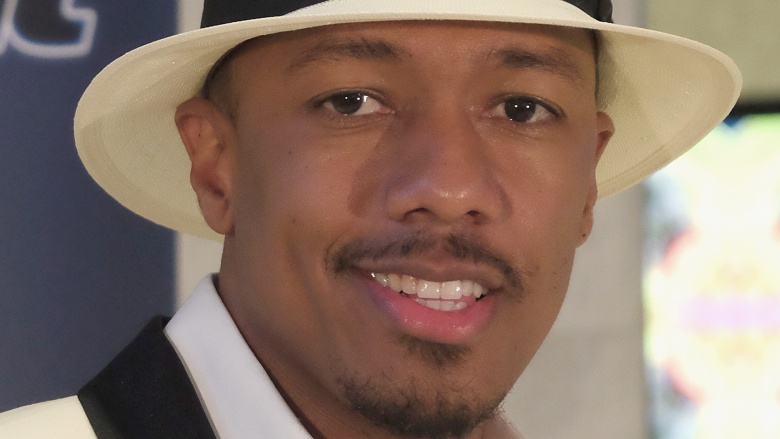 Getty Images
There are all types of grand gestures you can do for your significant other. You could buy them some flowers, a house, a car, or maybe even a boat. Or, if you're really devoted, you can get a tattoo in honor of your signo inked somewhere on your body. It's a move that's oh-so-romantic at the time, but...what if you break up? These celebrities were a little too quick to get tattoos of who they thought was their forever person inked on their bodies. But we're pretty sure they're seriously regretting their decision now.
Kaley Cuoco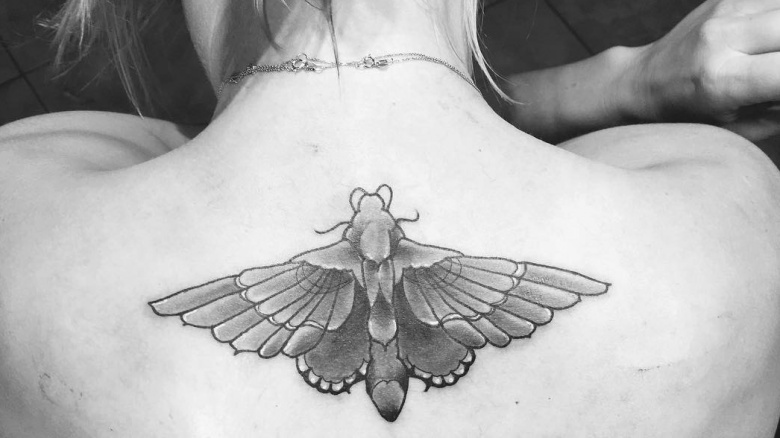 The Big Bang Theory star wed her tennis pro ex-husband Ryan Sweeting on December 31, 2013. To commemorate this very special day, the actress decided to get the date tattooed on her upper back. Sadly, two years later the the couple called it quits and the actress had to do something about her ink. Cuoco has since covered up her tattoo, sharing a picture on Instagram and writing, "Note to self—do not mark your body with any future wedding dates." She got a butterfly and shared that the only sentimental meaning behind the new design was that "it covered the last one."
Nick Cannon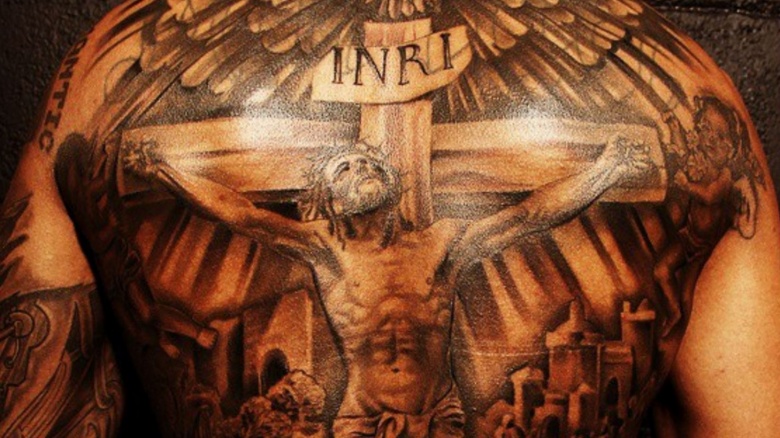 Nick Cannon and Mariah Carey were supposed to be crazy in love. They renewed their wedding vows every anniversary—in a typically very elaborate fashion—and the America's Got Talent host had a giant tattoo of Mariah's name across his shoulder blades. The gesture was super romantic...until they split up in October 2014. He replaced Mariah's name with a giant crucifix, an eagle, a cherub on each side of a cross to represent his son and daughter— Moroccan and Monroe—and text that reads, "Father, Forgive Them For They Know Not What They Do." It reportedly took 30 hours in the tattoo chair to complete the work of art.
Angelina Jolie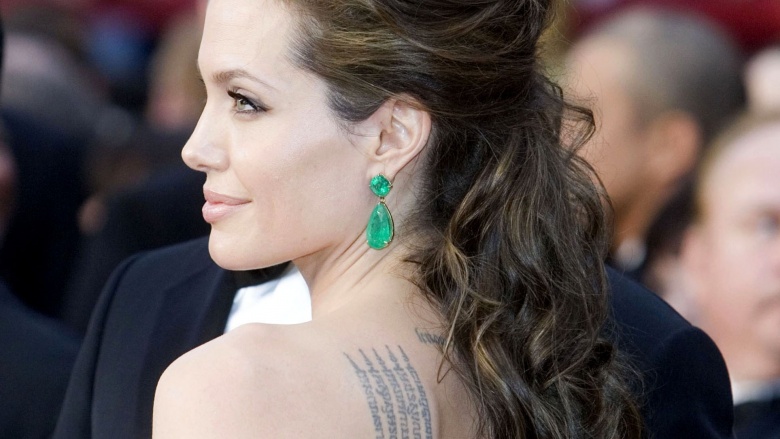 Before Angelina was one half of Brangelina, she was married to fellow actor Billy Bob Thornton. Jolie and Thornton were married for three years in the early 2000s and were so in love that they sliced their fingers with razorblades, smeared blood on lockets, and wore them around their necks—at least that's the story according to Billy Bob. But there was more: Angie also had her man's name tattooed on her arm. Since their split in 2003, Jolie has gone on to cover up her ex's name with the coordinates to the birthplaces of her six children and her husband, Brad Pitt.
Megan Fox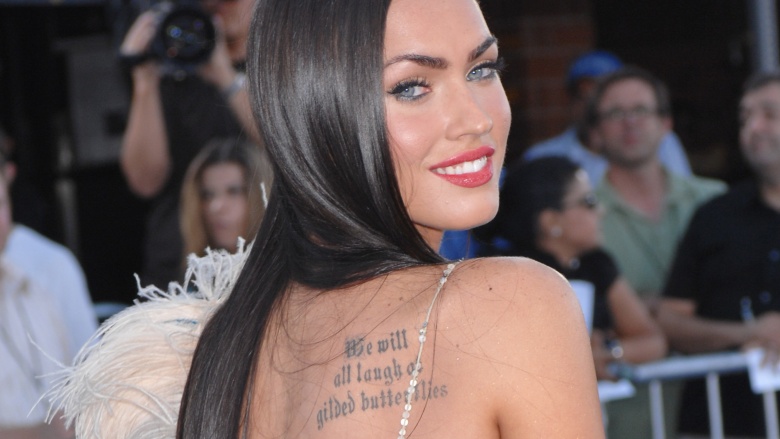 Megan Fox filed for divorce in August 2015 from her husband of five years, Brian Austin Green. They had two kids together, Bodhi and Noah, and she has a tattoo of Brian's name along her bikini line. The tat is one of many for the actress, and in 2009 she told MTV her hopes for getting any ink she doesn't like removed in the future. "I'm hoping that by the time I'm 30 they'll just have a pill you take and the tattoos go away," the then 23-year-old told MTV. Here's hoping they create that magic pill soon so she can get her ex-husband's name off her body...
Eva Longoria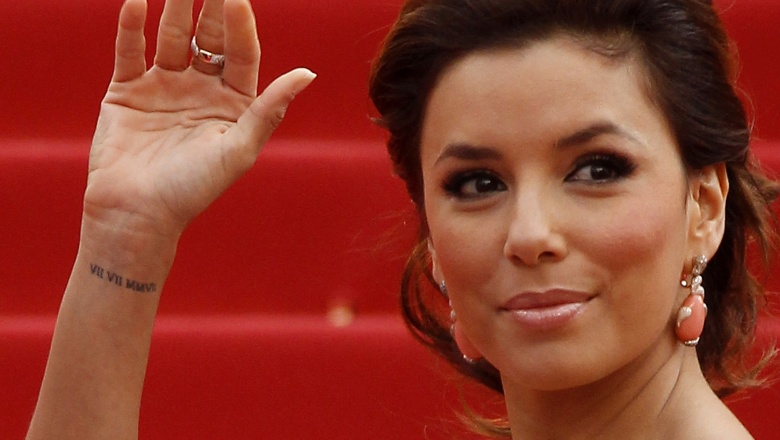 Getty Images
Our hearts all collectively broke when Eva Longoria and Tony Parker went their separate ways in November 2010. The two were together for seven years and during that time she had three tattoos done in honor of their relationship: his initials in an unknown location, their wedding date on her wrist, and the number nine in honor of Parker's basketball jersey number. According to reports, the actress has since had all the ink reminding her of her ex-husband removed.
Johnny Depp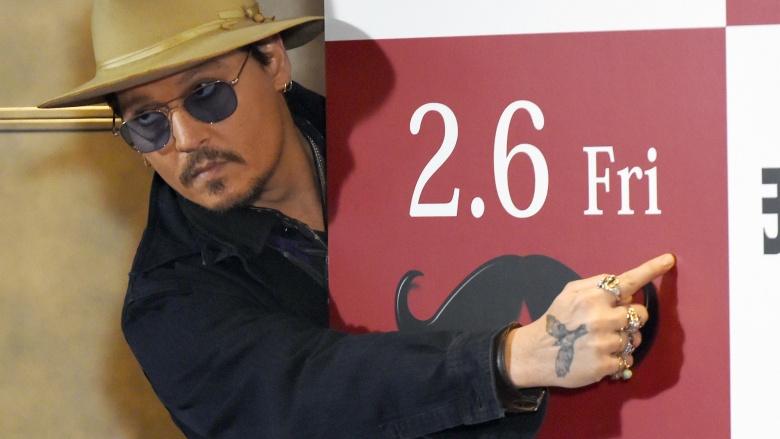 Getty Images
Before Amber Heard, Vanessa Paradis, and Kate Moss, Johnny Depp was madly in love with Winona Ryder. He fell in love with his Edward Scissorhands co-star in 1990 and not only proposed to her, but he also had his right arm inked in honor of his leading lady. His arm read, "Winona Forever." However, "forever" wasn't in the cards for these two. They split up three years later and the future Jack Sparrow cleverly changed his tattoo to read "Wino Forever."
Melanie Griffith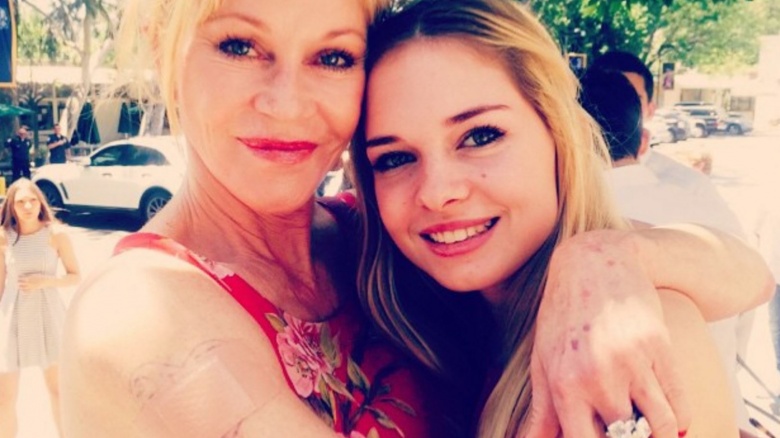 When Melanie Griffith and Antonio Banderas announced they were getting a divorce in June 2014 after 18 years of marriage, we were all left wondering if true love really did exist. Our next thought: what is she going to do with that tattoo of Antonio's name on her right arm? Shortly after the split, she allegedly began the process of having the ink removed. She wore a large bandage over the tattoo in an Instagram picture at her daughter's graduation in June. Awkward alert—Antonio was at the graduation too, and had to have seen his name completely covered up.
Denise Richards And Charlie Sheen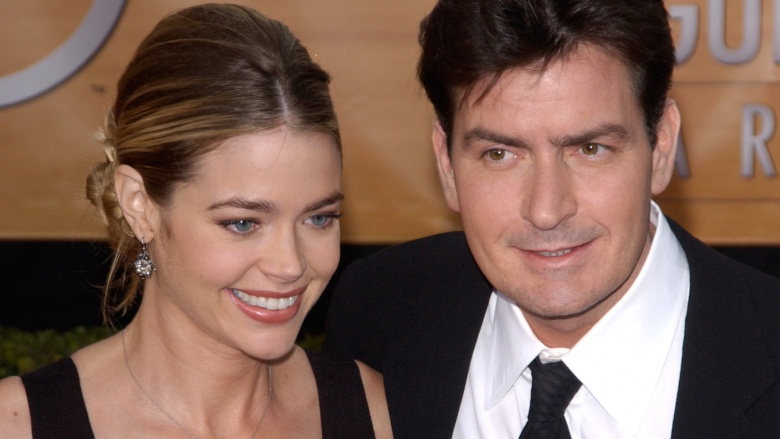 Once upon a time in 2002, Denise Richards and Charlie Sheen had found what they thought was a happily ever after. They were so devoted to that they opted to get each other's first names permanently inked on each other. He had Denise scribed on his left wrist while she had Charlie put on the inside of her left ankle. But, in 2006, things went south for the couple. Charlie opted to have his ex-wife's name removed from his wrist while Denise had Charlie's name transformed into a fairy on her ankle.
Tamra Barney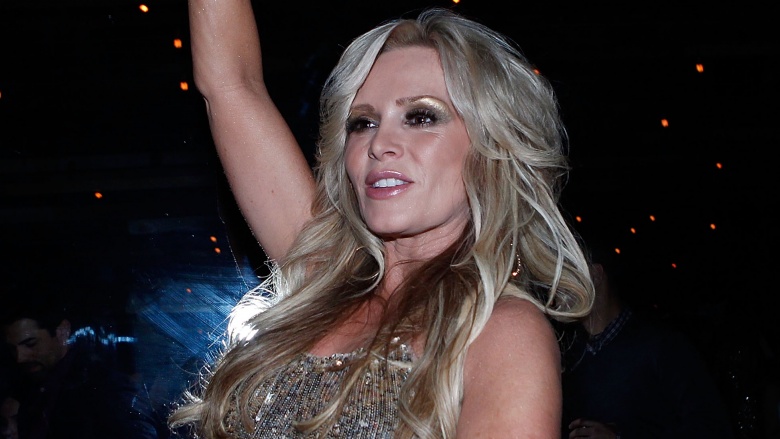 Getty Images
Real Housewives of Orange County star Tamra Judge, formerly Tamra Barney, thought her ex-husband Simon was her forever and had his name tattooed on her ring finger. Sadly, that marriage didn't end well and the Bravo cameras were there to capture the aftermath of the divorce and the reality star's struggles to get her ex's name off her finger. After many painful laser treatments, Judge ultimately opted to have the ink surgically removed by her co-star Heather Dubrow's plastic surgeon husband Terry so she wouldn't see a trace of it ever again.
Tom Arnold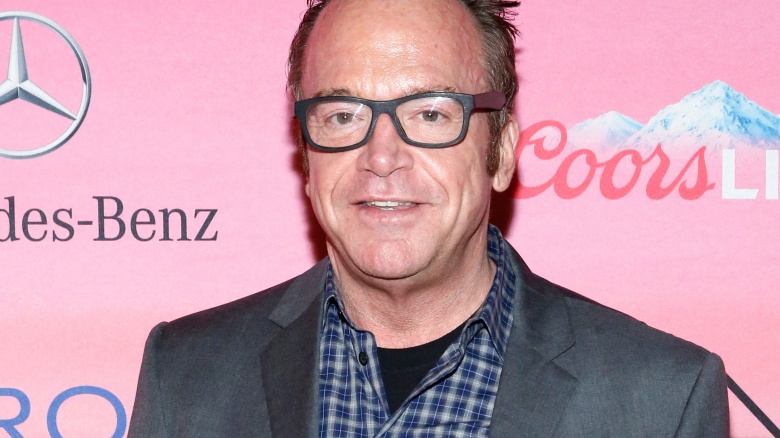 Getty Images
Tom Arnold and Roseanne Barr were a comedian power couple in the early 1990s. They got married in 1990 and divorced in 1994, but during their marriage he got a tattoo of her face on his chest that was going to last forever. Yes—you read that right—he got her face on the upper right side of his chest. He reportedly went through a year of laser removal procedures to get it off his skin.