Kevin Durant Has A Hobby That You Never Knew About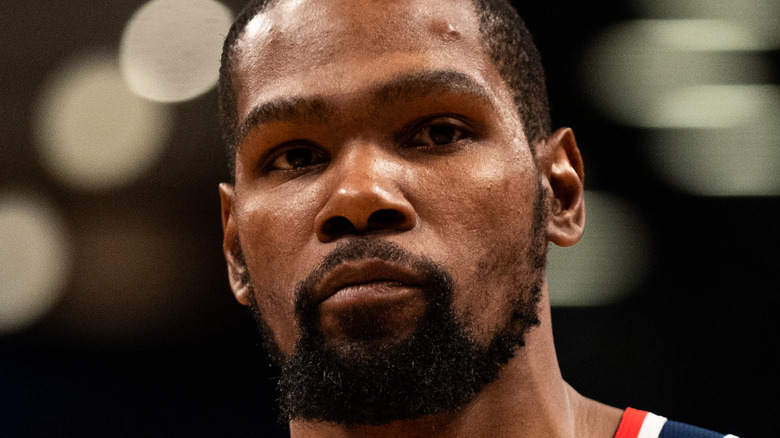 Dustin Satloff/Getty Images
To become one of the greatest NBA players of all-time, Kevin Durant fine-tuned his craft by being obsessed with basketball. He not only worked tirelessly on the court, but off the hardwood as well. After working on his game, Durant would study game film. "On a practice day, it's usually as soon as I get home. Sometimes it can be 2 p.m. to 7 or 8 p.m.," he told The Athletic in 2018. For the two-time NBA Finals MVP, obsessing over details is part of the job. "I'm supposed to be that way," Durant said. "I'm a student of the game."
Playing the game is easy for Durant, but one aspect of the job he does not love is interacting with the media. The All-NBA forward has had a well-documented contemptuous relationship with the press in the past. "You guys really don't know s***," he said at 2015's All-Star Weekend, per the Oklahoman (via Bleacher Report). Durant did not mince words when he unleashed during that media presser. "To be honest, man, I'm only here talking to y'all because I have to ... Y'all not my friends," he added.
Durant made a conscious choice to keep the press at arm's length when discussing his personal life. "I know what to keep to myself. I know what I want to give up," he told ESPN in 2017. "It's all about knowing the balance, because I like to remain somewhat of a mystery." Considering his tumultuous relationship with the media, Durant's hobby comes as a surprise.
Why Kevin Durant joined the media for a day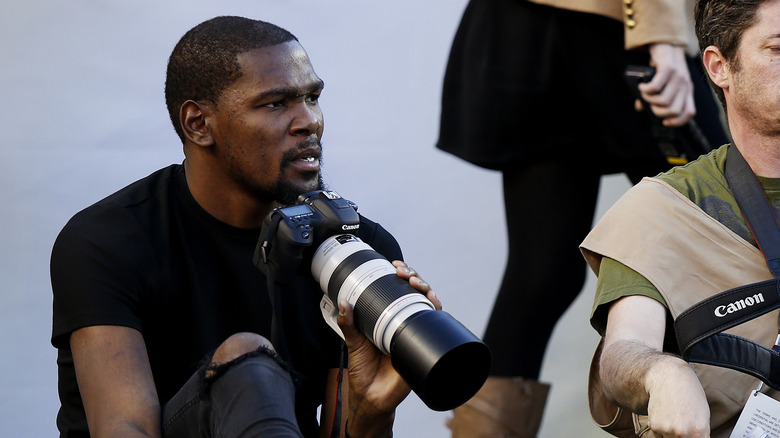 Ezra Shaw/Getty Images
When Kevin Durant turned 27 years old in 2015, a friend got him "one of those big digital cameras with a nice lens," as the NBA star revealed in an essay for The Players' Tribune in 2016. This was not the first time Durant had been gifted a camera, but it was the first time the former league MVP became truly invested in photography. "I started taking it almost everywhere I went," he wrote.
This keen interest in cameras led to Durant working the sidelines of Super Bowl 50 as a photographer for The Players' Tribune. Durant himself realized how ironic it appeared to fans that he worked for the press. "... before you say it, I can see the irony of 'Kevin Durant is a member of the media for a day,'" he wrote for the publication. "But I had the time of my life taking sideline photos for the night." The NBA legend mentioned he had "a lot of interests outside of basketball," including being a professional photographer at the biggest football game of the year.
Later that year, Durant's former teammate Russell Westbrook appeared to troll Durant's hobby when he showed up to a game sporting a bright orange vest that said "Professional Photographer." Westbrook, however, denied it was a shot at Durant, and simply called the vest a "great fashion idea," per Frank Katz. Besides photography, Durant also dipped his toes into another art form.
Kevin Durant's rap song with another NBA legend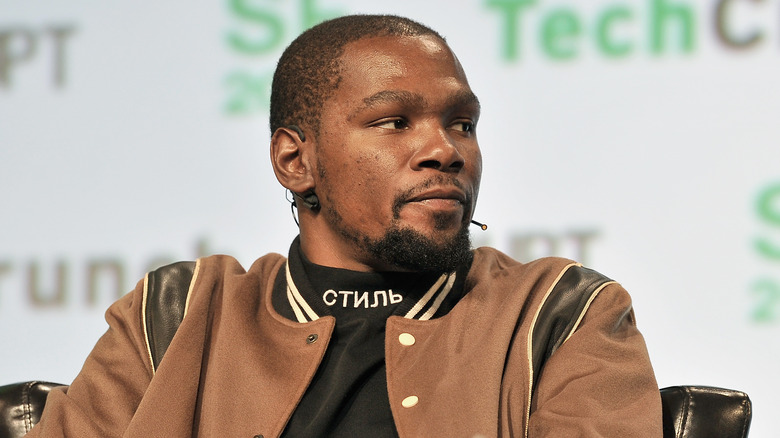 Steve Jennings/Getty Images
To keep busy during the 2011 NBA lockout, Kevin Durant trained with LeBron James, which led to the duo surprisingly recording a rap song together. Durant occasionally crafts hip-hop beats, and decided to drop vocals for one of his tracks titled "It Ain't Easy." James, who had little experience rapping, decided to join Durant in the booth. "It's weird to see someone like LeBron, that big, really not know what he's doing," the song's producer, Franky Stewart, told VICE in 2018.  
The producer thought the song was buried until hip-hop outlet XXL aggregated the story of the song's existence in 2017. This led to Stewart dropping a snippet of the James-assisted Durant track online, and it quickly went viral. Stewart claims that TMZ offered him $250,000 for the whole song, but he was more concerned about producer credits, per VICE. After communicating with James's agent, Rich Paul, Stewart decided to completely rework the beat on "It Ain't Easy" and eventually released the track with vocals from the two NBA stars on SoundCloud.
Perhaps even more surprising than Durant's interests in photography and music production is his passion for meteorology. Apparently, as a child Durant always dreamed of being a TV weatherman, per Nike News. In 2013, he even released a sneaker called "Meteorology."