The Untold Truth Of Tim McGraw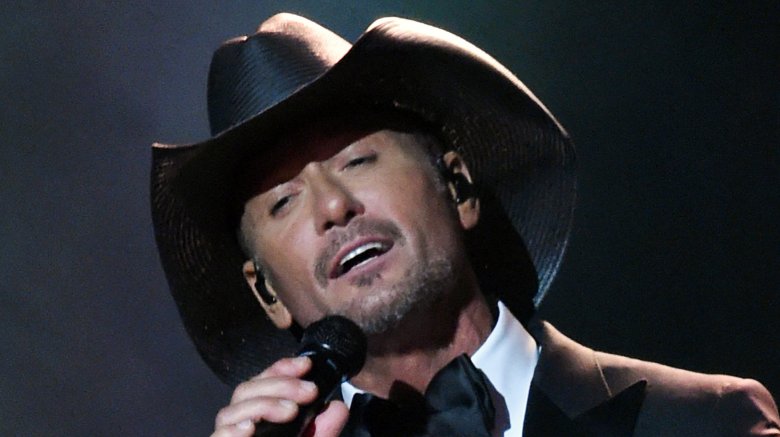 Getty Images
Tim McGraw, the Louisiana-born country music star, has a terrific life. He's been married to longtime wife Faith Hill for 20 years and they've got three beautiful daughters. But, with fame and fortune, also comes heartache and despair. Looking into his past, he didn't learn who his real father was until age 11 and for years he battled alcohol abuse. Also, some McGraw fans may not recall a police snafu which resulted in an arrest and a trial for the singer. Get to know this 50-year-old music veteran a little bit better with these harrowing and unique details. 
McGraw didn't learn who his father was until 11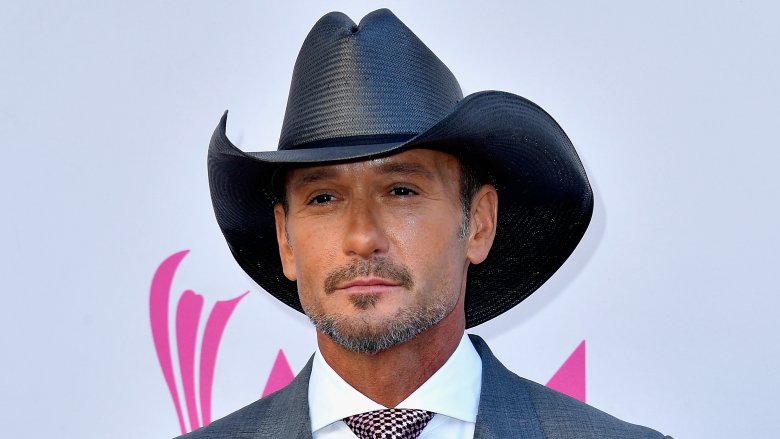 Getty Images
McGraw didn't exactly know all the branches of his family tree until age 11. It was at that time, when McGraw looked at his birth certificate, that he learned baseball star Tug McGraw was his birth father. To add irony to the situation, McGraw was a major fan of Tug's and even kept his card on his bedroom wall.
"Once I found out it certainly made me dial into baseball even more," the country music star told Rolling Stone. He even recalls watching his father play in the 1980 World Series. But it was when he finally met Tug that he came to understand just how much of a star he was. "The first time I ever came to New York I rode up in a limo with Tug from Philadelphia," McGraw recalls of that childhood memory. "And we rode up with Rusty Staub (Tug's Met's teammate) and had dinner at Rusty's restaurant and everybody was coming over asking for autographs and pictures with he and Rusty. I thought, 'Wow this is a whole different world!'"
Over the years, the pair got to know each other pretty well and kept in close contact until Tug's death in 2004 at age 59. "We talked a lot about baseball once I got to know him," McGraw added. "We called it 'choir practice' when we got together; we'd hang around at night with a few Jameson's and talk about baseball." 
McGraw and Faith Hill will forever be madly in love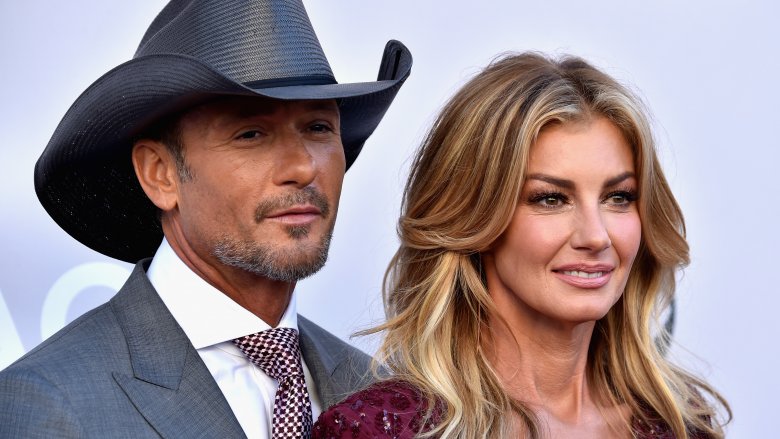 Getty Images
Lasting relationships in show business are rare. It's even more rare to meet a couple that's been married for 20 years without all the scandals and dramas. McGraw and wife and fellow country music star Faith Hill tied the knot in October 1996, according to Us Weekly. "It's an accomplishment," McGraw quipped to the magazine. "In our business, it's really probably like 80 years. You know, it's like I look at it as dog years!" But getting married seems like the easy part while staying married takes the true hard work. But McGraw's advice, although it sounds simple, can help or save any long-term relationship. "You just got to have fun. You know, laughter is sexy," McGraw reflected. "Sometimes, in the midst of craziness, everyone gets in an argument. That's part of growing as humans. That's part of growing as a couple. You just have to let some things roll off your shoulders and just move on and keep going holding hands. You're climbing up the mountain together."
He also once said to E! News that keeping business outside the home also helps keep them strong. "I think, for us, being as normal as possible and raising our family and being in a family situation as much as possible," McGraw said. "Certainly it's different because of what we both do, but we try to keep it as much of a family environment that we can." 
McGraw and Hill's working relationship is unique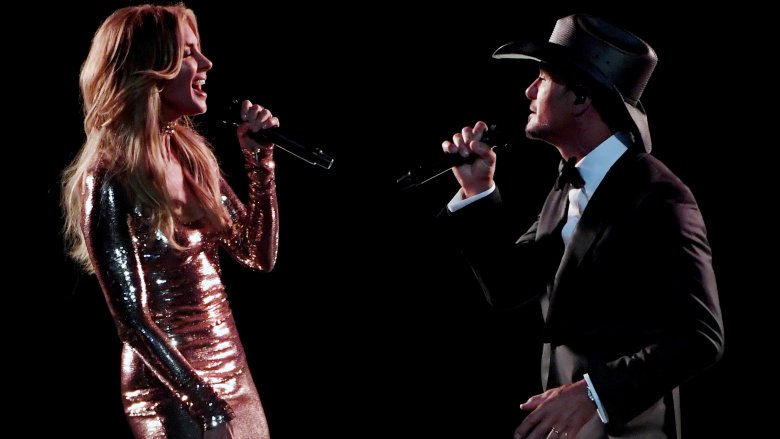 Getty Images
With all that romance brewing between McGraw and Hill, they can't simply contain it to the bedroom and their private lives. In fact, they've taken their undeniable chemistry to the studio having written and recorded several duets together during their marriage. McGraw and Hill first met in a business capacity in 1996 as she was his opening act of his Spontaneous Combustion tour, according to Fox News. When they weren't recording any of their dreamy tunes, they were touring the country. To date, they've conducted two joint tours – in 2000 with Soul2Soul, which grossed $48.8 million and again in 2006 with Soul2Soul II, which earned $88.8 million. The third installment of their joint tour kicked off this summer.
"Faith, I would say, is more of an R&B, sort of gospel-inspired singer," McGraw said of their differing styles. "And I think I am more a '70s rock, arena rock, Merle Haggard meets arena rock kind of singer. She brings me a little bit more to the R&B side, and I bring her more to the arena rock side, and I think it creates a sort of magic."
Sometimes blending work and love can be difficult. "Look, there is no secret," Hill said. "Either you like one another or you don't. You want to stay married or you don't. You work at it, or you don't." The pair's first ever joint album will be released later in 2017, reports the Today show.
McGraw and Hill are constantly fighting divorce rumors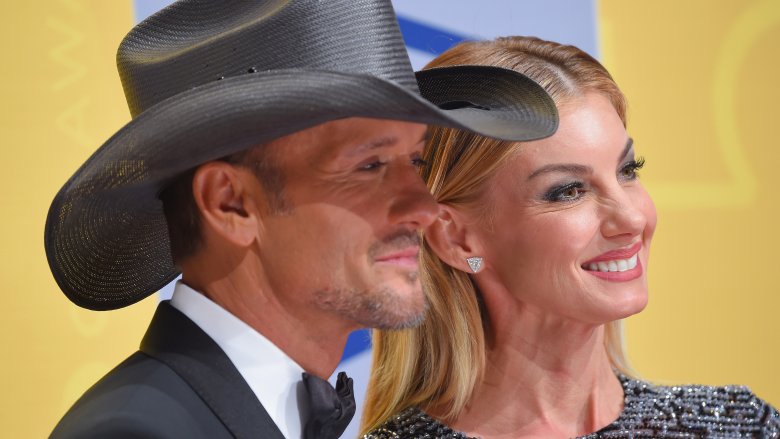 Getty Images
It seems like any couple that fares well in Hollywood must always been spiraling out of control and headed to divorce court. Or at least, that's what the tabloids seem to print. But in November 2013, this famous couple had enough. They stepped out into the spotlight to squash rumors they were breaking up.
"[Rumors] seem to be running like crazy right now for some reason. It's perplexing," Hill told People at the time assuring everyone they are "absolutely not" splitting. "I don't know why 'happy' can't be a story." During their joint interview, McGraw and Hill even joked about the fake news and laughed off that their marriage was doomed. "We've been married 17 years, and since the first week we were married those things were out," McGraw said. "We don't even think about it. The only time we ever think about it is [when we] worry about the kids. But they've been around it, too, so they laugh it off."
In 2014, McGraw and Hill moved to shut down divorce rumors again. This time, they filmed a music video, "Meanwhile Back at Mama's," displaying their love for the world. "To sit there and look googly eyed at one another, it's fun for us and it doesn't get old," Hill beamed to Entertainment Tonight from the music video set. 
McGraw's daughters are turning into women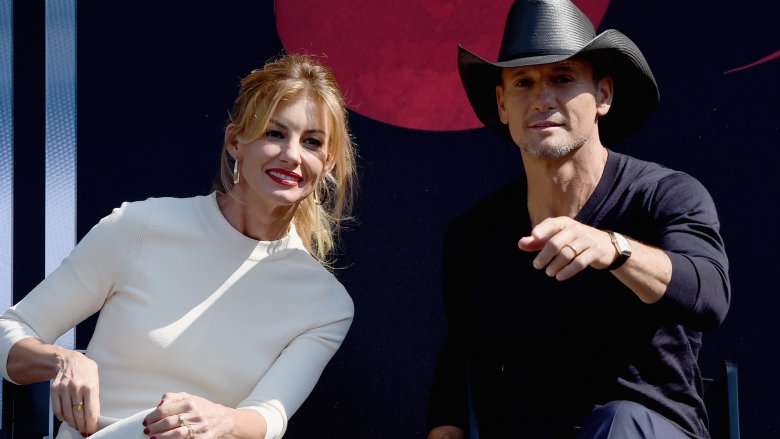 Getty Images
A house full of women may not always easy for a man to live with; however, McGraw sure does come off as a doting and loving dad when he talks about his three daughters – Gracie, 19, Maggie, 18 and Audrey, 15. With two kids at college, Hill admits it's not easy. "It's still hard," she told Ellen DeGeneres (via Entertainment Tonight). She in fact tries to keep in very close contact with her girls as they mature into women. Hill and daughter Maggie took a mega road trip recently. "We drove from Nashville to California. Just the two of us," she said adding Maggie is animal lover who rescued a turtle. "She has saved things her entire life."
Since their daughters are at that scary dating age, these proud parents have begun taking matters into their own hands – even if that means frightening everyone. "There was a winter formal or something – it was a bunch of kids in a limousine," McGraw told Ellen (via Us Weekly). "And I had a sledgehammer over my shoulder. But that was on purpose... Look, you don't want to be mean, but when someone's taking your daughter somewhere, you want to introduce a healthy amount of respect – and fear." Dating isn't just hard on McGraw, it's tough on Hill too. "I was a little soft on it, but then when you go through it for the first time – those of you who have daughter out there – all of a sudden I became this animal," she quipped. 
McGraw's bank accounts are big
Getty Images
When it comes to money matters, McGraw is quite simply a cash cow. In 2013, Forbes ranked him as the 4th highest paid country music star of the year. According to the site, he pulled in a whopping $33 million that year. The release of his album Two Lanes of Freedom, which debuted at no. 2 on the charts, tour deals and a move to Big Machine Records lined his pockets nicely.
If that's not reason enough to believe McGraw is mega-rich, have a look at his real estate portfolio. He and his wife are attempting to sell their massive 750-acre farm in Franklin, Tennessee, which is roughly 45 minutes from the music capitol Nashville. However, unloading the property hasn't been easy reports Realtor.com. It's been on the market for years with an asking price of $18.5 million. "It's a very unique part of middle Tennessee," said the couple's listing agent. "It would be hard to put that much land together again if somebody wanted to." Because they're having such trouble unloading the land, they've divided it up into two sections. Some 268 acres, along with a historic house, is now being sold for $8.5 million. While 350 acres, with a log cabin, is on the market for $10 million. The remaining 123 acres or so was sold for $2.8 million, adds the site.
Drinking nearly cost McGraw everything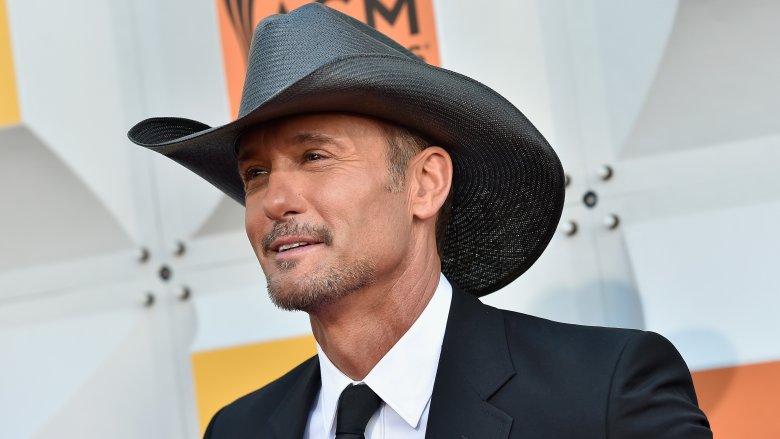 Getty Images
McGraw claims he was an alcoholic for years until he quit in 2008. In fact, he says the only he could perform by having a bit of "liquid courage" in his cup. "I used to have to have a few drinks to get on stage, because I'm sort of an innately shy person," McGraw revealed in his very own Oprah's Master Class episode, according to The Huffington Post. "To step out on stage and to sing and be in front of people was nerve-wracking for me in a lot of ways. That was the way I got my courage – some liquid courage, with a little Jack Daniels." Soon, however, he realized he was facing a real addiction. "You can come up with a million excuses why you drink too much," he opened up. "Lack of confidence, the success that came so quickly, and then some of the things you didn't realize was trauma, I guess, back when you were 11... I think the older you get, the more you start to realizing those things."
Then in 2008, he kicked the habit and started performing sober. "That was the toughest tour that I've ever done in my life," he added. He also said his longtime wife also helped him get on a sober path. "When your wife tells you it's gone too far, that's a big wake-up call," McGraw told Men's Health. "That, and realizing you're gonna lose everything you have."
Is McGraw's abusive?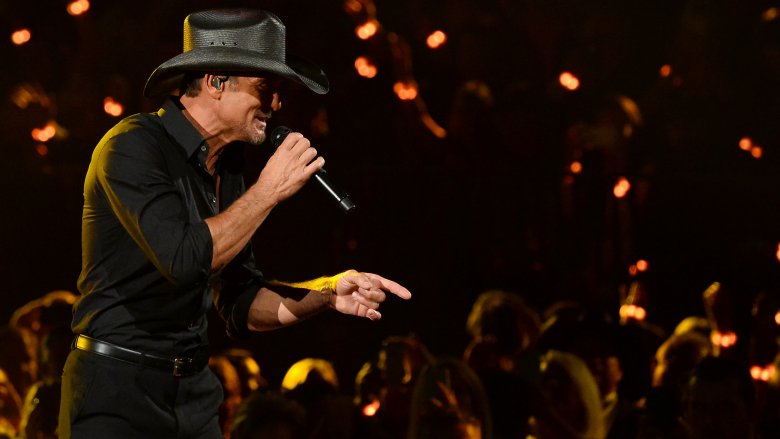 Getty Images
When McGraw's on stage he's about his business and he has no time for fans making his work any more difficult. That also goes for the female fans who get very handsy. In the summer of 2014, while holding a concert in Atlanta, Georgia, McGraw was forced to slap a fan who ripped his jeans while holding on tight to his leg. According to TMZ, McGraw was performing his hit "Truck Yeah" standing over a pit of fans when woman grabbed him on his knee aggressively resulting in McGraw smacking her. A rep for the star told TMZ, "He instinctively swatted to try to keep them from ripping his jeans (which they succeeded at doing!), and so he could get to more fans who could slap hands with him before the end of the show."
He later called the incident "an unfortunate situation." He added, "it is one of those things that happen, nobody feels good about it, but there's nothing that could be done about it. You are in that position, you are out there, you are vulnerable, things happen and sometimes you react."
Weeks later, the matter was resolved adds a follow up TMZ report. "It's been mutually resolved the old fashioned way... with a simple conversation," his rep said. While it's unclear if McGraw paid the touchy-feely fan cash for the embarrassing mishap, lawyers were involved in the matter. The victim reportedly wanted an apology as well.
McGraw's got an arrest record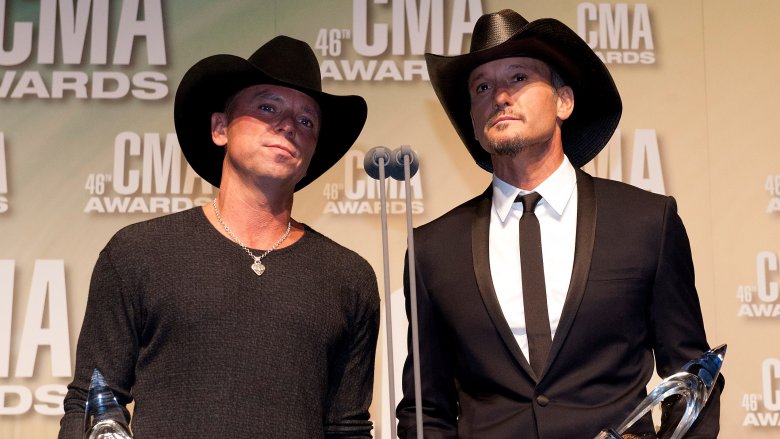 Getty Images
McGraw found himself behind bars for allegedly attacking police deputies back June 2003. Per ABC and CMT.com, McGraw was holding a concert at the George Strait Country Music Festival in Buffalo, New York when he and fellow country star Kenny Chesney and McGraw's road manager, Mark Russo, were arrested. After the concert, Chesney asked if he could sit on a police horse, but instead of staying idle, he took off disobeying police orders. When officers caught Chesney and attempted to remove him, McGraw and Russo allegedly jumped in to attack the officers. "When the deputy went to remove Chesney from the horse," Sheriff Gallivan said. "Another deputy was going to assist [him]. McGraw came and jumped the second deputy from behind, wrapped one arm around his neck and was choking him. Now I'm not suggesting he was trying to [really] choke him. But he had him with his arm around his neck, and he was holding on."
The men were all taken to jail, given court appearance tickets. McGraw was freed on $2,500 bail, Chesney was let out on $100 bail and Russo was let go on $500 bail.
Months later, a jury found McGraw innocent of any assault charges. Chesney and Russo were also let off the hook in the matter. In all, McGraw and Russo could have landed behind bars for upwards of a year as they faced misdemeanor charges. Chesney, on the other hand, simply faced a disorderly conduct. 
McGraw may run for office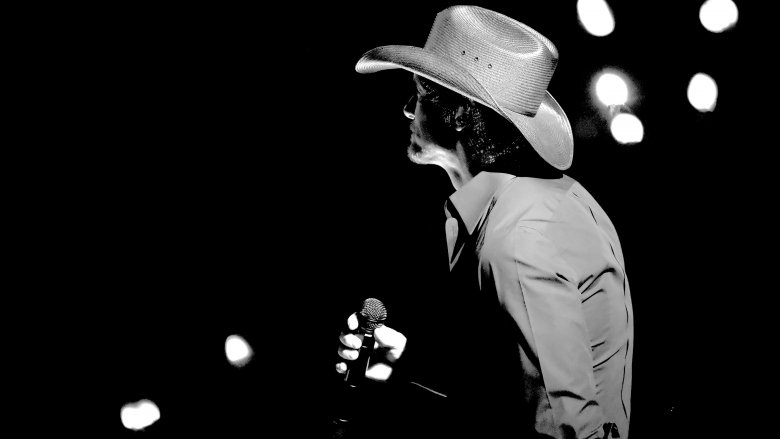 Getty Images
According to CMT.com, McGraw has openly discussed possibly jumping into the politics game. In an ever-changing political landscape, which now includes several former entertainers, could McGraw actually make a difference? "I don't have time [for politics]," he laughed. "I grew up in Louisiana, and it's like a sport there... I've always been fascinated by it... I feel you are obligated to a certain extent to help [people] and do what you can, whether it's in politics or not. Politics is something to me that I would never go into just to say I've done it."
But the more he talks, the more he can see a future perhaps behind a podium. "But somewhere down the line, if I feel like there's something I can step into and make a difference and do some good, then I think it's just a matter if the time lines up with the cause and the reason in my life," he said. "Then it would be something that I'm interested in. But it's not something I'm going to go and pursue."