The Untold Truth Of Trace Adkins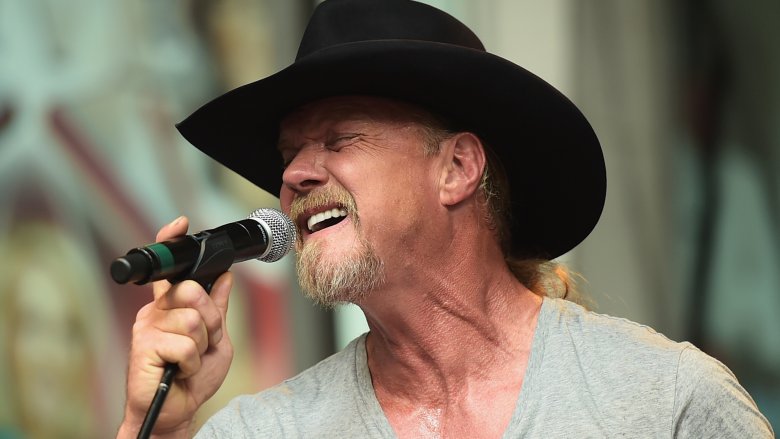 Getty Images
Trace Adkins is country music's baritone star with the smooth voice and badass attitude. This 55 year old has led quite the life thus far, most of which landed him negative headlines that would make anyone cringe.
Over the years he's publicly battled alcohol addiction, checked into rehab twice, divorced his wife, lost his home to a fire and his daughter nearly died from an unknown allergy. But there's much more to this music star's life – learn all about it here.
Drunken performances at children's hospital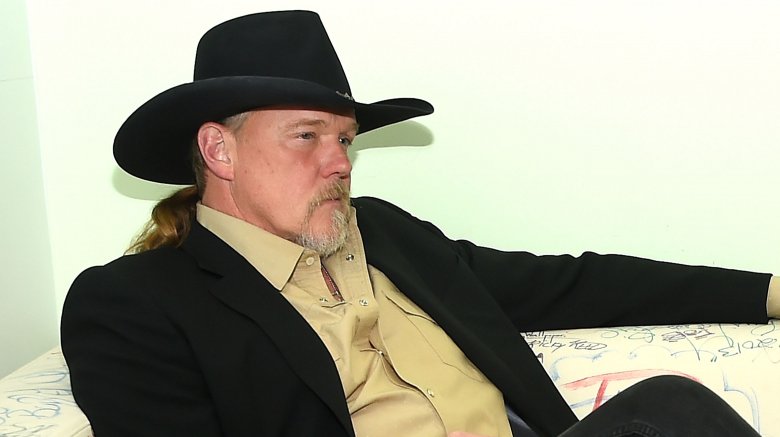 Getty Images
Adkins, who has a negative history with booze, couldn't pull himself together or even sober up for a charity performance for a St. Jude Children's Research Hospital fundraiser. According to TMZ, back in the summer of 2016, Adkins slurred and stumbled his way through three songs for the packed audience. Although he was able to finish them, barely, audience members didn't stick around for the terrible show. "You couldn't hear him except for him mumbling," one witness told APP.com (via Fox News). "My girlfriend said, 'I think he's drunk or something' and everyone was picking up their chairs and leaving."
The radio station manager, who was involved with the fundraiser for sick kids, issued a statement on Facebook expressing his thoughts for the troubled singer. "Apparently we have one of our country music family who needs our love, support and understanding," he wrote. "I hope you'll take a moment and send a positive thought, support and prayer."
Although this shameful display was fairly recent, it was far from his only drunken display. In fact, he's got a lengthy history and dark connection with the bottle.
Adkins rumbles with cruise ship impersonator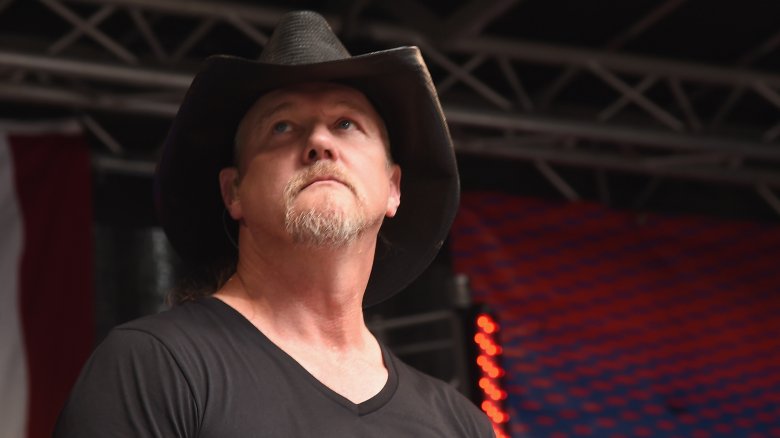 Getty Images
Adkins' drinkings has gone from terrible to awful and unfortunately the public has witnessed every minute of his self destruction. While he was supposed to be enjoying himself on a cruise to Jamaica, Adkins found himself in hot water with his boozing once again. This time, he got into a heated shouting match with a 'Trace Adkins' impersonator at a karaoke event in January 2014, reports TMZ. As the story goes, Adkins was on board taking shots when he spotted the impersonator in the room. With alcohol in his system, it may have been the last trigger for Adkins. As the site reports, Adkins for years had thought of the impersonator as a stalker of sorts, always appearing at the same place as him.
A witness tells the site that once Adkins spotted Michael Larsen, Adkins shouted to him, "This has gone on long enough... Take that f**king hat off." To those direct drunken orders, Larsen respectfully removed his hat and simply stood silent taking the verbal abuse in front of a crowded room. As the site points out, the altercation never turned physical but remained verbal the entire time.
Adkins was previously sober for 12 years but fell off the wagon.
Adkins finally checks into rehab, but will it help?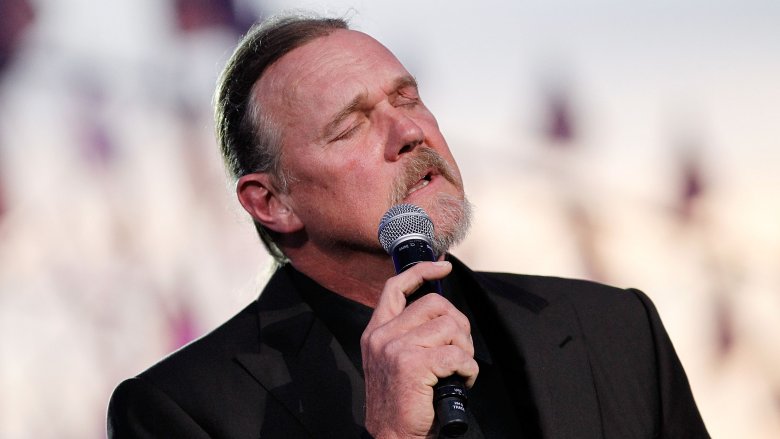 Getty Images
It's no secret that Adkins has long battled an addiction to alcohol. But after his cruise ship fiasco with an impersonator, he checked himself into rehab in January 2014, reports People. After the headlining event, which was no doubt a wakeup call, Adkins hopped off the cruise once it docked in Jamaica and took off to seek professional help. "Trace has entered a treatment facility after a setback in his battle with alcoholism," a rep for the country star said. "As he faces issues head-on, we ask that his family's privacy will be respected."
Although it seemed like a good idea to check into rehab, since his battles have been so public, it wasn't his first time getting help, adds the site. Back in 2001, Adkins did a short 28-day sint in rehab. "I was getting to the point where I was poisoning myself [by drinking so much]," he shared in a GAC special in 2009. At the time, his third wife, Rhonda, and family staged an intervention to get the star back on a better path. "I wish for anybody out there to never have to go through one of those intervention things where you sit down there and people start telling you what you're doing to them," he described. "You're so weak that it's come to this. Man, I hated myself at that moment."
He takes responsibility for his drinking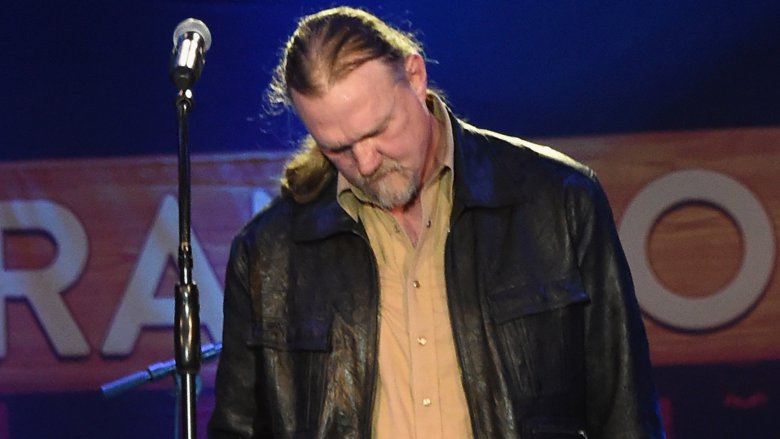 Getty Images
Fast forward to 2017 and Adkins has endured nearly three years of bad press regarding his drinking habits. His publics missteps are no one else's fault but his own and he takes sole responsibility for the way his drinking has changed the public perception of him and quite possibly affected his business. In fact, talking with Rolling Stone, Adkins won't do the blame game when it comes to his boozing, he won't say, "Nashville made me do it."
"I'm not one of those guys that there are any outside circumstances, or influences, or powers that can make me do anything," the deep-voiced crooner explained. "If I drink, it'll be because I want to drink. It wasn't because I felt tempted or pressured."
He also acknowledges that drinking is everywhere in the record business. But he wants to stand tall and strong against it, now that he's once again sober. "I don't feel the need to [drink] because of the industry or the business I'm in," he said. "It's got nothing to do with that. That's all on me."
Adkins divorces wife of 16 years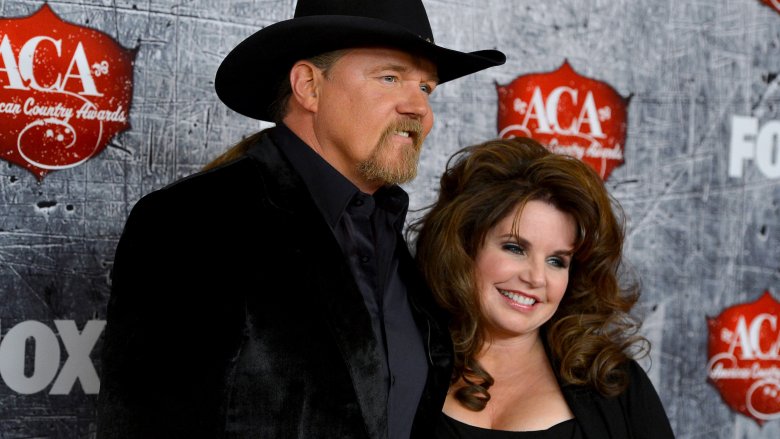 Getty Images
Adkins has another sad thing to sing about. In March 2014, after entering rehab after his spat with an impersonator on a cruise ship, his wife of 16 years, Rhonda, filed for divorce, reports CMT.com. The couple, who were married on May 11, 1997 at Nashville's Belle Meade Mansion, share three kids. They lived in the Nashville suburb of Brentwood.
"Trace and Rhonda are united in ensuring that their children's interests come first," the couple said in a joint statement. "They thank everyone for respecting their privacy as they work through this personal matter." In the divorce petition, Rhonda cited irreconcilable differences as the reason of their split and she sought out to have primary custody of their children in addition to both alimony, child support and legal fees that she will incur.
Over a year later, the couple finally reached a divorce agreement, reports E! News. "The Adkins have settled their divorce amicably," a lawyer for the country star said. "Rhonda and Trace made this decision together in the best interest of their family." Not only did the former couple establish a custody agreement, but they settled financial matters and property ownership via a private mediation. It's unclear how much cash Rhonda received in her alimony settlement nor how much money Trace agreed to dish out in child support.
He lost his home in a devastating fire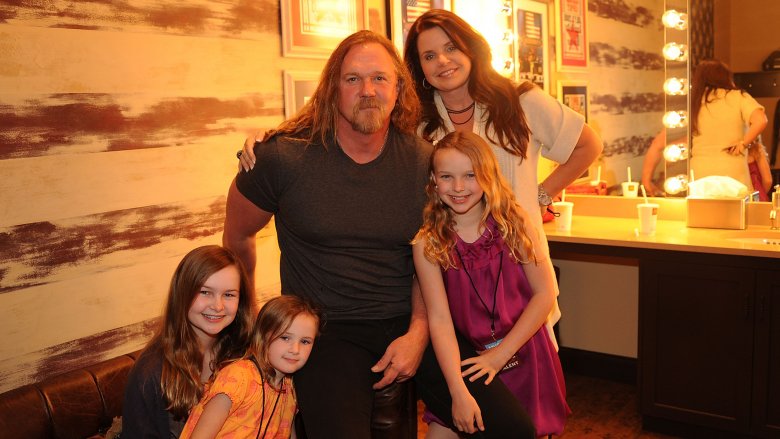 Getty Images
In the summer of 2011, Adkins and his family were left homeless after a devastating fire tore through their home burning all of their possessions, reports CNN. The site explains the flames began in the garage and traveled the remainder of the home where Adkins' three kids and their nanny were. The home was considered a total loss by the local fire authorities. "Stuff is stuff," Rhonda shared while watching her home burn. "I have not backed up all my photographs, and I'm just sitting here sick because those are things that matter the most. It's your memories, our wedding pictures, I don't have because the negatives are in the house."
On the plus side, everyone was able to get out safely due to fire tips the girls learned at school. The family decided long before the fire to tie a yellow ribbon around an outside tree to designate their meeting place in case of an emergency. And it surely came in handy. "They ran to their safe place like we practiced, in the front yard at a big tree," Rhonda shared. 
Some six months later, the family began to rebuild their home. Adkins told Taste of Country the new home would be modest with one small upgrade. "I've heard that the new one is going to have a pool, so I guess I'm finally going to be one of those snooty homeowners that has a pool," he quipped.
Adkins almost lost his daughter to a crazy food allergy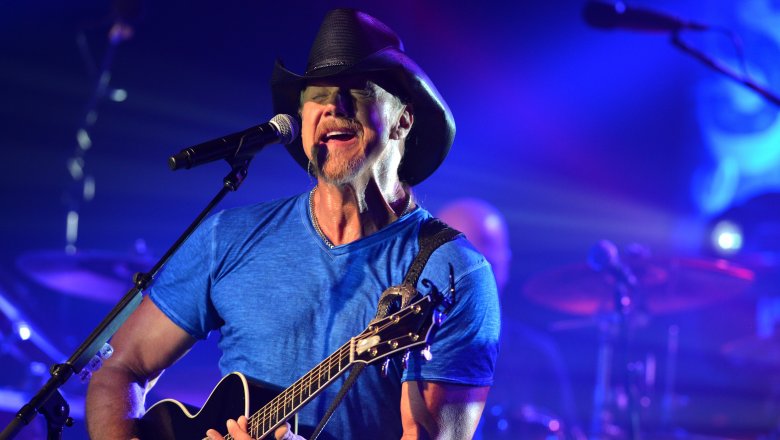 Getty Images
At the tender age of nine months old, Adkin's daughter, Brianna, nearly lost her life due to a severe food allergy. The country star opened up to Redbook (via People) about the scary situation that forever changed their lives. As the story goes, little Brianna picked up a lid of peanut butter and immediately began to swell up sending her to the emergency room and the family into a tizzy. Adkins recalls the "terrifying" situation and that he was clueless that an allergy could be so severe.
As a result, the Adkins family has had to change up how they eat and manage their home life. "She knows she has to ask before she picks up any food, pretty much," he explained. "We have all had to change our diets to work around the things she's allergic to — all nuts, dairy, and eggs.  We seldom eat at restaurants because it's too risky.  That's just how we live."
He also says that people aren't really sensitive to their daughter's needs – especially at school. "I was doing a radio-show interview the other day, and a listener called in and said, 'I was told that I couldn't bring something into my kids' school because other kids were allergic, and that's infringing on my freedoms.'  I thought, 'You idiot.  Bring something else.  Are you seriously suggesting that you should have the freedom to kill my kid?'"
He's a spokesperson for injured vets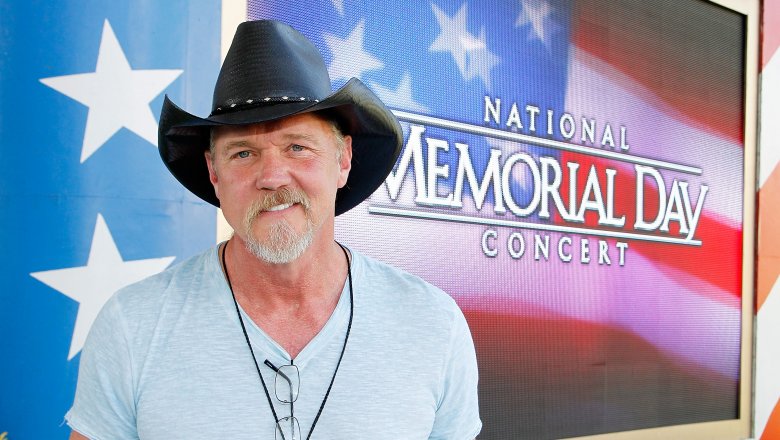 Getty Images
Have you ever been watching late-night TV and heard a familiar deep country voice? Chances are, it was Adkins leading the charge and recruiting dollars for injured vets for the Wounded Warrior Project. The active charity seeks to provide veterans with 20-life saving programs and services free of charge for them, their families and caregivers, adds the official site. Adkins officially signed on in 2015.
"I consider it one of my life's great honors to volunteer my time for those who have served and sacrificed for this great country," Adkins said in a statement. "Many of these brave young heroes struggle with both the visible and invisible wounds of war and Wounded Warrior Project has stepped up to help them. For that, they have my gratitude and my support." His connection to the charity runs deep. In 2010 he was given the Stephen Talkhouse Award for Community Service.
"Trace Adkins' unwavering and passionate support for our cause has provided a voice for our mission and the needs of this nation's wounded veterans," said Steve Nardizzi, chief executive officer for WWP. "Time and time again Trace has gone out of his way to highlight WWP and help us ensure this generation of injured veterans is the most successful and well-adjusted in our nation's history."
Adkins has also made sure to spread the charity's message wherever he can – including the Academy of Country Music Awards.
Adkins is a budding actor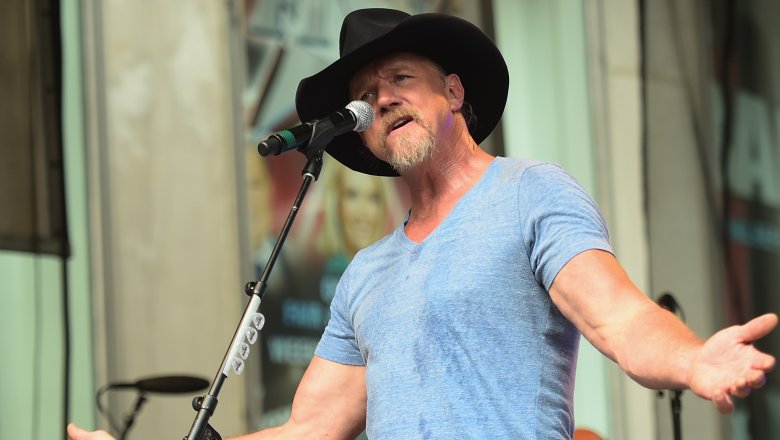 Getty Images
When Adkins isn't pouring out his heart in his emotional love ballads, he can be found on a movie or TV show set. Over the years, the country crooner has gotten the acting bug and according to IMDb he's got 24 acting credits under his name. Adkins has done it all, including using his baritone voice for several episodes of King of the Hill from 2003 to 2007. He was also featured in the 2014 comedy Mom's Night Out. In 2016 alone, he landed in four different projects. And for 2017 he's got one project, Hickok, in post production.
While singing comes natural for Adkins, acting requires way more effort, he shared with AL.com. "The best acting job I do is when I get to the set and the first couple days I'm on the set, convincing the director I know what I'm doing," he told the site. "That's the best acting job that I do. Once I pull that one off, the rest of it's easy." He also says that filming movies also stimulates his songwriting skills. "Singing is the way that I feed my family, so I have to keep that at the top of the priority list for now," he quipped.
Adkins has even found a way to link both his acting and his charity work. In fact, he looked to his volunteer service for the Wounded Warrior Project to prepare him for his role in the NBC drama The Night Shift. In the show, for just one episode, Adkins played the leader of a veteran therapy group.
He's got a history of stirring up drama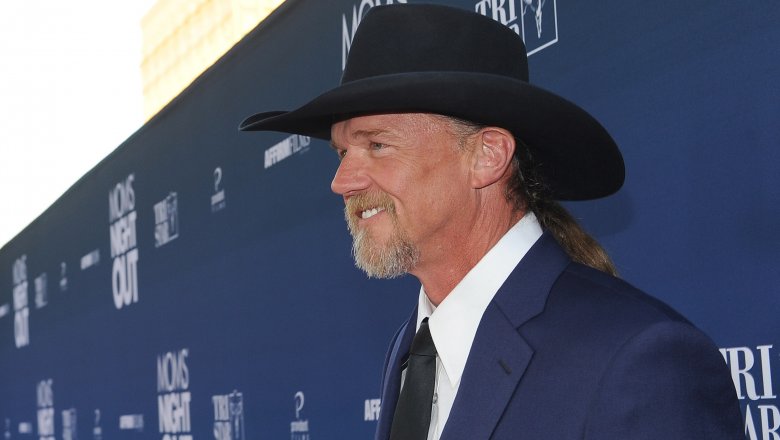 Getty Images
In the spring of 2011, Adkins released the tune "Brown Chicken Brown Cow," which according to Taste of Country, is based on a '70s porn riff and the video shows puppets doing nasty things. "I ain't apologizing for the song," Adkins told Y108 after it earned him less than favorable headlines. "I love the song, I think it's hilarious. People gotta lighten up a little bit and laugh every now and then and not take stuff quite so seriously." He knew the song would cause headlines adding, "I am not afraid of that, that doesn't worry me." He was surprised to learn that 70 percent of radio stations trashed the record opting to not put it on the airwaves. "Seldom in my life will you ever hear me apologize for reckless behavior, but I will apologize to the guys who are in the truck with me when I do it," he quipped.
Adkins also caused some drama when he made several public appearances sporting a Confederate flag earpiece while he sang back in 2012. Audiences on social media caught wind of his love for the flag when he performed at the annual tree-light special in NYC. "As a proud American I object to oppression of any kind," he writes in a note to fans, according to USA Today. "To those who view the flag as a symbol of racism, that was not my message and I did not intend offense."
He's not afraid to go hunting naked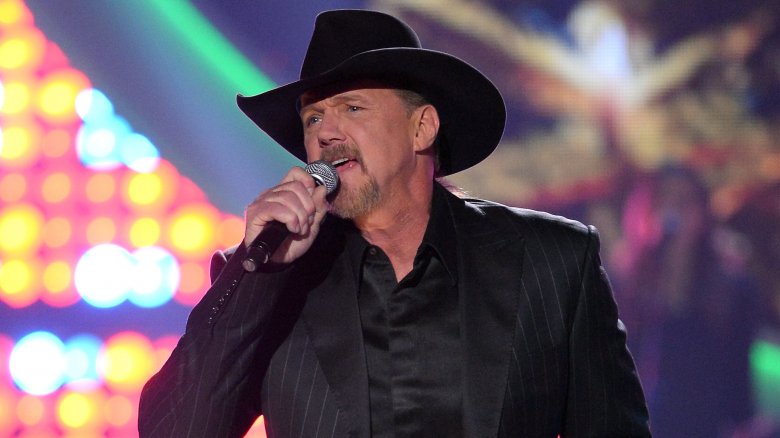 Getty Images
There's nothing like walking around naked with your gun in your hand. No, that's not a kinky metaphor but a real life situation for Adkins. In June 2017, he admitted to doing just that one early morning and his actions actually broke the law. As the bizarre story goes, Adkins was awoken by a rather loud bird that didn't seem to shut up. "I walked outside this morning in my boots naked and shot a woodpecker who was beating on the end of my house and woke me up," an unashamed Adkins told reporters. "I just ratted myself out, cause that's actually against the law to kill a woodpecker. But, he woke me up."
To add to the odd story, Adkins confessed that he sleeps with his double barrel shotgun near his bedside and he also keeps it loaded in case of emergency. "I have a double barrel shotgun by the bed, and I just picked it up, dumped the buckshot out, put the light load back in... pulled on my Red Wings, walked out the door, walked to my truck," he said. "Saw him up there. Beat on the hood so he'd fly, and shot him."
What a sight.