Inside The Decades-Long Feud Between Bruce Willis And Cybill Shepherd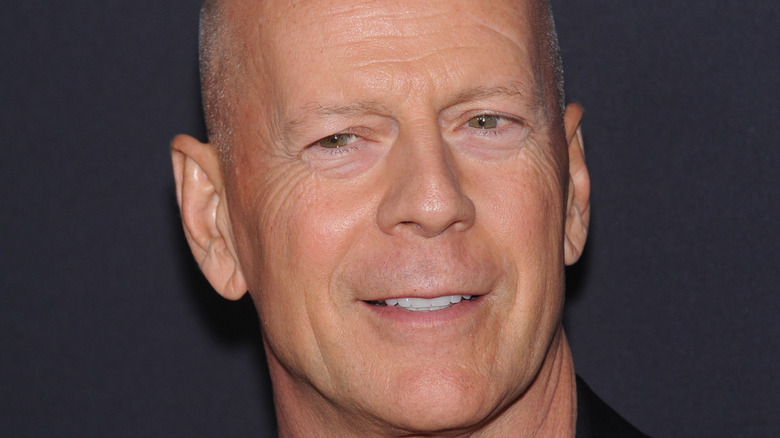 DFree/Shutterstock
"Moonlighting" captivated television viewers from 1985 until ending in 1989, per IMDb, and featured star-making roles for both Bruce Willis and Cybill Shepherd. The show followed their two characters running a private detective agency, but the appeal of the series depended on the chemistry between the two fiery leads. After casting Shepherd as Maddie Hayes, the producers brought in around 20 different actors to audition as co-lead David Addison, and none of them connected with Shepherd. "But with Bruce, the temperature in the room went 20 degrees higher," Shepherd admitted to Entertainment Weekly in 2005. With that raw connection, however, came a lot of tension.
As evidenced by the hit series, the sexual tension between Willis and Shepherd was palpable at times. One night, the duo decided to act on their impulses, and Willis went over to Shepherd's home. "It wasn't long before we were passionately sucking face," she revealed to the Scottish Daily Record & Sunday in 2000 (via The Free Library). Kissing was as far as they allowed themselves to go. "We never did finish what we started," Shepherd added.
It turns out that the friction between Shepherd and Willis' characters was not fabricated. "Yes, Bruce Willis and Cybill Shepherd hated each other," their co-star Curtis Armstrong wrote in his book "Revenge of the Nerd" in 2017, per NPR. This led to issues with their crew. "Cybill and Bruce were very unhappy, and it was very hard to be around," fellow co-star Allyce Beasley told Closer in 2019. Later, both Willis and Shepherd opened up about their feud.
Real-life fighting boiled over onto the screen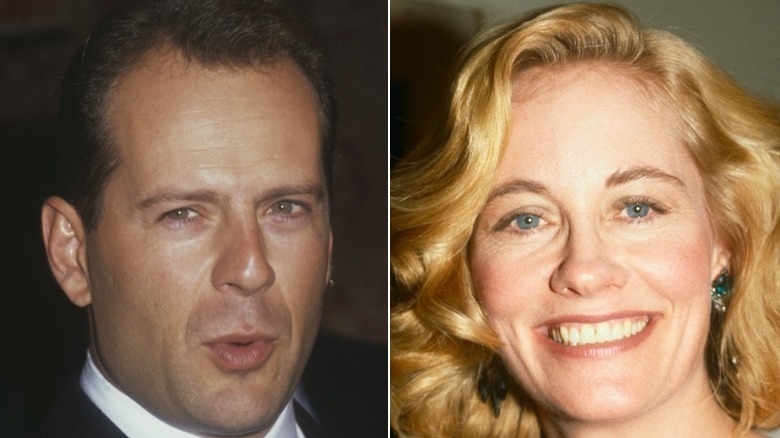 Michael Ochs Archives, George Rose/Getty Images
Not only did the script call for Bruce Willis and Cybill Shepherd's characters to constantly bicker onscreen, but the two had no issues finding reason to go at each other's throats before the cameras rolled. "Yes, we had fights all the time," Shepherd revealed to the Television Academy in 2021. "That was part of the preparation ... So it was real." The actors decided to mine their real life animosity for motivation. "At some point we realized we were fighting before every scene, and we went, okay, we'll have a little fight before we fight," she told Broadway Buzz in 2012.
Feeding into those negative emotions about each other was unsustainable, and the feelings spilled over into Willis' and Shepherd's personal lives. "I remember at one point in the show, it had gotten to where we just hated each other," she told Entertainment Weekly in 2005.
In 1990, not long after the series had ended, Willis publicly admitted that he had a strained relationship with his former co-star, but refused to trash her. "I'm not gonna play that game," Willis said on "The Arsenio Hall Show." However, he admitted, "I mean it, we didn't get along very well on that show. I will say that." The "Die Hard" star chalked up his tumultuous relationship with Shepherd to a hectic filming schedule. "It's a hard thing to do, and I have no hard feelings," he said on the late-night show. Years later, "Moonlighting" brought the estranged actors together once more.
What Bruce Willis and Cybill Shepherd think about Moonlighting years later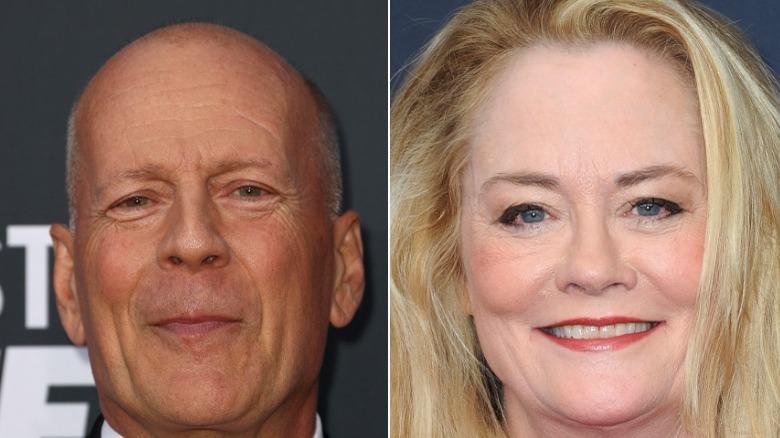 Frederick M. Brown, Albert L. Ortega/Getty Images
Reportedly, one of the main issues between Bruce Willis and Cybill Shepherd was how his fame skyrocketed after filming 1988's "Die Hard," which was a box office smash. The movie's success catapulted Willis' fame, along with his pay rate. "Sure I feel competitive and it bugs the hell out of me," Shepherd told The Morning Call in 1989 when discussing her "Moonlighting" co-star's salary. "But I'm basically very happy for him. I kind of feel as if I share in his success, as if maybe I had something to do with it," she added.
Eventually, the two stars looked back fondly on their time together. Shepherd and Willis reconnected to record DVD commentary for "Moonlighting," and not only did they manage to avoid fighting, but they had a pleasant experience. "... it was wonderful to see him again," Shepherd told Broadway Buzz in 2012. Decades away from the show had given her perspective. "When you've done something so great, it takes a while to really understand how wonderful the show was ..." she added.
That same year, Willis shared a similar sentiment when he reminisced about his time on the hit '80s sitcom. "I have a lot of good memories about it — a lot of great memories about it," he told HuffPost in 2012, although he stopped short of fondly remembering Shepherd. Willis mentioned the "frantic pace" of filming and how the show "was a huge quantum leap for" his career. Now, both he and Shepherd are superstars in their own rights.