Rob Kardashian Shames Blac Chyna, Accuses Her Of Cheating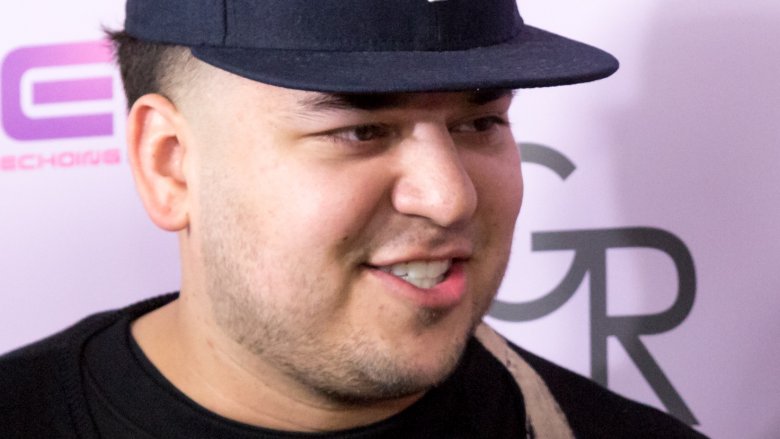 Getty Images
Just when you thought all the drama had died down, Rob Kardashian stirred it right back up again. 
The Keeping Up With the Kardashians star took to Instagram on July 5, 2017, to blast ex-girlfriend and mother of his child, Blac Chyna—and he did not hold back (via the Daily Mail).
It all started with a video that Kardashian claims Chyna sent him, showing her kissing another man. "Chyna just sent me this video saying happy 4th of July what a crazy person," Kardashian wrote. "Come spend time with your daughter instead of f***ing me and then this dude right after. U need help."
But the drama didn't stop there. Oh no. Kardashian then shared a screenshot of the texts he received from Chyna's other lover, which has since been deleted, suggesting they work together to make money. Kardashian, obviously outraged, captioned the photo, "This is the dude Chyna got caught cheating on me with for a minute now. And look he texted me asking for help and said he needed money cuz he can't afford to pay Chyna's bill so that's why I pay her bills."
Noting that "more receipts are coming," Kardashian added, "Never once have I cheated on Chyna and I remained loyal to her even after all the cheating she been doing and the multiple men she been f***ing including me."
Kardashian then shared a, um, sext exchange between him and Chyna allegedly sent one day earlier, and, in the caption, he wrote, "This is from Chyna yesterday to me. I never been so disrespected in my life. I just bought her 250K of jewelry yesterday. This woman is so disrespectful and I don't care."
The 30-year-old then posted a photo of the man Chyna allegedly cheated on him with, identified by his username as @ferraritru3. "And this the dude that posted a pic in the same bed Chyna and I made our baby in. The house that I pay for. That robe i prob paid for. Imma send u messages from this dude asking to link with me or he gonna expose Chyna if I don't help him get money cuz he can't handle the bills to take care of Chyna. Lol," Kardashian wrote. "I pay lambo. Ferrari. Down payment on the rolls. Downpayment on your moms car. I pay your mother since u won't even call your own mother back in months. I prob spent a million alone in the past 2 months. 90K necklaces. 70K watch. The Ferrari that u pretend u got yourself."
Kardashian, who's had an on-again, off-again romance with Chyna for some time, continued, "Chyna I hope U find help and to this corn ball , u thirsty as f*** for hitting me and begging to link with me and if I don't help u get money then u gonna expose Chyna. Bro go back to your son who is at home instead u out here f***ing someone that everyone f***s including me. Lol. Clown. She everybody's and it's been that way. The disrespect in the bed that my baby daughter lays in. Chyna u literally lost on this one."
Kardashian then posted nude photos of Chyna, which have since been taken down, claiming to have paid for her to have surgery on her buttocks and breasts after she gave birth to their daughter, Dream.
He then shared a text photo, stating, "U will never see Dream again unless u stop the alcohol and drugs and cocaine and X and E." He then added, "When was the last time u realized your daughter been with me instead of that crazy house that u bring men in and out. I never been this disrespected in my life by a woman."
Sharing a video of Chyna heading into surgery, which Kardashian alleges he paid $100,000 for, the Arthur George businessman wrote, "She left me and my baby which she had out of spite to get back at her other baby daddy"—seemingly referring to Chyna's ex Tyga (who also dated Kardashian's half-sister Kylie Jenner). He later noted, "The second tyga and kylie broke up u was gone too."
"The saddest part is I knew about all this and didn't say a word or speak on anything because I actually Love Chyna genuinely until she just sent me a video of her and this man kissing in her bed with my daughter and her son in the house," he wrote. "Thank God for my daughter but I will never allow my daughter over to that house that I pay for with all the drugs and alcohol that goes on. I got receipts for days and I'm gonna keep going and I don't give a f***."
Kardashian also alleged that Chyna, who he says has cheated on him multiple times, told him that she she was going to have "a third baby daddy" and wanted to have more children by next year.
This seems to be just the beginning of the building feud between Kardashian and Chyna. No doubt she'll share a response to Kardashian's allegations sometime soon. Until then, read up on what Chyna was like before she found fame.