The Connection Between Sarah Palin's Masked Singer Appearance And Her Legal Fight Explained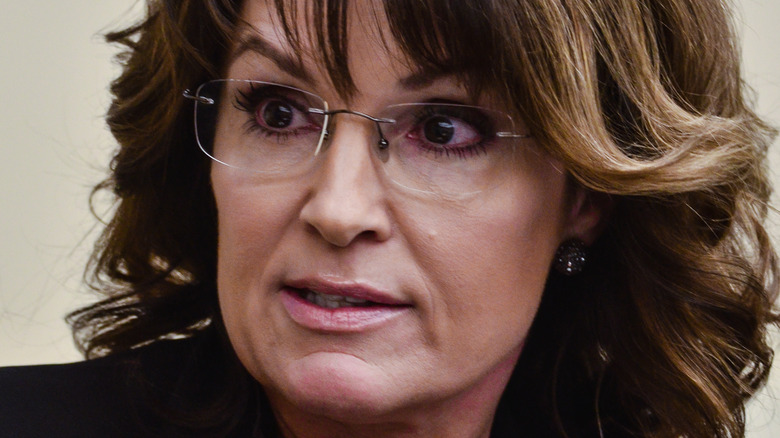 Kris Connor/Getty Images
"The Masked Singer" is undoubtedly one of the most entertaining shows on television, with celebrity contestants showing off their vocal chops in outrageous costumes and masks. The draw, of course, is to see if viewers and judges have guessed the correct star under the mask at the end of the competition. But not all celebrity contestants have been well-received by audiences.
Back in 2020, former Alaskan governor Sarah Palin was unveiled as the Bear on Season 3 of "The Masked Singer." The controversial politician described her appearance on the show as a "walking middle finger to the haters" and told host Nick Cannon that the experience was "so refreshing and so freeing" because she could do "whatever [she] wanted" and "not care about what anybody said because they wouldn't know until after the fact" (via Entertainment Weekly).
While Palin was proud of her decision to appear on the show at the time, the conservative pundit might now have regrets because of her impending legal fight.
Sarah Palin doesn't want her singing footage to be shown in court
Five years after Sarah Palin sued The New York Times for defamation, the lawsuit is moving forward to trial, and the controversial politician has requested certain exhibits be omitted from the trial, including her appearance on "The Masked Singer" in 2020. According to the New York Post, attorneys for Palin listed the footage as one of many exhibits she wants concealed over concerns The Times could cause "unfair prejudice and confusion." Other exhibits include her social media posts and online shop, which her attorneys argued could constitute "improper character evidence."
Per The Times' own report from August 2020, Palin sued them for defamation after an editorial published in 2017 incorrectly suggested her political action committee had compiled and distributed a map that caused then-Rep. Gabrielle Giffords to be severely injured in a 2011 shooting in Arizona. The map "showed 20 targeted electoral districts held by Democrats" in crosshairs, according to the outlet. The Times subsequently issued a correction to the editorial and tried to have the case thrown out, per Politico, but the judge overseeing the case found Palin had probable reason to sue, saying "she has sufficiently pointed to enough issues of triable fact" for juries to come to a conclusion in trial. 
It remains unclear why The Times would need Palin's footage for the case, but perhaps the answer will be revealed after the publication responds to Palin's requests in the upcoming weeks, while a trial is set for February.