Biggest Loser's Alison Sweeney Granted Restraining Order Against Fan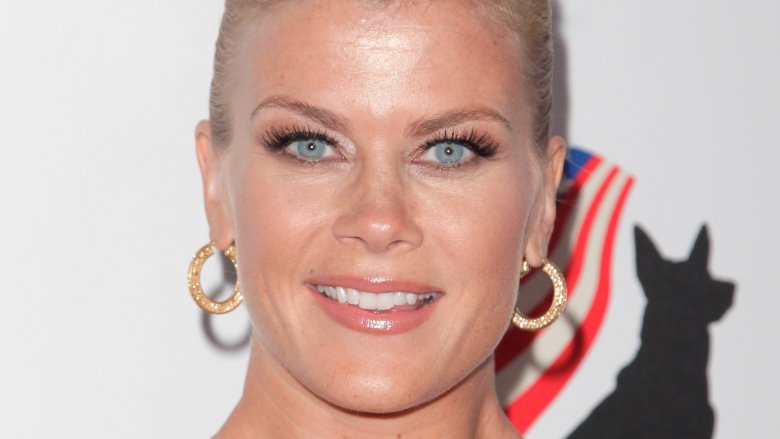 Getty Images
The former Days of Our Lives star has reportedly been harassed by an obsessed fan.
According to TMZ, Alison Sweeney has been granted a temporary restraining order against Jon Christopher LuVisi—a man she claims has been harassing her for years using multiple social media accounts.
A court document obtained by E! News reads, "Defendant's unwanted contact with the Plaintiff has spanned the course of years, but in the past nine months escalated to such an extent that Plaintiff reasonable fears for her safety and the safety of her family."
The former host of The Biggest Loser claims that LuVisi's harassment has spiked recently. In docs filed by Sweeney on June 30, 2017, she alleged that LuVisi had claimed that they'd had an affair and sought money from her in order to keep their tryst a secret.
Unfortunately, Sweeney, 40, reportedly learned that blocking LuVisi on social media did no good, as the man would simply set up a new account and continue harassing her with messages like "B**** you better answer me" and "Don't push me. Your really starting to piss me off." At one point, he even posted her home address online, according to Sweeney.
In the court filings (via E! News), Sweeney's lawyer stated that the star "has suffered significant emotional distress, lack of sleep and fear for the safety of herself and her family, including her children, resulting from Defendants repeated harassment and threats."
E! News also reports that the California Highway Patrol previously worked with Oklahoma Law Enforcement on Sweeney's behalf in June 2017. Police reportedly spoke to LuVisi's wife, who said she knew her husband was "infatuated" with Sweeney and that she'd once come "close to divorcing [LuVisi] over his obsession."
With the temporary restraining order in place, LuVisi must remain 1,000 feet away from Sweeney, her house, her car, her place of work, and her children's school.
Obsessed fans seem to be a common side effect of fame, though that doesn't make it any less frightening. Just take a look at these stars who've had really scary stalkers.