The Untold Truth Of Jared Kushner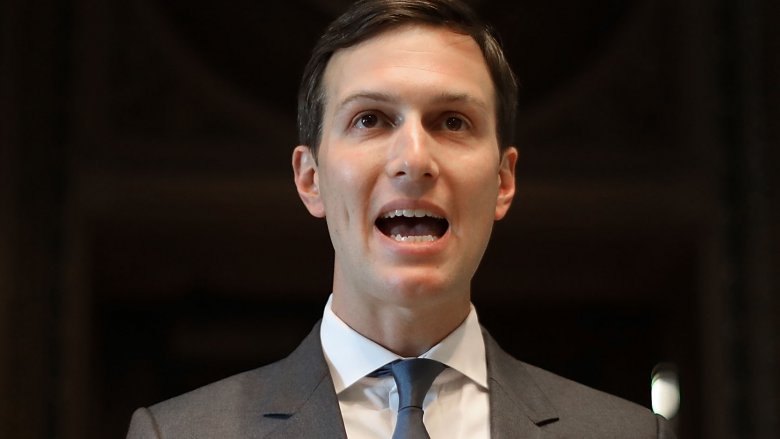 Getty Images
Even after a high-profile marriage to Ivanka Trump, daughter of Manhattan hotel mogul and reality TV host Donald Trump, Jared Kushner was relatively unknown to the general public. But when Trump shocked the globe by pulling out a surprise win in the 2016 presidential election, Kushner quickly became one of the most powerful son-in-laws in the world as political insiders started referring to him as the "shadow president" after Kushner was handed a dizzying array of responsibilities including negotiating peace in the Middle East and solving America's opioid crisis. How hard can it be? So here's a crash course on Kushner's rise to power and perhaps a sneak peek at his potential downfall as he finds himself embroiled in one of the biggest political scandals since Watergate. In-laws, right?
He took over the family business at a very young age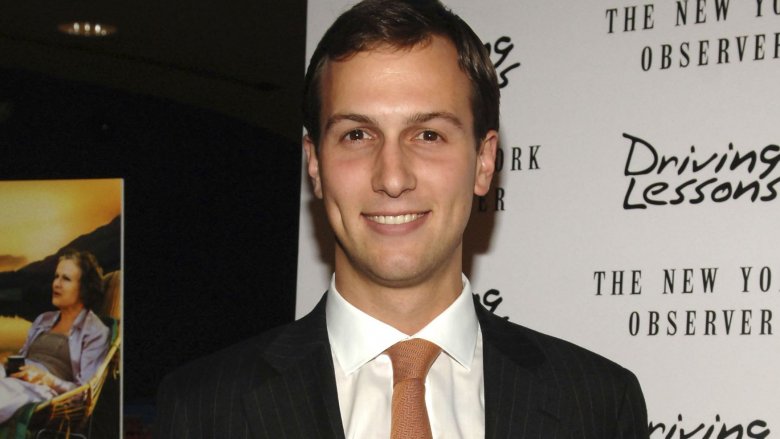 Getty Images
After Kushner's father Charles was arrested for tax evasion, illegal campaign donations and witness tampering in 2004, Kushner found himself being groomed to run the family company while barely out of college. However, to the surprise of his peers, Kushner did remarkably well. "Most people thought he'd do a deal or two here and there, but all of a sudden he's doing a lot more," Robert Ivanhoe, head of the real estate practice at law firm Greenberg Traurig told The Real Deal. "I think that was a bit of a surprise [to the industry.]"
In an interesting footnote, Kushner originally had plans to become a prosecutor and even interned at the Manhattan D.A.'s office before taking over the family business. But his father's arrest made Kushner abandon his dreams and, uh, adopt a more lenient stance on white collar crime.
"My dad's arrest made me realize I didn't want to be a prosecutor anymore," Kushner told The Real Deal. "The law is so nuanced. If you're convicting murderers, it's one thing. It's often fairly clear. When you get into things like white-collar crime, there are often a lot of nuances. Seeing my father's situation, I felt what happened was obviously unjust in terms of the way they pursued him."
Chris Christie put his dad in jail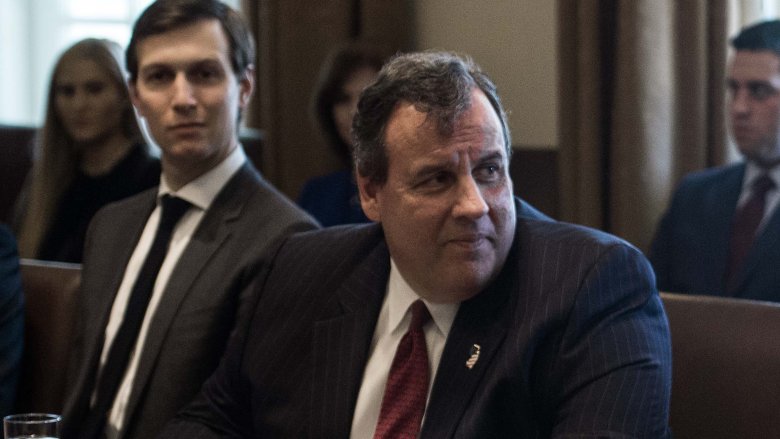 Getty Images
Clearly watching his father be arrested was a pivotal moment in Kushner's life. But in 2016, he'd reveal just how deeply he held that grudge by exacting his revenge on the man who put his father behind bars: New Jersey Governor Chris Christie. In 2004, Christie was a US attorney who made a name himself by fiercely prosecuting the case. However, the courtroom victory that put Christie on the map would ultimately land him on the outs just days after Trump won the presidential election. Things got so bad, that anyone even connected to Christie became radioactive to the new administration.
"The dismissals followed the abrupt firing on Friday of Gov. Chris Christie of New Jersey, who was replaced as chief of the transition by Vice President-elect Mike Pence," The New York Times reported. "Mr. Kushner, a transition official said, was systematically dismissing people like Mr. Rogers who had ties with Mr. Christie."
However, in an unusual twist, Kushner and Christie reportedly buried the hatchet a few months after the inauguration, according to Vanity Fair, and Kusher even went so far as to allegedly ask Christie for legal advice on the FBI investigation into the Trump administration's suspected ties with Russia.
His parents made him break up with Ivanka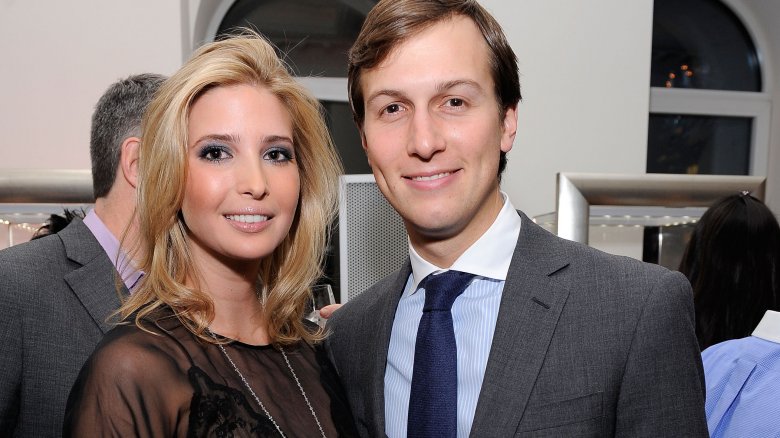 Getty Images
While Kushner wields an unprecedented level of power in Trump's administration, he wouldn't be anywhere without his wife Ivanka. And things between the couple almost went south when Kushner's parents objected to their relationship. "The lingering issue was religion. The Kushners hoped that Jared would marry a Jewish woman," The New Yorker writes. "Ivanka, for her part, was hurt that Jared didn't unequivocally take her side against his parents. In 2008, the couple broke up."
Because we're dealing with powerful people running in powerful circles, it probably shouldn't be a surprise that it was Rupert Murdoch and his then-wife Wendi Deng got the couple back together after secretly inviting Ivanka and Jared on the Murdoch family yacht without telling the other, according to The New Yorker. He would propose shortly after, and she'd commit herself fully to Judaism, which won the approval of Kushner's parents.
His marriage is all business. Literally.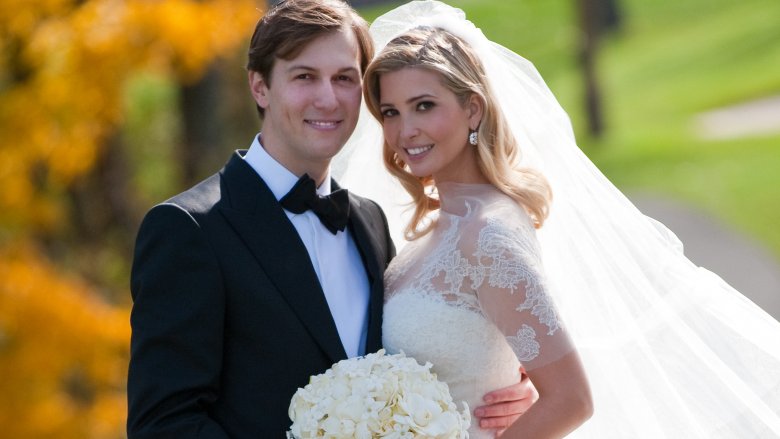 Getty Images
If you're wondering what made Ivanka and Jared so inseparable, business. They love business. A lot. Just check out their idea of a hot and sexy night out.
"So, my husband's idea of a date night somehow always involves me looking at one of his development sites." Ivanka told Cosmopolitan. "So we went to this great restaurant in Brooklyn on Saturday, and all of a sudden I find myself standing on the roof of the Whole Foods in Gowanus in the pouring rain. At midnight. And he's showing me this giant site he just bought. I'm like, 'Huh. So this is why you chose that restaurant.'"
They even think of their marriage as a multi-million dollar company. "I would say she is definitely the CEO of our household, whereas I'm more on the board of directors," Kushner said. How romantic.
He became obsessed with Rupert Murdoch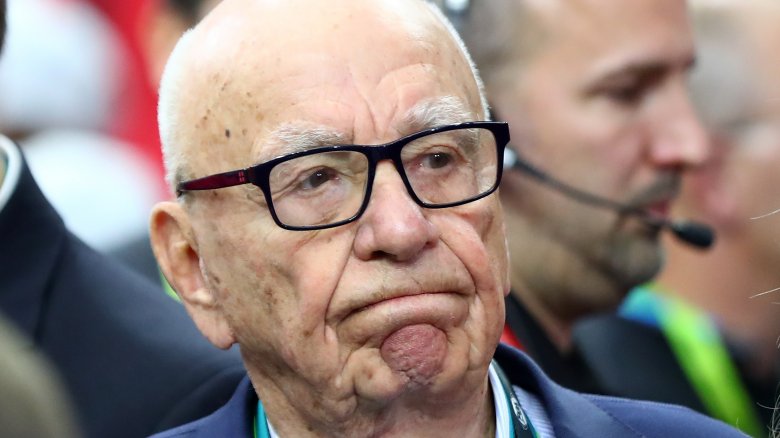 Getty Images
Considering Rupert Murdoch runs one of the largest media companies in the world and his wife helped Kushner and Ivanka get back together, it shouldn't come as a surprise that Kushner became obsessed with the media mogul after purchasing the New York Observer.
"The two spoke on the phone several times a week," The New Yorker reports. "Bob Sommer, who was president of the Observer Media Group from 2007 to 2009, said that he became accustomed to hearing things like 'Here's Rupert's business model,' 'Rupert does it this way,' 'We're going to turn it into a profitable media business, and Rupert knows how to run a media business.'"
But Kushner and Murdoch's relationship wasn't a one-way street. When Murdoch and Deng divorced, Kushner is the one who helped Murdoch find a bachelor pad. Even more impressively, according to a former Murdoch associate, Kushner would bend the powerful Fox News owner towards an even grander scheme: Supporting Trump's run for presidency.
He was basically Donald Trump's campaign manager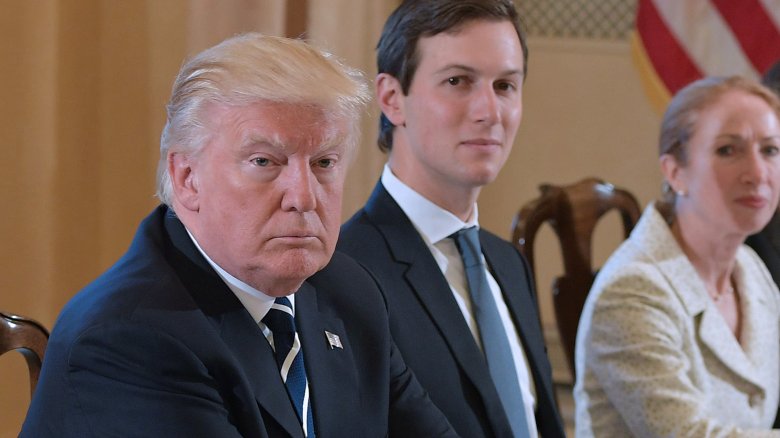 Getty Images
In the aftermath of the 2016 election, it became clear that Donald Trump's win wasn't orchestrated by his known campaign team, but by Kushner who quietly used his connections in Silicon Valley to deliver a win to his father-in-law. "Jared Kushner is the biggest surprise of the 2016 election," former Google CEO Eric Schmidt told Forbes. "Best I can tell, he actually ran the campaign and did it with essentially no resources."
But how did Kushner do it? From a secret headquarters in San Antonio, Texas where his small 100-person team sifted through data and used tech industry marketing to aggressively leverage social media in favor of Trump. "We played Moneyball, asking ourselves which states will get the best ROI for the electoral vote," Kushner told Forbes. "I asked, How can we get Trump's message to that consumer for the least amount of cost?"
But while the campaign's methods would eventually become the target of an FBI investigation, Kushner would be forced to step out of the shadows as his quiet work for his controversial father-in-law raised eyebrows at the Observer.
Things got ugly at the newspaper he owns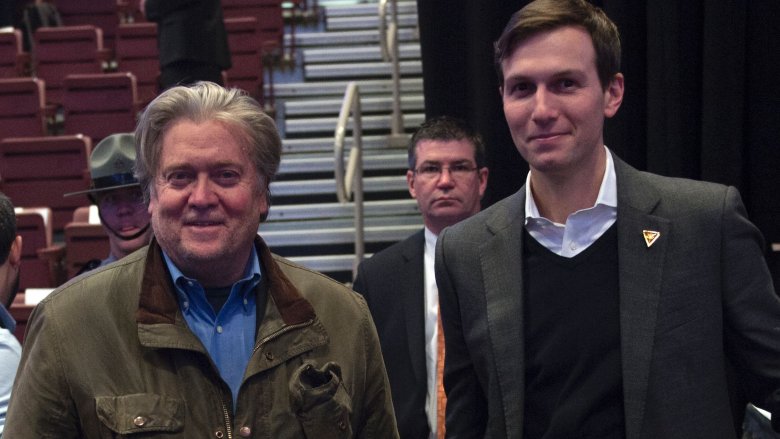 Getty Images
It's no exaggeration to call the 2016 presidential election a spectacular ordeal. Not only are there serious questions about whether or not Russia attempted to influence voters, but it became an increasingly polarizing event as Trump gained the support of white nationalists and anti-Semitic hate groups, according to Politico. And while the campaign would reject endorsements from the likes of the Ku Klux Klan, it was notable that these groups were specifically drawn to Trump. Needless to say, tensions were high. And they reached a boiling point when Dana Schwartz, an entertainment writer for the Observer received death threats after noticing anti-Semitic imagery in one of Trump's tweets, which he later deleted. In response, she penned an open letter calling out Kushner.
"Right now, this hate is directed to one of your employees, but the message applies equally to your wife and daughter," Schwartz wrote. "You went to Harvard, and hold two graduate degrees. Please do not condescend to me and pretend you don't understand the imagery of a six-sided star when juxtaposed with money and accusations of financial dishonesty. I'm asking you, not as a "gotcha" journalist or as a liberal but as a human being: how do you allow this?"
In response, Kushner would write his own open letter titled "The Donald Trump I Know," which defended his father-in-law and surprised many of his colleagues because, for the most part, everyone just assumed Kushner was a liberal Democrat.
He shocked friends by helping Trump win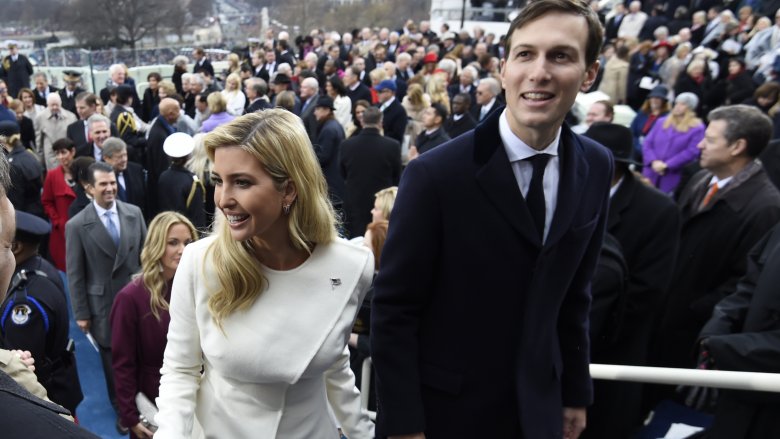 Getty Images
Prior to Trump's presidential run, Kushner and his wife Ivanka were generally considered to be Manhattan liberals. They had donated to both Hillary Clinton and Barack Obama's campaigns and leaned left on social issues. But during the election, many of their friends were shocked by Kushner's transformation, according to Business Insider.
"The hope was that with Jared, there at least was someone who was smart and thoughtful and potentially doing the right things behind the scenes," a former co-worker said. "But people hate him right now. Not just him as a person so much but what he stands for and the fact that he hasn't been able to use his position to do anything meaningful for what we stand for."
While Kushner is frustrated at the blowback for his work with Trump, and even had one company oust him as an investor, Business Insider reports he has a word for this new process of losing relationships: "exfoliation." We're just gonna back away from that one.
He's in charge of making peace in the Middle East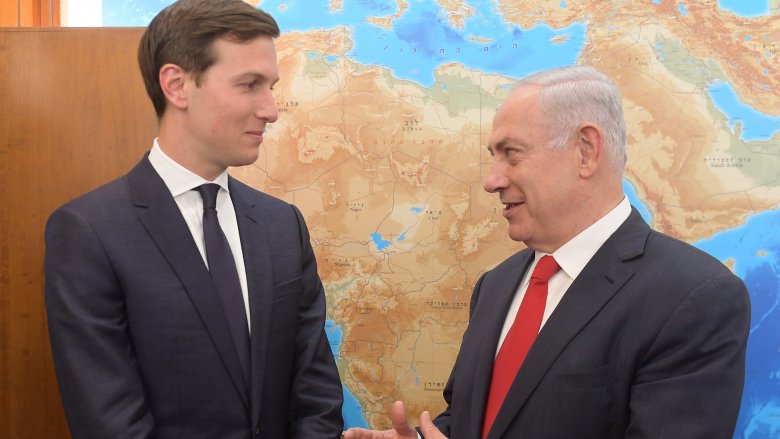 Getty Images
Trying to negotiate peace in the Middle East is almost an impossible task for seasoned politicians who've studied the issue for years if not decades. So imagine the surprise when Trump appointed his son-in-law with no prior foreign policy, or even political experience, to broker a deal between Israel and Palestine because that's exactly what happened. And Kushner's first attempt in June 2017 did not go well. In fact, he might have actually made things worse.
"In less than 24 hours, the 36-year-old real estate princeling had repeated all the textbook mistakes of American diplomacy in the Middle East, and rendered his visit ineffectual at best, if not a step backward." Daily Intelligencer reports. "Which raises the question: Why on earth is Jared Kushner in charge of this operation?"
Things got so bad, that even Republican-friendly outlets like The American Conservative were critical of Kushner and claimed he was creating messes for the "adults" to clean up. Not a good look.
He has to solve America's opioid problem, too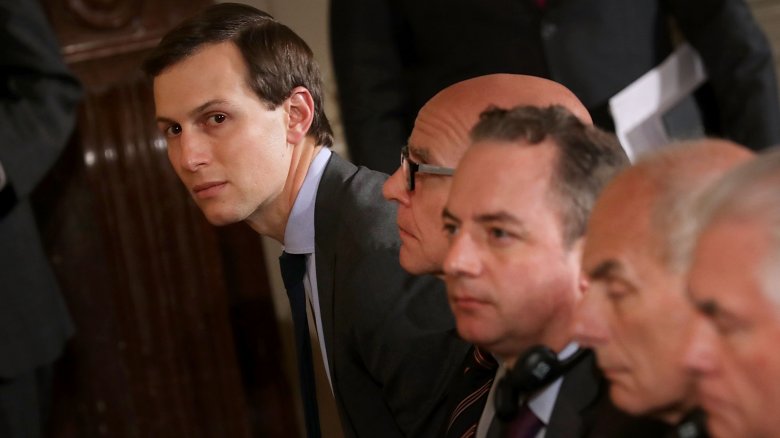 Getty Images
Because solving a century old religious conflict isn't enough, Kushner is also remarkably tasked with finding a solution to America's opioid crisis. The issue is a vast, multi-faceted problem that has troubled medical, law enforcement, and policy experts for years. So once again, it's an arena that Kushner has absolutely zero experience with. And his plan to tap Silicon Valley to use the "latest innovations" to cheaply and efficiently solve addiction doesn't make sense to anyone familiar with government.
"It isn't something that necessarily gets fixed from above, with the sole exception of spending more money on it, which is not something they want to do," Brookings scholar Elaine Kamarck told Vox. "There's no 'tech world business' that does a good job getting drug addicts off of drugs. Sorry. It doesn't exist."
In Kushner's defense, he did use Silicon Valley techniques to help Trump win the election and spent significantly less money than the Clinton campaign in the process, according to Forbes. Or at least that's the official story from the Trump team, which could be leaving out some alleged help from Russia.
He might be in trouble with the FBI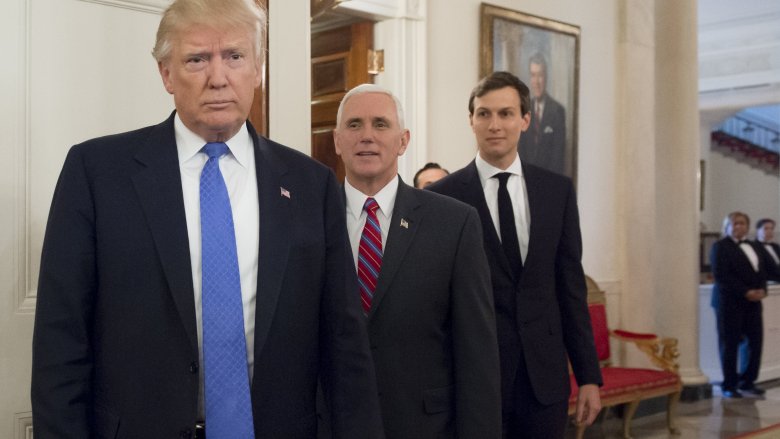 Getty Images
After Donald Trump shockingly fired FBI Director James Comey, the investigation into alleged collusion between the Trump campaign and Russia heated up when special counsel Robert Mueller was appointed. But things got especially troublesome for Kushner after the Washington Post reported that the president's son-in-law had allegedly tried to arrange a secret back-channel communications with Moscow, which if true, is really bad. On top of that, Kushner had mistakenly forgotten to include meetings with Russian bankers on his security clearance forms, so it wasn't a total surprise when reports came in that the FBI was including Kushner in its probe of the campaign.
For the record, Kushner denies any wrongdoing and has stated he'll fully cooperate. "Mr. Kushner previously volunteered to share with Congress what he knows about these meetings. He will do the same if he is contacted in connection with any other inquiry," his attorney told CNN.
From young CEO to a shadow president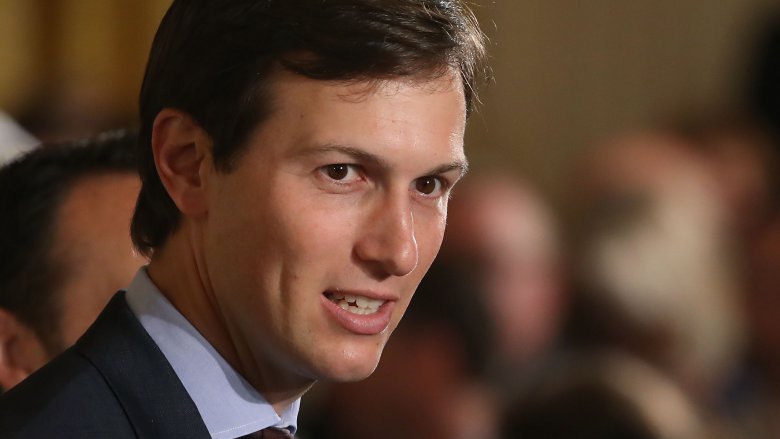 Getty Images
For someone who's not even 40, Kushner quickly rose from a young CEO and real estate mogul to essentially running the United States government thanks to Donald Trump's trust in his son-in-law's skill and intellect. Hey, he pulled off one of the biggest surprise wins in a presidential elections. (Unless it turns out Russia helped.) And while it seems like Kushner's hit some pretty big bumps in the road with his first foray into politics, we're curious to see what's next and if he'll have a chance to tackle more manageable issues that don't involve curing America of addiction or bringing peace to the Middle East. He's just one guy.