Strange Things About Oprah And Stedman's Relationship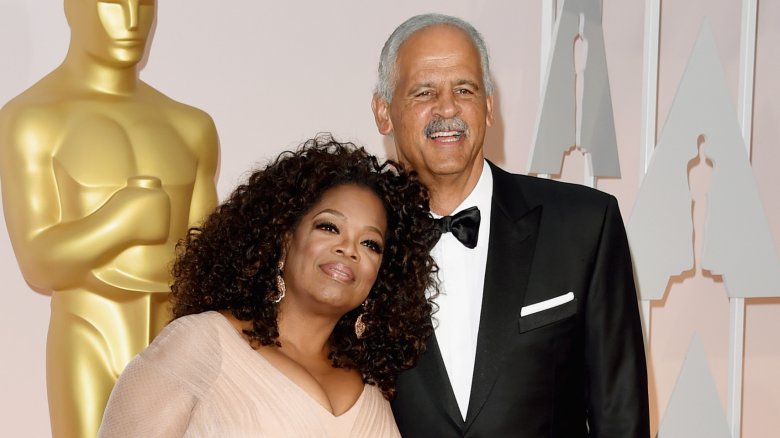 Getty Images
Oprah Winfrey and Stedman Graham have been together since 1986, which is far longer than most celebrity marriages, yet the pair has never walked down the aisle, despite getting engaged a few years into the relationship. Instead, they found their own groove and forged a bond that works for them, even if it may look strange to outsiders...and involve a lot of Gayle King. 
In fact, it seems like their biggest problem is family members who like to talk to the tabloids or shop book deals about the intensely private couple. With family like that, who can blame Oprah and Stedman for keeping their inner circle tight? But that still hasn't stopped some strange tidbits about their unusual relationship from slipping out.
They called off their wedding because of a book deal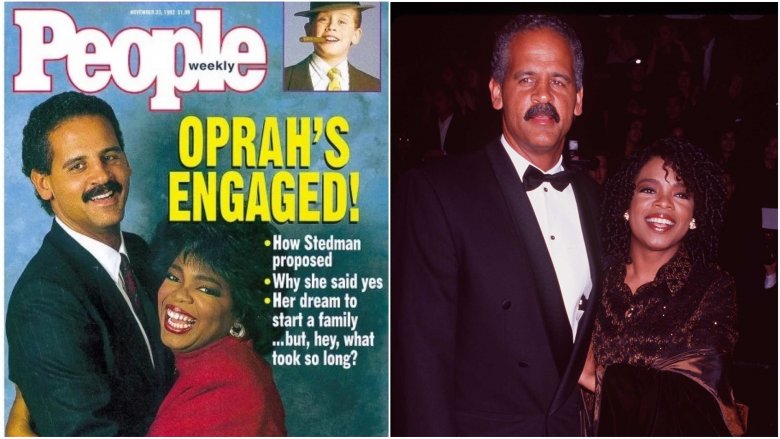 Getty Images
In 1992, Oprah and Stedman's engagement was a huge event. We're talking cover-of-People-magazine huge, which is what happens when the "richest woman in show business" reveals that she's getting married. There was one small hitch, though. The wedding never happened. Despite setting a 1993 date, Oprah and Stedman did not walk down the aisle. They stayed together as a couple, but there was never talk of marriage again, and it would take 20 years for Oprah to reveal what really happened.
In an interview with Shonda Rhimes (via HuffPost), Oprah explained: "I was supposed to do a book at the same time...and the wedding and the book were happening around the same time. We were on our way from the book party and Stedman said he did not want to have his wedding disturbed by all these people asking me about the book (which I ended up not doing). I said, 'OK. All right. So he said, 'We should just postpone this wedding. I said, 'OK.' And that was it. We have never discussed it again."
Oprah said she realized that while she wanted Stedman to want to marry her, she didn't want to actually have a wedding. That realization was reportedly the best thing that ever happened to their relationship.
They believe not getting married saved their relationship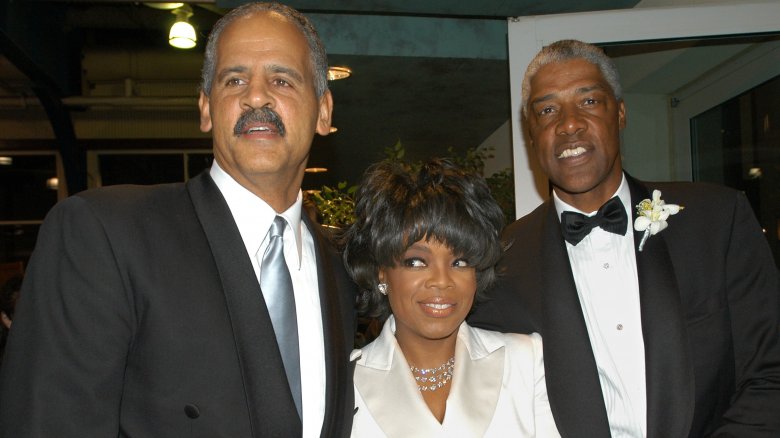 Getty Images
While Oprah and Stedman's relationship has withstood the test of time, the TV icon has become increasingly adamant that marriage would have ruined everything. In 2013, she laid her cards on the table after being encouraged by close friend Tina Turner to walk down the aisle. "Tina was like, 'Oprah, you need to do this. You need to do it,'" Oprah told Access Hollywood. "And I was just thinking, 'Well, OK, would things really be different?' And no, I don't think so."
By that point, Oprah and Stedman had been together 27 years, so it's safe to say they know what works for them. "If you ever interviewed him, he would tell you that had we married, we would not be together today," she told Access Hollywood. "Because he's a traditional man and this is a very untraditional relationship. And I think it's acceptable as a relationship, but if I had the title 'wife,' I think there would be other expectations for what a wife is and what a wife does."
"First of all, you've got to come home sometimes," she added with a laugh.
He's only been to the show three times in 25 years
Despite shooting more than 4,561 episodes over the course of 25 years, Stedman has come to the set of The Oprah Winfrey Show only three times. Oprah shared that stat in behind-the-scenes footage for OWN. 
But before you jump to conclusions, Stedman's absence wasn't because he failed to support his partner. It was just the opposite. "In Stedman's words, he is a 'man in a relationship with a very powerful woman' — and wants her to succeed." The Cut reports. "Stedman lets Oprah do her thing."
In the aforementioned video, Stedman also makes it clear that his identity isn't defined by his partner, and at the end of the day, they're just a normal couple wishing nothing but success for one another. Also in the clip, there's some brief talk about a Christmas list, which has to be insane. Christmas with Oprah? How do we get in on that?
Her stepmother aired a lot of their dirty laundry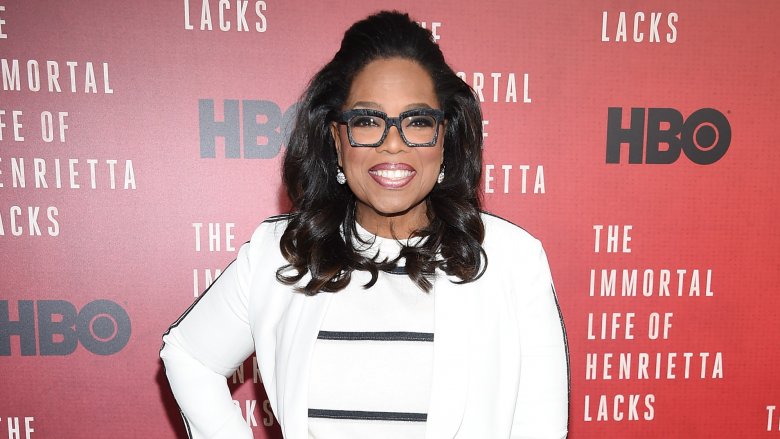 Getty Images
In 2014, Oprah's former stepmother, Barbara Winfrey, began spilling secrets to the Daily Mail. This began after Oprah's father divorced Barbara and allegedly encouraged his famous daughter to evict his ex-wife from their mansion. (Unbeknownst to Barbara, Oprah's name was on the mortgage.) Oprah sold the place for $1.2 million in 2015, reported Radar. (For the record, Oprah's spokesperson told theThe Daily Beast that Barbara was "offered several different living arrangements.") Obviously, it was a messy situation all around, and things got even messier when Barbara began spilling tea about Oprah and Stedman.
"Stedman isn't a good steward of money and that suits Oprah fine. He is financially dependent on her. He knows her secrets and she knows his," Barbara told the Daily Mail. "Why would they marry now? He's there at her beck and call. He knows his role in her life."
Barbara also alleged that Oprah made sure a book written by Stedman became a bestseller by buying a warehouse and filling it with copies she purchased herself. And that was just the tip of the iceberg.
She allegedly had him followed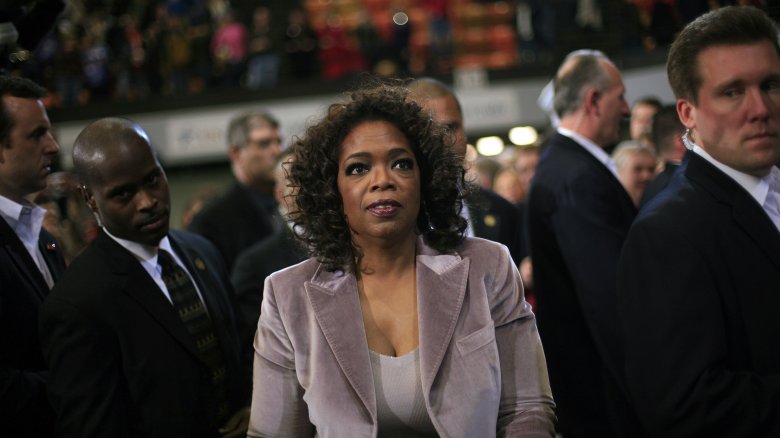 Getty Images
While Oprah and Stedman have been open about living separate, independent lives, her estranged stepmother Barbara added some suspicious layers by claiming she'd "never once witnessed them hold hands or kiss," according to the Daily Mail. She also claimed Stedman traveled a lot, but would often fly to wherever Oprah was at the drop of a hat. "He's at her beck and call." 
Despite essentially claiming the couple isn't romantically close, Barbara also alleged that Oprah told her she had Stedman followed. "Once you're in Oprah's world, she owns you," Barbara said. Yikes! 
They have a weird relationship with Gayle King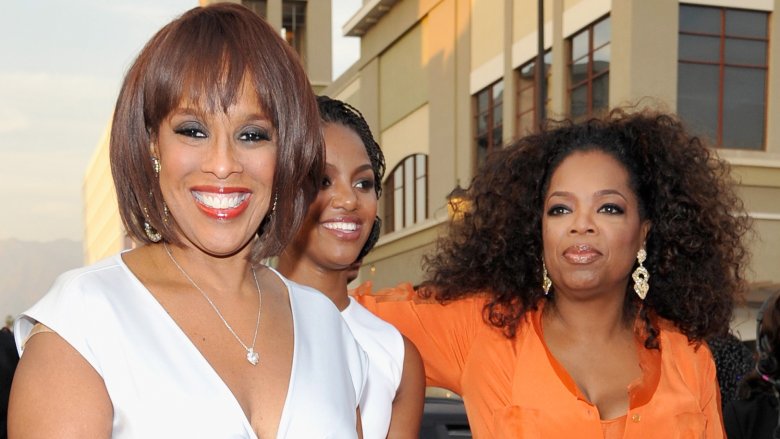 Getty Images
Way back in 1992, Gayle King was already a permanent fixture in Oprah and Stedman's relationship. In the People cover story announcing their engagement, King features prominently in the event. King was not only present for the proposal, but she also coaxed Oprah to appear on her Hartford, Conn. eyewitness report and break the news, which sent the national news networks scrambling to catch up.
King's presence shouldn't be that odd. She's best friends with Oprah, and it's really not that out of the ordinary for close friends to witness a proposal. But that hasn't stop tabloid speculation, or Oprah's own stepmother, from insinuating otherwise.
"They talk on the phone three or four times a day," Barbara told the Daily Mail in 2014. "I don't know any man I've ever dated who could tolerate that, but Stedman knows Gayle's going nowhere." When asked about rumors that Oprah and King are more than just friends, Barbara said, "I can only say what I saw and observed over the years. Gayle was more present than Stedman."
She can't escape rumors of secretly being a lesbian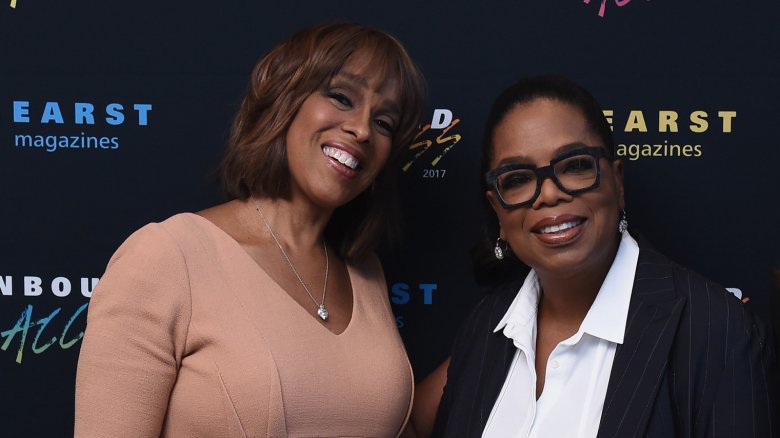 Getty Images
As if tabloid speculation about Oprah's relationship with King wasn't enough, Kitty Kelley's unauthorized biography certainly didn't help quiet the rumors when it was published in 2010. According to the New York Post, Kelley claims Oprah has had a series of "lesbian affairs" and only "attached" herself to Stedman to "appear more normal to her audience of housewives."
All of this stems from Oprah's tight relationship with King, which began when they were trapped in a snow storm while working at a Baltimore TV station in 1976. The besties even addressed the lesbian rumors in an issue of O, The Oprah Magazine (via People). "'There isn't a definition in our culture for this kind of bond between women," Oprah said. "So I get why people have to label it— how can you be this close without it being sexual?' King, who is an editor at O, also contributed to the essay, saying, "The truth is, if we were gay, we would tell you, because there's nothing wrong with being gay."
Oprah echoed King's words in the article: "All my stuff is out there. People think I'd be so ashamed of being gay that I wouldn't admit it? Oh, please." Mic drop.
Stedman's niece tried to shop a tell-all book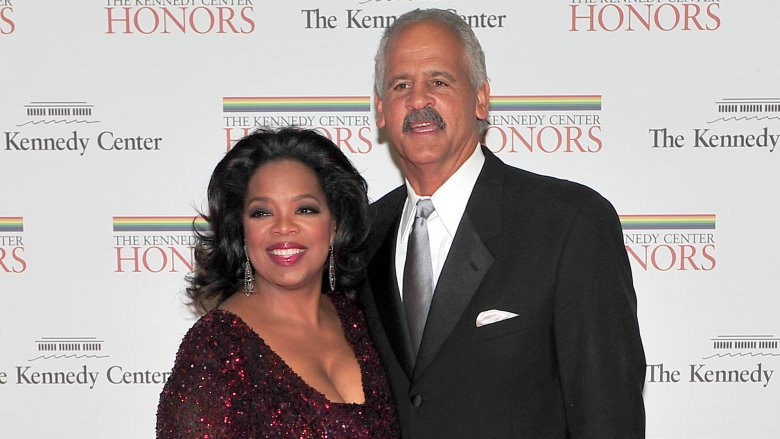 Getty Images
Not long after Oprah put out the fires started by her stepmother's interview with the Daily Mail, Stedman's niece decided to get into the act by shopping around a tell-all book about the famous couple in 2015. According to the National Enquirer, the book would include "Oprah's alleged drug use, jealousy, cheating, vicious gay rumors and explosive comments made by her dad."
Needless to say, Oprah and Stedman felt betrayed by his niece, who also claimed Oprah "wasn't good for the family." A publishing deal was never inked, and the book didn't see the light of day. While one could assume Oprah and the niece probably came to a very lucrative agreement, there's one other factor to consider: Oprah and Stedman might not be all that interesting.
They're actually kind of boring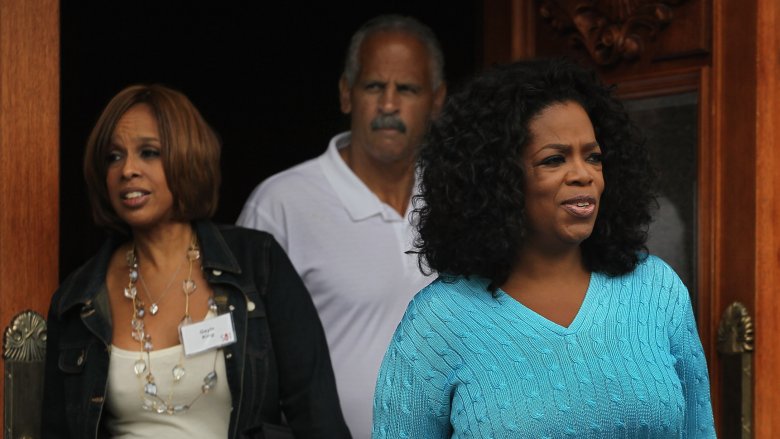 Getty Images
While promoting what was supposed to be a juicy, unauthorized autobiography about Oprah's life, Kelley's publisher provided a strange excerpt about how sources described Stedman as, "Nice enough but boring as hell. So boring." Wow, sounds like a real page-turner.
That assessment jibes with anecdotes from Oprah's stepmother in the Daily Mail, where she describes Stedman as "an old shoe." While recalling a family vacation on a yacht in the Mediterranean, Barbara claims Oprah and Stedman spent the whole time just sitting around talking to King.
Could it be that two people who've been together for 30 years might not make the most exciting duo, even if they're rich as all get out? Stranger things have happened.
Oprah and Stedman found what works for them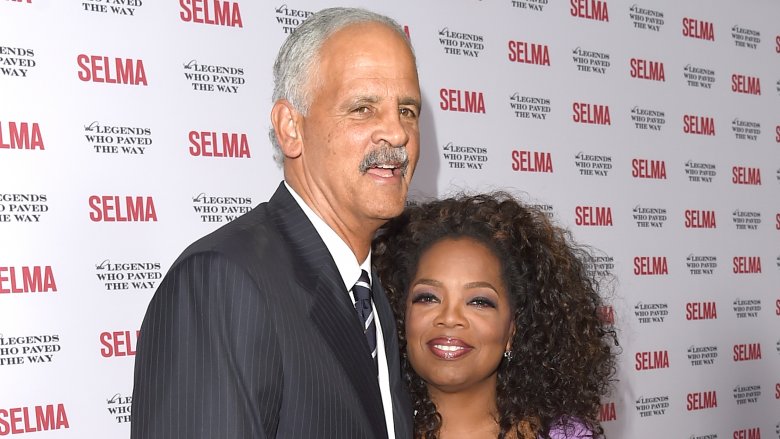 Getty Images
While their relationship might not seem conventional to outside observers, and they've raised a few eyebrows by refusing to get married and adopt more traditional roles, there's no denying Oprah and Stedman have found an arrangement that allows them to both be happy and successful in life. Granted, Oprah's enormous fame will always put a crunch on their privacy and invite endless speculation, but at the end of the day, the two know what works best for them to navigate those storms. And, really, that's all that matters.