The Milestone Birthday Of Octomom's Eight Youngest Kids Has Her Feeling Sentimental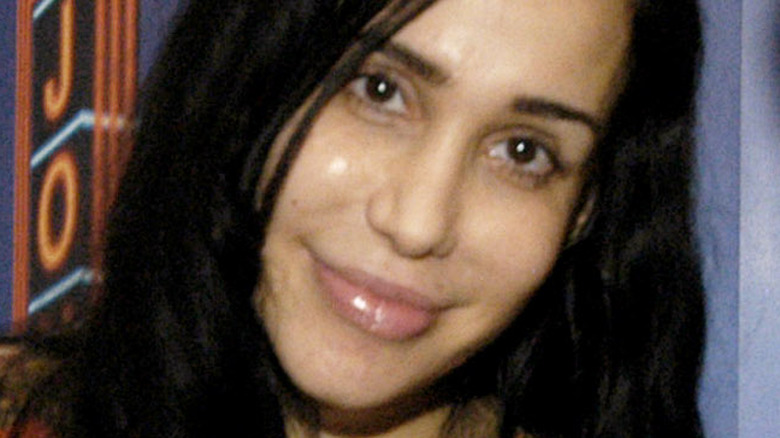 Paul Warner/Getty Images
Sometimes it's wild to think that 13 years have passed since Natalie Suleman, known formerly as Nadya Suleman, gained national attention when she delivered the only set of living octuplets. The news was immediately controversial on several levels, only one of which was the obvious safety for the babies and Suleman. Carrying multiples is always risky, and to add in a factor of eight, there was an obvious assumption that they would be born premature and suffer from low birth weight. 
Suleman, who already had six children at home, had struggled with infertility, and according to The New York Times, Suleman claimed in a December 2018 interview that she had been grossly "misled" by her doctor. "He told me we lost six embryos, he said they were expelled out of me, and that's why he wanted to implant another six," the mom of 14, who was quickly labeled "Octomom," claimed of Dr. Michael Kamrava. As for Dr. Kamrava, he was stripped of his medical license after Suleman gave birth to eight babies, and currently resides outside the U.S. 
Fast-forward to present day and Suleman, who has tried to lose the "Octomom" nickname, is clearly overjoyed with her children and quick to compliment them in celebration of their birthdays.
Nadya Suleman praises her now-teenaged children
In 2009, when Nadya Suleman gave birth to her youngest eight children, news outlets and people in general were quick to believe that the single mother would find it difficult, at best, to care for the eight newborns, let alone her other six children. Thirteen years later, however, the still single mother seems to be thriving, as do her children. 
"Happy 13th birthday to Nariyah, Isaiah, Maliyah, Jeremiah, Noah, Josiah, Jonah, and Makai!," Suleman wrote in a tribute to her children on her Instagram feed for their birthdays, along with the throwback photo seen above. "You are all growing into some of the most kind, humble, grateful and loving human beings I have ever known." She continued to praise her now-teenagers, describing them as "selfless, altruistic, nonmaterialistic, and loving, fearing, followers of God," noting that, "I have never seen children who love and want to serve others, (particularly those less fortunate), so boldly and confidently like each and every one of you do."
Daily Mail reported that Suleman raises her children in a three-bedroom home in Orange County, California, where she nurtures them and teaches them about a vegan lifestyle. And it's clear, after 13 years, Suleman's children are growing up fast. And while we don't hear from "Octomom" much anymore, as she was once labeled, whatever she's done to keep her 14 children going strong, she should keep doing. It's obviously working very well for a woman who was once the subject of tabloid gossip.