The Shady Truth About RHOC Star Lauri Peterson's Son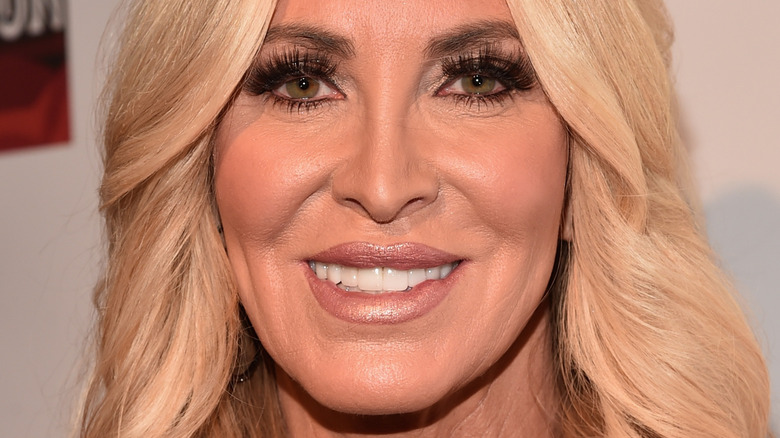 Alberto E. Rodriguez/Getty Images
"The Real Housewives of Orange County" fans remember Lauri Waring Peterson as an OG cast member on the first-ever "Housewives" series. Viewers saw single mom Lauri meet her prince charming George Peterson, who would later become her third husband in an unforgettable on-screen "RHOC" wedding. Despite upgrading to a lifestyle most lavish, Lauri dealt with some devastating family matters behind the scenes.
Lauri's son Josh Waring has a troubled background. The Los Angeles Times' Daily Pilot reported that Josh began "drinking alcohol and smoking marijuana" as a tween and was "charged with felony assault" at age 16 for fighting his teacher. Josh's struggles, including his time in juvenile corrections, was a large part of Lauri's story on "RHOC." According to Page Six, Josh was arrested in 2008 for heroin possession, prompting Lauri to leave the series as a full-time cast member after "RHOC" Season 4 to focus on her family.
"I was traumatized by Josh's arrest," Lauri told The Orange County Register after her departure. "I was completely emotionally unavailable. I was crying continually, and I wasn't helping my son. For me, I really needed to concentrate on my emotional well being and deal with the aftermath of the arrest." Unfortunately, the truth about Lauri's son and his ongoing legal issues gets even shadier.
Josh Waring was jailed for attempted murder
After being in and out of jail for drug charges over the years, Lauri Peterson's son Josh Waring faced even more serious charges in 2016 for attempted murder. Waring, then 27, allegedly shot a 35-year-old man in the lower torso following a confrontation at a residence, according to the Los Angeles Times' Daily Pilot. Waring reportedly fled the scene in an SUV and prompted a police chase before being taken into custody.
After awaiting trial in jail, Josh spoke up in defense of his innocence. "I already have the stigma of being a drug addict, now I'd have the stigma of being violent," he told Showbiz Cheat Sheet in 2019. "It's really hard." Josh alleged the perpetrator was a man named Bryan Golstein, who Josh claimed is a police informant. The same year, Josh was the victim of a brutal jailhouse beating by an inmate that left his face slashed.
Lauri told TMZ she believed the 2019 attack was premeditated. "Josh has been telling me over the last few years that his life is in danger and that guards have been threatening to kill him and other inmates have attacked him," she said. "I'm still very fearful there's going to be a next time because Josh has become a target and I'm terrified for him."
Lauri Peterson remains supportive of her son
Despite Josh Waring's legal issues, Lauri Peterson has always had her son's back. Though she did not pay his bail, Lauri campaigned for Josh's innocence in the 2016 shooting case and spoke to his mental state on "Megyn Kelly Today" in 2018. "He was really spiraling and at a really low point," Lauri explained, "and I felt like actually being incarcerated might help him get sobered up."
Lauri's most supportive effort of her son was when she adopted Josh's daughter Kennady Kaydence in 2015. "It has changed our whole entire lives," Lauri said of raising Kennady to Page Six. "My contribution to Josh has always been I will always get you rehabs and do whatever I can do to help you medically beat this addiction and I will raise your daughter." Lauri told The Orange County Register she was "ecstatic" to have Josh out of the system when he accepted a plea deal in 2020. In celebration of Josh's birthday in December 2020, Lauri wrote her son an emotional message on Instagram, assuring Josh that "life has opened up a new chapter for you."
Unfortunately, it seems Josh's addiction prevailed once he was released from prison. Josh was arrested in June 2020 and again in May 2021 for possession of drugs, per CBS Los Angeles. According to the outlet, on January 10, 2022, Josh was back behind bars for violating the terms of his parole.