Billie Lourd Writes Moving Acceptance Speech For Carrie Fisher's Disney Legends Award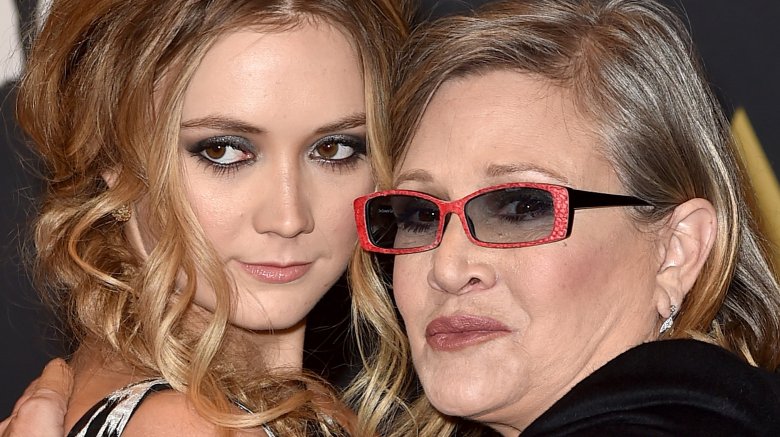 Getty Images
Scream Queens actress Billie Lourd penned a touching speech in honor of her late mother Carrie Fisher's Disney Legends Award.
On Friday, July 14, 2017, Fisher's Star Wars legacy was celebrated posthumously at the D23 Expo in Anaheim, Calif., E! News reports. While Lourd couldn't make the event—she's busy filming American Horror Story—she did manage to craft a sweet note, read aloud by Disney chairman Bob Iger, about her and her mother.
"As far back as I can remember, my mom and I have been Disney fanatics," Lourd stated in the speech, which was later shared by YouTube channel Parks and Cons. "I was so obsessed with Ariel that I wanted to change my name. We went to Disneyland so much that I now realize she might have even loved it more than I did."
She continued, "Becoming part of the Disney family was truly an amazing moment for her. She secretly always wanted to be a Disney princess, so getting to be a Disney princess and a Disney legend would have been her ultimate dream."
Lourd concluded, "I am beyond grateful to Mr. Iger and everyone at Disney for this incredible honor. Thank you again, and may the force be with you always."
Star Wars actor Mark Hamill also appeared on stage at the D23 Expo, describing his friendship with Fisher—with whom he shared "a deep respect."
"I know if she were here this morning, she would've flipped me the bird at least twice already," he shared (via USA Today), laughing. "We were like siblings, the good and the bad. We'd have huge fights, [saying] 'You're such a phony,' but we loved each other and what a great thrill it was to come back for The Force Awakens at that time in our lives."
Other recipients of the Disney Legends Award included, among others, Hamill, Stan Lee, Garry Marshall and Oprah Winfrey.
Fisher, who struggled with addiction for years, passed away on Dec. 27, 2017, after being hospitalized for cardiac arrest. She was 60 years old. Reports later revealed that drugs, including cocaine and ecstasy, had been found in the actress' system.
Want to learn more about Fisher's life? Read up on the untold truth of Carrie Fisher.